On Thursday evening we returned home from an excellent Christmas vacation at Nana's house in Las Vegas. We were there for a full week, and were kept busy with all kinds of fun and exciting activities. Lots of memories were made, some bucket list items were checked, and a great time was had by all. There's so much to get into, so let me dive right in.
Rather than fly out of SeaTac airport, which is always very busy and crowded (especially during the holidays), we opted to fly out of Bellingham, which is north of us (about 20 minutes from the Canadian border). Although the distance is further, it's much easier for us to deal with because it's such a small airport. This is our second time flying to Vegas out of Bellingham and we love it.
There was a bit of excitement flying in, as the winds that day were ferocious. The plane was jumping all around as we were preparing to land, and a few passengers could be heard yelping as the plane bounced up and down from all the turbulence. Once we landed Ava shouted out "That was fun!" and the entire back half of the plane erupted in laughter.
Between the 5 of us, plus all of our luggage, no one had a single car that was big enough to hold everything, so I had been coordinating with my Mom and Uncle Bob to pick us up. Basically Bob would be taking the bags, and we would be riding in my Mom's car. The airport was typically busy, so there was a long line of cars waiting to get into the passenger pickup area.
My Mom was ahead of Bob in that line, so she arrived first. I started getting the carseats setup in my Mom's car, then in the distance, I could see our other ride, which was coming to get our bags. My typically sour traveller's mood immediately disappeared as I saw Bob coming to get us. You see, his car has become a bit of a tourist attraction in Las Vegas. It's completely covered with toys, bobblehead dolls, poker chips, Christmas lights, and more. You have to see it to understand, but luckily I have included photos below. His car gets so much attention that even cops pull him over to take photos of it. When you're with him, he's constantly responding to photo requests saying "Yeah, take as many as you want." He actually makes a little money from it too – basically he drives down to the famous "Welcome To Fabulous Las Vegas" sign at the south end of the strip, and people pay him to take photos of/with his car. It's perfect for Bob and I know he enjoys all the fun and attention.
We had plans for our first evening in town, but everyone was exhausted from all the traveling, so we ended up staying in and relaxing. It's good too, because Friday was going to be a busy day, and as it turned out, a major highlight for the whole trip.
We got out of the house around 9:00 Friday morning and headed out to the Lion Habitat Ranch, which is southeast near Henderson. Bob and Sandy were on their way to meet us there, sitting at a red light, and ended up getting rear ended. They were at the front of a 3 car pile up. The guy that caused the accident was driving a fancy BMW, and he slammed into the car in front of him so hard that he completely totaled his car. The car he hit then ran into Bob and Sandy, and they were pretty shaken up. Damage wasn't horrible, but he hurt his back and neck. They're so lucky they didn't get hit by the BMW directly, as it probably would have killed them.
They still made it to the ranch though, and were able to join all of us for a private tour. As it turned out, this ended up being my favorite part of the entire trip. I've always loved lions, and I've seen them at the zoo, but this was a completely different experience. You're separated from them by 2 chain link fences, but you're only about 8 feet away, and let me tell you, being in their presence at that proximity is nothing short of amazing. It's a visceral reaction you have and you quickly realize that although humans may be the smartest animals in the world, they are completely powerless in relation to these majestic creatures. For a second I made eye contact with a 620 pound male lion, and he didn't even growl or roar, but simply perked up and grunted at me. My instinctual reaction was "Oh my God!" as I stepped backwards so quickly I nearly fell over. Suddenly those fences felt like nothing but thin air.
We had an amazing tour guide who showed us all around the place. She introduced us to every animal they had, but the biggest (pardon the pun) highlight of all had to be Ozzie the giraffe. Ozzie is the only giraffe to have ever entered the state of Nevada. He's a reticulated giraffe, which is the tallest species of giraffe. He's currently nearly 16 feet tall, weighing 2,000 pounds, but he's got a lot more growing to do. Once he is fully grown he will have grown another 5-6 feet, and will put on another 2,000 pounds! For each foot he grows, his massive purple tongue will grow another inch, making it easier to reach out to grab food.
Ozzie is so friendly that everyone in our group got a chance to feed him. Giraffes eat a strictly vegan diet, so we were all feeding him pieces of lettuce. He would bend way down so he was at your eye level and let you pet him on his chin. All I can say is it's an amazing experience to be at eye level with a giraffe, then watch him elevate directly above your head another 10 feet into the air. It's humbling actually.
In addition to being an all-around nice guy, Ozzie is a talented artist. Every day he sets up with his painting supplies and paints pictures by holding a brush in his mouth. For those that don't know, giraffe's are Ava's favorite animal, and it just so happened that one of Ozzie's paintings featured Ava's favorite colors (purple & black), so I had no choice but to purchase it. It's now proudly displayed on our art wall, along with a magnet containing a photo of Ozzie working on one of his masterpieces, right as you enter our house.
Speaking of paintings, my Mom was so kind to get me an absolutely beautiful painting of a lion from the Habitat Ranch. It's one of their younger male lions named Benny, and it looks strikingly similar to the lion tattoo I have on my right shoulder. It was too big to carry on the plane, so she's going to mail it to me. I can't wait to get this up on our art wall, right there with Ozzie's painting.
After the Habitat Ranch we relaxed at home for a bit, then went out that evening to this really cool indoor trampoline park. Unbeknownst to me, 'trampolining' has become practically a professional sport, and there were some kids doing stuff there that makes your jaw drop. The place was huge and there were so many different areas and activities to explore. Jessica frequently goes to places like this with the kids, and she said this was easily the coolest one they had ever been to.
So for an hour we basically jumped around and played games. It was a ton of fun, and an extensive workout. Everyone was starving by the end so we treated ourselves to burgers, fries, and milkshakes before calling it a night. Friday really was an awesome day.
Saturday was mostly a chill day at the house, but that night I went to an NHL game with my friends Devin and Tiko. Meanwhile Jessica and the kids hung out and played at Tiko and Tina's house with their daughter Helen. This is the first season for the Las Vegas Golden Knights franchise and they're having an extremely good year, which no one expected from a brand new team. It was only my second NHL game ever and it was a blast. The arena is right on the strip and the atmosphere was excellent. Lots of energy, and plenty of cheesy Vegas entertainment during game breaks. The Knights ended up beating the Capitals 3-0 and Fleuri got his first shutout as a Knight, so it was cool to see that in person.
Sunday was Christmas Eve, so I took the kids to the park in the morning for a couple hours so Jessica and Nana could get stuff done around the house. It ended up being a memorable park trip because Ava finally figured out how to swing on her own. I've been trying to show her how to swing for years whenever we go to a playground, and on this day it finally all kicked in.
That afternoon we went to this newer shopping mall nearby called Tivoli Village. There was a Christmas store there that was putting on these amazing Christmas experiences for kids. We arrived early and had lunch, then walked and shopped for a bit. When we first entered the Christmas experience it was like you were entering Willy Wonka's Chocolate Factory. There were all these bubbles coming down, Christmas music was playing, and these cheerful elves were out greeting us and explaining our upcoming adventures.
Each room we entered had a new theme and activity for the kids. In one room you're building ornaments with elves, while in another you're eating cookies, sipping warm cocoa, and chatting with Mrs. Claus. The grand finale was when we met with Santa and got our picture taken. Ava was so sweet when she tried to get Santa to keep the ornament she had just made.
Christmas morning was totally fun and crazy, as you'd expect. Lots of paper flying everywhere, shock and awe from the various gifts being revealed. It was great. We had tentatively planned on going sledding at Mt. Charleston that day, depending on weather, but there wasn't enough snow, so we decided to just relax at home and have a nice dinner. Terry and his girlfriend Lana were there for a bit, and Bob and Sandy came over for the afternoon. I made spaghetti bolognese and we had a handful of other things as well. It was a nice day of family, gifts, relaxation, and food. Oh, and for no particular reason, I decided to show my face again and shave my beard completely off for the first time in 18 months. The kids were pretty freaked out by it, and Ava actually got visibly upset, but it didn't take long for her to start coming around. At first she was afraid that I wasn't going to be the same person, but she's good now.
Bob gave me a couple really special Christmas gifts that I will hold onto forever. One was a Seattle Mariners coffee cup that he gave his dad back in 1977, which the first year they were a team. Not only did my Grandpa never drink out of it, he never even took it out of the box. When he passed away, it went back to Bob, but never came out of the box, and now I have it, still in the box. It's a brand new coffee cup that's older than I am, but it comes with some sentimental value.
The other gift, and this one really means a lot to me, is the United States flag that was folded by soldiers during my Grandfather's funeral. Bob has been holding onto it since Grandpa died (which was about 17 years ago), but he said he spoke to his siblings about it, and they decided I should have it. I got a little choked up when he told me that and had to step away for a minute. It means a lot to me to have this, so Jessica suggested we get a flag box for it and put it on display in our house. It's definitely something I'm proud (and honored) to hold onto.
Tuesday was another fun and busy day, filled with exotic animals, and an unexpected surprise. We met Bob and Sandy at the Mirage, then headed over to the dolphin exhibit. Nana sent Jessica, the kids, and myself on a VIP tour with a dolphin trainer. We got to see the entire area, learn a lot about dolphins, and meet a really friendly 39 year old male dolphin named Lightning for a snack, photo, and a few splashes.
They have an underwater office we visited, and all the female dolphins were swimming near there at that time. So we got to see Cocoa, the new baby dolphin that was just born there 5 months ago. They had microphones setup to capture all their communication and it was incredible. I've never been up close with dolphins like that before, and just like our experience at the Lion Habitat Ranch, it was simply awesome. My mom's main goal was to send us home with memories, rather than stuff, and she totally came through. We did stuff on this trip that I will never forget, and hope the kids don't either.
Later that afternoon we were in the tiger exhibit, which is connected to the dolphin habitat. It was pretty busy and crowded, but then out of nowhere I recognized our friend Kendra, who Jessica and I have known forever in Seattle. Her sister Julie used to be our roommate at the house in Queen Anne, and we've all been close ever since. She was there with her family, presumably for New Year's Eve, so we all hung out for a second to catch up. It was just a nice random small-world surprise.
Wednesday was the day we weren't looking forward to because it was the day Nana was scheduled to have shoulder replacement surgery. Something strange happened though, which may have been a twist of fate. While we were on the tour at the dolphin habitat, my mom got a call from her doctor. He said he'd been thinking about her for a while and had come to the conclusion that full shoulder replacement surgery was the wrong first step. He wanted to try a much easier procedure where they inject stem cells into the bone, then do some type of compression therapy, in hopes that it will stimulate new bone growth.
She was ecstatic because it was day surgery, rather than 3 days in the hospital, and felt like it would be worth it to try based on his recommendation. So I took her to the hospital early Wednesday morning, then picked her up and brought her home that afternoon. Everything went perfectly well during the procedure so hopefully things continue to go smoothly.
We wanted to give her some quiet time to rest, so after getting mom setup at home, Jessica and I took the kids down to the strip. Destination – M&M World! The place was so busy you had to wait in line to take an escalator. No joke. So each of the kids got to pick out a toy, then we got out of there as quick as possible. Enzo got this little toy fan (which I assume is more popular in the summer), and has proceeded to get it stuck in Ava's hair twice now. Once was so bad we had to cut some of her hair off to get it out. The girls both got Miss Green stuffed animals, but Elise has already lost hers, which is another story.
The other place we really wanted to show them was the indoor gardens at Bellagio. It's only 2 blocks away from M&M World, but these are Las Vegas blocks, so it took us quite a while to walk there. Walking with your young kids on the strip is a bit of a trip. There's a lot going on, plenty of distractions for the kids, so you have to walk with purpose. It turned out that just getting there was the adventure, and by then the kids were pooped. We still walked around the Christmas displays though, and were blown away by several of them.
It was a long walk back to the car, but I noticed I suddenly wasn't feeling very good on the way. By the time we got home I was as white as a sheet and needed to lay down. I got in bed at 7:00pm and that's where I stayed until 1:00 the following afternoon. It was one of those nasty combinations of fever and chills and it hit me out of nowhere. I had been sick before this trip but was taking antibiotics and had gotten past it, then I basically got blindsided by the flu. Jessica got it too, and so there we were, faced with travelling home in a matter of hours, feeling like hell, with 3 kids to keep in check.
Somehow we pulled it together and were able to get everything out the door. We actually left with one more suitcase than we arrived with, but that's just how it goes. We had no troubles at the airport, as practically no one was leaving Las Vegas 3 days before New Years Eve. Once again flying through Bellingham was simple and easy, so we found ourselves home around 11:00 that night.
The kids all did great, and to their credit, none of them were 100% either. They were all exhausted, Enzo was showing signs of having caught a cold, Ava had been dealing with Enzo's fan getting stuck in her hair, and Elise had (actually still has) a black eye because Ava hit her in the face with a badminton racquet.
Upon arriving at home, we didn't exactly have the homecoming we were expecting, in that our new fish Taco, was unfortunately dead. Our neighbors had been feeding him, so we're not sure what happened, but it was a bummer because we knew the kids would take it rough. They were all sleeping, so the conversation would have to wait for the morning. As expected, Ava took it the hardest (although Elise was quite sad as well), but we used it as a life lesson about being a pet owner. Later that day we went to Bridges (our favorite pet store) and ended up getting a tank heater, 4 male guppies, and a frog. Look at us with 5 pets.
We decided to name some of them after the animals we'd met on our trip, so one fish is named Ozzie, and another is Lightning. Elise named her fish Oreo, and then there's Coconut, which is how my kids refer to my favorite hockey team, the Vancouver Canucks. Oh, and we can't forget about Stevie Ray Frog. He seems pretty lonely though so we may have to go back for Jumpy Hendrix to join him.
While Jessica recovered pretty quickly from the flu, I had no such luck. Since we've been back I've been really sick and have barely left the house. Jessica is working at El Gaucho Seattle tonight for New Years Eve, so this is my big day alone with the kids. Unfortunately I was still feeling like hell, and to make matters worse, the pain had spread to my ears, which freaked me out into thinking I had an ear infection. Since it's the last day of the year, I knew I could go to the doctor at no cost because my deductibles had all been met, but if I waited another day, everything started over. Plus I'm on call at work starting tomorrow, which means I'll be extra busy all week, so I made the call to go into Urgent Care this afternoon, even though it meant bringing all 3 kids with me.
I got there and started coughing so hard during check in that they made me wear a mask. They got us into a room quickly, but it was there we sat for a full hour before a doctor arrived. After a full exam he told me it's not an ear infection, or pneumonia, but a classic case of influenza, which in this context was good news. He said the worst of it is behind me, but prescribed a cough syrup to deal with some of the lingering effects. He said the pain I was feeling in my ears was a reflected pain, coming from a nerve in my respiratory system. More than anything it just ended up giving me some peace of mind that I'm almost over it and there's nothing more serious to deal with. In a strange way, it felt appropriate to finish off 2017 with a few hours in a doctor's office, considering everything we've dealt with this year.
Tomorrow is New Year's Day, so I'm off work. This year I decided to change my Stay Fit benefit at work, so starting tomorrow, our family is enrolled at Columbia Athletic Club, which is a very nice facility that's only 5 minutes from our house. The kids are also enrolled in their kids club, meaning we'll always have care for them there, plus they do all kinds of weekend activities, so it should be fun. Jessica and I are excited to be able to start working out together, and they have a killer combination of indoor and outdoor pools, so going there in the summer is going to be sweet.
2017 was a pretty crazy year for us, mainly being dominated by Jessica's neck surgery and my 2 elbow surgeries. We're not getting any younger and this year was a good reminder of that. This was the year of hockey and ice skating for Ava and myself. The first of many I assume, as we both have come to love it. Elise has started exploring a lot this year, including participating in a running team, and taking ballet lessons. This year Enzo has developed a vocabulary most 2 year olds can't even touch, and Jessica has shown a dedication to giving and community support that I've been extremely impressed by.
Looking ahead to 2018, we know we've got Christmas in Colorado, but we're also thinking about an early summer trip to Vegas. For the near-term, I've got a big work project due at the end of January, so it's going to be a busy month for me. Then at the end of January Mr. Enzo will be turning 3!
To our family and friends who actually take the time to read this, thank you, and happy new year with love from all of us. Here are some of our favorite photos from the trip. To Nana, thank you so much for a Christmas we will always remember.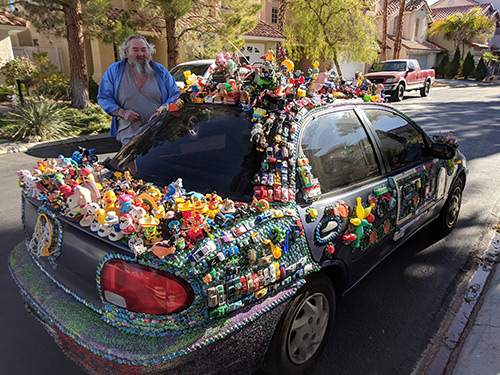 Uncle Bob's 'Toy Car'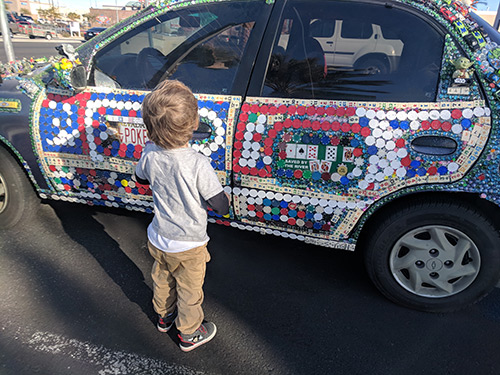 Enzo taking a closer look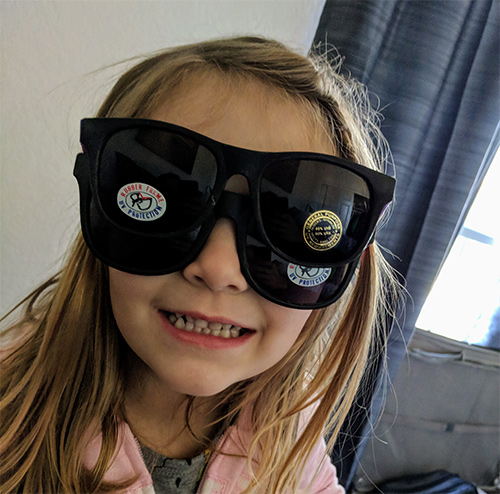 Elise couldn't decide which pair of sunglasses to wear, so…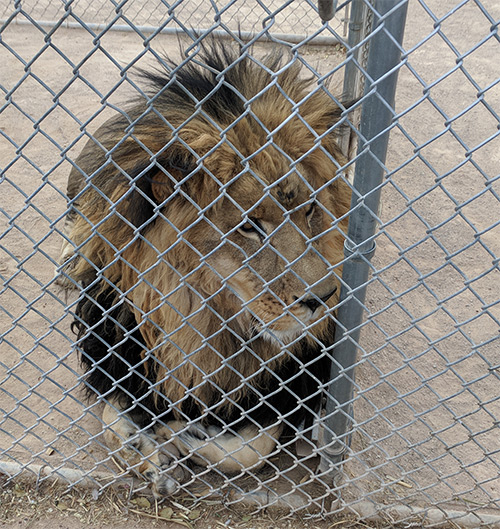 This is the 620 pound lion that scared me half to death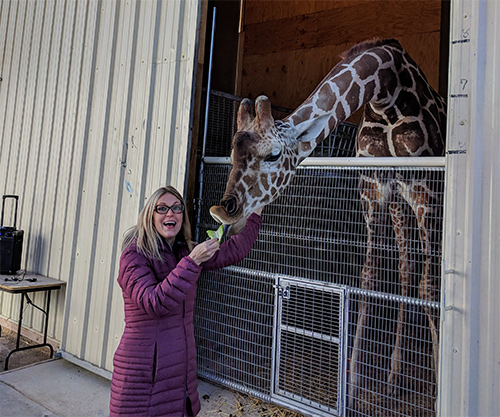 Jessica saying hello to Ozzie, the giraffe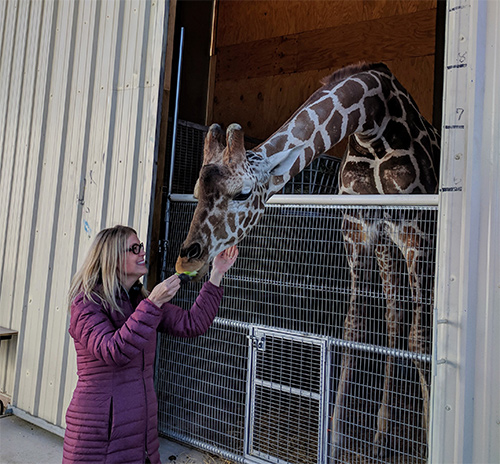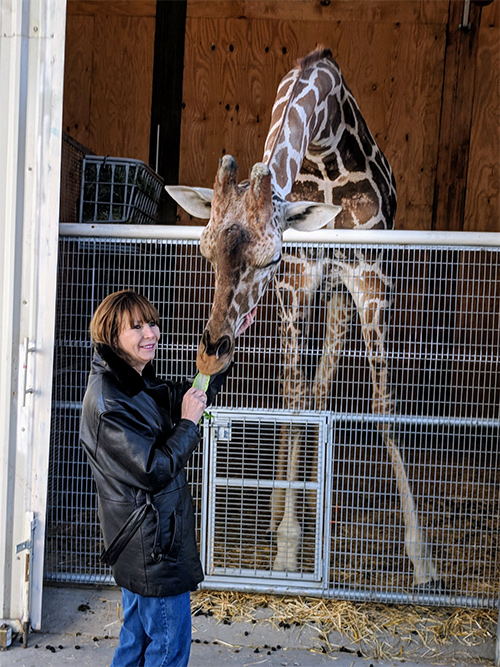 Mom got a lot of quality time with him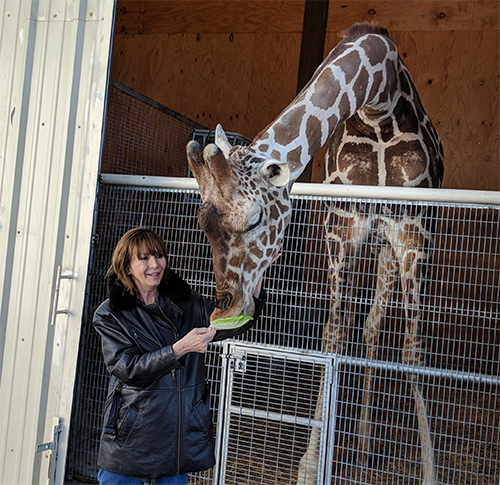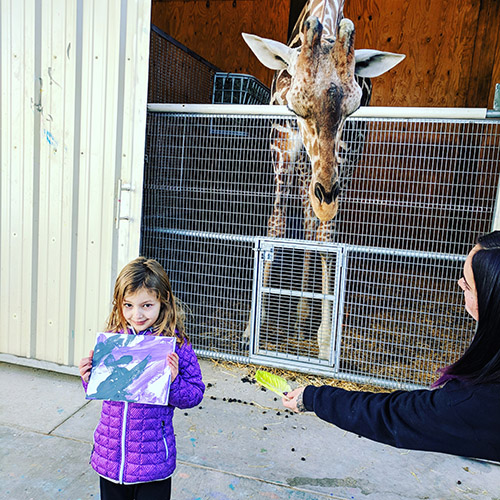 Ava holding our painting by Ozzie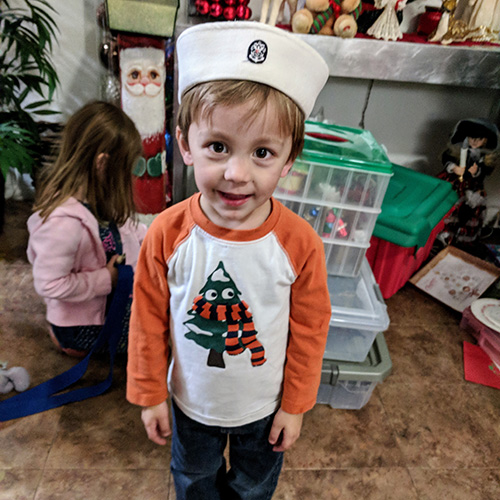 Enzo wearing my Dad's actual U.S. Navy hat. I'm sure it has shrunk over the years, although Enzo does have a very large head…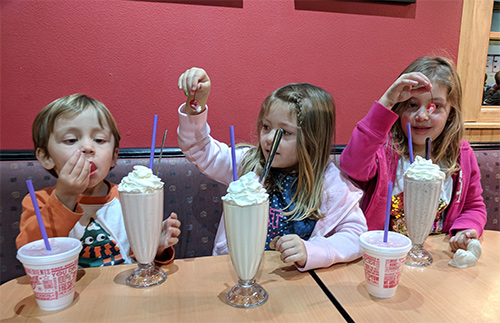 Jumping into some milkshakes after the trampoline park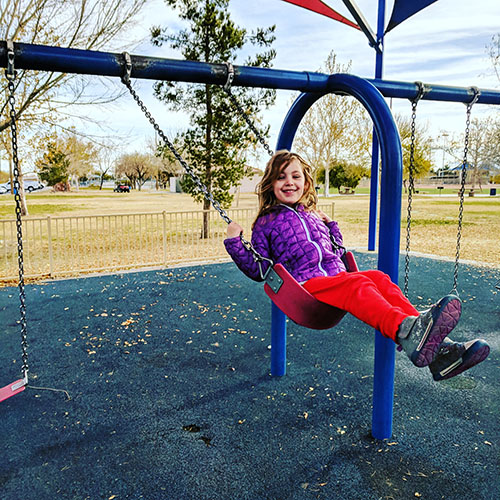 Ava showing her newfound skills on the swing set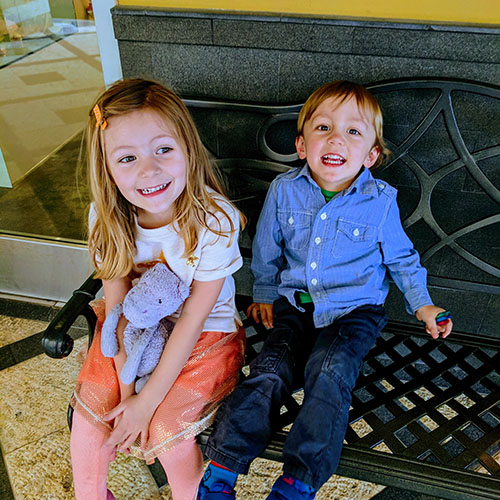 Elise and Enzo patiently awaiting the Christmas village extravaganza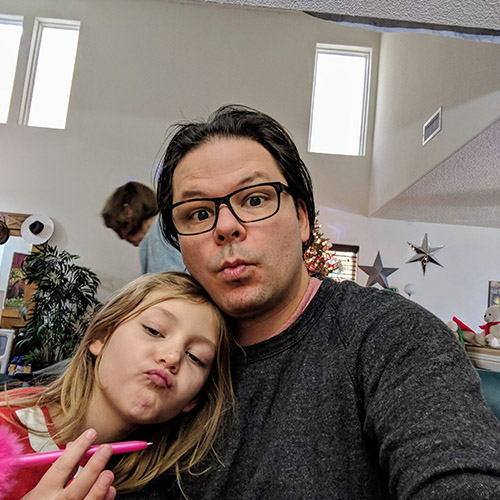 I had to hold Ava for a bit after shaving my beard so she would believe it was still me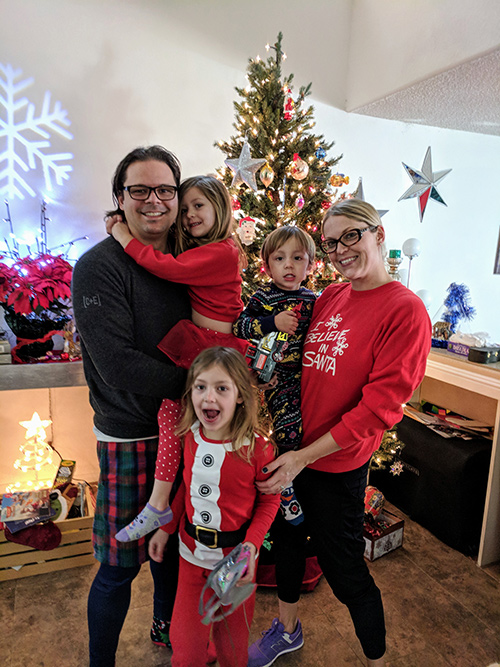 Wearing silly Christmas clothes in front of the tree, our annual tradition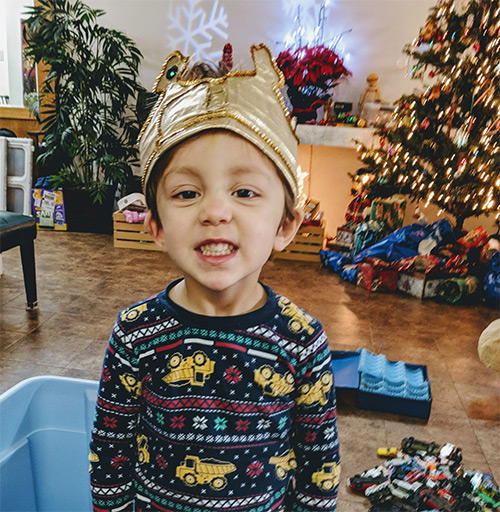 Enzo wearing my crown from a school play – 30 years ago. Yep, Mom still has it, and it's in perfect condition.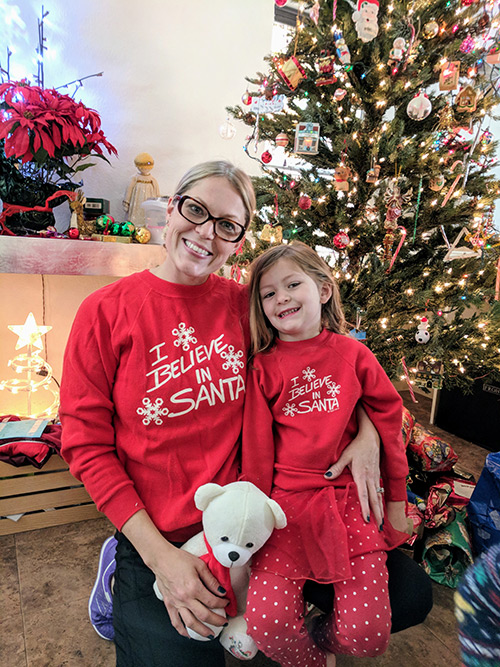 The little sweatshirt is one I used to wear as a little kid, but then Mom broke out the big one on Christmas. Jessica swooned over it and had to have it.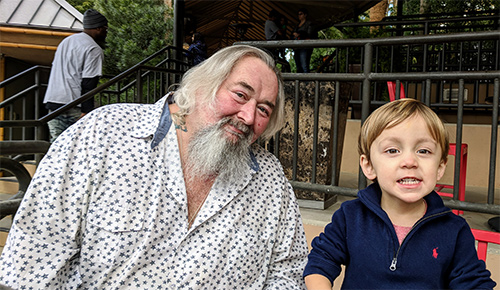 Bob and Enzo quickly became buddies on this trip. It was great to see.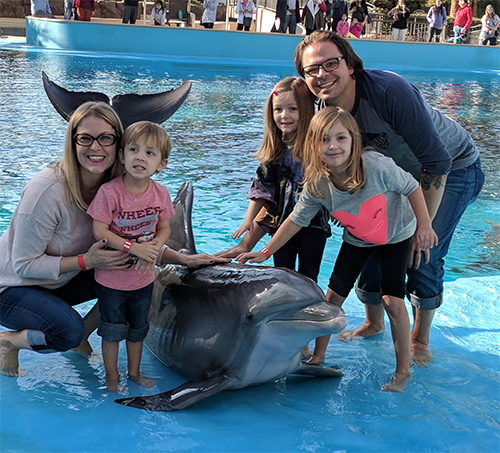 Getting some time with our new friend Lightning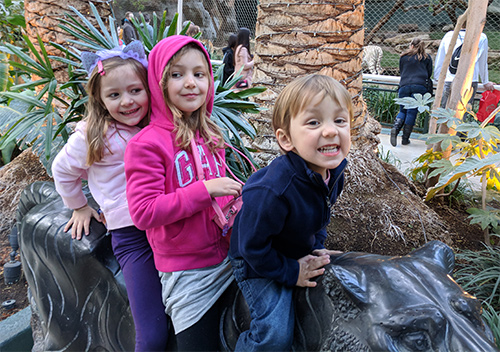 Exploring the tiger park at the Mirage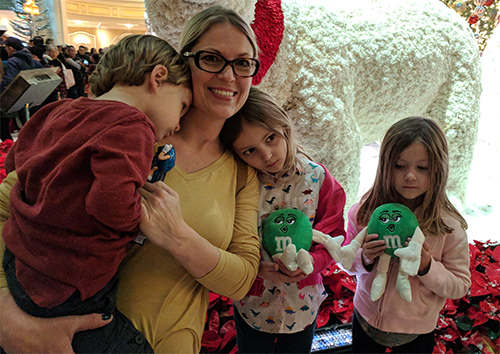 Ready to explore the Bellagio kids!? Maybe not. It was beautiful though.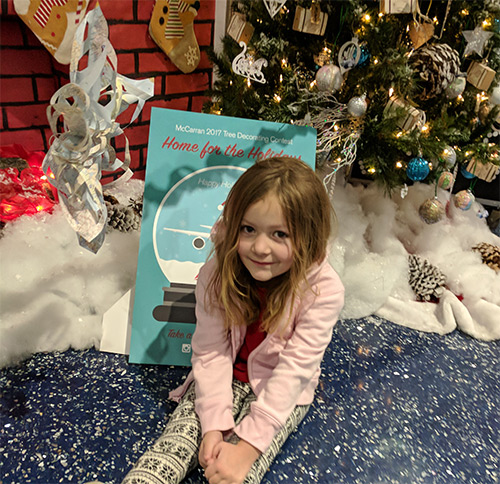 Elise has never seen a Christmas tree she didn't like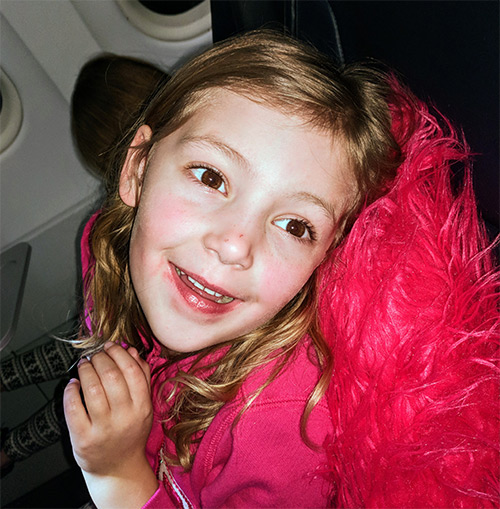 Ava enjoying her Princess Poppy travel pillow on the plane ride home – a gift from Nana