This morning we drove Grandpa Rick to the airport after a short but very productive and fun visit. His trip began when Jessica and the kids picked him up at SeaTac on Wednesday morning at 11:00. The five of them headed straight to the Microsoft campus to meet me for lunch. I was excited to show them around my building and take them on a shuttle ride over to the main part of campus for lunch in 'The Commons', which is where the main cafeteria, as well as many other attractions, is located. It was Earth Day, so there was even more commotion than usual, but it made for an exciting afternoon. After lunch we headed over to one of the soccer fields to let the girls run around and burn off some energy. Not surprisingly, one of their favorite parts about the visit was getting to ride on the shuttle bus back and forth between my office and the main campus. Neither of the girls had ever been on a bus before so they really got a kick out of it. We all had a fun time so it was a great way to start off Grandpa's visit.
I wasn't around the house much for the next couple days due to my work schedule, but as usual, Grandpa got a ton of work done. He did a bunch of yard work in our front yard and installed a ceiling fan in our bedroom, however the main project for this trip was to build a sandbox for the kids in our back yard. The final product turned out awesome. He was able to reuse several of the painted boards from the headboard that he and Jessica made at our house in San Diego, and although it was a lot of work for us on Saturday filling it with nearly 1,500 pounds of sand, it received immediate approval from all the little ones. The project hadn't been complete for five minutes before there were four kids playing in it and having a blast. The kids ended up spending all day playing in there, and although they trecked so much sand into our house you'd think we lived on a beach, it was still well worth it. I'm thinking this will be a ton of fun for all the neighborhood kids throughout the summer.
Friday night we were joined for dinner at our house by Butch and Carol. We ate oysters on the half shell, then enjoyed Halibut Picatta and vegetables for our entrees. Jessica and I love oysters on the half shell, and normally Rick does as well, but he must have gotten a bad one because he wasn't feeling so well later that night. He was a trooper though and didn't let it slow him down one bit on Saturday.
We started off Saturday morning by taking Ava to soccer. Unfortunately although last Saturday she had her best class yet, this wasn't her best week. About halfway through the class she just decided that she didn't want to play anymore and she totally disengaged. It's tough from my perspective because I would never want to force her into anything, but at the same time I realize that she isn't old enough yet to make rational decisions about what she is doing, so she needs to be coaxed at times. Its a bit of a fine line but we're going to keep going for the next several weeks and see how it goes.
After soccer Rick and I got to work in the yard. As previously mentioned, we finished off the sandbox first so the kids could have fun playing in it, then I got back to work on my dog run project that I started a couple weekends ago. Having Rick's help out there was great and I can't believe how much we got done. Not only did we finish digging out all the sod, but we also were able to make a trip to Home Depot and pick up 800 pounds of paver stones to line the entire inside of the fence with. Basically what we did was dig a 4" trench along the inside of the fence, then set these 12"x12" cement paver stones upright inside that trench up against the fence. Once the stones were in place we filled it back in with dirt. The idea was to keep Bella from being able to dig her way out of there, and I think its going to work. Although the project isn't finished yet, I'm extremely happy with how it already looks. The stones are a nice touch, and the remaining work will be really easy. Next weekend I'm going to put down landscaping cloth, then cover it. The only remaining question is what I'm going to cover it with. I was originally thinking gravel, then I was thinking about mulch, but I'm also considering some type of pet-friendly artificial turf. I'm going to research it this week and make up my mind by Friday. I can't wait to finish this up on Saturday so I can move onto the next project, which will be to create a pathway from the back patio to the entrance of the dog run. I'll definitely post photos once everything is complete.
After moving well over a ton (literally) of sand and bricks, we were pretty exhausted, so the remainder of Saturday afternoon was spent relaxing and watching basketball. Later that evening our new next-door neighbors invited everyone over for a Smore's party around their new fire pit. Jessica, the kids, and I hung out over there for a few hours while Grandpa got some down time to relax and watch a movie.
This morning, after taking Rick to the airport, the five of us headed downtown to Pike's Place Market. We got to look at ferry boats crossing the Puget Sound, then we saw lots of fresh fish, pretty flowers, and plenty of interesting people enjoying their Sunday morning. We enjoyed a bag of fresh donuts as we strolled around, then before leaving we stopped by my friend Bill Erickson's shop so I could buy one of his custom made longboard skateboards. Bill and I used to work together at El Gaucho many years ago and have stayed in touch ever since. About seven years ago he decided to leave the food and beverage industry to follow his dream of building the highest quality longboards out of exotic woods and top quality components. In addition to building longboards, he also builds the nicest cutting boards I've ever seen. His company, Erickson Longboards, has received a lot of local attention, and his cutting boards were recently featured in the New York Times! I've been wanting one of his boards for several years, so I decided to use part of my fitness reimbursement allowance from Microsoft to finally purchase one. I ended up getting a beautiful board made from quartersawn White Oak with white wheels. Not surprisingly I was thrilled to get home and ride it all afternoon, but I was still able to get my chores (garage cleanup, quick Costco run, and fertilize the yard) done as well.
This evening we had a nice surf and turf salad made from leftover filet mignon, halibut, and fried oysters while catching up on the Spurs – Clippers game. Tomorrow night should be a lot of fun for me since I'm meeting my Godfather Pete and my great friend Michael Don Rico for dinner at Il Terrazzo Carmine's. We did a dinner like this last year and had a blast, so we were long overdue for round two. Tuesday, of course, is Jessica's birthday, so that is definitely something to look forward to. Hopefully we'll be going out to dinner that night, but if not we will certainly be going out next weekend when Uncle Joel and Aunt Melanie come to town. I've given Jessica a couple options for her birthday present (which always seems like the safest approach to me) so hopefully it won't be long before we can go pick something out. We should also be getting her wedding band soon. We had to custom order it so it's taking a little longer than expected, but its certainly well worth the wait.
In addition to all this family fun, I was also able to get some work done this week in terms of web development side projects. Several years ago when I was first getting back into web development I built a website for my friend Dave Talbott, who is an amazing artist in San Diego. About once a year he contacts me with requests for updates to his site, so while I was recently working on one for him I decided that I wanted to rebuild the site. I wasn't very happy with the quality of the code I had written back then, and it has my name on it, so I decided to spend several days on the bus rebuilding it. Although the finished product looks very similar to the old version, there are some subtle differences that take it to a whole new level. In particular, this new site is mobile friendly, and the gallery pages are a huge upgrade to the previous version. Check it out at www.DavidRussellTalbott.com.
As usual we've got a lot to look forward to in the near future, but I'm just glad that Grandpa Rick had such a nice time seeing his daughter and grandchildren for the first time since baby Enzo was born. It's hard to believe he's already about to turn 3 months old! Here's a few photos from Grandpa's visit.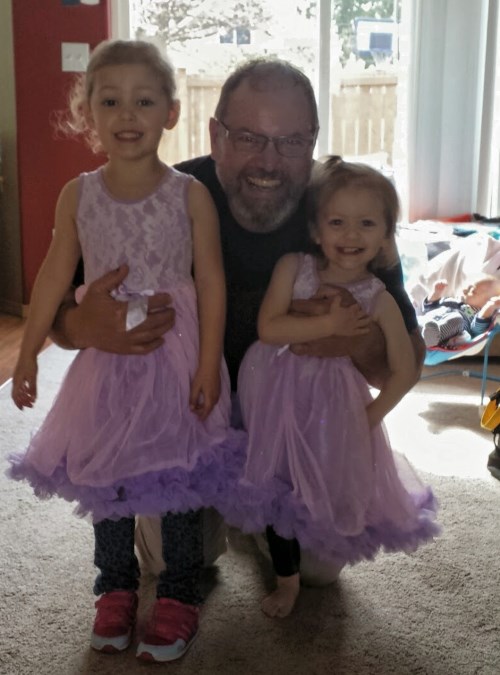 Grandpa and his girls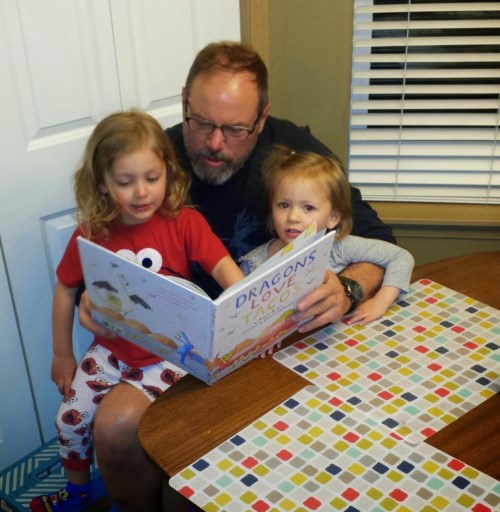 Grandpa reading 'Dragons Love Tacos' (their favorite book) to the girls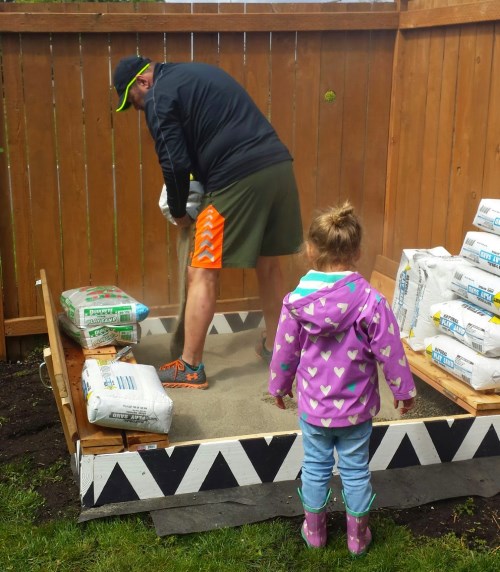 Putting the finishing touches on the sandbox. See how the cover folds up into bench seating on both ends of the box? Pretty cool…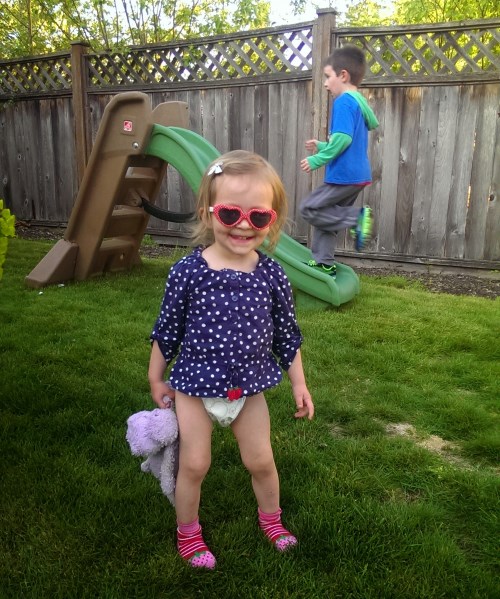 Elise sporting another amazing outfit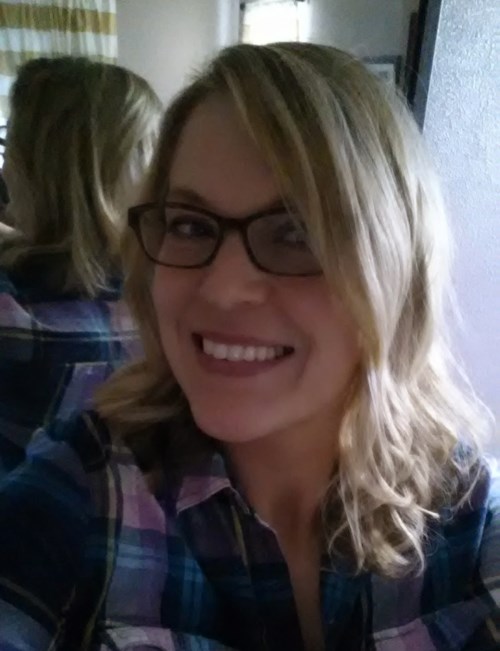 Mommy after getting her hair cut