Tonight Jessica and I are going to see one of our favorite bands in concert: The Red Hot Chili Peppers! I got these tickets as a birthday present for her quite a while ago and the day has finally come. We've always loved going to concerts together but obviously it's a little tougher now with a baby. Luckily we have Natasha coming over to babysit tonight so we can go out and have fun. I've only seen the Chili Peppers in concert once, which was at the grand opening of the Experience Music Project in Seattle back in the late 90's. They played a short set that day because of all the other bands playing, so this should be much better, and of course there is no one I'd rather go to a show with than my amazing wife Jessica!
Unfortunately I'm going to have to watch my step for the next 6 weeks because I broke a toe last night. I was having a rough night with Ava, who was being really fussy after Jessica left for work. I was trying to study but Ava wasn't letting that happen, so I tried to hold her for a while but she didn't seem to want that either. I tried feeding her but that wasn't what she wanted so I was getting frustrated from not knowing what to do. I decided to take out the recycling from the kitchen to the garage because it was almost full. I was barefoot and ended up smashing my left foot into a brick along the side of the walkway in our front patio. It hurt like you wouldn't believe and started bleeding from under the nail of the toe next to my pinky toe. Would that be considered your ring toe? I've always hated toe rings so I hope not.
Anyway, at first I thought I just stubbed it but within 5 minutes it had swollen up and I couldn't bend it. I went online to read about signs of and treatment for a broken toe. I had all the signs they mentioned but I could tell it wasn't too bad of a break so I called Jessica at work and asked her to pick up some medical tape on her way home. Between the ice, ibuprofren, and whiskey I consumed I was able to kill the pain but it's still frustrating. I won't be missing a minute of Jiu–Jitsu though; I'm preparing for my blue belt test and its going to take a lot more than a broken toe to stop me. Jessica taped it up last night and this morning its not too bad unless I step on it the wrong way. I remember my Dad telling me as a kid that whenever you hurt something you'll realize how much you use it and how often something touches it. As usual he was right; within 20 minutes of breaking it Ava had come over and grabbed it, and Bruno had stepped on it, neither of which felt good. Just going to have to tough it out I guess.
I've been meaning to add some new photos to the website so here you go!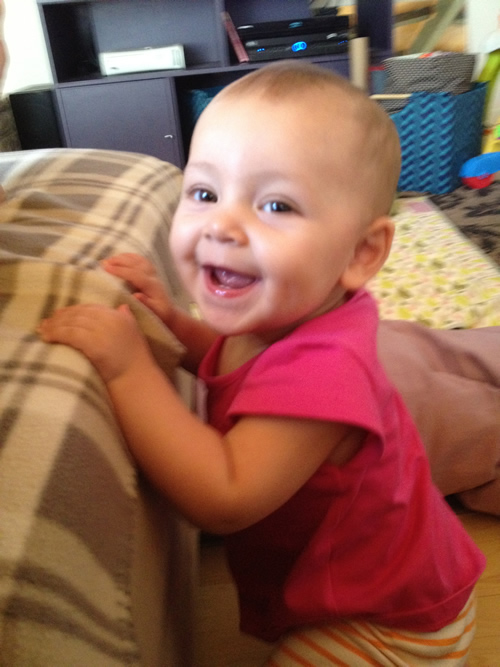 Pulling herself up like a big girl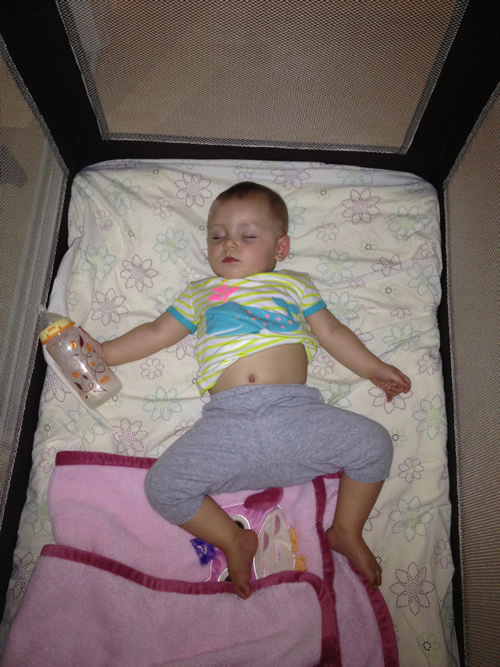 The bottle does it every time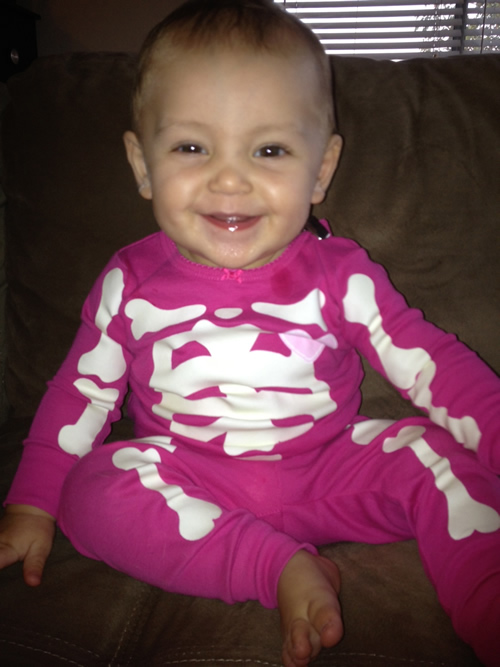 Our happy little skeleton