Today was exactly the type of Christmas you could ever want: quality time with family, plenty of presents, lots of good food, and some very happy children. We didn't get off to the greatest start, mainly because Ava spent at least 20 minutes throwing a fit this morning because she didn't want to wear her pajama pants, but she eventually got over it and figured out that there were a ton of presents to open, so things quickly got better. The funny thing about opening presents this morning was that the girls would get so excited about a particular present that they wouldn't even care about opening anything else, so we would have to take an extended break from opening presents to allow them to play with their new toy. Consequently it took half the day just to get everything opened.
We got to Skype with Grandma and Grandpa in Iowa this morning and they seemed thrilled to get to see the girls opening their presents. Ava is old enough to get it now, so this was a pretty special Christmas for her, but what made it even more special was the fact that we finally got to spend a Christmas with my Mom. We were long overdue for that so I'm very grateful to have her here with us. My cousin Kristy and her friend Edgar picked up my Mom at the airport, then came up to our house to spend the afternoon watching basketball and hanging out. In addition to opening more presents, we had a nice dinner and just enjoyed having a nice relaxing day.
The evening has been pretty laid back, but we're getting ready to participate in our annual Christmas tradition, which is to watch 'National Lampoon's Christmas Vacation'. It just wouldn't be Christmas without a little dose of Griswold. Before I go I just want to thank all of our family members for so many thoughtful gifts. The girls had a great day, and that's the most important thing. This is the last Christmas for us as a family of four, and its hard to believe that we're only a few weeks away from Enzo's arrival. They say a picture is worth a thousand words, so I'll make up for my brevity in this post with plenty of photos documenting our day. Merry Christmas!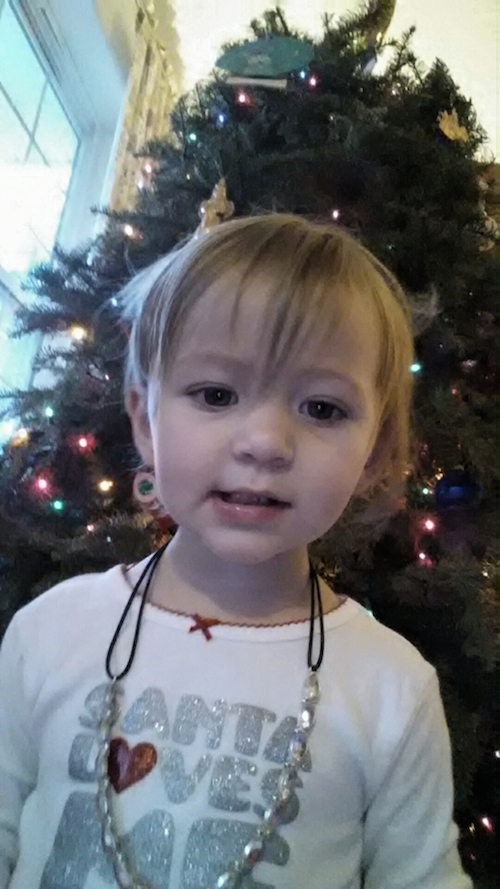 Elise showing off her new necklace in front of the tree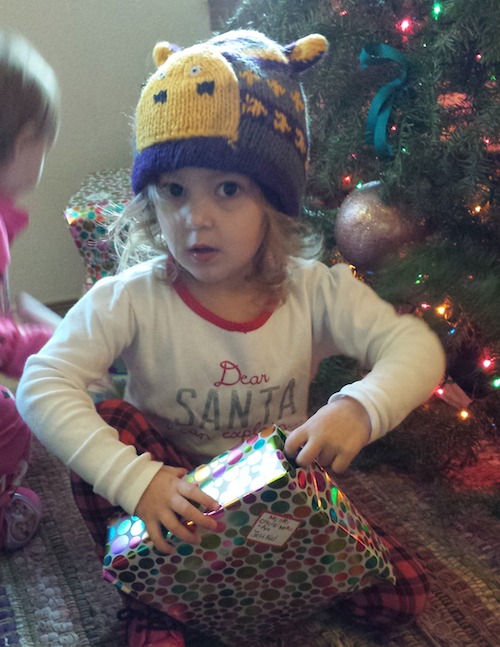 Ava sporting her new hat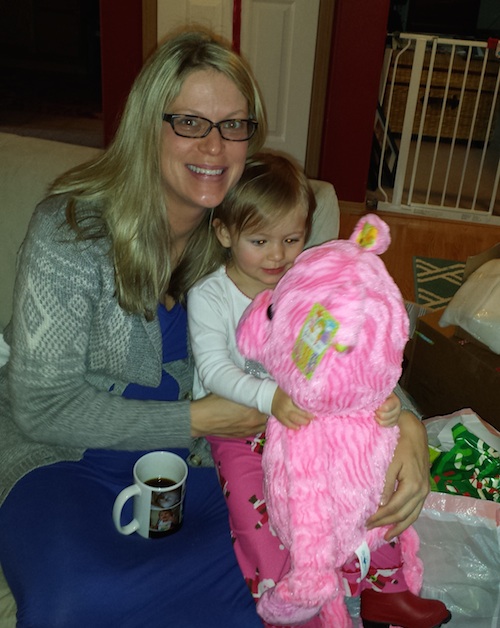 Mommy and Elise checking out the new pink pig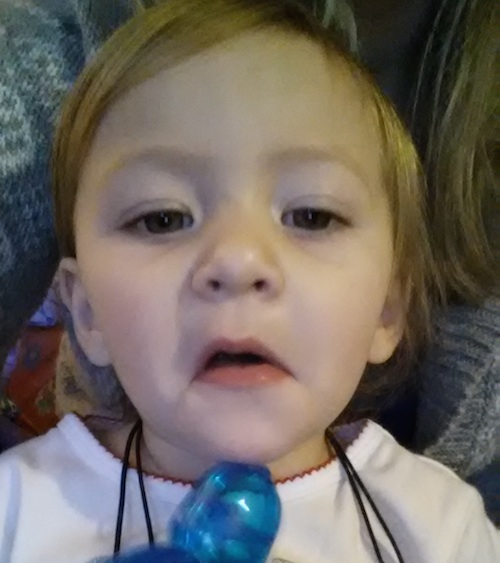 Funny face from my sweet girl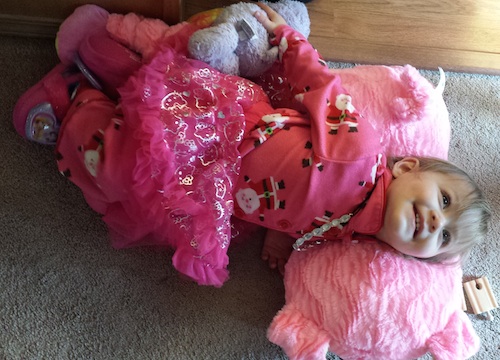 Is that Elise, or an explosion of Pepto?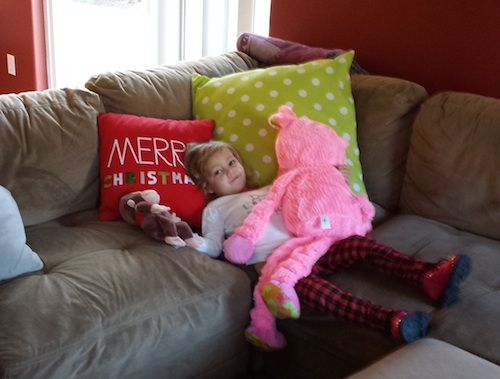 Ava taking a break from opening presents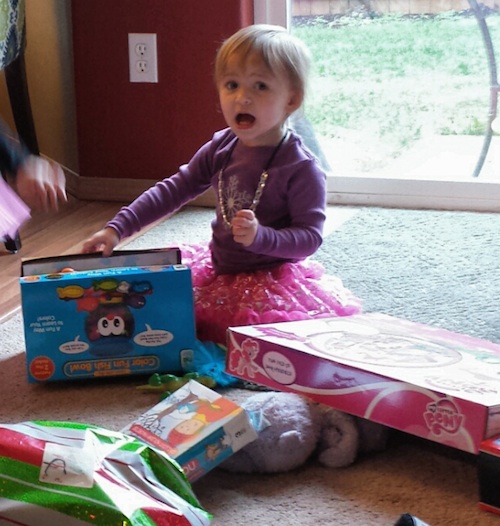 Elise opening gifts from Nana and Kristy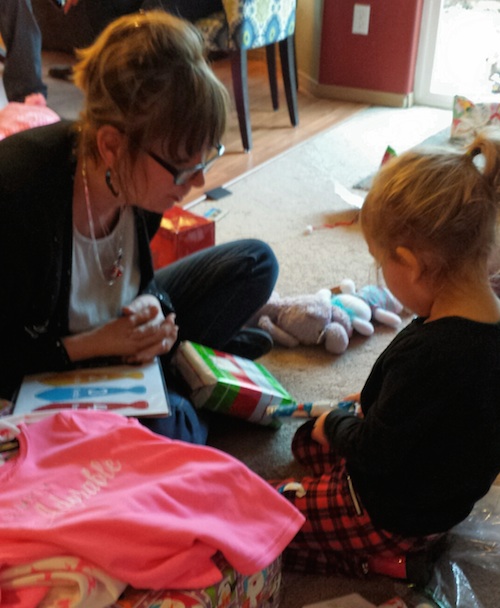 Ava and Nana opening gifts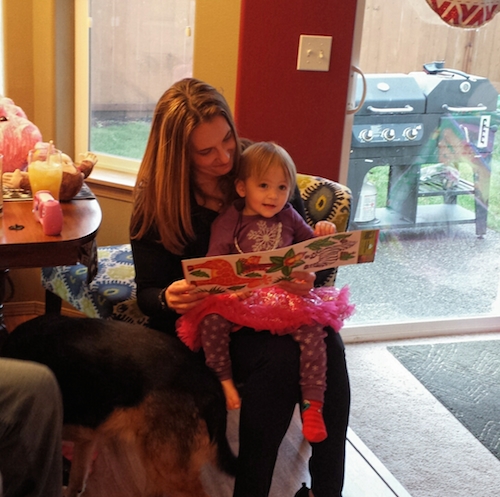 Elise and Kristy checking out the new wall stickers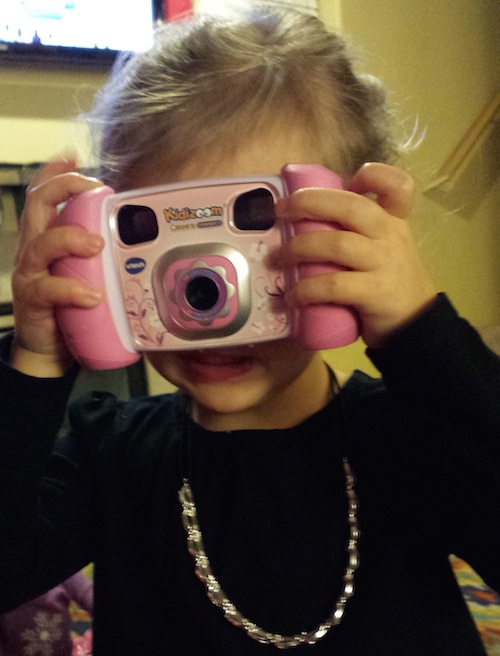 Ava loves her new camera from Uncle Joel and Aunt Melanie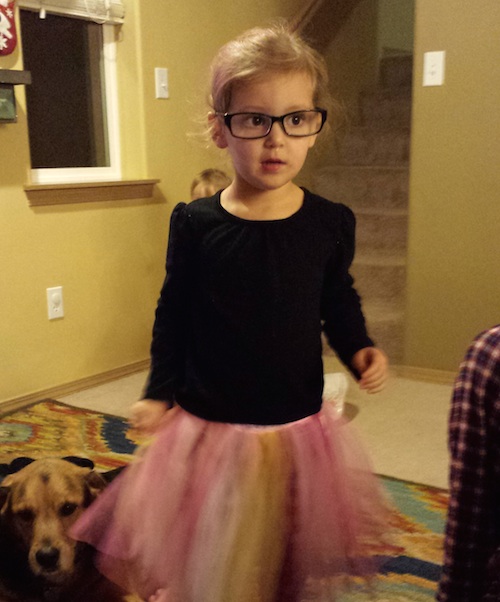 Ava wearing Nana's glasses – as usual