Before I get to all the fun (and when I say fun I mean work) we've been up to this weekend, I first want to send our love to my Aunt Lisa. She had to be rushed to the hospital this weekend for emergency surgery on her stomach. I don't know many details regarding her condition, and it wouldn't be my place to share them even if I did, but I want her to know that we love her and are thinking of her. Hopefully she'll be on her way to a speedy recovery very soon.
The main goals for the weekend were to prepare the Durango for sale, get it posted for sale on Craigslist, perform some routine maintenance on the Acura, and get my office organized. Saturday I bought a hydraulic jack and some jack stands, then came home and got to work on the Durango. I inflated and rotated the tires, changed the oil, and changed the oil filter. On Sunday I cleaned out the inside, which was easily the toughest part of all the work being performed. There was so much dog hair in the back! Even though Bruno has been gone for well over a year, his hair remains, and honestly I wouldn't be surprised if for the rest of my life at least a few of his hairs remained stuck to one of my possessions. As a hound he had really wiry hairs that stick to everything, and you can't just vacuum it up. I've found packing tape to be most effective, but even that was a chore. I was cracking myself up thinking that I was essentially giving the inside of our car a Brazilian.
Today I spent a bunch more time cleaning the outside of the Durango, taking pictures, and getting it posted on Craigslist. In the first couple hours that the post has been live I've already been contacted by two people. If you've ever sold anything on Craigslist you know that there are a lot of flakes out there and you have to be prepared for people to not follow through, but that's okay. I know it will sell sooner than later.
Yesterday the four of us made the mistake of going to the outlet mall at the Tulalip Casino. I say mistake because everyone and their brother was there because of the holiday weekend. It was so crowded I couldn't believe it. I went to the Levi's store hoping to try on some jeans but there was a line of literally at least 35 people just to get into a dressing room. It wasn't long before both of the girls were throwing fits, so we decided to cut our losses and head to Costco. We had originally been thinking about doing a day trip to Whidbey Island but Jessica hasn't been feeling well and the whole idea seemed pretty daunting. Going to Costco was also a mistake because, like the outlet mall, it was so ridiculously crowded that I wanted to scream. I'm just going to say it right now – I hate the samples. More accurately, I hate the human psychology that if there is free food available, people will literally stop in their tracks, leave their cart right in front of me, and run over to get some food. The fact that it's free is the worst. I was telling Jessica that even if they only charged one penny per sample the amount of people rushing over would decrease drastically. Obviously that's not what Costco wants, and they know that giving out free samples is good for business, but it drives me absolutely crazy! Neither Jessica or I deal very well with crowds and I came out of there practically looking for a fight with the next person that does something ridiculous/stupid in my general vicinity.
I will admit however, that the samples came in handy for the girls. Like their Mommy and Daddy, the girls weren't enjoying the chaos in Costco and started throwing tantrums about half-way through our visit. Luckily we were able to mitigate their frustrations with copious amounts of Pirate Booty, Vegetable Crisps, and White Cheddar Popcorn. Normally I try to keep my distance from the samples but this time there was no choice. At the very least I try to be considerate to others by moving our cart out of the way before approaching the sample stand with my tail between my legs begging for a handout.
Since today was Labor Day I decided to make the most of it by trying to get as much work done as possible. I started out on the Acura early this morning by changing the oil and oil filter, and replacing the air filter. I also added air to the tires and filled it up with gas, just in time for a short week at work. After finishing that, as well as doing the remaining work on the Durango, I moved my efforts inside, where Jessica and I got a bunch of cleaning and organizing done in my office. I now have all of my pictures up on the walls, and easy access to my guitars, which I plan to start playing much more regularly. I played a bit for the girls and they seemed to love it. Before long Ava brought her drum into the room and provided some erratic percussion to accompany my out-of-practice pentatonic licks. Jessica continuously stresses to me how important it is for the girls to see me playing music, and I really love doing it as an outlet and form of personal expression, so I'm excited to start playing more often. Being out of school provides me so much more time to do the things that I love, so its important to make the most of that time.
I want to thank my Aunt Brenda for thinking of me and challenging me to the ALS Ice Bucket Challenge, although I had to politely decline. I was sick all last week, and ended up having an ear infection that required antibiotics to cure, so the last thing I wanted to do was dump a bucket of ice water over my head. Hope I wasn't being a Debby Downer but I'm glad she had fun with it earlier in the week.
I wish I could say that Jessica is doing much better now but the truth is that this weekend was really rough on her. The girls and I hate seeing her get sick, especially since there's nothing we can do to help her. At least I understand what's going on, but the same can't be said for the girls. Someday this baby will learn about the trouble it caused for it's Mother, and hopefully this will give her some prime bargaining chips when the time is right. For now I'm just trying to force her to eat, and stay out of her way when she makes a B-line to the bathroom. She's got another doctor appointment soon so hopefully we can start getting to the bottom of all this. To say that this has been her most difficult pregnancy would be the understatement of the year. Obviously she already knows this but I'll say it anyway, we love and appreciate you so much. Can't wait for our new little bundle of joy to arrive and for your (current) troubles to subside. The joy of parenting I guess…
All else is going well and I'm excited for the upcoming short week at work. Tomorrow I get to park in the parking garage for the first time in my car (rather than the motorcycle), and I get to start working on my new assignment. For a second there it looked like I was going to get pulled into another high priority secret Jeff B. project but my director said he couldn't spare any more resources. Either way I'm excited about my new project because it will provide me with another learning opportunity, as well as another opportunity to prove myself.
Gotta end this post by saying that I'm more than ready for some Seahawks football! Can't wait for kick-off at home on Thursday night versus Green Bay. In my usual football season tradition, I'll be making beef stew on Sunday. I love getting it started early in the morning and letting it cook all day while I watch games. The whole house ends up smelling good while I post up in my comfy's on the couch for a full day of watching games. Go Hawks!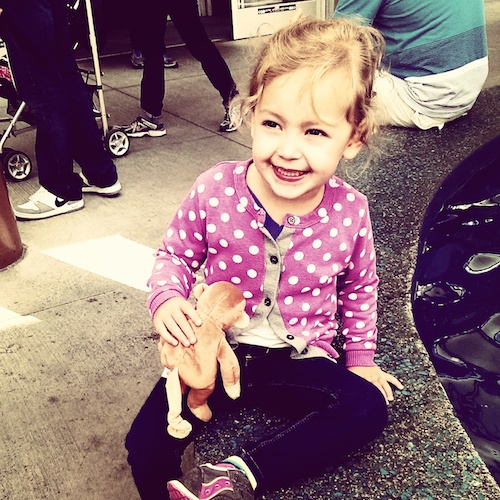 Ava at the outlet mall fountain. She threw a fit when we made her leave, but at least there were a few minutes of pure happiness.