I've been looking forward to 2014 for a while. When I decided to go back to school in 2011, the idea of graduating in 2014 felt like it was a long way away. However I'm down to my final two quarters now and the light at the end of the tunnel is getting brighter. Just need to power all the way through to the end. Having the last two weeks off has been amazing but I'm ready to get back into the swing of things.
The Colorado trip was awesome. It's pretty much everything you envision for a family winter vacation. Amy and Tom really went out of their way to host everyone, and it was nice catching up the Volmers and the Rudds. By the time we got home we were all exhausted, but Jess and I had to get it together to work New Years Eve in the Pampas Room at El Gaucho. We both thought it would be funny for me to shave my beard down to a mustache for NYE. That way I'd be conforming to Gaucho's facial hair policy, and it would make for a memorable night. Everyone got a lot of laughs from it that night but here I find myself a few days later not wanting to shave it.
Working on NYE was fun. I got to see a few of my old bar regulars, plus all my buddies at Gaucho, and of course its great that Jess and I got to be together all night. I bartend so infrequently now that it ends up being a nice change of pace that I enjoy a lot. My new Jiu Jitsu teacher showed up for a drink, which was really cool, and of course none of this would have been possible if it wasn't for Laurel babysitting the girls. She flew in from L.A. that day, so the girls and I picked her up at SeaTac, drove her home to drop off her bag, then she dropped me off at Gaucho and took the girls back to our house. She stayed the night and hung out with us all day the next day. We watched a bunch of football and I made a Mexican fiesta. Laurel, thank you so much for all your help… you're amazing. I also want to say a huge thank you to Dana, Brad, Kallan and Anna, for watching Bella while we were in Colorado. We appreciate it so much and can't wait to have you all over for a crab feast!
Today the four of us attended Ayden Nakamura's 5th birthday party. His parents, Randall and Brie, are close friends of ours that we've known forever. Every time Randall and I see each other we end up telling the story of how our father's were old card playing buddies from 40 years ago. I'll never forget the time about 7 years ago when Randall and I went to his Dad's place to help with his fence. We get there at 9:00am and his dad George immediately started pouring us double screwdrivers. Needless to say not a lot of work was done on the fence that day, but we did strike up conversation, and when George heard my last name he immediately asked if I was related to Elmer Pellegrini. When I said 'Yeah that's my dad', the poor guy almost fainted. As it turned out he knew both of my parents and had a bunch of great stories for us. It's no wonder Randall and I became such good friends.
Here are a bunch of pictures taken in the past week. Some from Colorado, some from NYE, and some from today's birthday party. To all of our friends and family, we wish you a very happy and healthy new year. As my good friend Rico just said in a text the other day, "2014 has a good ring to it."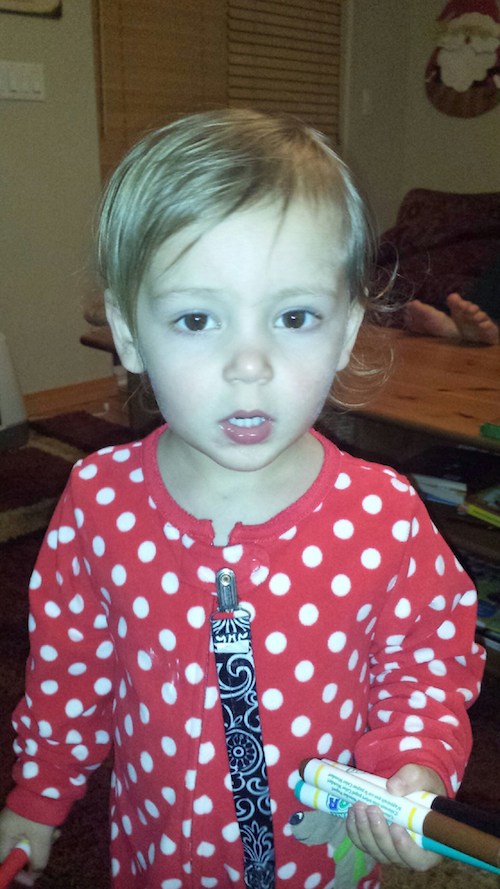 Ava holding court in Colorado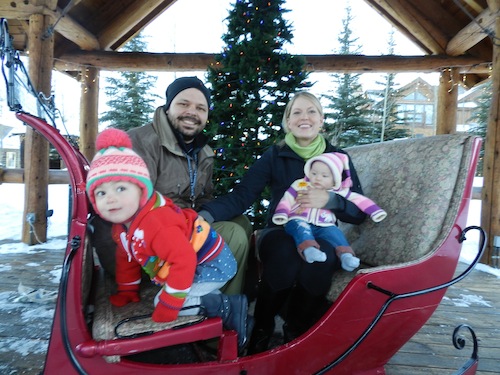 Family Photo on the sleigh – The girls are wearing sweaters Nana got for them in Panama – Dad just finished snowboarding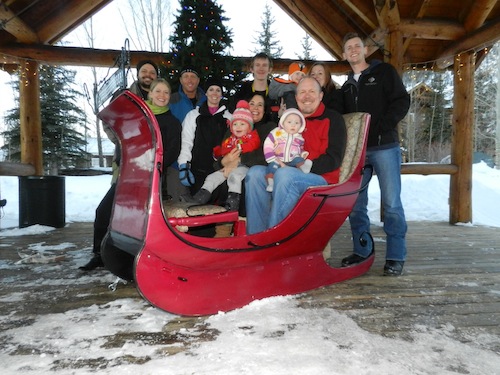 The whole family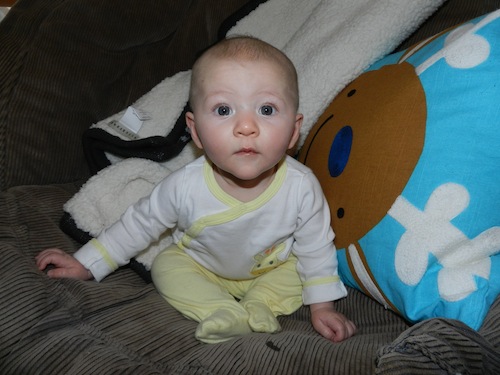 Elise started sitting up on this trip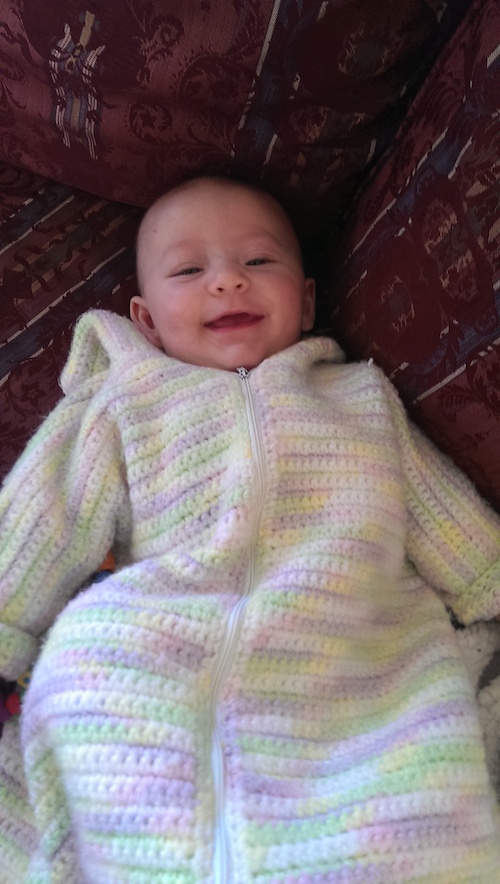 Elise slept in the sleep sack that Nana made for Daddy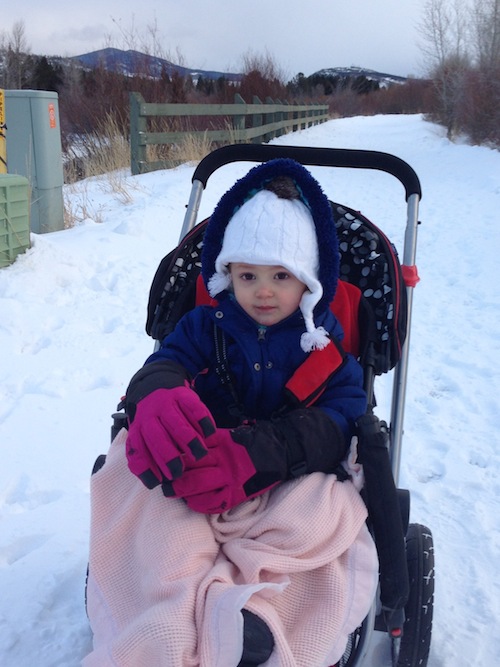 Ava loves the oversized look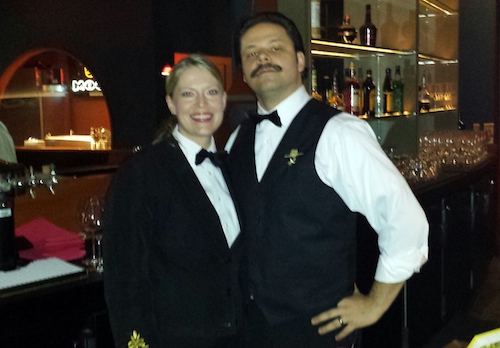 NYE 2014 – Pampas Room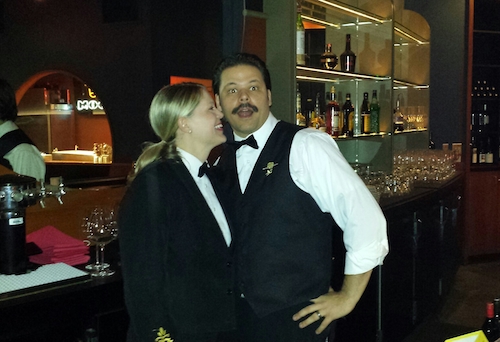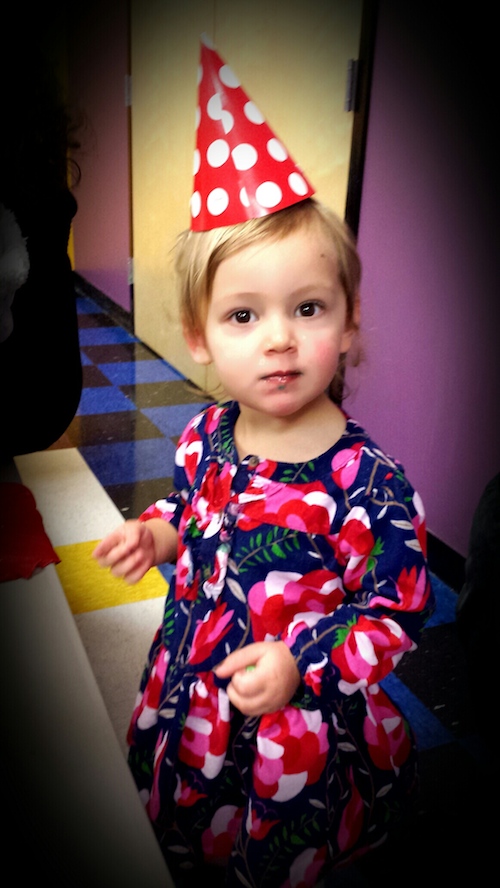 Having fun at Ayden's birthday