It was a whirlwind of a weekend for all of us as we celebrated Ava's birthday. We hosted a rainbow themed party at our house for 30 of our friends and family. It was a huge success and Ava had a great time. She truly seemed to know what was going on and ran around the house talking with everyone. I was a little afraid that she would be overwhelmed with all of the people in our house but she was a little social butterfly with most of the guests. Hands down, my favorite part of the whole day was singing Happy Birthday to her. I have never seen her look so sweet and happy. It is a moment of the party that I will never forget. I will willingly admit that I went a little overboard with all of the custom decorations and rainbow themed party flair, but I do not regret any of it. I think that everyone that joined us for the afternoon enjoyed themselves, and I know that Ava had a blast, and that's all that we were hoping for.
Today is her actual birthday so I wanted to do a little something different for the day. I didn't really have any specific activity in mind so after we said good-bye to Nana at the airport we headed into Seattle.
We started off with lunch at The Fisherman, a total tourist attraction but perfect for kids. Ava did unusually well at lunch, keeping happy eating both Grandma and Grandpa's oyster crackers. They gave us free tickets to the carousel in the arcade next door so I took her on her first carousel ride. She did not like sitting on the moving horse but was thrilled to be held while spinning around so we just stood in the aisle between horses. After that we couldn't resist the urge to ride the Seattle Great Wheel. I wasn't sure if she'd like it but we figured it was worth a try. I'm so glad that we went. She loved it and kept saying "I'm in the sky" and smiling. After the Great Wheel we weren't quite ready to head home so we took a walk through the market and ate some fresh roasted cashews and doughnuts. It was a fun impromptu afternoon.
It's hard to believe that I have only been a parent for two years. I can easily say that becoming a mother is the most wonderfully, amazing thing that has ever happened to me. Ava is such an awesome kid. She is so funny, independent, smart, loving, energetic, adventurous and so much more. She continues to amaze me everyday with the little person that she is becoming.
Happy Birthday, Ava!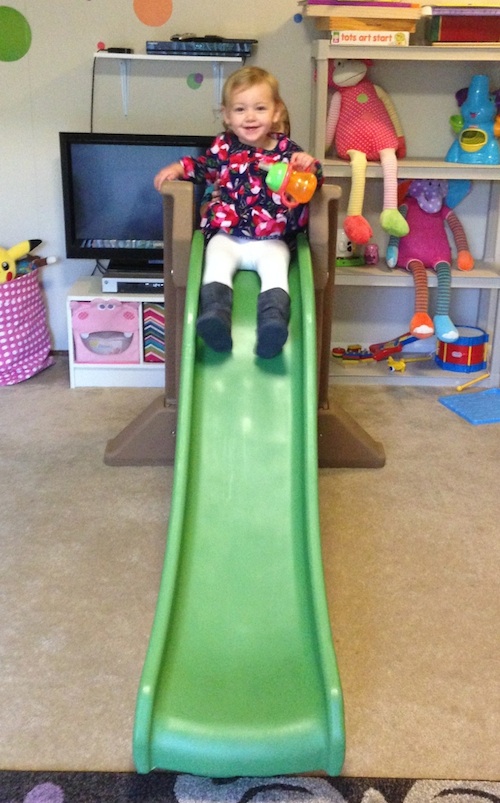 Ava loves her slide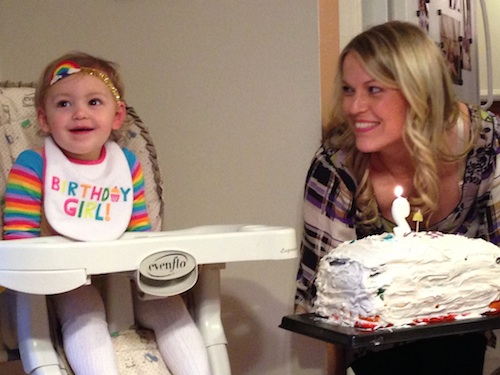 Watching everyone sing Happy Birthday to her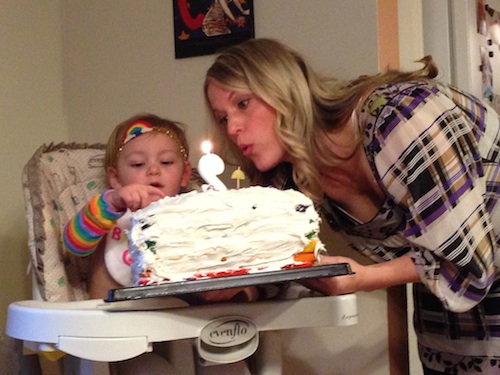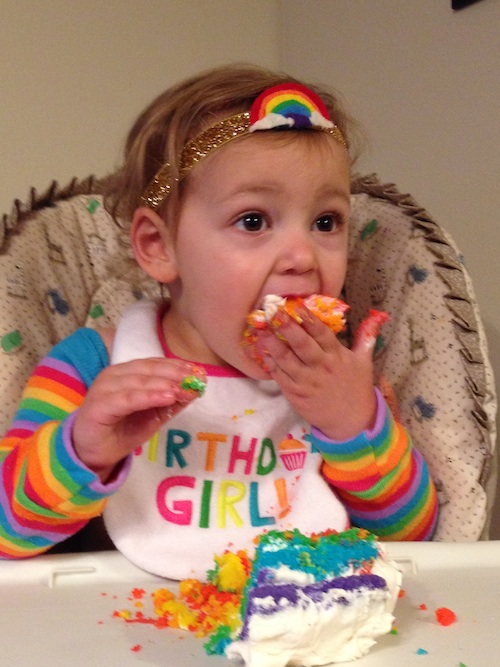 Our little rainbow warrior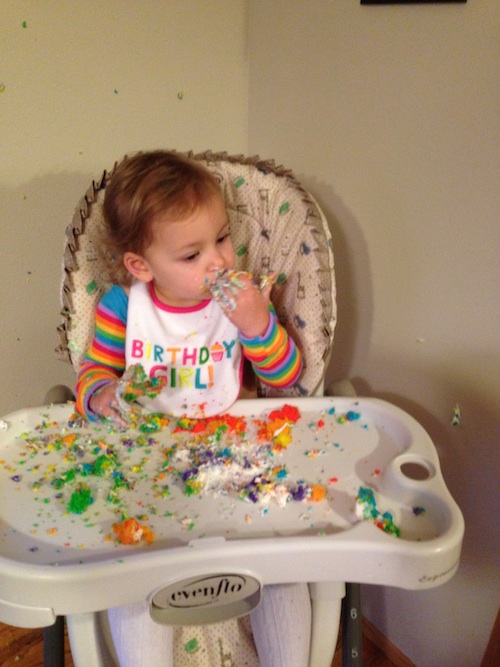 Yes, that's cake on the walls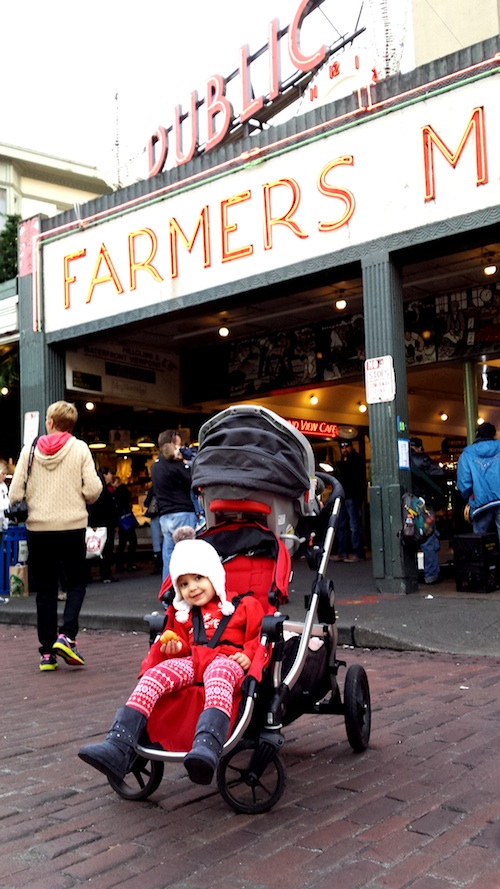 Visiting the market on her birthday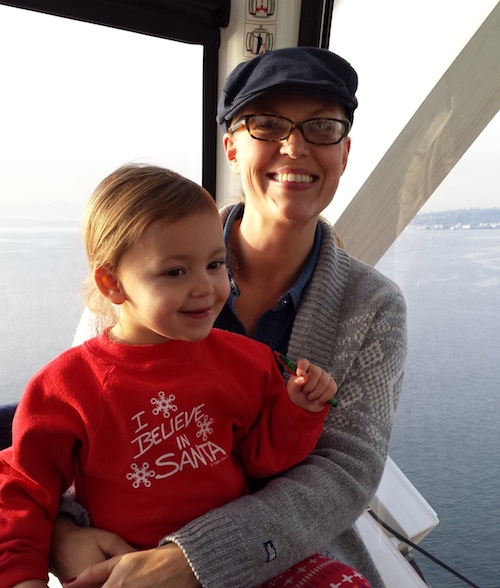 "I'm in the sky!"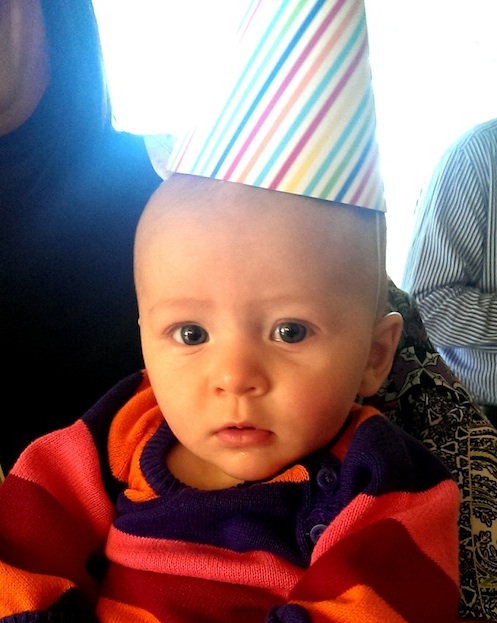 Elise enjoying the festivities