Today Grandpa Rick flew home after spending a nice long weekend with us. As usual with his visits, Jessica had a long list of house projects for him to work on, but just as usual was Rick's willingness to go above and beyond with all the help he provides. Painting, hanging chandeliers, installing fans and lights, cleaning the gutters, and manicuring the front yard were all standard daily activities. In the end it all turned out looking great and of course we appreciate the help so much. I could only wish to be a fraction as handy.
Besides all the time spent working, there was still plenty of time for fun. Rick made us nice steak dinners on Thursday and Friday night, so on Saturday afternoon I got a wild hair to get down in the kitchen and make a seafood feast. I took the girls to the park for a bit, then off to a couple different stores to get groceries for the evening. It was one of those great nights where you're in the kitchen all night long, taking your time with each course, then sitting down to enjoy it before beginning on the next. We enjoyed Japanese Kusshi oysters on the half shell, a seafood salad with all kinds of fresh shellfish, grilled octopus, and various fresh fruits and veggies. Then for entrees we went to work on some beautiful jumbo Alaskan King crab legs, with roasted carrots and sauteed brussel sprouts on the side. Dinner turned out nicely, but more importantly it was a great night full of conversation, stories, and catching up. Before we knew it the clock struck midnight and we were still sitting around the kitchen table.
Sunday ended up being a really fun day as well, and it almost happened by accident. I was supposed to have band practice from 11:00 – 1:00, but it got cancelled the night before due to a scheduling conflict. Jessica immediately got on her phone looking for things going on, and ended up finding a vintage car / plane show at Paine Field in Everett. I always love going to car shows, but I've never been to one like this where not only did they have a sick collection of cars to look at, but they also had a variety of old WWII bombers that were flying around overhead and parking up close for people to check out. I couldn't believe how loud those things are when they fly over you! There were so many vintage planes to check out, plus they had a few cars that I'd never seen in person before, including a 1966 Ford GT-40 and an original Shelby Cobra. Rick loved checking out the planes, but couldn't help going down memory lane a few times when seeing an old car that he used to drive back in the day. It was a really cool event.
After the show we went down into Downtown Snohomish for lunch. They've got a really cool little scene down there in Snohomish and we always end up having fun. Lunch was great, then we strolled around a bit and did some window shopping. Shortly after getting home I had to throw the girls in the van and head down to our friend Miles' 3rd birthday party. They rented out a gymnastics gym and the kids had the place to themselves, so they could run and jump to their heart's content. I was walking across this huge trampoline to find a place to sit, and let's just say I stepped in the wrong spot near the edge. What I thought was solid turned out to give away beneath me like a trap door and I basically fell one entire leg down between trampolines. Then some mom comes over to rescue me and the embarrassment just completely washes over me. Luckily I was with friends.
The girls loved it though and I couldn't believe how much energy they still had considering what a busy morning we'd already had. Both of them would run full speed back and forth and jump into these huge pits filled with foam blocks. Then next thing you know they're bouncing on a trampoline or swinging on a rope. One thing that surprised me was how much they both enjoyed the balance beam. It was definitely fun to watch.
We finished off the weekend with a trip to our favorite Mexican restaurant. Jessica and I had been eating healthy since getting home from the cruise, but we decided to break our streak during Grandpa's visit, and I'm glad we did. Rick couldn't believe the way the girls can put away some chips and salsa, and Jessica enjoyed a much deserved margarita. The final game of this year's Copa America soccer tournament was on all over the restaurant, and everyone was really into it, so we hung out and watched as it came down to penalty kicks.
The kids were sad to see him go today but we've got a white Christmas to look forward to in Iowa this year. I'm sure it will be here before we know it. We always have fun when he comes out so hopefully it won't be too long before we get another visit.
Last weekend was Father's Day, and for the second year in a row, we met up with Jim, Brenda, and Kristy, at the car show in Burien. There were tons of classic cars, food trucks, performances, and a bouncy house for the kids to enjoy. Later that night we had King crab legs (yep two weekends in a row) and watched game 7 of the NBA Finals. Definitely my kind of day. I'm glad to have the Father's Day car show as an annual tradition and even more glad we got to spend it with them. We'll be spending the day with Kristy and Madi for the Fourth of July so we've got that to look forward to next.
In other family news I had a nice talk with the owner's of Card Player Cruises this morning and decided that it would be best for me to transition out of working for them. It was nothing negative or uncomfortable in any way. I just explained that as I continue to take on more responsibility at my day job, I have less and less time to devote to them. The only thing that was able to give lately was family time, and I soon felt like I was ignoring my family in order to get work done. As I told them, I don't want to be one of those Dad's who thinks bringing in a paycheck is the only thing that matters. They're only going to be little for so long and I don't want to look back down the road with regrets because I spent too much time working and not enough time involved in my kids' lives. They totally understood where I was coming from and agreed that family has to come first, so it couldn't have been more amicable. Since there's basically no limit to opportunities for career advancement at Microsoft, it seems pretty logical to keep my focus there and not distract myself with anything else moving forward.
Elise's 3rd birthday is coming up in a few weeks and we're planning a fun party for her. We'll be renting a bouncy house and inviting a bunch of families over. Then a few weeks after that we've got the Pellegrini/Giuntoli family reunion. This will be the first time in many years that I've seen quite a few family members, most of whom have never met Jessica or the kids. It's far overdue so I'm glad we've finally got this nailed down. We changed the location from Moscow, Idaho, to Lynnwood, WA, mainly so my Aunt Norma, who just turned 90 this month, could go. There would be no point having this event if Aunt Norma couldn't be there so I'm glad it all worked out. I just spoke to her last week on her birthday and I truly can't believe how great she sounds. So vibrant and full of life, just as I remember her 30 years ago. Jessica and the kids made her birthday cards and dropped them off at the front desk of her building the day before her birthday, along with flowers, balloons, and a recent photo of me with the kids. When I spoke to her on the phone the next day she was beaming. She loved everything, but what I loved more than anything is when she said Enzo, whom she was seeing for the first time in that photo, had an uncanny resemblance to my Dad when he was a little boy. Of course I was happy to hear that, but most of all I can't wait to introduce them at the party.
Guess that's about it for now. Happy 4th of July weekend to all, and of course happy birthday on the 4th of July to my amazing sister Dana, or Auntie Dana as we call her around these parts. We love you so much and hope you have a great day!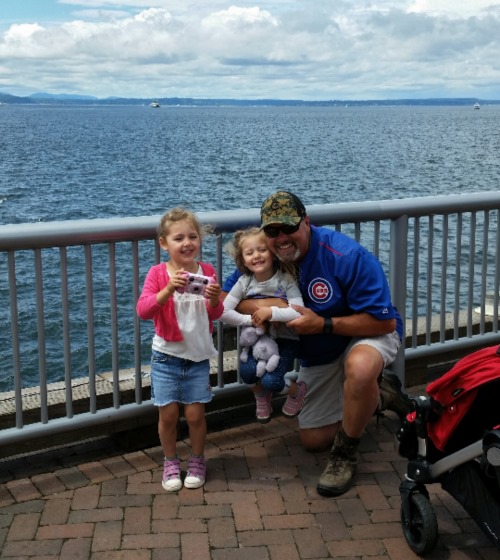 Ava is quite the little photographer these days. You never know when she's going to strike!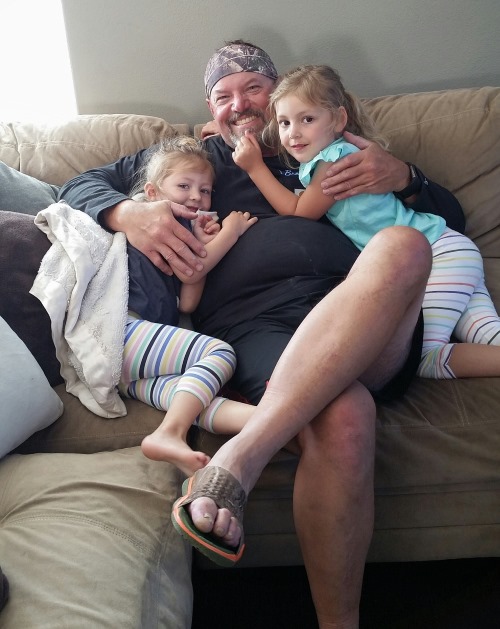 Grandpa's girls