Yesterday morning Amy and Tom flew home to Colorado, meaning the five of us are officially on our own now. Amy had spent about a month with us, and Tom came to join her for the final week of her stay. As always, they were both extremely helpful in so many areas. Whether it's watching the kids, helping out with projects around the house, or taking care of a meal, they always go out of their way to make things a bit easier for us; obviously we appreciate everything they do very much. It's funny because I don't remember being this focused on the fact that we were 'on our own' after Amy left when either of the girls were born. Maybe its different now because the kids officially outnumber the parents. I guess that has to play a part in it. I'm not worried or anything; we're going to be just fine, but I have to acknowledge the fact that it really does feel a little different this time around.
Last week was a really busy week for me, mainly because in addition to working my normal schedule at Amazon, I also bartended at El Gaucho on Friday and Saturday night for their Valentine's Weekend Cabaret shows. We did one show on Friday night and two shows on Saturday night, each of which was sold out. It had been a full year since I worked a bartending shift but it was cool; I had a lot of fun seeing my old friends. I must admit though, I've gotten pretty used to sitting at a desk all day, so being on your feet running around for 10-12 hours straight with no break wasn't exactly easy. I was exhausted after each shift, but I'm glad I did it. I spent so many years in that industry that a part of it is forever engrained in me. Although I couldn't see myself going back to it as my full-time career, I still love being able to go in every now and then. It's a nice social outlet for me.
Tom and I spent the day on Sunday doing maintenance on Jessica's van. There was nothing wrong with it, but it was due for service. Between the work I did on it by myself a couple weeks ago and the work Tom and I did on Sunday, we basically gave it an entire 100,000 mile tune-up. We did new rear brakes, all new spark plugs, serviced the battery, replaced the PCV valve, replaced the cabin air filter, and inspected a ton of other things. I learned a lot in the process, and it feels good to know that you're doing good work while simultaneously saving a significant amount of money compared to having it done at a shop. I need to do some similar work on my Acura and now I know how to do all of it, so that's pretty cool.
Monday was also an interesting day for me because I put in my notice at Amazon. Plenty of you who read this blog already know about my new job opportunity with Microsoft, but I guess now is as good of a time as any to say publicly that I am leaving Amazon to join Microsoft as a Software Engineer on the Azure Web Team, which is the team that owns Azure.com. I wasn't unhappy with my job at Amazon at all, and I certainly wasn't out looking for work, but a recruiter from Microsoft found me on LinkedIn and presented me with an opportunity that I felt like I had to act on. After speaking with the hiring manager I got pretty excited about the opportunity and decided to officially apply for it. The interview process was very difficult, and I honestly didn't feel very confident about it when it was over, but to my surprise, they decided to offer me a job.
One of the most appealing things to me about this position is the fact that my title will be 'Software Engineer 2'. As you may already know, last year I received a degree in software engineering. Getting that degree was a lot of hard work, particularly because I was working full-time while going to school, so it feels great to validate all of that effort with a corresponding new job and title. When I think about my long-term career growth, I feel better about moving forward as a software engineer than as a web developer. Another major benefit to taking this job is that Jessica won't have to go back to work, or at least not on any type of regular basis. It's likely that she would still work the occasional private party, just like I did last weekend, but that's about it. This takes a lot of pressure off her and allows her to focus more on the kids, at least for now. As previously mentioned, having a third small child in the house requires a lot of adjustments, so I'm glad she doesn't need to worry about work for now.
The act of putting in my notice at Amazon didn't go exactly as planned. My manager was shocked (which didn't surprise me) and he actually went out of his way to get me to change my mind. He confided in me that, although I wasn't supposed to find out until April 1st, I have been approved for a promotion to a Web Developer 2 role. He contacted Human Resources to find out what my new salary would be in hopes that it would persuade me to stay. I wasn't expecting all this, and it certainly felt good to know that I had earned a promotion, but in the end I felt that backing out on Microsoft would have been unethical. I asked him for an evening to consider my options, then later that night I wrote an extensive email explaining my decision. Obviously I would never want to burn a bridge, so I was happy to hear that I had his blessing and that I was leaving on good terms. There is no doubt in my mind that I'm making the right move for my family, as well as for my career. Plenty more updates coming soon on this once I get started.
Our first day without the help of Grandma and Grandpa was an interesting one. I worked from home so that I could be there for Enzo during his little procedure. We had a normal evening at home, but then Ava started getting sick in the middle of the night. She threw up five or six times throughout the night. The poor thing couldn't even keep juice down. I went to the store in the morning and got her Pedia-sure, Pedia-lite, saltine crackers, and bananas. Unfortunately the timing of all this is poor because I'm going to a concert this evening with a friend of mine. I bought the tickets a month ago, mostly because Jessica encouraged me to do so, but then all this happens and of course I feel terrible to leave her alone for the entire day with the kids considering that Ava is not feeling well. I checked in with Jessica throughout the day and she said Ava was doing better; she was able to eat and keep everything down. I'm not sure what the problem was but I hope it was short-lived.
Now that we're on our own I'm sure we will all get into a regular routine pretty quickly. Elise is still having sleeping problems, so it has become a nightly occurrence for her to crawl into bed with us at some point. More often than not I wake up with her wrapped up in my arms. It doesn't bother me having her there but I'm worried that we're encouraging bad habits which will be difficult to break.
Speaking of our bedroom, one of the projects Jessica and I worked on while Amy was in town was painting our bedroom. We spent time looking at paint swatches from Sherwin Williams and ultimately settled on a grayish-brownish color called 'Flexible Gray.' Well, lets just say that its much more flexible than it is gray. Once we got it on the wall it quickly became apparent that it was actually more of a cross between pink and purple than it was between gray and brown. I have to be honest by saying that I really don't like the color, especially for my bedroom, but I can live with it. More importantly, we learned a great lesson, which was that you always need to get a sample of the paint and put a few brush strokes of it on your wall at home in order to be sure that you really like it. Later this year we plan on painting many more rooms throughout the house, so it was good to learn this lesson early on.
That's about it for now. Here's a few recent photos of everyone.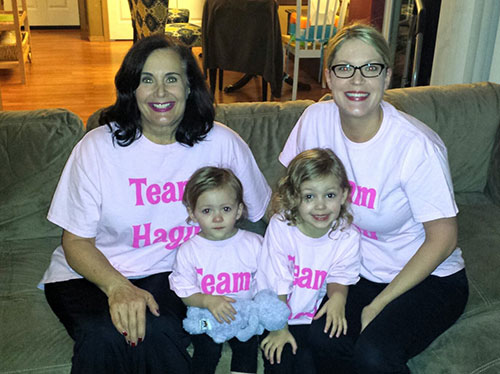 The girls wearing their Team Hagy shirts in support of our friend who is fighting breast cancer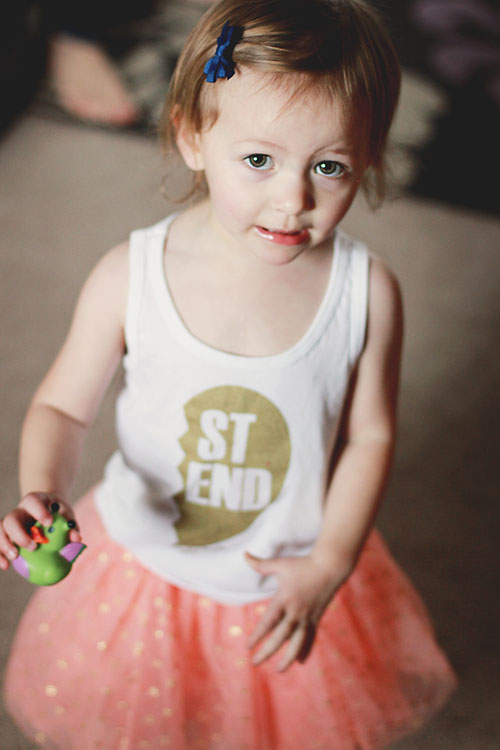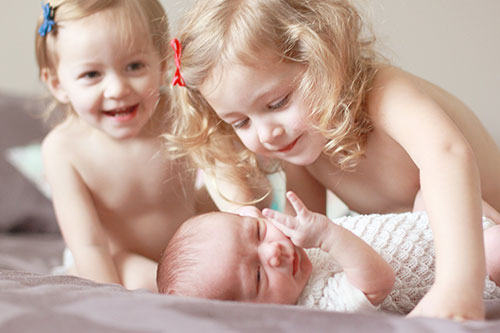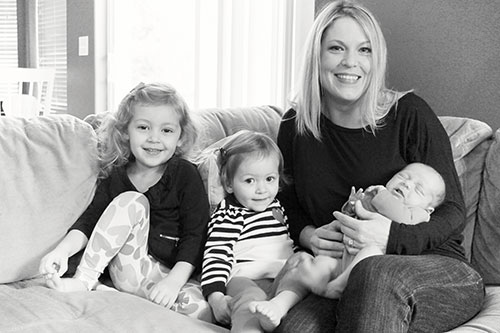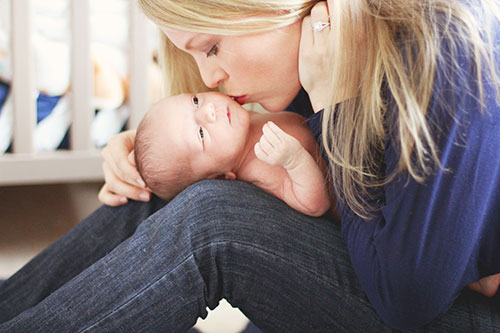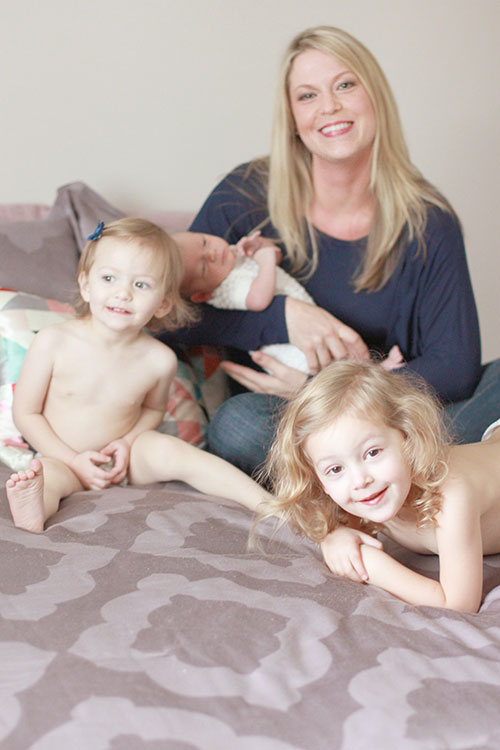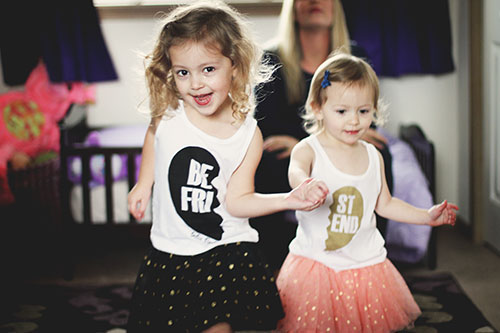 Best Friends Forever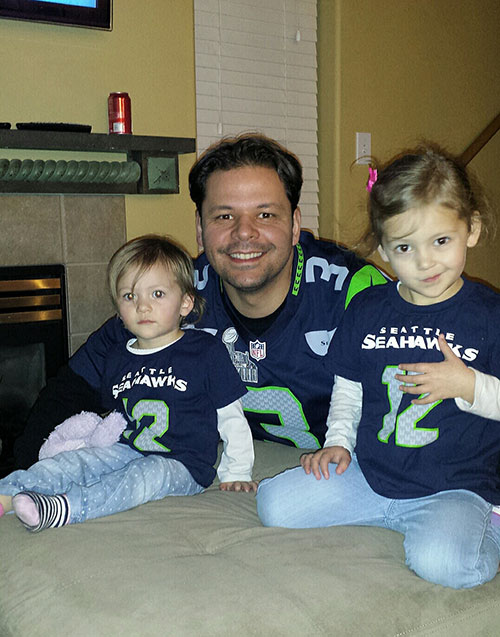 Superbowl Sunday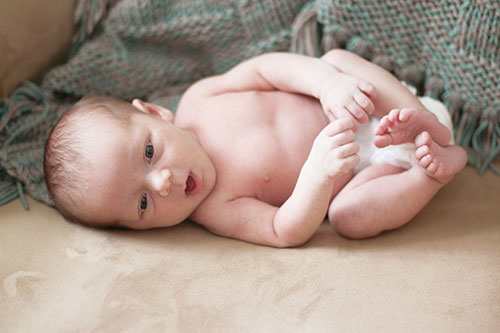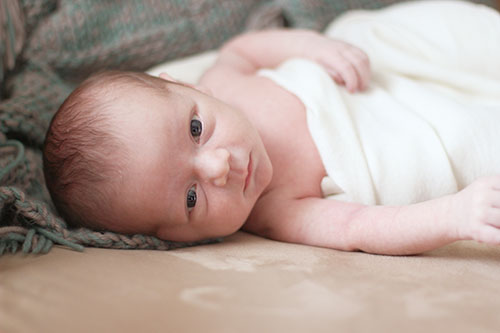 Baby Enzo