Apologies for not writing sooner. I'm not trying to make any excuses but I've been so busy lately, and whatever free time I do have has been dedicated to music and hockey. Sometimes it's tough to find a few hours to dedicate to writing, but we've had so many good things going on lately that a post felt long overdue.
First and foremost, last Friday we celebrated Jessica's birthday! Since it fell on a Friday I decided to use a vacation day and make a long weekend out of it. In usual Pellegrini fashion, we celebrated in the form of eating well all weekend. Friday morning Elise and I took Ava to school, then after dropping her off, we went to a nearby French bakery and came home with all kinds of treats: croissant, chocolate eclairs, and the best key lime tart I've ever had. We made sure to save some for Ava to enjoy after school so she wouldn't miss out.
While Ava was in school we decided to get our errands done, so we ran to the store to get Enzo some underwear. Basically, our little dude is already potty training and it's time to start trying out wearing undies, but more on that in a bit. Then we ran to Costco to get some beautiful big Alaskan King Crab legs for the weekend. After picking Ava up from school we all went to the hockey store and got her a pink hockey helmet. The reason for this, as well as the title of this post, is that Ava is now doing her skating lessons on hockey skates, rather than figure skates.
For those that don't know, it's a lot harder to skate on hockey skates than it is on figure skates. The blade on a hockey skate is shorter, and both ends of the blade curve upward, plus there's no toe pick. It was recommended to us that if she's going to wear hockey skates, she should also wear a hockey helmet with a full face mask. Apparently some kids have a tendency to fall face-first on hockey skates, so we took their advice and got her the helmet of her choice. Turns out Ava hasn't had that issue, but it's still good to have her fully protected. The first time she wore it she wasn't all that into it, but then yesterday she wore it again and had no issues at all. She was running around the rink before her lesson asking other kids what they want to be when they grow up, then would say, "When I grow up I'm going to be a hockey player!"
She's still switching back to figure skates for the open skate session after class, but we actually have an agreement that next week she's going to stay in hockey skates for the open session. There's been a bit of a regression in her skating due to the switch, but that's to be expected, and it's good for her. Yesterday was her third class in hockey skates and she's already doing so much better. It didn't take long for her to get right back to the front of the pack. She's already jumping in them, doing swizzles, touching her toes, etc. As long as she's having fun I'm happy, and I can't wait to get her out for one of the upcoming junior hockey sessions.
Anyway, back to Jessica's birthday weekend. Friday night we had a babysitter over so Jessica and I could go out for a bit. We took an Uber to downtown Snohomish and bounced around to a few different places for happy hour. We had a rare bit of sunshine that evening, so it was nice to get out for a walk by the river. We didn't really have a full dinner, but instead chose to have small bites at various places, and it worked out well. The babysitter had plans that night, so we were home by 7:30, but it was still nice to get away for a bit.
Saturday all five of us went to Ava's skating lesson, then afterwards we went on a hike in an area called Meadowdale, which is on the northern end of Lynnwood. It was labeled as an easy hike that was kid friendly, but turned out to be pretty vertical. Basically you descended through the woods for a mile, then at the end was private beach access. It wasn't the greatest weather, but was decent enough to hang out collecting shells and throwing rocks.
Unfortunately we hadn't been there long before Elise started showing signs of an allergic reaction. She was getting welts all over her face, so we had to assume it was due to the shells she was collecting on the beach. We were pretty concerned, so we didn't stay at the beach very long. By the time we made it back up through the woods the welts were gone, so there was no question that the reaction was based on something from the beach. Then, just a couple days ago, Jessica and the kids met up with friends at a different beach, but Elise had a similar reaction, only worse. This time the welts covered her face, hands, and arms. Obviously they couldn't stay, so Jessica ran to a pharmacy to get some Benadryl. Luckily she responded well to that and the welts quickly went away. She called our nurse hotline to verify the treatment, but now there is no question that Elise is allergic to something at the beach. It's so strange too because we just spent a weekend at the beach in September and there was no problem, but these kinds of things can pop up quickly. We need to get her in for an allergy test as soon as possible, and avoid beaches between now and then.
On the way home from our hike we stopped by Central Market (our favorite grocery store) so I could get more stuff for Jessica's birthday dinner. As usual, I went a bit overboard and ended up getting so much stuff that we had enough for meals on Saturday and Sunday. I got two dozen fresh local oysters to shuck, a beautiful prime New York steak, French wine, and a fresh-baked French baguette. The plan was to have everything on Saturday night, but again, it was too much, so we ended up having the oysters and NY steak that night, then saving the crab legs for a big Sunday lunch.
Sunday morning we sent Mom out for some personal time while the kids and I hung out around the house. Once she returned we all had a nice big crab lunch. Not surprisingly, the kids love crab just about as much as we do, so it was nice to get everyone around the table together eating the same thing. That night I had hockey and ended up scoring another goal, so that was pretty exciting. Overall it was a nice long weekend for me, but more importantly, a great birthday weekend for Jessica.
So back to Enzo for a minute – he's basically potty training himself. Although we've had some accidents, he has been very proactive in telling us when he needs to use the potty. This is the earliest age for any of our kids so it's been a nice surprise. He gets so proud of himself when he uses the potty and I don't think it will be long before we're all the way there.
The girls are also having some breakthroughs of their own: they're both doing great learning the alphabet. We've been focusing heavily on this lately because Ava starts kindergarten in September and we need to make sure she knows every letter without hesitation. As usual, when Ava focuses on something, Elise isn't far behind, so they're both doing excellent. The progress they've both made over the past few weeks is incredible. Elise gets so excited too because she'll see letters somewhere and yell out "That's my E!"
On my end, I've been getting together with my friend Sam from work every weekend for the past couple months to play music. He comes from a musical family (his oldest brother is a professional musician in New York) and plays a variety of instruments, but in our context he plays bass while I play guitar. The two of us share have shared an office since November and have developed a good friendship since then. We listen to music all day when we're coding and talk about music constantly. He has all kinds of great stories, but my favorite is about his brother playing in a Rod Stewart cover band called Fraud Stewart. Apparently the singer was so obsessed with Rod Stewart that he even had plastic surgery to make his face look more like Rod Stewart!
I never really wrote about it, but the band I had going last year with Greg and Kallan fizzled out in the summer due to other priorities in both of their lives. Obviously I understood completely, but was bummed not to be getting together regularly to play with people. I kept playing and practicing pretty much daily, because that's what I do, then eventually asked Sam if he'd like to get something going. He jumped at the offer, so we started working on various blues and classic rock covers by artists like Jimi Hendrix, Stevie Ray Vaughan, Cream, ZZ Top, Black Sabbath, Rush, and David Bowie.
Although we had been doing these practice sessions at my house, last week we took it to the next level be going to an actual rehearsal studio where you can be loud, sing into a P.A. system, etc. I've been driving to work each day doing vocal lessons in the car, and now that I've been doing that for a couple months, I'm seeing significant improvement. The obvious next step for us is to get a drummer, which is usually a challenge, but luckily we work with an amazing drummer named Chris who Sam has known for several years because they went to the same coding school.
Before getting into coding, the only job Chris ever had was playing the drums. He's a teacher, and lived for several years in Nashville making a living playing with various big-name artists. He's been on tours, done fly-dates, and played all over the place. Eventually he decided to get into coding so that he and his wife could have something a little more stable than music, but still plays constantly with various bands and artists around Seattle. Although we never really expected to get him, it kinda just came up organically one day, so I asked him if he'd like to play with Sam and I, and to our amazement, he said yes. Tomorrow night we've got another practice at the studio and Chris has agreed to join us. Obviously we're pretty excited.
No disrespect to anyone I've ever played music with, but this is the most experienced group I've ever been a part of. Although it could be argued that as the only guitarist and vocalist in the group, I have the most difficult role to fill, but my outlook is that I really have to step my game up in order to be at their level, hence the constant practicing on my end. It's funny because I'm doing all these singing lessons every day in the car, and I'm sure people have looked over and seen me singing my heart out and thought I was crazy, but I don't care. It would be a waste not to utilize that time, and again, I'm definitely seeing improvement. At least I have tinted windows.
Before I go I want to mention the excellent Easter Sunday we had a few weeks ago. We ended up joining our friends the Palmers at their new house/farm up north in Sedro Woolley. They've got like 5 acres and a beautiful farm house that they're doing all kinds of projects on. They have three chickens and plans for more animals coming soon.
We spent the day doing an Easter egg hunt, flying kites, riding the 'tractor', and eating an excellent meal. Leon is such a good cook so we enjoyed homemade ribs that he slow cooked for over 24 hours, scalloped potatoes, corn on the cob, and various other sides and salads. We ended up hanging out for about 4 hours before calling it a day. Definitely a nice way to spend a Sunday afternoon, and there was no hockey for me that day so it was perfect.
Jodi, who is a therapist, said something that day that has really stuck with me. She was talking about some of her clients who do different types of creative things, but deal with issues of not feeling like their craft is validated. For example, there was an artist who said they weren't really an artist because their work wasn't being shown in any galleries. She had to explain to them that you are that thing because that's what naturally what comes out of you. It doesn't matter where you're doing it, or who is seeing/experiencing it. Immediately I placed that connection to myself with music because I had similar feelings last summer when the band I started ended up falling apart. Whether I'm regularly playing with others or not, I'm still doing it constantly because it feels right to me, and that's the only 'validation' I need. I thought that was a great lesson that I look forward to passing down to our kids when the time is right.
Next Sunday is Mother's day, and for the first time in a few years, Jessica won't be working. We don't have specific plans but having her home will be nice. I'm sure I'll be making a nice big brunch, then we'll go with the flow and do whatever Mom wants. We also have a visit from Grandpa Rick and Grandma Chris coming in a couple weeks. They'll be here the week leading up to Memorial Day, so I'm taking Friday off and making it into a four-day weekend. I don't know exactly what we have planned for their visit but I'm sure it will be fun. After they leave on Sunday, we're getting together with Kristy for some Go-Kart racing at a local race track.
Plenty of good stuff to look forward to. Here's some recent photos and videos.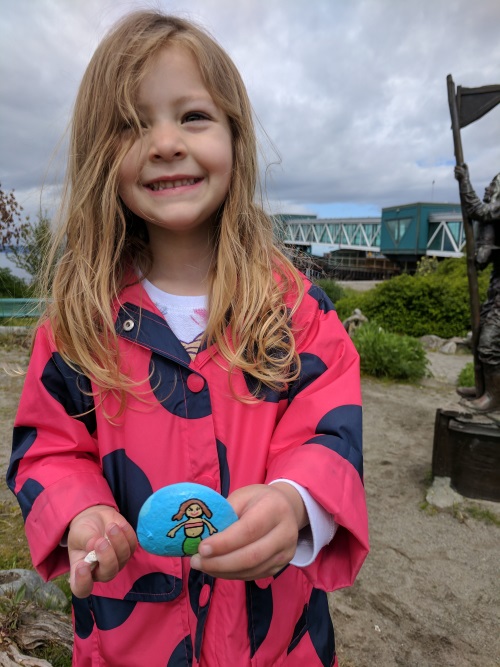 Beautiful Elise showing a rock she found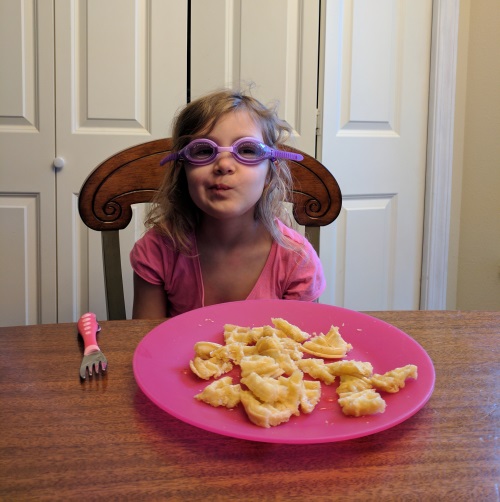 Ava testing out her goggles at breakfast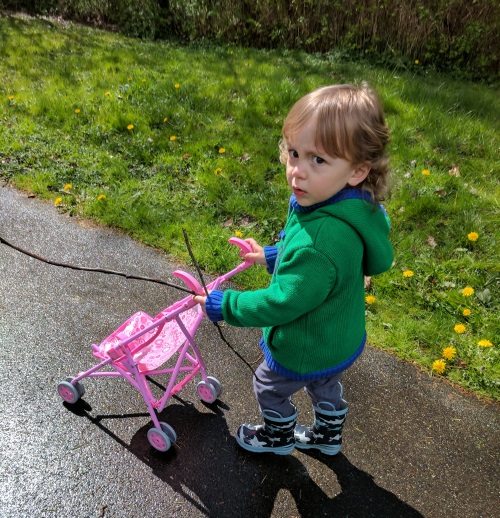 He loves pushing that stroller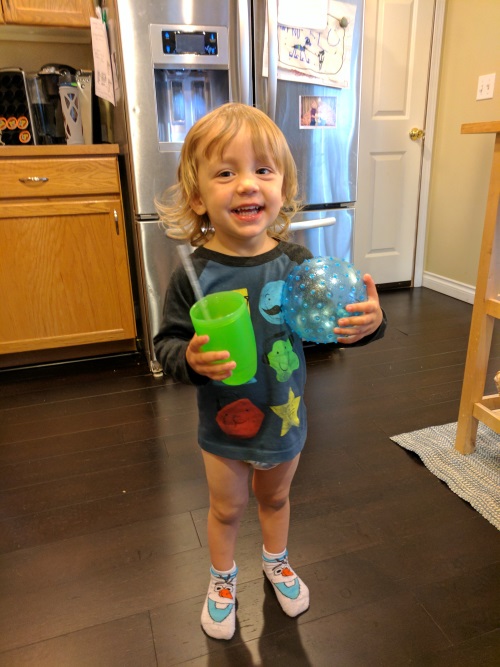 He's not real big on pants these days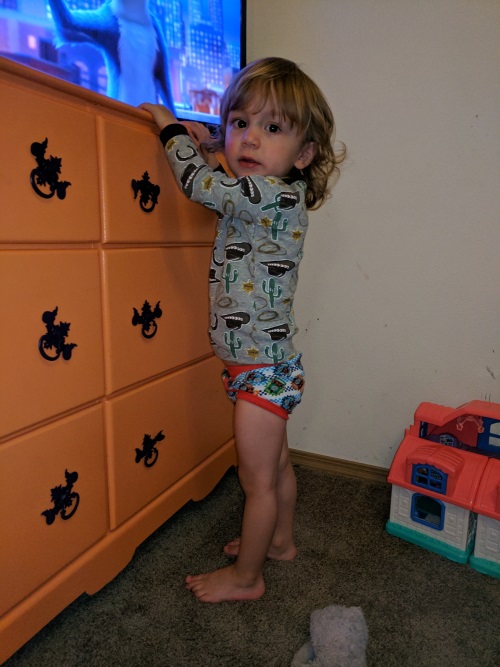 Rockin' the new Thomas The Train underwear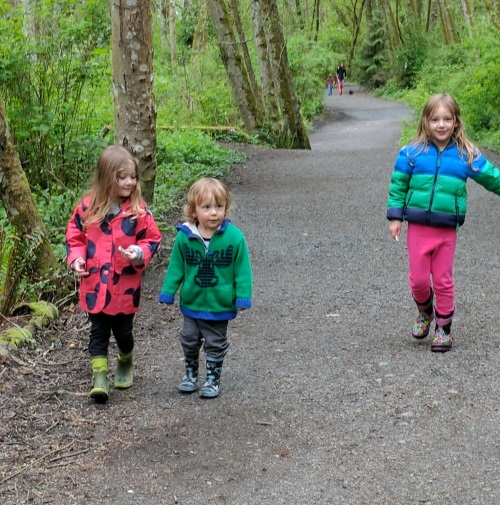 On our hike down to the beach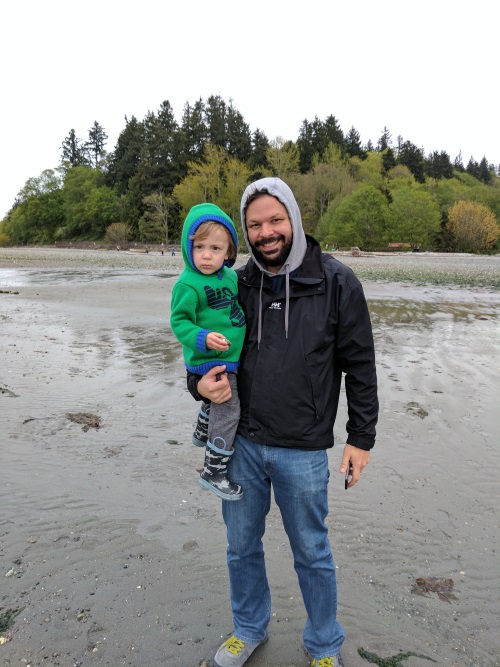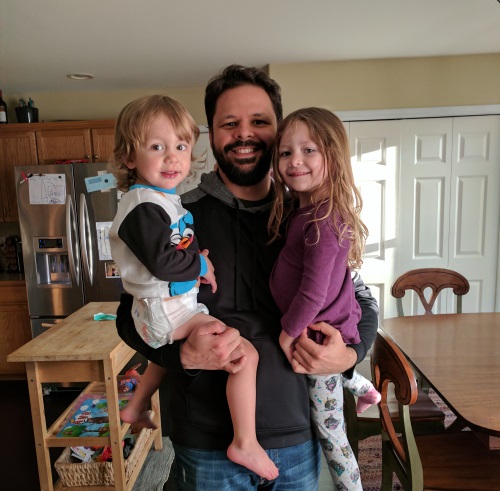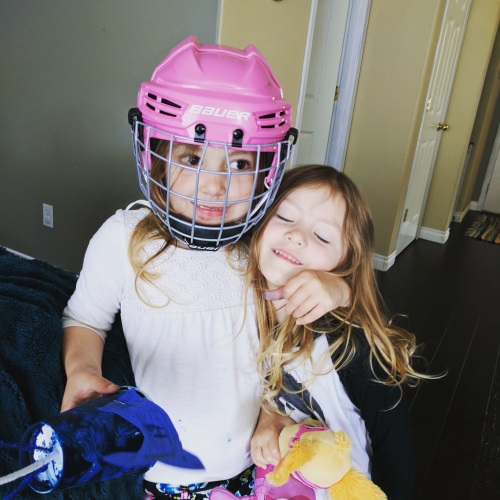 Trying out the new hockey helmet. They both loved the pink one.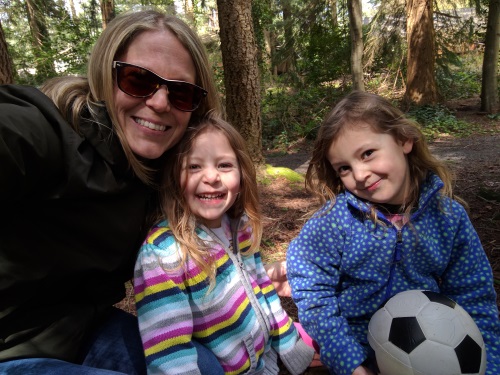 Mommy and her girls at the park

Singing Happy Birthday to Mom