In the wake of my Aunt Lisa's passing last weekend, I felt like making a trip to Las Vegas this week was the best thing to do. I wanted to help out in any way I could, and getting some quality time in with my Mom and uncles seemed like a good idea. Although the purpose behind my trip was grim, I knew that each of us would make the best of it, and as expected the trip ended up being very enjoyable.
I flew into town on Tuesday evening and after being picked up by my Mom at the airport, we stopped by Lisa's place to check on my Uncle Terry, who has been staying there all week. We then quickly stopped by Bob's place, which is in the same neighborhood, before heading out to dinner. After having an excellent meal at a Mexican restaurant, and a good talk about Lisa, we headed home to get to bed early. We knew Wednesday would be a long day and wanted to be as ready as possible.
Wednesday was the hardest day of the trip. Denny came over to ride with my Mom and I, then we met Bob, Sandy, and Terry at Bob's place and all of us headed over to the funeral home for a viewing. Since Lisa didn't know anybody in Las Vegas, it didn't make sense to have a formal funeral for her, but it was important to us that we all assemble and say our final goodbyes. Obviously this is a tough thing to experience, and although I was sad to say my own goodbyes, seeing my Mom and uncles say theirs was, for me, the toughest part. I have plenty of good memories with Lisa but they pail in comparison to all those collectively shared by her siblings. It's just really hard to see people you love so much dealing with all this emotional pain, but there is nowhere else I would have rather been, and I know it meant a lot to them that I was there.
After the viewing Mom, Denny, Terry, and I went out for lunch. We shared stories and got caught up, which turned out to be a lot of fun. This was the first time I'd seen Terry in a very long time, and I hadn't seen Denny in a while as well, so it was nice to catch up. After lunch we headed back to Bob's place so Terry and I could help him install a window in his home. With the addition of Lisa's bird Charlie, he now has two birds, and he decided that a window in their area would be good for them. Although neither Bob or I is a trained carpenter, Terry actually is, so getting to work on it as a group turned out to be a great experience. As with all home carpentry projects, it wouldn't be complete without a trip to the hardware store, but I didn't mind. Getting to hang out with my uncles was a rare treat that I wanted to take full advantage of.
Later that night Bob, Terry, and I went out to the Luxor casino to play in a poker tournament. I decided I'd allow myself one night out on the strip while I was in town, and it ended up being a good one. Terry doesn't play poker so he decided to stick to the slot machines, which turned out to be a good idea. Although neither Bob or I ended up in the money in the poker tournament, Terry was able to turn a $20 bill into $250 at the machines. After taking Bob home Terry and I decided to hang out a bit more and get something to eat. We walked around the strip for a while and talked about all sorts of things. Since I haven't been able to spend much time with Terry throughout my life, I had lots of questions for him.
As the night went on I asked Terry a ton of questions about his life. One look at him tells you that he is a pretty tough dude, but I've always known that there was a lot more to him than meets the eye. I was worried that all of my questions would annoy him, and I even told him to feel free to tell me to shut up at any point, but he was more than willing to share many of his life experiences with me, which I appreciated very much. It quickly became apparent to me that Terry is a really smart and talented guy. He's got a great sense of humor and loves his family very much, so it was an honor for me to get to spend this time with him. It was certainly the most time we've ever spent together one-on-one, and I came away from it with a newfound respect for him, as well as a plan to regularly keep in touch.
After the long day on Wednesday, the rest of the trip was a piece of cake. Nothing but good times and some much needed work around the house. I started off on Thursday by cleaning my Mom's minivan. The outside needed a little love, but the inside needed much more than that. She's been using her Mazda minivan as a work vehicle for years and it had gotten pretty trashed over time. I must have spent at least an hour vacuuming it out and throwing stuff away. After that my Mom had a couple projects around the house that needed to get done. First I installed casters on the legs of a table she had recently refinished. She wanted to be able to roll it around and it was a super simple project for me to do.
Once that was finished I got down to the real work. Years ago my Mom replaced all the carpet on the main floor of her house with tile, however the laundry area (including the downstairs bathroom) had a different type of tile. The plan was to rip up this old tile and replace with a new tile that matched the rest of the downstairs. This seemed easy enough, but of course it turned out to be harder than expected. The problem was that there's a layer of glue between the tile and the concrete, and although the tile comes up fairly easily, that layer of glue is extremely difficult to remove. Luckily my Mom has a Dremel power scraper that came in very handy, but it was still a ton of work. I had to disconnect the washer and dryer, which I knew how to do after moving into our new house, and move them out of the way so I could remove all the tile underneath them. After working for two days on it I was able to get about 90% of everything removed. I wanted to finish it off but my Mom forced me to quit at a certain point. I'm just glad to have been of some help to her around the house.
We had everyone over for dinner on Thursday night and Friday night, both of which turned out to be a lot of fun. Thursday night we had appetizers, grilled sausages, and salads, while watching the Ravens absolutely dismantle the Steelers. Then Friday night I made Chicken Picatta with pasta for everyone. We sat outside on my Mom's back patio and had a great conversation about family, our favorite television shows, and our favorite books. I didn't realize this but as it turns out, Terry is a big reader. After talking about some of his favorite books I decided that I need to get him a Kindle and fill it up with my entire book collection. That should keep him busy for a while.
Speaking of books, the only mistake I made on this trip was the book I chose to read at the airport and on the flight. Normally the vast majority of the books I read are related to web development, but I also really enjoy reading non-fiction, mainly because you learn so much when reading non-fiction. Autobiographies are easily my favorite genre of books, and due to all the time I've spent playing guitar recently, I've decided to re-read Eric Clapton's autobiography, which is easily the best of one I've ever read. For this trip, however, I decided to switch things up a bit and read a novel called 'Choke' by Chuck Palahniuk. I've read a couple of his books in the past, including his most famous novel 'Fight Club', and really enjoyed them. Unfortunately this one was a complete dud and I quickly found myself cursing myself for reading fiction. I actually decided that my punishment for reading such a ridiculous story was to finish the book. The whole time I was reading it I was thinking about what a waste of time this was, and how I could be using that time to study something worthwhile. When I read, I want to learn something; I'm not into reading fictional stories and the idea of reading purely for entertainment just doesn't jive with me. Anyway, I got through that stupid book on the flight home today and am looking forward to getting back to my usual type of reading material. Hopefully I'll be starting the Clapton book tonight, and I've got a new programming book that I'm pretty excited to dig into as well.
Luckily while I was gone Jessica and the girls had some company. Joel and Melanie are out here visiting from Iowa for the week, and as always its great seeing them. They've been staying busy exploring the area, including an overnight camping and hiking session at Mount Rainier. Tonight they're going out to dinner and tomorrow they're going to the Mariners game. I'm glad they're making the most out of their trip, but I'm also looking forward to spending some time with them before they leave on Tuesday morning.
This was the longest I've ever been away from my girls so I'm very glad to be home with them. Plus we're only about 6 weeks away from going back to Vegas to celebrate my Mom's birthday. Although this wasn't the easiest of weeks, I'm so glad I got to spend an extended amount of time with my loved ones. Looking forward to a relaxing day at home tomorrow, then hitting it hard on Monday with a very busy week at work. Most importantly, we have Jessica's doctor appointment on Monday evening. We'll be doing an ultrasound that day and finding out the gender of our new baby! Obviously we're very excited about that, so I can't wait to share the news. Until then…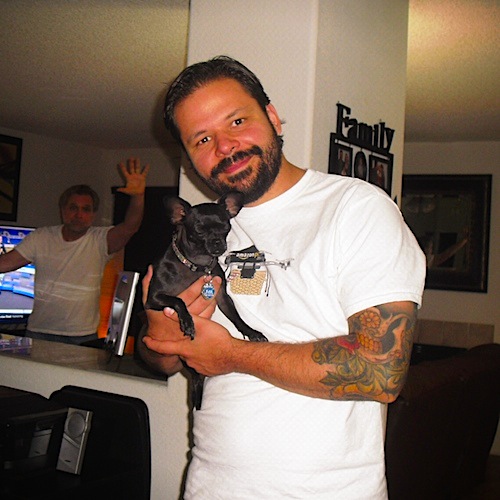 Me, Monkey, and Denny. I love that little dog so much!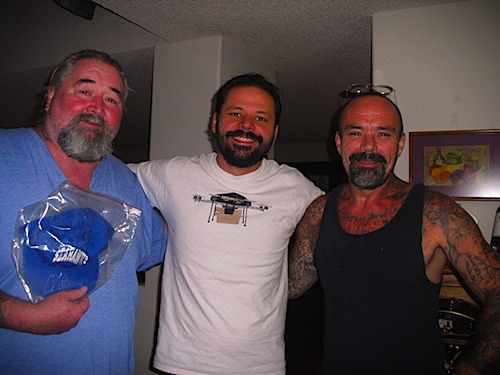 Bob, Myself, and Terry after dinner on Thursday night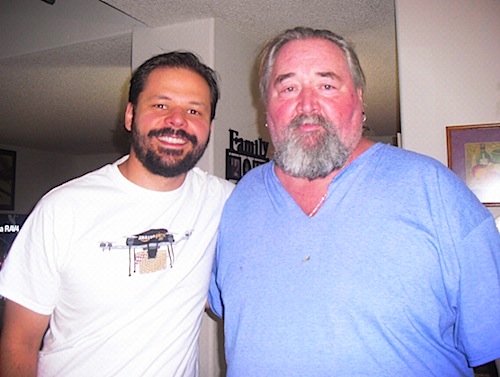 Me and Uncle Bob