I can't believe I'm saying this, but my Aunt Lisa passed away this morning at 1:30. Last weekend she was rushed to the hospital for emergency surgery on her stomach, and she simply wasn't able to recover from it. This whole ordeal happened so quickly that it's pretty hard to even comprehend. She was only 55. Obviously I'm very sad to have lost her, but more than anything my heart goes out to my Mom, Uncle Jim and Aunt Brenda, Uncle Bob and Sandy, and Uncle Terry.
Lisa didn't have any children but she was a mother to her many pets. In my entire lifetime I've never seen someone more connected with animals than Aunt Lisa. When I was a child she worked as a horse trainer at the Longacres racetrack in South Seattle. Over the years she has cared for many dogs, cats and birds, and she loved them all more than you could imagine. She had such a presence with animals that you had to see in person to believe it. Not only did her own animals follow her every command, but so did other people's pets. For example, my Mom used to have problems with her dogs running out of the house if the door was left open. However when Lisa came over, she had such command over those dogs that she could leave the front door wide open and the dogs wouldn't budge. I asked her how she did it and she said that "they have to recognize you as the leader of their pack." If you've ever watched the show 'The Dog Whisperer' she was exactly like that.
Lisa spent the past 20 years or so living in Yakima, which is in Eastern Washington. For the past 5 years she would make an annual trip to visit my Mom in Las Vegas. She had been wanting to move to Las Vegas for years in order to be close to my Mom, and even more so after Bob and Sandy moved there, but she had to wait until she could retire from her job at Safeway. Just over a month ago she finally made the move that she had been looking forward to for so long. She recently emailed me to wish me a happy birthday and said she was looking forward to seeing me and my family when we come down to visit on Halloween. I was very much looking forward to seeing her and introducing her to Elise. She met Ava once when Ava was very young so it would have been great to see two of them together again as well.
I have fond memories of Lisa babysitting me as a child, but more than anything I will cherish some of the recent phone conversations we've had over the past few years. Although we didn't speak often, it wasn't uncommon for our conversations to last an hour or more. Lisa was really smart and fun to talk to. In many ways she reminded me a lot of her Mom, who was my Nana. She was just so real and so easy to talk to. You could talk to Lisa about anything and expect to receive honest and valuable feedback. I don't think she had the easiest life, but she was happy, she loved her animals, and she loved her family. She was my Mom's only sister so the bond the two of them had was very special. Without question I feel fortunate to have had her in my life and, like many others in our family, I will miss her dearly.
With Lisa now gone my attention and focus needs to shift to providing love and support for her siblings. I've been having a lot of lengthy conversations with my Uncle Jim over the past week and I know that he's doing okay. In order to provide some much needed emotional support for my Mom and Uncle Bob, I'm going to be flying down to Vegas on Tuesday evening and staying until Saturday morning. This will be the longest that I've ever been away from my own family, and that will be tough, but it's the right thing to do. I'm so fortunate to have such an understanding and supportive wife as Jessica. Luckily Joel and Melanie will be coming into town right as I'm leaving, so at least Jessica won't be alone the whole time with the girls.
It's times like these that make you realize how much you love your family, and how important it is to not take anyone for granted. As we all know, people can be taken away from us with little to no notice, so it's important to me that everyone knows how much I love and appreciate them. Although the cause of my upcoming trip is very sad, I'm going to make the best of it by spending some quality time with my Mom and Uncle Bob and trying to bring them some much needed joy. I wish I had a chance to say goodbye to my Aunt Lisa, but there is no question she knew I loved her, and I know how much she loved me. Rest in peace Aunt Lisa; you will forever be in our thoughts and our hearts.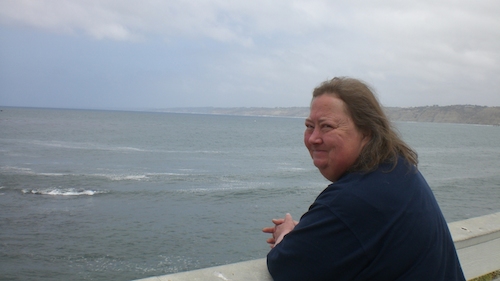 Lisa enjoying the view during her visit to San Diego, 2011