While last weekend was full of hustle and bustle, the forecast for this weekend looks like lazy with a chance of napping. Why were we so busy last weekend, you ask? Well, let me tell you. Saturday we attended the annual Amazon Family Picnic, which was being held at the Century Link Field and Events Center. Like last year, we had an absolute blast! Although Amazon only does two employee events like this per year, they really do them right. This event is meant for everyone to bring their families to, and they seem to think of everything. The following list describes most, but not all, of the activities and attractions they provided for us:
Stadium Tours
Tons of free food and drinks
On-field games and activities
Mini-golf
Lazer tag
Bulldozers and other construction equipment for kids to play on
A toddler zone with sand pit, treats, and some huge inflatable play areas
The biggest Bouncy Castle you've ever seen
Huge inflatable slides to go down
A live band
Jugglers
A kids stage with all kinds of shows going on
Professional photography
Henna Tattoos
Caricature drawing tents
Blue Thunder – The Seattle Seahawks Drumline
More food and drinks
And much more…
We figured out last summer that this would be a highlight of every summer to look forward to and this year certainly didn't disappoint. The girls had tons of fun playing on the Seahawks field, while Mom and Dad particularly enjoyed the stadium tour, photos, and the food. This is just one of many reasons why I love working there so much! By the time we returned home everyone was pretty tired, so I decided to get back to work on my garage loft project. Although I made progress on Saturday, I ended up spending nearly 10 hours on Sunday working on it. The good news is that I was able to finish it up Sunday evening.
As with any home project, things didn't go exactly as planned, but in the end it all worked out very well. I ended up having to build 3 separate lofts, mainly because the joists in my ceiling don't all run the same direction. For 2/3 of my garage the joists run east-west, but then for the final third of the garage the joists run north-south. Although I already knew this going into the project, it ended up causing me to have to re-evaluate my plan at a certain point. Regardless, I was able to get a TON of stuff off the garage floor and up on the loft. The ultimate satisfaction came once I stood back, looked it over, and had no doubt in my mind that everything was steady and secure.
Doing a project like that gave me lots of confidence about my abilities to build things, and I did it 100% on my own, which made the accomplishment feel that much greater. I'm already planning some new projects, including building a work bench, as well as an outdoor shed in our back yard. The shed probably won't happen until next Spring but there will be plenty of home-related projects to keep me busy in the meantime. First up, I'm getting to work on the gas edger that my manager gave me. Tonight I'm going to start taking the motor apart, cleaning it up, and looking for areas of trouble. As mentioned in previous posts, I'm really interested in engine mechanics and hope to someday graduate to working on cars, but for now small projects like this are the perfect way to get started.
Earlier today I attended Amazon's bi-annual All Hands Meeting, which is held at the Key Arena in Seattle. It's a 3 hour meeting that gives various managers and executives from throughout the company a chance to share the news of what their teams and organizations have been up to. At the end Jeff Bezos always comes out and does a 30 minute question and answer session. This is your chance as an employee to ask a direct question to the CEO, and either he will answer it on his own, or he will delegate the question to one of his executives, known as the 'S-team', who answers it on the spot. Having been to several of these all-hands meetings, this question and answer session has become my favorite part. This time, however, included an extra special ending that people will be talking about for a bit.
I'm sure many of you are aware of the 'ALS Ice Bucket Challenge' that's been going on lately. If you're not, its a fundraising challenge going on all over the country, and possibly the world, to raise money and awareness for ALS (more commonly known as Lou Gherig's disease). The idea is simple, you either pour a bucket of ice water right over your own head, or someone else does it to you, then you challenge someone else to do the same. I'm not familiar with how the financial part works out but I'm sure it's raising lots of money. Well, Jeff was recently challenged by Satya Nadella, the CEO of Microsoft, and he decided to accept the challenge and do the chilly deed as a grand finale to our company-wide meeting. As soon as he started talking about it everyone, including myself, pulled out their phone and started recording. He decided to have fun with it and put on a pretty funny show, which you can see here on my YouTube page. It was a pretty fun way to end the meeting, and everyone seemed to get a kick out of it. I was seated pretty far back so the video quality isn't great, but you'll get the point. Hope you enjoy.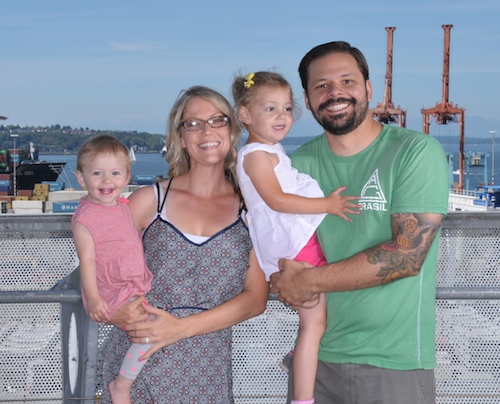 Overlooking the Seattle Harbor at the Amazon Summer Picnic, 2014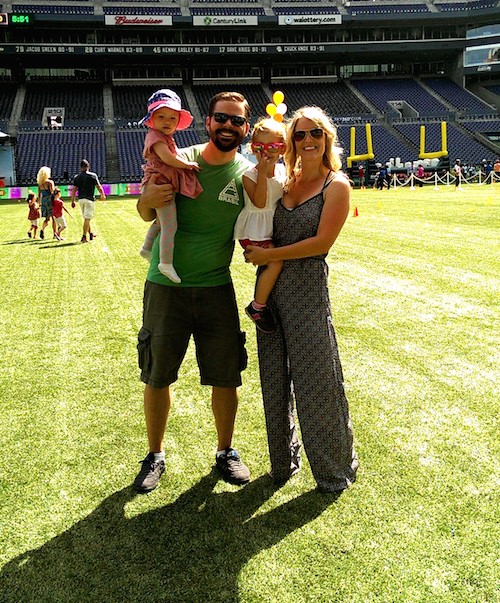 Having fun playing on the Seahawks field