It was nine years ago this month that Jessica and I started dating. I remember meeting her for the first time the day before my 27th birthday (July 29, 2007), at an 80's Prom themed party she and her roommates (whom I was friends with) were throwing. My Uncle Bob had come to stay with me at my apartment in Lower Queen Anne for my birthday weekend, and after having a nice steak dinner on the rooftop of my building, we walked up Queen Anne hill and ended up being the first guests to arrive at the party. Walking all that way probably wasn't be best idea because Bob was basically dead and ended up sitting in a chair the entire time. The party was still great though, and obviously turned into a life changing night for me. Not because I spent much time with Jessica that night (we only briefly spoke to each other) but because of how things would turn out in the near future.
The next night, Bob and several friends of mine joined me for my birthday dinner at Tavolata in Belltown. We had a big private table upstairs, and to my surprise, Jessica showed up, along with her roommates Julianne and Penny. I had know Julianne for years because she was my best friend Spencer's girlfriend. They used to come watch my band practice in Ballard, then we would all take a break and go out to a German place called The People's Pub for beer, fried pickles, and schnitzel. Afterwards we would all go back to the practice space and play songs well into the night. Those were great times, and I really can't describe how much I miss Spencer (he tragically drowned in Lake Washington while trying to save someone in July, 2006). Other than losing my Dad when I was 14, losing Spencer was one of the toughest things I've ever experienced.
After seeing Jessica those first two nights in a row, it seemed like after that I would run into her all the time when I was out in Seattle. At that time I was working as a server at El Gaucho's sister restaurant, Waterfront Seafood Grill (it has since been renamed 'Aqua by El Gaucho') on Pier 70. I remember that being one of the busiest summers ever. People were throwing money around left and right, and we were right there to scoop it up. Obviously we had no idea what kind of financial crisis was looming just around the corner, but for that summer everything seemed to be on the up-and-up. I used to get off work and go out with friends for a drink most nights, and my usual hangout spot was the Queen City Grill. Jessica and her girlfriends would often be out on the weekends and it seemed like we were always bumping into each other. It didn't take long before I started forming an interest in her, but truth be told, I was still recovering from a bad breakup the year before and didn't feel like I was quite ready to jump into another serious relationship. I was having fun, enjoying my life as a bachelor, but always enjoyed our random run-in's.
Things changed for good in October though. I had made plans with Julianne and her brother to go to an Interpol concert at the WaMu Theater (Washington Mutual was another casualty of the financial meltdown a year later). Apparently, as Jessica told me years later, Julianne had written something like 'Interpol concert w/ MP' on the kitchen calendar at the BGH (Big Green House) and Jessica saw it. Turns out my feelings for her were mutual, because once she saw what was going on, she decided to tag along. Long story short, after that night we were basically inseparable. A couple months into our relationship I did something dumb – I broke up with her. There was no specific reason other than I wasn't sure that I was ready to give up my bachelor lifestyle and get back into a serious relationship. I had already been burned a couple times in the past and wasn't sure if I was ready to go through something like that again. Luckily for me, Jessica was having none of it. We had already made plans (and purchased tickets) to visit her Mom and Tom in Colorado for a snowboarding trip, so Jessica convinced me just to go on that trip and then decide what I want to do. As I've said many times, it was on that trip that I truly fell in love with her, and I guess the rest is history.
Since then I've always felt incredibly lucky to have her. Not only because of the beautiful family we've created, but because of how like-minded we are. In the nine years we've been together, I can honestly count on one hand the number of times we've been in a real fight. Jessica is her own person with her own ideas and opinions, and I love the fact that she never changed who she was in order to gel more with me. Luckily that wasn't even necessary because we've always had so much in common. Doesn't matter what we're talking about: family, politics, religion, etc. We always seem to be on the same page without even trying, and our viewpoints tend to compliment each other.
Lately we've seen several of our friends going through difficult divorces and I can't tell you how comforting it is to know that this will never be our reality. There are only a few things either of us could possibly do to jeopardize our marriage, but neither of us is dumb enough to ever do any of them, so I think we're good. The truth is, although we've never had a rocky relationship, we went through our toughest times early on, and today our bond is stronger than ever. Whether it was my uncertainty early on about not being ready for a serious relationship, or when we lived in San Diego shortly after getting married and were so poor we often weren't sure if we could afford to put gas in the car, we've always come together as a team (without ever asking anyone for help) and gotten through every obstacle in stride.
Obviously we are not ignorant to the fact that there will always be new challenges to face in the future (like raising teenagers), but I have zero doubts in our ability to conquer anything we encounter. Call it sappy, call it corny, call it anything you want, but she's not just my wife – she truly is my best friend, she is the love of my life, and I couldn't imagine spending it without her.
In other family news, last weekend Jessica and I dropped the kids off with Kristy and Madi for a sleepover, then went to a glass blowing studio in Georgetown to make our first pieces. It was actually a Christmas gift from Kristy last year (and a very generous one at that) but for some reason we hadn't made time for it until now. I have to admit it was so much fun, but I never knew until that day that when people say "blowing glass" they literally mean blowing air into the hot glass to make visual shapes and patterns. I never took it that literally, so that was a surprise.
When we arrived, we were looking in the window at their displays to get an idea of what we would each like to make. They had a beautiful collection of colorful glass pumpkins, but for some reason when I saw them I thought they were tomatoes. I said to Jessica "Look at all these colorful tomatoes! They look like heirlooms." She starts laughing and says "Honey those aren't tomatoes, they're pumpkins." I'm looking at them going, "I don't know, they look like tomatoes to me." Then she says "Michael, read the sign above them. It says pumpkins." I couldn't argue with that, but nevertheless, I decided to make what I'm calling a Tomumpkin. It's the shape of a pumpkin, but with the colors of a tomato. Jessica ended up making a beautiful Christmas ornament, and we'll actually be picking them up this week. Can't wait to see how my Tomumpkin turned out!
Later that night Jess and I went out to dinner and had a very nice time. Although it's certainly nice getting a little break from time to time, there is no doubt that the house feels especially quiet and empty when the kids are gone. Too much so in my opinion, and even more so now that Bella is gone. As usual, the kids had a great time staying the night with Kristy and Madi. The girls look up to Madi so much, so we greatly appreciate them having us over. The following morning we arrived just in time to hang out and watch the Seahawks beat the Jets on the road. After the game everyone was exhausted, so we proceeded to have a nice relaxing afternoon/evening at home.
Before I go I quickly want to write about our new favorite family hobby – painting rocks! Basically what we do is find (or purchase) rocks, paint them however we please, then go to public places like Mill Creek Town Center, and 'hide' them. I say hide in quotes because we put them in places where they are meant to be found by other little rock hunters. This is turning into a local phenomenon that is receiving tons of local (and even some national) attention. If you go on Facebook and search for #BothellRocks or #MillCreekRocks you'll see what I mean. Most rocks contain a message on the back with one of the aforementioned hashtags, as well as instructions to keep or hide, and to please post on Facebook, so people can see where their rocks end up. The kids love the entire experience of painting, hiding, and finding rocks.
Yesterday morning we all went to Mill Creek Town Center for a rock hunting adventure and saw several other families doing the same thing. We found at least 6 rocks, which Jessica said was a record. The kids now have their own rock bags, which are Crown Royal bags that Jessica decorated with various craft supplies. Earlier this week I painted my first rock, which had a music theme (shocking I know), and then I hid it yesterday while we were out. Normally Jessica and the kids do this kind of thing on the weekdays while I'm at work, so it was fun for me to be able to join them. I made sure to set a good example for the kids by picking up any trash I found while we were out. We met another family during our adventure and the girls took great pride in giving their son his first painted rock. Jessica was also kind enough to give him one of our spare bags to carry it in. It feels good to do nice things for people, even complete strangers, and I'm glad to see the kids picking up on that at such an early age.
Last night our plans were to pick up a pizza and watch the second presidential debate. I called one of our favorite pizza places up the street for a pickup, and as I was getting ready to leave, Ava asked me if she could come along. Elise was napping and Enzo was busy eating (shocking) so I said yes. She brought one of the recent rocks she had found, which was painted to look like a piece of candy corn, with the intention of hiding it near the pizza place. We got there, hid our rock near a tree, and went in to get our pizza, only to find out that I had mistakenly called (and ordered from) their sister restaurant in downtown Everett, which was 15-20 minutes away. I called them and initially asked if I could cancel my order, so the girl on the phone said she had to ask her manager. When she came back on the phone she said "Yeah, I guess there is nothing we can do, so you can cancel it." I instantly felt bad and said "No, that's okay, we'll come and get it." She told me that wasn't necessary, but I said it was my fault, not hers, and we wouldn't do that to them.
So Ava and I continued our adventure. I told her on the way there that I was going to give her a special job when we got to the pizza place, which would be to hold the van keys while we go in to get our pizza. She did exactly as I told her, then on the way back I showed her the birth center where Enzo was born, which she got a big kick out of. Later that night during bedtime we talked about our favorite parts of the day, which is one of our favorite new traditions. I expected her to say her favorite part was rock hunting, taking a bath, or perhaps playing with playdoh with Elise, Enzo, and myself that afternoon. To my surprise, however, her favorite part of the day was holding the keys for me when we went in to get our pizza. I saw a lot of significance in this because we'd had a very fun day, but Ava thrives so much on helping out and accomplishing tasks, that holding the keys for me outshined all of the fun activities she'd had throughout the day. It's little moments like that that give you some insight as to the type of person she will someday grow into. I'm so proud of her.
The kids are getting excited for Halloween (Ava will be Officer Judy Hops from the movie Zootopia, Elise will be Zumba from her favorite show Paw Patrol, and Enzo is going to be a politician with crazy hair and flyers to hand out that say "Vote for Zo"). Then of course we've got the holidays, as well as our trip to Iowa, to look forward to. Here's a few recent pics.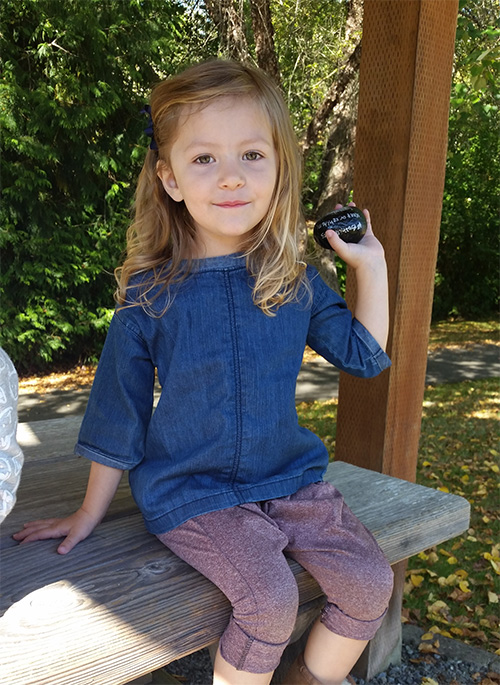 Elise holding one of her new rocks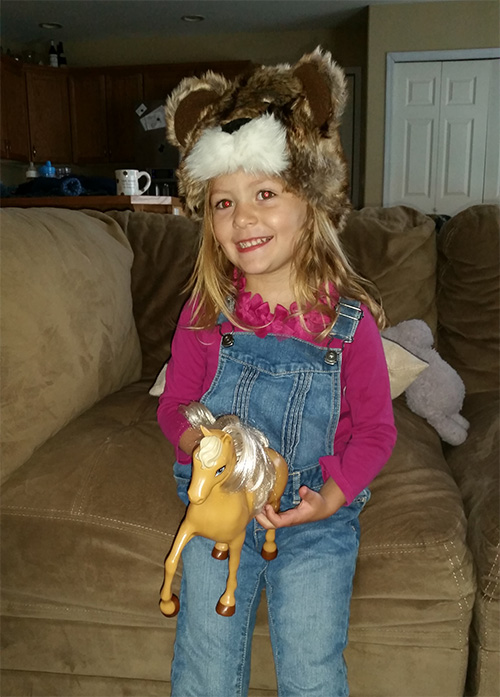 And sporting a funny hat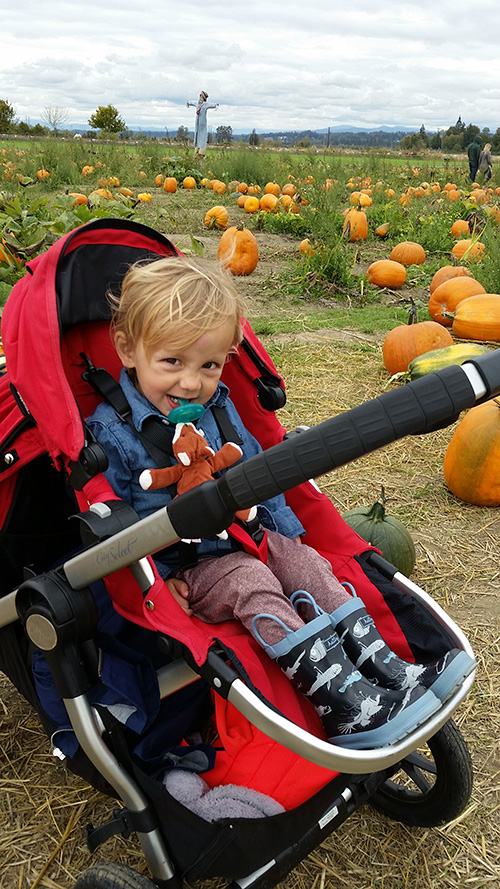 Enzo enjoying the pumpkin patch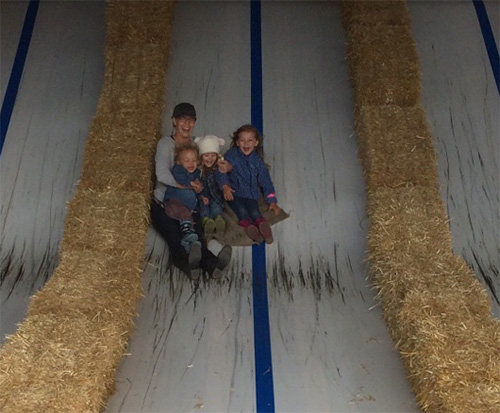 Family fun on the slide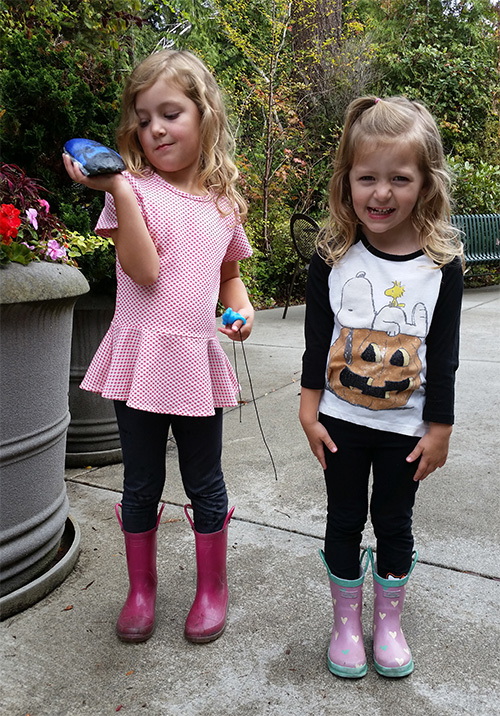 Adventures in rock hunting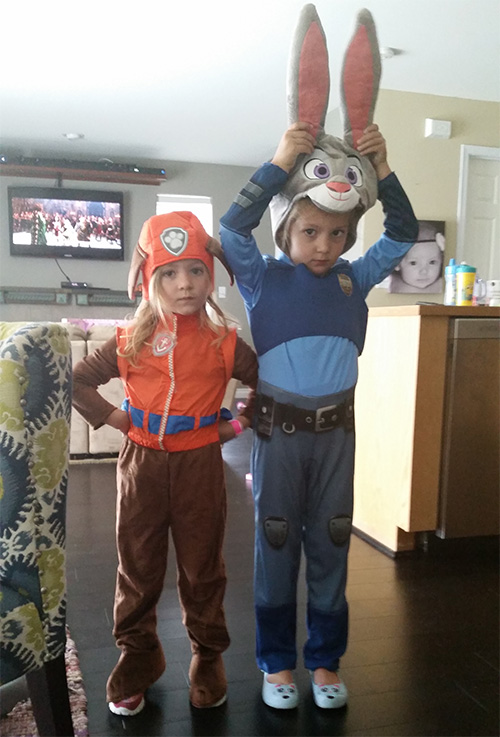 Halloween can't come soon enough