We woke up at 4:30am on Christmas Eve, loaded everyone up in the car, and headed to the airport. We knew traveling with both girls during the holidays was risky but we decided to go for it anyway. We didn't know what to expect on the plane but the girls ended up doing great. Amy and Tom were waiting for us at the Denver airport, so Amy took us back to their house in the mountains and Tom waited for everyone else to arrive.
Normally its an hour and a half drive from the Denver airport to their house in Silverthorne, which is a small town sitting at 9,000 feet elevation in the Rocky Mountains. This trip was a little different however. When we landed in Denver it was sunny and 50 degrees, but as we headed up into the mountains the temperature quickly dropped and we soon found ourselves in a snow storm. Before we knew it we were at a dead stop on the freeway, the snow was dumping, and it was only 14 degrees outside. After a 3 hour drive we finally arrived at their home; tired, hungry, and desperately needing to acclimate to the drastic change in elevation.
The night of Christmas Eve was pretty uneventful. Ava went with Grandma and Grandpa plus a few others to church, while Jessica, Elise and I hung out at the house with Joel and Melanie. That first night was pretty rough for both of the girls so we all slept in a little later than expected on Christmas morning. After a nice breakfast we dove into the mountain of presents and had a blast tearing paper and playing with our new toys.
Ava fell in love with a xylophone that was actually given to Elise by Joel and Melanie. Once she got her hands on that nothing else mattered. She kept saying "Xylophone! Play music! Yeah!" It was pretty cute. Later that day we all went to the Frisco Winter Adventure Park to do some sledding. We tried to get Ava to go down the hill but she wasn't having it. She was really scared so Jessica took her back down to the lodge to hang out with Grandma and Elise. The rest of us had a blast riding inner tubes down the various hills at the park. Later that night Tom made a great prime rib dinner with mashed potatoes, gravy, au jous, green beans, and Yorkshire pudding. Jess and I even got a little time in the hot tub. It really was a great day and I'm so glad we made the trip.
Today Tom, Trevor and Derek went skiing at Breckenridge, so Jess and I had lunch with Joel and Melanie, then went shopping at the outlet mall. Derek and Emily made Gumbo for dinner, and Tom made homemade ice cream for dessert. Looks like Jess and I will be doing some snowboarding tomorrow at Breck. I'm looking forward to making Seafood Ravioli on Saturday, but that's about the only thing we have planned. Other than that we're just hanging out and enjoying the time with everyone.
I'm sure there will be plenty more pictures to post from this trip by the time we leave on Monday, but I've already got quite a few so here you go. To all our family and friends, we wish you a very Merry Christmas and a Happy New Year. We love you all.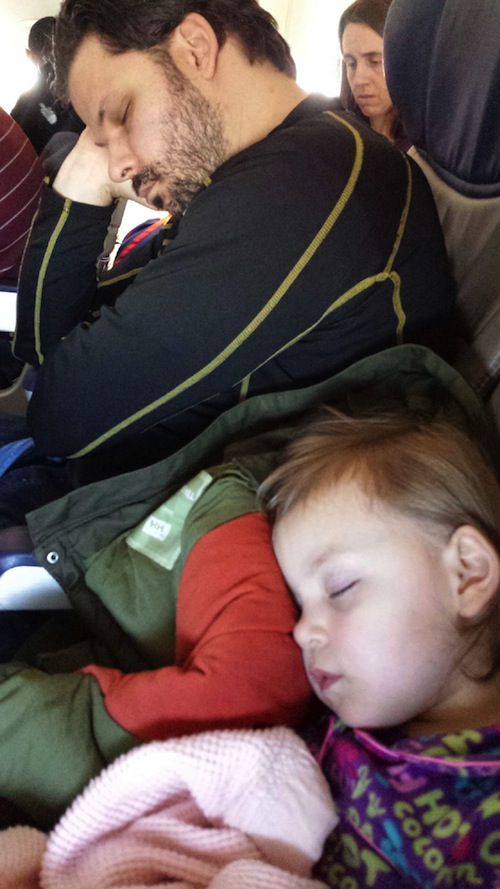 Getting some z's on the plane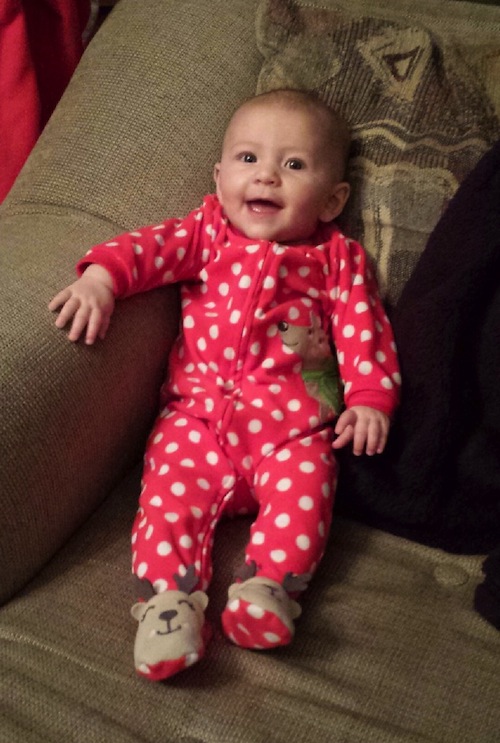 Elise's 1st Christmas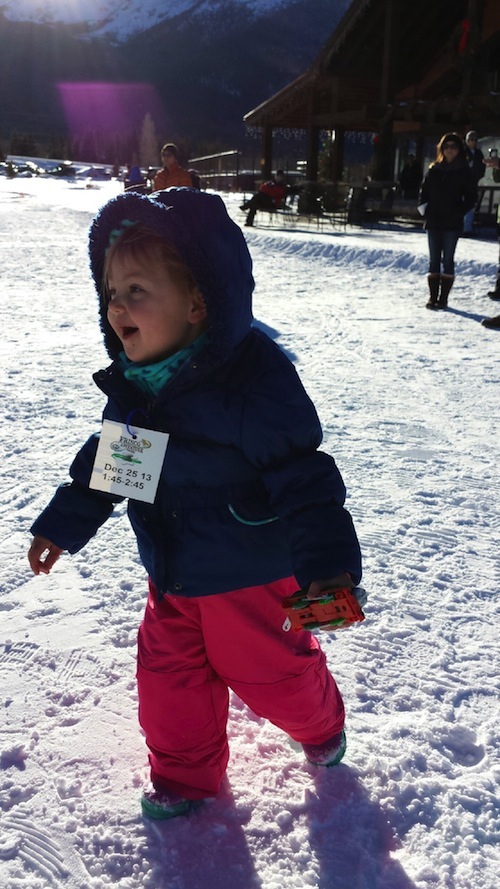 Ava loves the snow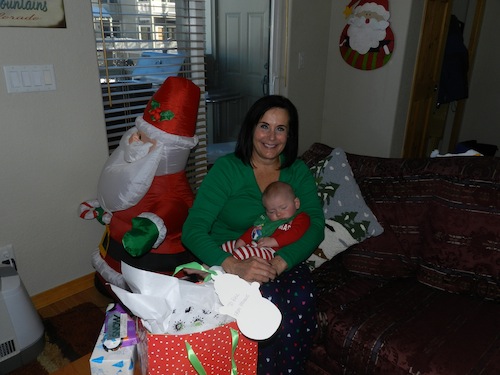 Grandma and Elise on Christmas morning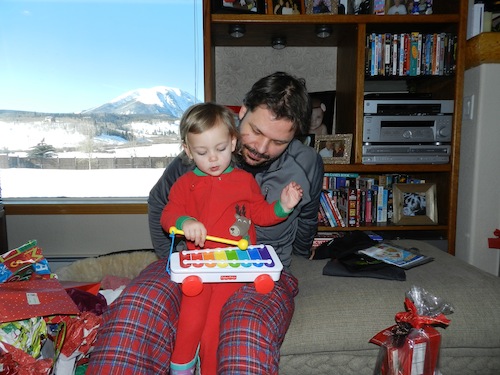 My little musician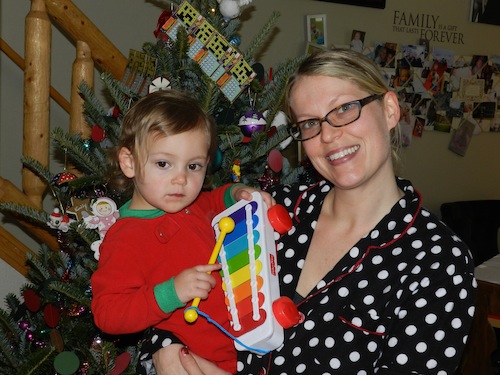 Mommy and Ava in front of the tree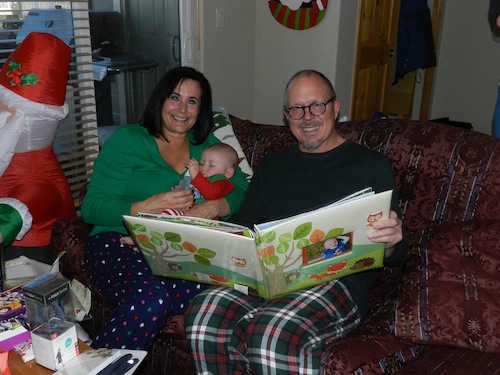 Grandma and Grandpa looking at their new book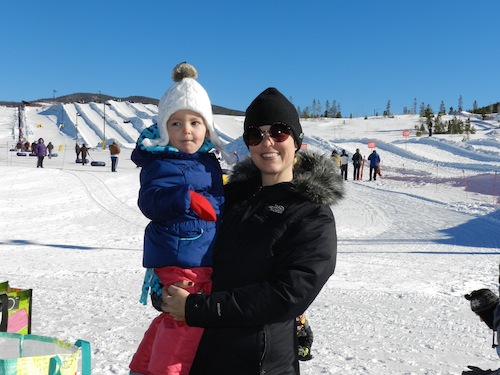 Mommy and Ava at the winter park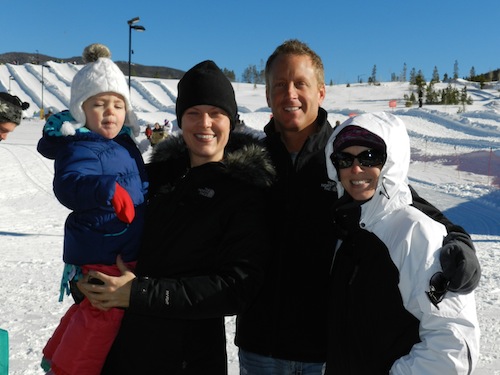 Ava, Jessica, Joel and Melanie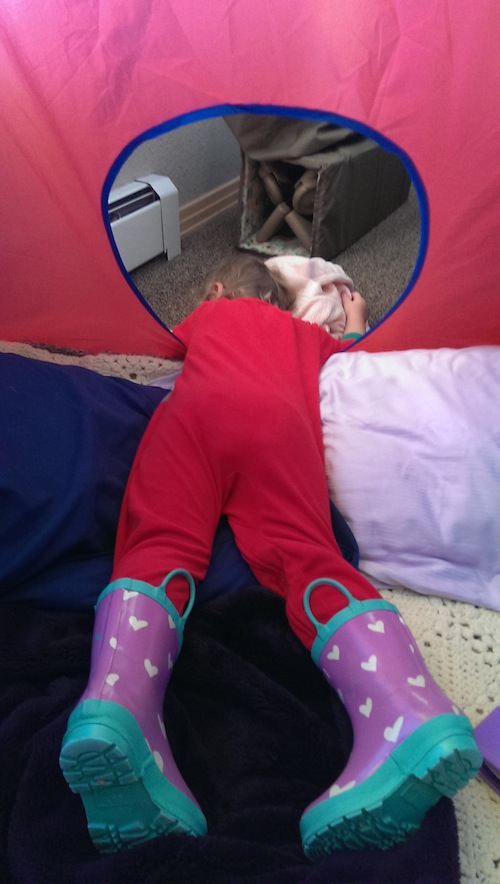 Ava napping in her tent on Christmas morning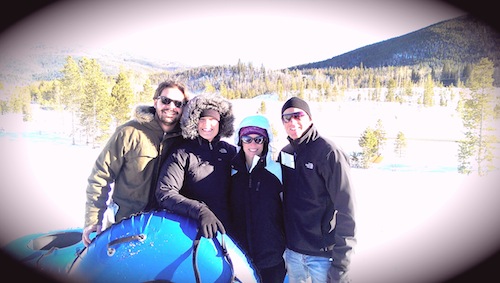 Sledding with Joel and Melanie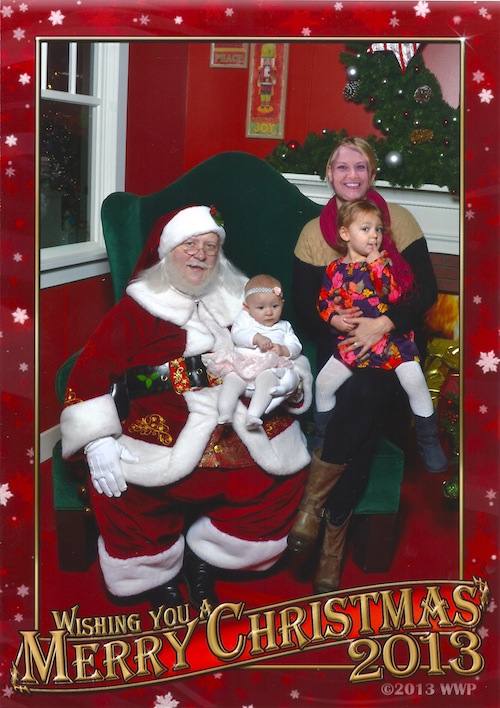 Visiting with Santa. Jessica's eyes were closed so we Photoshopped her face in from another photo. Not sure what's funnier, that or Ava's expression.