A few days ago we celebrated our first Christmas as a complete family. I remember Ava's first Christmas when she was just turning one month old; we were still living in our little beach shack in San Diego in a relatively empty house with only one visitor. Things are a bit different for us now. We spent Christmas morning opening presents and Skyping with family, then around noon Kristy, Madi, Edgar, Uncle Jim and Aunt Brenda came over to spend the day with us. There was plenty of good food to eat, basketball and movies to watch, and lots of new toys for the kiddos to enjoy. It was exactly the kind of day you look forward to all season long.
For a couple days leading up to Christmas I would hear a little pitter-patter of footsteps in the morning, accompanied by what started out as whispers between the girls, but would soon turn into excited shouts as they ran downstairs to open their presents, only to find out that it wasn't yet Christmas morning and they needed to contain themselves for at least another day. There's no question that Christmas is most special when there are children around to enjoy it, so seeing the girls get so into it this year was really fun.
Today baby Enzo turns 11 months old, and he is as active and vocal as ever. He got some fun toys for his first Christmas, but of course spent most of the morning playing with boxes and torn up wrapping paper. One toy that he especially loves is his new remote control, which will hopefully distract him from his endless obsession over grabbing the actual universal remote that controls everything downstairs. He can frequently be found walking all around the downstairs carrying his remote and shouting out the beginnings of what sound like words (for those that don't know, he is a very loud child). He says the word "yeah" a lot now, but we're still waiting for something a little more tangible like "Mommy" or "Daddy". Thanks to his big sisters he has been advanced on everything up to this point so I'm sure speaking is just around the corner.
Elise had a great day on Christmas and looked as cute as ever. Jessica tied her hair up in a bun and dressed both girls in their new Christmas dresses from Grandma. She received all kinds of new toys and dolls, plus a new pair of tennis shoes, a new pair of boots, some new books, and some new clothes. She had been talking all week about getting to play with Madi so it was great to see them all having so much fun together. She got worn down after a while and took a nap on the couch, but then bounced right back and picked up where she left off, enjoying all the fun new stuff at her disposal.
Ava, who was celebrating her 5th Christmas, had an absolute blast. There were no meltdowns on Christmas morning (which is more than we can say for last year), and she did a good job sharing many of her new toys with Elise and Enzo. She also received lots of new toys and dolls, plus new books, clothes, and shoes. One of the highlights for Ava was a new set of remote controlled cars from Grandma and Grandpa. Elise got one as well but wasn't quite ready for it, so Jessica and I ended up playing with hers while Ava "raced" our car around the house. These cars have all four wheels on the bottom, plus one wheel on top where the rear window should be. This allows them to do all kinds of cool spins and stunts that normal RC cars can't do. They were a big hit all day.
Jessica had a very nice Christmas that included some awesome gifts, but also some much needed time off. She has been working a ton throughout the month of December, so getting a week off around Christmas was perfect. Some of the highlights for her this year included a FitBit from me (so now we both wear them constantly), a very special family photo with Santa (more on that below), and for the second Christmas in a row, a Louis Vuitton purse from Grandma. Very nice indeed.
I also had an amazing Christmas this year, although I must admit I'm feeling a bit spoiled. Jessica got me a pair of Uggs slippers that I've been wanting, and honestly just that would have been more than enough, but she went above and beyond this year by getting me probably the coolest present I've ever received – three laps around a track in either a Ferrari F360 Modena, or a Lamborghini Gallardo, OR BOTH! I was absolutely stunned. Luckily she filmed me opening this present so my reaction can forever be saved. You have to realize that I'm the guy who waited until September of this year to buy the special Forza edition of Xbox One. If you're not familiar, Forza is the racing game created by Microsoft specifically for Xbox, and it's the only game I play. It's so realistic that I'll sit there late at night racing for hours. I just can't believe that I'm going to get behind the wheel of these amazing supercars, plus she paid extra to have the whole thing filmed! Obviously I'll be sharing the video once I have it, but first I need to get everything scheduled. It's going to be a few months before my big day, but I'm already over the moon about the whole thing.
As mentioned above, another highlight of our holiday season this year was our visit with Santa Claus. Jessica and the kids picked me up from work a couple Fridays ago and we all headed down to Bellevue Square mall to get our picture with Santa, as well as attend "Snowflake Lane", which is an outdoor winter show they do every night in December. We went straight to Santa as soon as we arrived, only to find out that it would be an hour waiting in line. Even though everyone was dressed for the photo, we knew there was no way we could keep them all occupied in line for an hour, so we decided to skip it. Jessica figured she could take the kids to the mall on a weekday and not have to wait forever in line. So we ended up going to Nordstrom to get Jessica her FitBit, but as we got off the elevator on the top floor, we were greeted by some employees asking if we wanted to get our picture taken with Santa. There was only a 5 minute wait, the prices were the same as in the mall, and we were already dressed for it, so of course we went for it. I must say that our photographer was an absolute pro and did a great job of getting the kids to look and smile. He was juggling stuffed animals and making funny faces. The kids loved him. As it turned out, not only is it our best family Christmas photo, it's our best family photo ever! Jessica said while waiting in line that all she wanted for Christmas was a family photo with Santa where everyone is looking at the camera and smiling. Glad we were able to check that one off the list!
Although Christmas is now behind us, we've still got plenty of fun stuff to look forward to in the very short-term. First we've got New Year's Eve later this week, which the kids will be spending at Madi and Kristy's house. As mentioned in a previous post, the kids will be having a sleepover with them while Jessica and I will be bartending the burlesque show at the Pampas Room at El Gaucho. It's going to be a double showing that night, meaning it will be a long and busy night, but it will be so fun bartending together, and of course the kids will have a blast at Kristy's house. Then a week later we're heading out to Iowa for Jessica's grandparents' 60th wedding anniversary. There's going to be a huge party with a bunch of family members that we haven't seen in years (some of whom I've never even met), plus some of Jessica's friends will be driving down from Minnesota to visit us. Grandpa and Grandma Rudd have put in so much hard work to convert their basement into a mother-in-law for us to stay in. Based on the pictures I've seen it looks beautiful, so we're really looking forward to getting there. They've also secured car seats and a double stroller for us to use while we're there, which is a HUGE help because that means we don't have to carry all that stuff through the airport. They've really gone out of their way to accommodate us on this trip and we appreciate it so very much. Looks like the weather is going to be on our side as well, so this is shaping up to be a really fun trip.
Thank you to all our loved ones for making this such a special and memorable holiday season. Although it's not quite over for us yet, it has already been one of the greats. Can't wait to write about our upcoming trip to Iowa. Happy New Year to all our friends and family! Here's a few recent pics from our holiday season.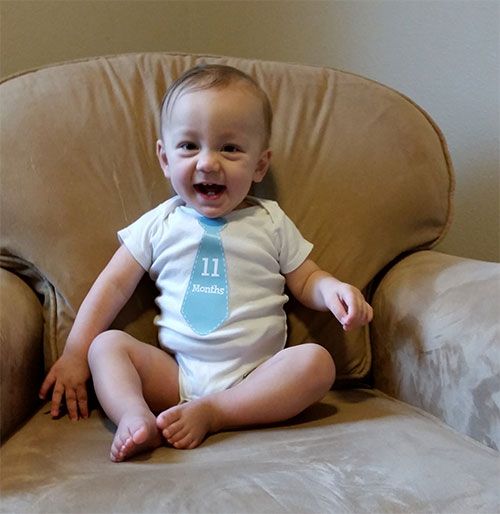 11 months old today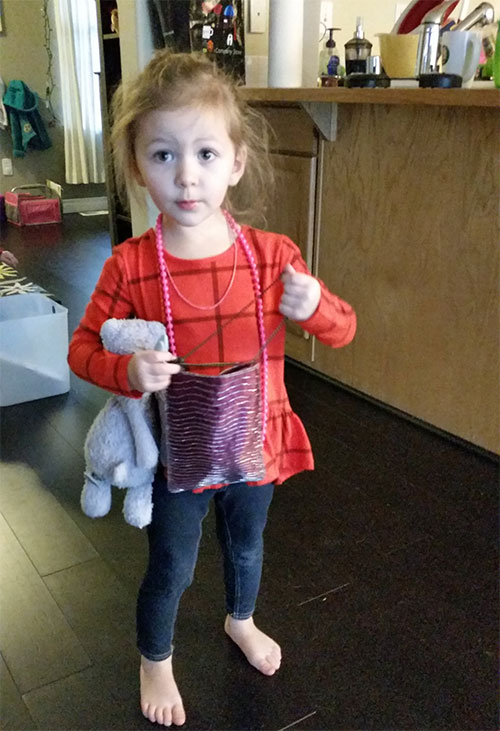 My sweet little Elise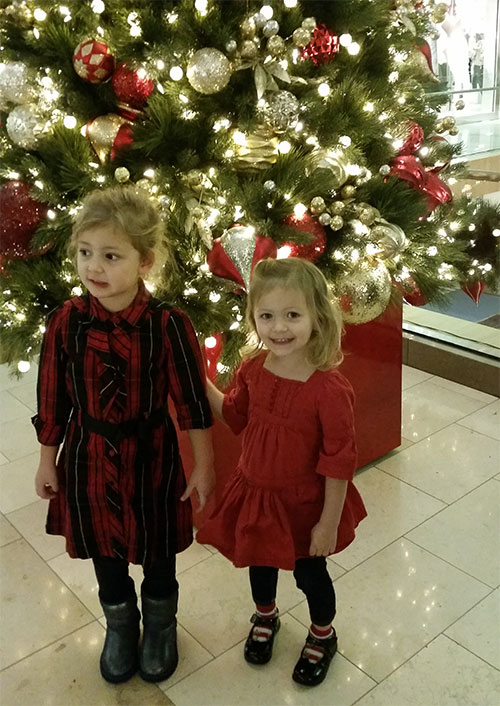 Posing in front of the tree before seeing Santa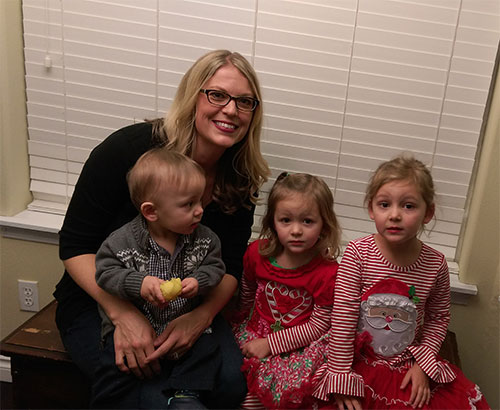 Ready for the neighborhood Christmas party!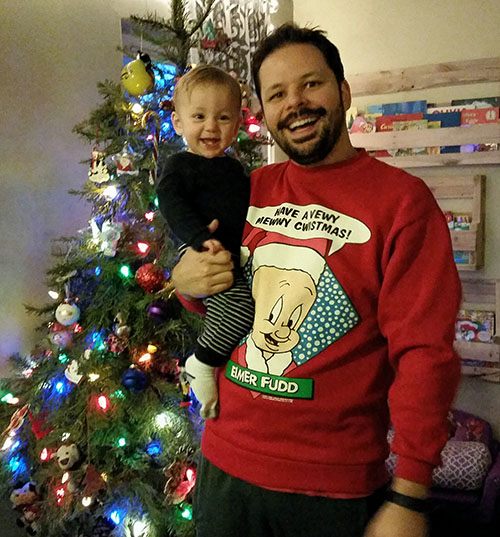 Wearing my Dad's old Christmas sweatshirt. Enzo seems to approve.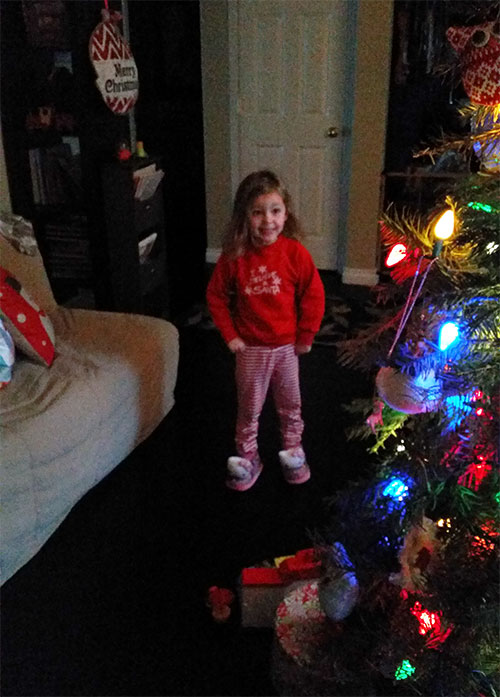 Ava's first reaction on Christmas morning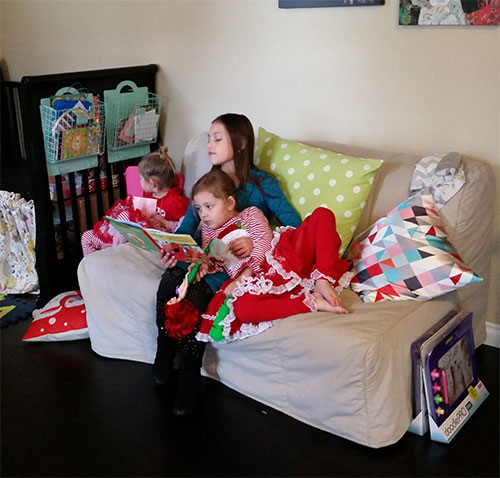 Madi reading to the girls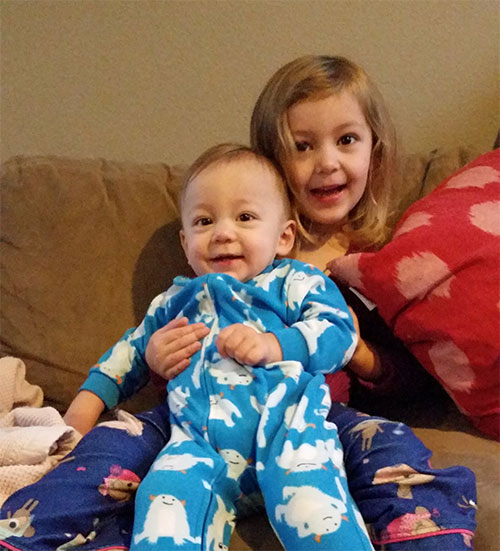 Sibling love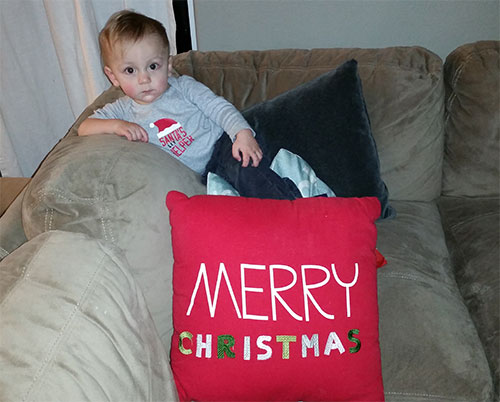 Santa's little helper was very tired, and serious, by the end of the day.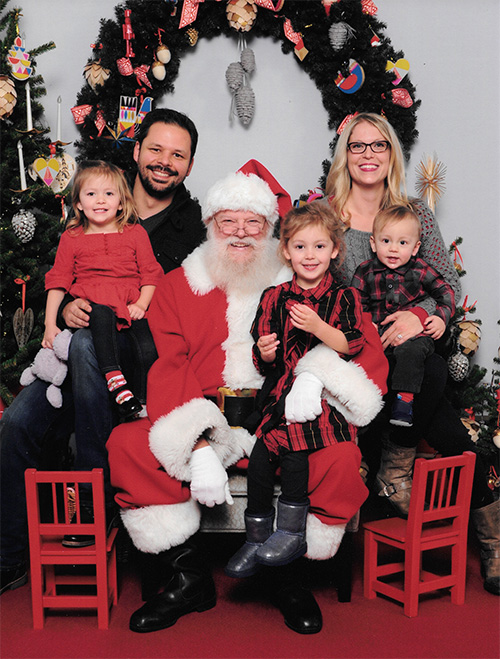 I'm just glad that Pippo made it into this photo