Well, we're on our way home now and I think it's safe to say that this was the best Labor Day weekend I've ever had. We just pulled out of the Slidewaters waterpark in Grandma and Grandpa's bus, and are headed back through the Cascade Mountains to our home, which is about 150 miles away. We're cruising in style and as far as I'm concerned, this is the only way to go camping. I think the new buzz word to describe this kind of camping is 'glamping', which is obviously super lame, but that's not the point.
The point is that sleeping in tents on the ground sucks, but having a super nice RV with multiple beds, a full kitchen, and 3 TV's (including 1 outside) is awesome. I'll be the first one to admit that I'm not a camping person, but I could do this just about anytime. The trip started for us on Thursday afternoon; everyone picked me up in the bus at my office in Redmond, then we got on I-90 and headed east. About one mile before exiting I-90 we got stuck in a standstill and literally sat there without moving for one hour. They were doing some work on the freeway and had to close off all traffic for a bit. Normally this kind of delay would be just shy of torture, but considering the fact that we were hanging out in the bus, making cookies and watching a
Lynyrd Skynyrd concert on TV, it could have been a lot worse.
We pulled into our campsite around 9:00 that evening and got setup for the weekend. Our next-door neighbors, the Schreibers, were already there, along with another family they're friends with, so we got to catch up with them a bit before calling it a night. The campground was beautiful; it's located just off the lakeshore so the views are gorgeous. I brought my longboard skateboard for the weekend but Jessica and Tom were giving me a hard time saying there probably wouldn't even be a place to ride it. However much to my chagrin there was a skate park directly adjacent to the campgrounds. There was also a nice playground for the kids, so we ended up going over there several times throughout the weekend.
The rest of our neighbors arrived on Friday, but we didn't do much that day besides relax around the campground. There was a football and a frisbee on hand, so we played a lot of catch (I even taught Jessica how to throw a football), then had pizza for dinner with all our friends. We were hoping that this would be the weekend that Ava would switch from her balance bike to a real bike (meaning one with pedals) but I guess it wasn't meant to be. Grandpa Rick and Grandma Chris sent one out to us, but she didn't really get the concept of pedaling, and even with the seat at it's lowest position it was still a bit too tall for her, so she couldn't keep it upright. We ended up putting the training wheels on it and pushing Elise around in it while Ava went back to old faithful: her green balance bike. It won't be long before she's riding for real though; just gotta keep at it.
Saturday ended up being one of the best days of the weekend; our group rented two pontoon boats and took them out on the lake for about four hours. We all took turns riding the inner tube behind the boat, which was really fun. Elise and I were actually the first ones to ride the tube, but we didn't last very long. It wasn't your traditional inner tube; it was more of a raft with a couple seats. Elise was nervous but I held onto her super tight. We ran into a little problem though because the boat was moving really slow and the front of our raft quickly started sinking. Elise was in front of me and she started to freak out so I quickly pulled her back, but in doing so I ended up pulling a muscle in my back. Instantly my whole lower back seized up and I could barely move. I yelled out for them to stop the boat and they quickly pulled us back in. It wasn't a big deal, and after a few minutes my back was fine, but Elise was more than happy to spend the rest of the time curled up with a blanket in the boat. She actually fell asleep pretty quickly and didn't wake up until we were headed back to the dock.
I ended up going back out on the raft once more with Ava (and our neighbor Jim) and had a lot more fun. Tom was driving the boat and he gave us a good ride. The whole time we're out there laughing and hollering, but Ava keeps saying "Why is it so bumpy Daddy!?" At a certain point we stopped to have lunch on the boat, then most of us jumped in the water. It was cold but I'm glad I did it. You just have to get over the initial shock of it, then you're fine.
We ended up taking the boat much further up the lake than I've ever been before and enjoyed looking at all the beautiful houses along the shoreline. On our way back we pulled up close to shore and got a good look at about a dozen homes that had recently burned to the ground. We knew that there had been problems with fires over the past month or so (although you never would have known it while we were there) but seeing the damage in person was pretty chilling. Luckily no one was killed but their houses were completely destroyed.
Sunday was another chill day that mostly consisted of trips to the park, lots of snacking, playing
catch, and watching baseball. We were all pretty worn out from the day before, and Amy and Tom had come down with a bit of a cold, so it was nice to just lay low and relax all day. I made chicken tacos for dinner and ended up watching a NASCAR race with Tom, which isn't something I'm used to but ended up being pretty fun.
Today was our last day of the trip and we went out with a bang. After packing up the bus this morning, we met our neighbors at Slidewaters for a day of water slides, hot tubs, and lazy rivers. It was really nostalgic for me because my Dad's old boss was one of the original owners of Slidewaters, so it was our family tradition to go there every summer. Seeing my own kids enjoying the same park that I had so much fun at as a kid was awesome. Ava had an absolute blast while Elise and Enzo spent most of their time napping in the shade. I made a point to go on all the big slides, but nothing was more fun than taking the girls down their first water slides. It's probably safe to say that it won't be too long before we come back here. I love the idea of reviving the same Summer tradition that my parents and I had many years ago.
Now that our camping trip is behind us it's time to get back to work on our house. We started the project of replacing our floors earlier this week by pulling up all the carpet on the first floor. I took tomorrow off work so I'd be able to stay home and work on the floors all day with Tom and
Jessica. I still need to empty out my office and finish painting the walls, plus we need to go pick up all the flooring we ordered a few weeks ago. Obviously we won't be finishing everything tomorrow, but I want to do as much as possible. I'm prepared to come home and work all night each day after work though, so hopefully we'll be done before the weekend rolls around.
Next weekend should be a lot of fun as we'll be seeing the Foo Fighters at The Gorge in George, Wa. For those that haven't seen a concert at The Gorge, you're really missing out. It's one of the most beautiful concert venues in the country. I've been there several times, including once with Jessica, but my most memorable trip there would have to be on my 16th birthday. My Mom took me to the DMV to get my license that morning, then I drove us straight to The Gorge to meetup with my friends for Lollapalooza '96. Metallica, one of my favorite bands, was the headliner, but my Mom fell asleep and missed them. It was a pretty unforgettable day. Anyway, next weekend should be good; Enzo will be coming to the show with us (what a cool first concert for him!) while the girls will be staying the night with Kristy and Madi. We'll stay the night there on Saturday, then head to Kristy's on Sunday morning to pick up the girls.
Alright, enough of my rambling; I know you're all just here to see the pictures anyway. In closing,
this has been an amazing weekend that I'm sure we will never forget. Hopefully we get to do something like this again soon. Here are some of the better photos from the trip.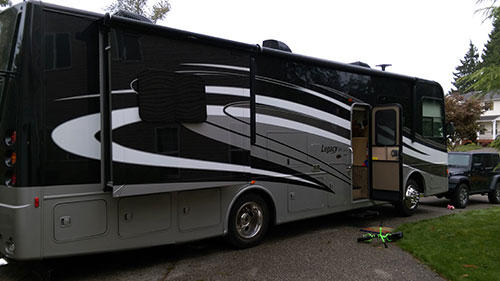 Our chariot for the weekend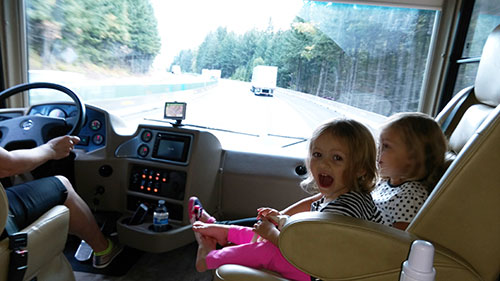 The co-pilots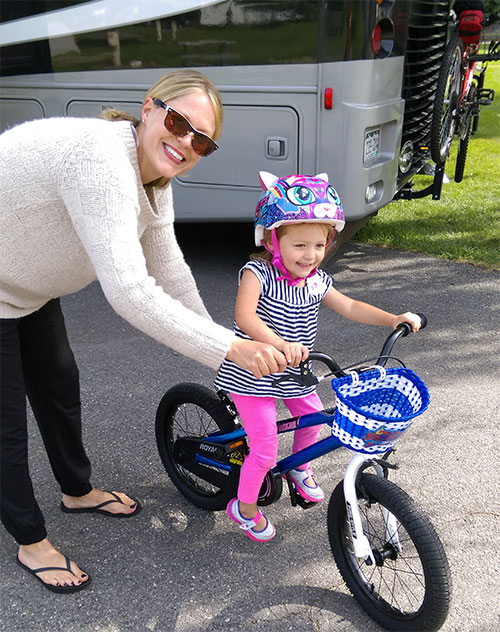 Taking the new bike for a spin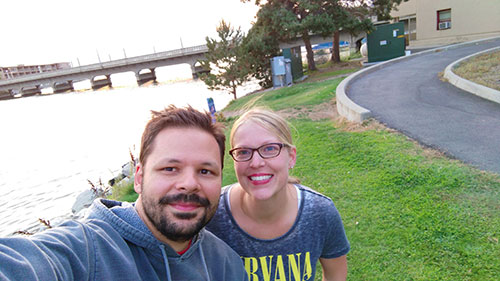 Sunset at the bridge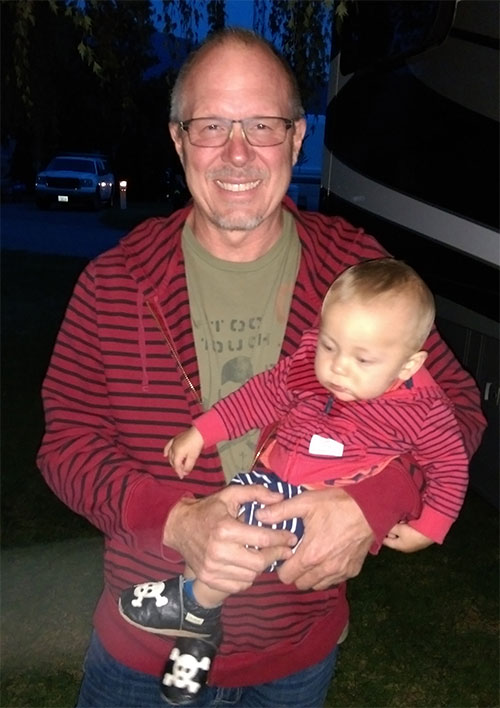 The twin hoodies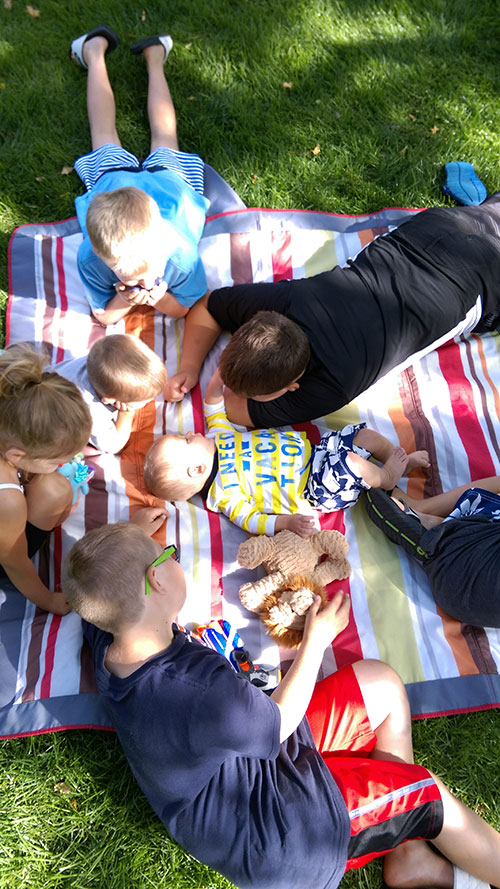 Enzo hanging out with all his friends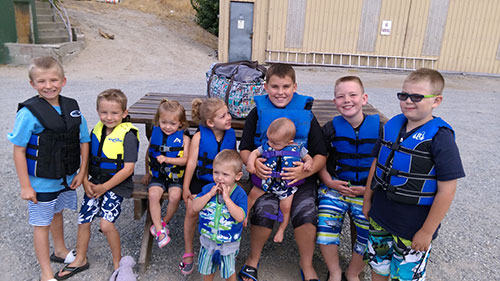 The kids getting ready to go boating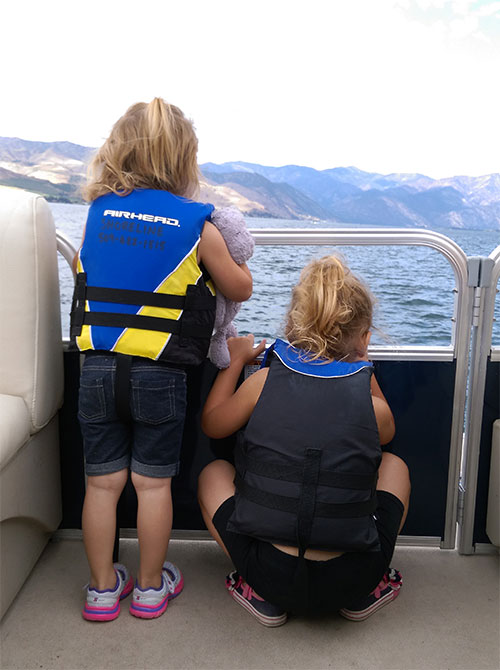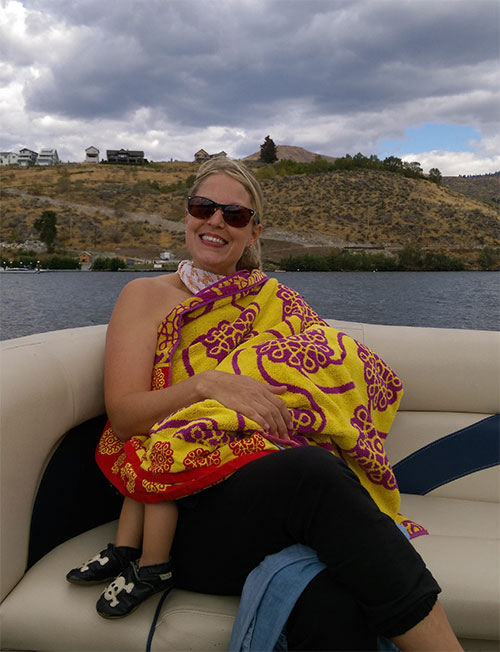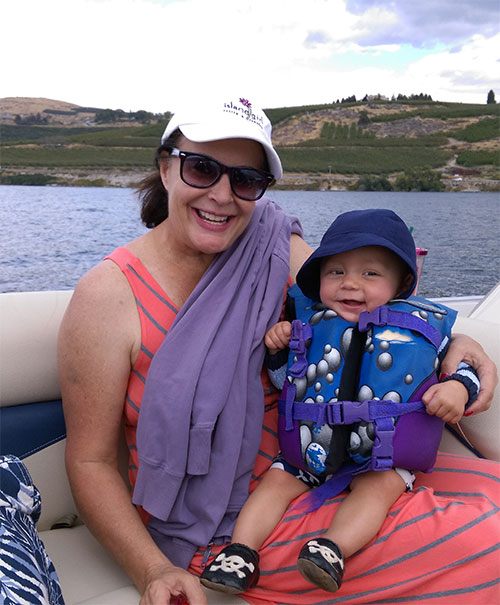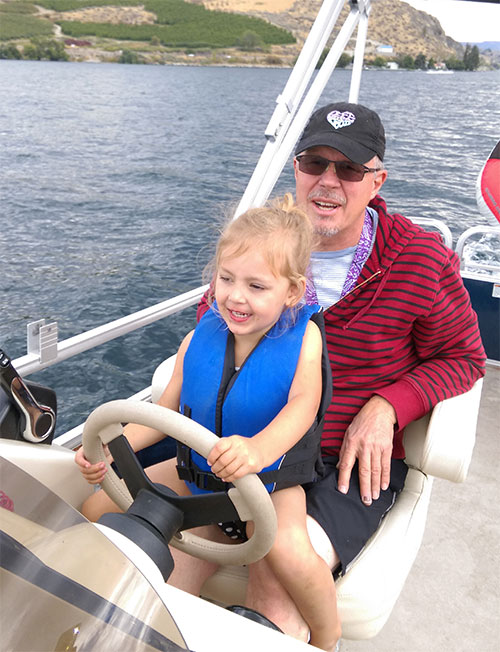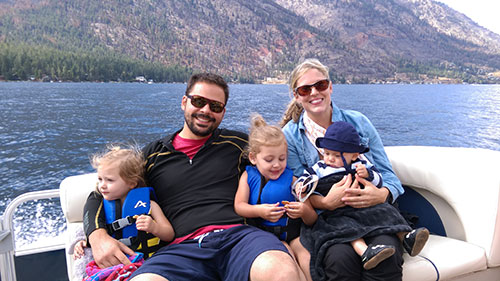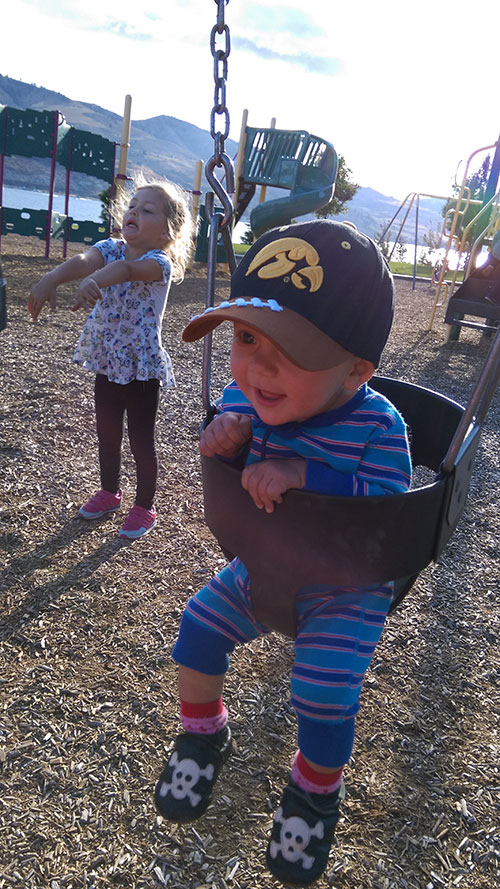 Love the pink socks with skull & crossbone shoes…