As I write this, we're just taking off from our fun and exciting long weekend in Raleigh, North Carolina. With the exception of Florida (which doesn't really count anyway), neither Jessica or myself has ever been to the Southeast. As expected, we had a great time visiting (and making new) friends, exploring the city, and eating all the southern food we could get our hands on.
There were plenty of things I was expecting about Raleigh that turned out to be true: the friendly people, warm sunny weather, old country southern charm, beautiful old houses, and delicious Carolina BBQ. However there were also a few pleasant surprises: there's more of a tech influence there than I was expecting, and there's plenty of modern architecture, so you have this interesting mix of old world and new world coming together. It's also much greener than I was expecting. As a kid who grew up in Washington state, I felt right at home with all the greenery, and loved the big beautiful oak trees.
I was also surprised at all the brick construction we saw. It seems like everything there is made out of brick: churches, houses, office buildings, even the fast food restaurants all have brick exteriors. Turns out they have a ton of red clay and make more bricks there than anywhere, so it makes sense, but it still stood out to us right from the start.
Since our last trip of this nature was to Austin, Texas (way back in November, 2015) we couldn't help but compare the two cities. There's actually more in common than you might expect. Both cities are state capitals (although the North Carolina capital building pales in comparison to its Texas counterpart). Both cities are warmer, cleaner, friendlier, and less crowded than Seattle. You actually don't realize how crowded, dirty, and unfriendly Seattle is until visiting a place like Raleigh or Austin. Jessica and I would be walking around at night going "Where is everybody?". It just felt so empty at times, but in a nice way. The only major difference between Austin and Raleigh is that where Austin has all this cool music culture with guitar statues on the streets, plus all the kitschy little shops and cool shopping districts like SoCo, Raleigh just has lots of (old and new) brick churches, reminders of the civil war (like statues for the Women of the Confederacy), and funny old signs about so-and-so who was born in a kitchen three quarters of a mile northeast of here.
Our trip actually got off to a slightly rocky start because we were supposed to leave Seattle at 8:15am, but were delayed because our captain was coming in late on another flight. So we get onboard, we're waiting patiently, then the flight attendant gets on the microphone at 8:45 and tells us that the good news is that our captain has arrived, however the bad news was that we had a cracked toilet seat in one of the bathrooms and we needed a maintenance person to come on board to fix it. Obviously we were all thrilled to hear this news, and I threatened under my breath to Jessica that there would be another cracked toilet seat if we didn't get going pretty soon, but there was nothing we could do. Finally, by 9:15, the seat was repaired and we were good to go.
It's nice having a non-stop flight, but at 5.5 hours, it's a pretty long one. Jessica has been doing better with her neck and arm issues, but being cooped up in the same seat for so long started taking its toll on her several hours into the flight. I was fighting a chest cold when we left Seattle (and still am for that matter), so getting off the plane in Raleigh was nice.
For a minute I had entertained the thought of trying to catch a Carolina Hurricanes hockey game since they were playing at home the night we arrived and it was their second to last home game of the season, but there just wouldn't have been enough time to get checked into the hotel, then turn around and Uber it back to the arena. Instead, I found a sports bar within walking distance of our hotel, so after getting checked in we hit the streets and eventually settled down to watch the game.
I quickly realized that the sports bar atmosphere wasn't exactly what we were looking for, and the game wasn't all that exciting, so we decided to just have a couple appetizers and then head somewhere else for dinner. I'm glad we went there though because I got to experience my first staple of southern food culture: fried green tomatoes.
In addition to some Carolina BBQ, one thing I was hoping for on the trip was a good southern seafood meal. Randomly, there was this classic old seafood house directly across the street from the sports bar called 42nd Street Oyster House. We loved the look of the place, and the parking lot was packed, so we decided to go in.
Stepping in was a bit of a time warp. The smell of fresh seafood hits you in the face, and the old wooden floors, big exhibition kitchen, and oyster bar filled with young guys wearing metal gloves shucking huge buckets of oysters, was all perfect. Jessica actually hit it on the head when she said the place reminded her of a southeast seafood version of a famous pair of restaurants in the Seattle area called 13 Coins. Obviously you'd only get the reference if you'd eaten at the 13 Coins, but I thought her comparison was dead on the money.
We ended up sitting at the oyster bar enjoying homemade seafood bisque, fresh snow crab, various fresh local oysters (a variety from Virginia called Mobjacks were our favorite), and probably the best (and biggest) oyster shooters either of us has ever had. Although it was a long first day because of the flight, the experience at 42nd Street was easily one of the highlights of the trip, and possibly my favorite meal, although there was plenty of competition throughout our stay. I also just loved how we accidentally stumbled upon the place. It really felt like it was meant to be.
Since we hadn't gotten much sleep the night before our trip, we decided to close the blinds, draw the curtains, and take advantage of the fact that the kids weren't with us, by sleeping in as late as possible that first morning. We slept so long I remember waking up and thinking "Oh my gosh we're sleeping the whole first day away", but I'd look over at Jessica who was sound asleep and say "Whatever, I'm going back to bed". By the time we actually did wake up I was shocked to look at my phone and see it was only 9:30am. I thought for sure it was past noon, and plus our bodies were still on Seattle time, but nope, just 9:30. Just goes to show you what being a parent does to your sleep schedule. I was laughing because the night before I remember telling Jessica I couldn't sleep past 10:00am even if you payed me, regardless of the time change. I was half joking when I said it but I guess I was right…
Other than the food-related stuff and catching part of the hockey game, the only other thing I wanted to do on this trip was go to a guitar store. This has become a tradition for me when we visit a new city, so I did my homework and found Harry's Guitar Store, which has been around for thirty years and has become a bit of an institution in the Raleigh music scene. I even went so far as to research their inventory so I'd know which guitars and amps I wanted to check out when I was there.
Obviously I knew I wasn't going to buy a guitar or amplifier on the trip, but when you research these things as much as I do, just getting the opportunity to play certain ones is a big treat. So for the better part of an hour on late Friday morning, I just hung out there jamming. The owner of the store (Harry I presume, although he didn't say) was really cool and told me to check out anything I wanted. I felt kinda bad because Jessica was just hanging out there on the couch reading while I nerded out on all this new gear, but then I kinda realized that the whole reason they had a couch in the middle of a guitar store was that Jessica wasn't the first (or last) wife/girlfriend to get drug in there. Hey, at least they were prepared. I tried to buy a t-shirt before we left but they didn't have my size, so I bought a new leather guitar strap instead. I figured it was the least I could do since I'd been playing such expensive stuff, but again the guys working there were awesome. The owner sent me home with multiple Harry's guitar picks, bumper stickers, and various brochures about some of the guitars I'd just played. Overall it was just a great experience and the southern hospitality, even in a setting like this, still rang through.
After leaving Harry's we were both starving, so we caught an Uber over to a district recommended by Laurel called Glenwood South, which confusingly, is north of downtown. We also followed Laurel's recommendation by sitting down to lunch at the Raleigh Beer Garden. This place was a trip. They have nearly 400 beers on tap! There are so many beer choices that they have them separated into different rooms based on where the beer comes from. For us it was a no-brainer to sit in the room that served local beers, so that's what we did. They have these long picnic tables to sit at, but it wasn't busy yet, so we had an entire one to ourselves. After some local beers, pizza Bianca, and grilled Italian sausage with peppers on a pretzel bun, we were ready for a nap (because why not, right?). We walked back through the city to our hotel and got some rest. We knew we were in for a big night, although it turned out to be a bit bigger than expected.
Besides getting to celebrate Mark & Laurel, and getting to enjoy some killer southern food, the other thing that really excited us about this trip was that our good friends Solana and Josh were also coming along (Solana and Laurel have been friends for a long time). For those of you who regularly read this blog, this is the same Solana and Josh whose cabin we visited on Hood's Head Island with the kids over Labor Day weekend. Doing just about anything with them is going to be fun, so we knew we were in for a good time.
The plan was that for everyone to attend Laurel and Mark's happy hour from 4:00-6:00 on Friday at this cool bar called Raleigh Times, then do dinner and the reception the next night at a Lebanese restaurant called Sitti. We got there right at 4:00 and Solana & Josh had just arrived, so we settled in and started mingling. There was a beautiful rooftop patio, appetizers, and an open bar for everyone to enjoy.
By 5:15 I was just finishing my second drink, so basically I was pacing myself. These days if I'm out for a night on the town there's only one thing I'll drink – straight whiskey. Not because I'm trying to be a badass, but because I can't do all the sugary sweet mixers that come in most cocktails, and drinking beer or wine all night will just fill me up and give me a headache. So I just drink some form of whiskey (Canadian, Irish, Scotch, or bourbon) neat, or perhaps with one ice cube.
So again, it's 5:15 and I've had two whiskeys since 4:00. I'm doing good, feeling good, having a nice time, and then trouble strikes, but it strikes in the rarest of forms – Laurel telling us we need to start drinking more because the party will be over in 45 minutes and they were still several hundred dollars short of their minimum. From my restaurant days I knew that a party like this comes with a contract, and the most important part of that contract (from the restaurant's perspective) is the minimum, meaning this is the minimum amount you will spend, and if you don't reach it, we'll just charge you for nothing in order to reach it.
My immediate thought when hearing of this 'minimum' conundrum was that I'd go in there and pick out the most expensive whiskey they have. With visions of Pappy Van Winkle in my head, I belly up to the bar, only to find out that their most expensive whiskey is Woodford Reserve. "How much is that?" I ask. $10. So I'm thinking to myself "Seriously, $10 is your most expensive whiskey, this is insane". "What about Scotch?" I ask next. "Well we have MaCallan 12, but that's only $12." "Okay I guess I'm having that" I respond. "Want to make it a double?" she asks. "Why not."
Fast forward to 6:00 and I'm just wrapping up my second double (which were really triples). Combine that with the two 'singles' I'd had earlier (which were really doubles), and you can start to see the kind of night we were in for. Luckily I wasn't the only one drinking more than usual; Jessica was doing her best to keep up, and Josh and Solana can keep up with anybody, so we were all getting on the happy train together. It's a good thing too because the rest of the party was pretty timid. I don't mean this in a bad way, but it was a bunch of old people sipping on Chardonnay. In my mind, they needed us to liven things up a bit, so we did our part.
Soon enough the happy hour ended, but we were just getting started. There was a street fair with a band setting up outside, the weather was beautiful, and we were feeling good. So we went to this really cool place called Isaac Hunter's Tavern. It was still pretty early for east coast standards (everything starts later on the east coast) but they had a band setting up, so we settled in. Fast forward a drink or two later and I'm dancing with a lesbian to a poor cover of "Power of Love" by Huey Lewis and the News. Luckily Josh was also drawn in by the 80's synthesizers and chanting of "Don't need no credit card to ride on this train", but then quickly pulled me over to the dart board where Jessica was singing and dancing, and Solana was making friends with some friendly/creepy old dude at the bar.
We played darts for a while, but then decided it was time to find a new watering hole. I love how getting food never even crossed our minds. I don't know exactly what time it was because things were getting quite hazy for me at this point, but it was barely dark, so probably around 8:00. We ended up at an Irish bar, but for some reason we didn't really like the vibe there so we only stuck around for one drink, or in my case, one more whiskey.
After that we hit the streets and I came up with the great idea of doing some drunken parkour (look it up). As I write this I'm actually still a bit sore from some of my failed parkour stunts, but I certainly gave the rest of the group a few things to laugh about. Parkour Michael only makes his appearance about every five years, so it's a special occasion when he arrives. I liken it to a bald eagle sighting.
After falling on my ass a few times, we ended up at a place called Whiskey Kitchen. This place was poppin – in fact I think it was the busiest place we visited throughout the trip. The whiskey selection was almost too big though and I was afraid I'd get asked to leave if I asked too many questions, so I just ordered whatever was on the tip of my tongue. I honestly don't even remember what is was, but at that point it hardly mattered.
We ended up sitting outside by the fire just laughing, people watching, telling stories, and having fun. I think we were there for a while but I'm not totally sure. I was in rare form and had little remaining perception of time. Luckily that would be my last drink of the night because I certainly didn't need anymore.
I don't remember whose idea it was, but on our way back to the hotel we all decided to do the obvious thing after a heavy night at the bars – go swimming! Our hotel had a pool and hot tub open until midnight so we decided to split ways for a bit to freshen up, then meet at the hotel pool. By the time we arrived at the pool it was 11:00 and I remember being shocked at how many kids were down there so late at night. I did a couple laps, but as weirded out as I was about the kids in the pool, the kids (and their Moms) seemed to be equally weirded out by me, or at least that was how I perceived it. I quickly recanted and retired to the hot tub to sit with Jessica.
To finish off our crazy night, Jessica and I were taking the elevator (which was pretty full) back up to our room. I'm standing there all wet in my trunks with a towel around my shoulders, and there's this prim and proper older woman next to us. She was friendly enough , but then the door opens on her floor and all I see is this young pink-haired 20ish year old girl twerking (look it up) with her ass literally right in our faces. I'm thinking to myself "No way, is this really happening!?" But the poor old woman didn't know what to do. She kind of gasped and scurried past down the hall. Then the twerking girl and her two friends get on the elevator, and with the cutest English accent she's says "Do you think she liked that?" I was laughing too hard to respond, so Jessica says "She might not have liked it, but she needed it. She definitely needed it." What an epic night.
Then came Saturday morning and I had the kind of headache that other headaches tell folk stories about. I mean this was a legendary headache. Luckily I had woken up in the early morning and somehow asked Jessica for 4 Aleve. I remember thinking to myself that it felt like someone had poisoned me, only to then grimly realize that yes, I had been poisoned, but not by someone else. Actually yes it was by someone else, it was Laurel and her stupid minimum!
So I popped the Aleve and passed out for a few more hours. By the time I woke up I was still pretty shaky, but it was nothing a multivitamin, walk in the sun, and plate of Carolina BBQ couldn't fix. We met Solana and Josh downstairs and headed off for the BBQ restaurant everyone told us to visit – The Pit. Once again the weather was beautiful and this time they were setting up a Lebanese street fair right outside our hotel.
According to Google, The Pit was only an 8 minute walk away, but based on the night the four of us had just had, it took us twice as long to get there. I'm partly surprised we even made it there at all. We ended up sitting outside and getting down on hush puppies, fried mac n cheese, deviled eggs, wings, and sweet tea. And that was just the first course. Typical hangover fare to be sure. For entrees Jessica got a fried chicken sandwich, while I went to town on the BBQ combo platter: Carolina pulled pork, Southern Fried Chicken and choice of sides (cole slaw, and more mac n cheese in my case). When we sat down they placed two kinds of sauces on our table. One was a traditional sweet/smoky/spicy BBQ sauce, and the other was a tangy Eastern N.C. sauce with a vinegar base. They were both good but the tangy one was easily my favorite. Pouring that stuff all over the pulled pork was unbelievably good, and let's just say that I now understand when people talk about Carolina BBQ being their favorite. I'd have it again in a heartbeat.
After lunch we walked around for a bit, then headed back to the hotel to take in the Lebanese street fair. There were all kinds of performances going on, and again, the weather was perfect, so we were all happy to just sit outside, people watch, and bask in the glory of a sunny day. Eventually, since we knew we were in for another long night, we figured a nap was in order, so everyone retired upstairs for some shut eye.
A few hours later everyone was dressed and ready for the big night, so we met Josh and Solana in the hotel lobby. Since the restaurant they were holding the reception in was just across the street from Raleigh Times, where we'd been the previous night for happy hour, we figured we should stop in there for a drink. We hadn't been in there 10 seconds before one of the bartenders who'd been serving our party the night before saw us and yelled "Hey guys, welcome back!"
The reception was held in a beautiful courtyard at Sitti. Once again there was an open bar, but this time I was having none of this 'help us meet our minimum' business. I'd be drinking at my own pace, thank you very much. There was also a nice covered area for dinner, so after an hour of reception time with drinks and appetizers in the courtyard, we all headed in for dinner.
Since Laurel and Mark have done a lot of traveling, they had this cool idea to name each table after a city that bears some significance for them. I was a bit surprised we weren't at the Seattle table, but ultimately we were seated with Solana and Josh, as well as another couple whom we absolutely loved named Sammy and David, at the Torino table. There was significance in this because Jessica and Laurel met during their Semester at Sea in Torino, Italy.
We were actually given instructions by the bride, as well as both of her parents, to be the fun table at the party. Plenty of other tables were filled with very buttoned up formal east coasters who wouldn't even consider loosening their tie at the end of the night. So we sort of took it upon ourselves to be a bit livelier than the rest. After all, that's what we were told, and who would disobey the bride at her own wedding reception?
Several people got up and said some very nice words about Mark, Laurel, and their respective families. After that we enjoyed the best wedding food I've ever had. This was my first time enjoying Lebanese food and it was absolutely delicious! If you really get a chance to try Lebanese food, I'd highly recommend doing so. It's funny because I'd never had any exposure to the Lebanese culture before this trip (and to be clear neither Mark, Laurel, or anyone else there was of Lebanese descent), but between the street fair earlier that day, and dinner that night, it just kept coming up. Totally random, but in a most delightful way.
Anyway, back to the food. They had this stuff called Garlic Whip that pretty much changed my life. In fact, I distinctly remember Jessica saying at dinner "Garlic whip, where have you been my whole life?" It was basically the consistency of whip cream, but slightly lighter and fluffier, with this amazing roasted garlic flavor. I was putting it on the goat cheese stuffed roasted peppers, on the beef, on the chicken, on the veggies. I'd put that shit on my waffles if you'd let me. I seriously need to learn how to make that stuff. Truly amazing.
After dinner it was back out to the dance floor, and remember, we were expected to be the life of the party, but luckily we had a secret weapon – Josh O'Hair. If physical comedy was a degree, Josh would have a doctorate. If it was a profession, he'd be one of the best. Watching him dance and sing is something hilariously special that everyone deserves to experience at least once in their lifetime. He pretty much had us all in tears throughout the evening. The closest person I can compare it to is Will Ferrell but even that's not doing it justice.
Like myself, Josh is a former bartender who got out of the night life. He now works as a liquor rep for Patron tequila, and not surprisingly, he's one of their top salespeople. He's just got this infectious personality so it makes perfect sense that he'd be so good at sales. Because of his allegiance to Patron, that's basically what he drank all night. Because of his non-stop moves on the dance floor, it wasn't until we were leaving the party that drinking nearly an entire bottle of Patron started catching up with him.
Now don't get me wrong, I'd certainly had my fair share of Bulleit bourbon that night as well, but I was nowhere near the level I'd reached the night before. Or, in other words, Parkour Michael was in deep hibernation (with an ungodly headache). So whereas I had felt like the one who was most out of control the previous night (and truthfully was), Josh was feeling that same way this night. Still there was only one logical thing to do after leaving the party – go to the bar of course. And there was only one logical bar to go to – the Raleigh Times.
We got over there, ordered a drink, but Josh couldn't drink it. He sat there apologizing to me for how drunk he was. I told him not to be ridiculous and that he was fine, but it quickly became apparent that hanging out in a bar was in no one's best interest. So I came up with the perfect idea to set Josh straight – swimming! No I'm just kidding. Not swimming, a gourmet hotdog. There was this awesome hotdog restaurant out on Fayetteville street and I knew a big ol' hotdog with all kinds of regretful toppings was just what the doctor ordered.
So we went in, tripped out on their crazy menu for a minute, then ordered while the girls waited outside. I don't remember what Josh got, but I had the Southern dog, complete with fried okra, cheese, and Carolina chili. We sat outside with the girls eating our hot dogs, and as expected, Josh totally started coming back to life. It's like he was invigorated by carbs and pork casing. Unfortunately the totality of the (two) night's consumption came to a head with Solana and she needed to call it an evening.
We totally understood and weren't upset at all that they were leaving for the night, but at the same time we were feeling fine and completely in control, so we decided to stay out for a bit. Obviously we don get out like this often, so we felt like we had to take advantage. Jessica's sweet tooth started creeping up on her, so while I stayed outside to finish my southern dog, she went back in for a milkshake. She came outside laughing and when I asked what was so funny, she said that while she was waiting for her shake, some guy came up to the counter asking the employees where he could get some weed. I can't say I blame the guy because if I was out of town and looking for weed, the guy at the hotdog counter would probably be the first person I'd ask as well, but his response was perfect – "I don't know man, my weed comes from Tacoma." It's such a strange, random, funny little world we live in sometimes…
We walked around for a bit looking for a place to have a night cap, but it seemed like every bar we passed was really crazy inside. That may have worked for us the previous night, but we simply weren't on that level by this point. Eventually we found a quiet little spot where we could relax and talk. We got into such a good conversation that we got back to the hotel room and sat there talking about life, family, the kids, work, and future plans, until 3:00am! Normally we would never be able to do something like this because the kids are always up by 7:00, but I guess that's what vacation is for.
So remember that little chest cold I was fighting when we left Seattle? Well, after three nights out in a row, one of which that included an appearance by Parkour Michael, let's just say that by Sunday morning that little cold wasn't gone. In fact, get ready for a shocker, it was worse! On top of that, because she had to talk over a loud DJ all night, Jessica completely lost her voice. Like literally her voice was at 10-15% capacity. She simply couldn't talk, but the wedding party was doing a big brunch downstairs at our hotel and we felt like we had to make an appearance.
So we got as presentable as possible, put on a happy face, and went down to join everyone. We got there near the end of brunch (shocking) but enjoyed everyone's company, as well as a substantial breakfast. Carolina omelette with pulled pork and jalapeños in my case. After brunch the weather was simply too nice not to experience, so we walked around for about an hour. After that we hit a wall and felt like retiring to the room was our only option. So we hit up a convenience store, stocked up on water and cold meds, and sort of stumbled back to the hotel.
The rest of the day was spent laying in bed coughing, laughing about the craziness of the last couple nights, and watching the final round of The Masters. In all seriousness, we hardly ever get out like this (even our trip to Austin a year and a half ago was much more tame), so I hope no one reading these stories is concerned, but we mutually agreed on one thing – we still got it! Might take us a week to recover, but we can still roll with the punches when we need to.
One thing I haven't mentioned so far was that we were missing the kids badly the whole time. Jessica put it perfectly when she said, "You look forward to the trip for so long, and you're so excited to get away, but then when you're gone you can't stop missing the kids and think about them constantly." It's so true. I can't tell you how many times we saw something and said "Look! Ava/Elise/Enzo would love that! Take a picture."
Since we were in all day on Sunday, it was a perfect time to call Grandma and check in. Unfortunately when we did, we found out that everyone had been sick the whole time and they hadn't even left the house. Poor Ava had a fever and didn't get out of bed for two days! Anyone who knows our energetic little Ava knows that she must have been really under the weather to stay in bed like that. Elise and Enzo weren't quite that bad, but nowhere near 100%, so they just stayed in, watched movies, and let Grandma take care of them.
Sunday evening we had plans with Brad and Jeff – Jessica's old friends from Iowa. They all used to work together in a restaurant in Cedar Rapids and have stayed friends ever since. I met them on my first trip to Iowa, which was 8 or 9 years ago, but haven't seen them since. They moved to North Carolina for Brad's job, got married, and plan on staying there forever. They really love it and I can't say I blame them.
In all honesty I didn't really want to go out because I was sick, exhausted from the previous three nights, and wanted to watch the end of the Masters, but there was no way we could cancel on them. That wouldn't be cool, and who knows if we'll ever be back. So we met them in our hotel lobby and started with a drink. I knew I'd be drinking as little as possible that night so sipping on a light beer seemed to make sense. I was able to draw them out and only have two all night, but still fall back on it in case anyone wanted me to have something more, like a shot of Grand Marnier, which was totally out of the question.
We called an Uber and headed out to dinner at a place called Cowfish. I've never seen anything like this but it turned out to be a lot of fun. It's part burger restaurant, and part sushi restaurant. They even have some dishes that combine the two genres, something they call "Burgushi". The atmosphere is really fun, and when you go to the bathroom there's a track playing that translates southern sayings into Japanese. The only one I remember was "He's as country as cornbread."
By the time we finished dinner Jessica and I were absolutely spent, but luckily they both had to work early in the morning, so we decided to call it an early night. I'd been keeping my eye on the Masters during dinner, and when we got back to the room, it was still on. We ended up seeing the 18th hole, and the playoff hole that ultimately gave Sergio Garcia is first win in a major after 73 straight defeats. We were both pulling for him and were happy to see it turn out that way.
A good night's sleep was exactly what the doctor ordered that night so we called it an early night and ended up sleeping over 11 hours. Not sure when that will happen again but it won't be soon. For our final day in Raleigh, Jessica and I had lunch at a really cool little pizza place called La Stella Pizzeria. We're both pretty tough critics when it comes to pizza, yet we both agreed that this pizza was excellent. Jess even went so far as to say "this is the best pizza I've had this year" before quickly biting her tongue after Enzo's birthday party came to mind.
After that Laurel came and picked us up, then we all went to a park to lay in the grass, soak up a little more sun, and talk about the weekend. Mark and Laurel are actually moving back to Seattle next week, so this weekend was basically their 'last hoorah' in Raleigh. They bought a beautiful new home in West Seattle that we're looking forward to seeing, and can't wait to start seeing them regularly.
Now that the trip is over we're just excited to get home to our babies. As we said on this trip, there probably won't be many more getaways like this for Mommy and Daddy because the kids are getting closer and closer to being able to enjoy, appreciate, and remember their own vacations. Personally I'm pushing for a family trip to Hawaii in the next couple years but I'm sure there's a Disney trip in our future as well. We'll see how things play out.
If you've made it this far into the post, I congratulate you. It's taken me nearly the entire flight home to write it. I know I'm never short on words, but even for my standards this has been a long one. Hopefully the stories from this weekend bring you just a small fraction of the joy we experienced on this epic getaway. This has definitely been one for the ages and I sincerely thank Laurel and Mark for having us, Solana and a Josh for being our partners in crime, and of course, Jessica for being the love of my life and the best travel partner a guy could ever ask for. Watch out for those open bars…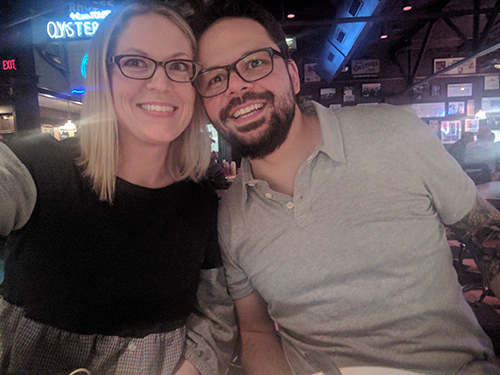 Starting the trip off right at 42nd Street Oyster House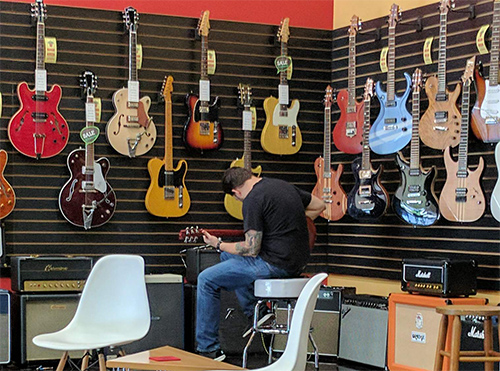 Enjoying myself at Harry's Guitar Shop

Holding it together at the Whiskey Kitchen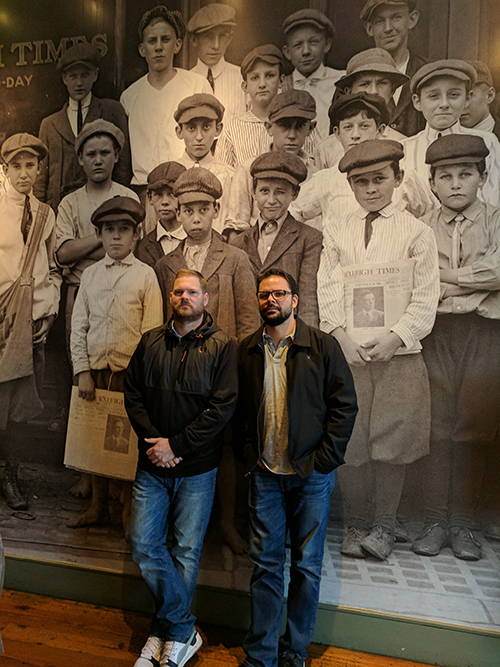 Striking a pose with Josh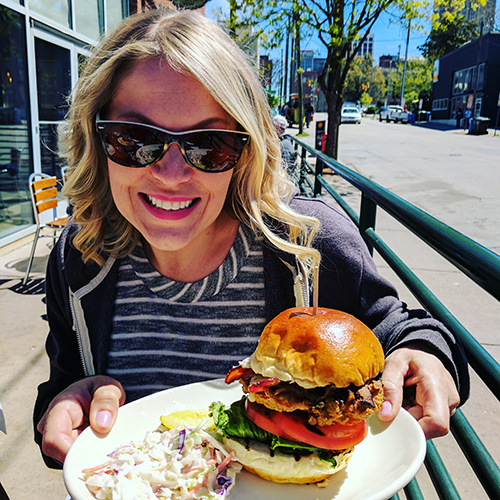 Jessica's Fried Chicken Sandwich at The Pit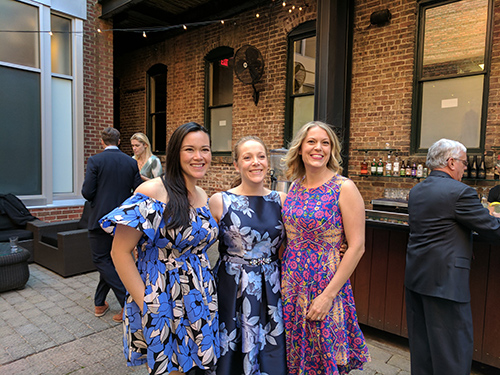 Solana, Laurel, and Jessica looking beautiful at the reception