With the beautiful weather on our side, we've been enjoying another great weekend. We started things off Friday night by having our friend Laurel over for a sleepover and homemade pizza party. It's been a few years since I've made pizza from scratch, so it was fun to do that again. I did my best to put on a show for the girls by tossing and spinning the dough up in the air; they seemed to get a kick out of it. More importantly, the pizza turned out really good and we all had a nice dinner together.
Saturday morning I took Ava to soccer class and I can say with confidence that it was her best class yet. This was her sixth week of soccer and the improvement she has made during this time is very noticeable. She's doing great with her dribbling (aka 'little kicks'), and her shots (aka 'big kicks') have been really impressive. They did a drill this week where there was an 8 foot tunnel setup about 8-10 feet from the goal. The objective was for the kid to kick the ball straight through the tunnel and into the net. Considering that it was nearly a 20 foot shot, it was really tough for most of the kids; in fact, most of them couldn't even kick the ball through the tunnel, let alone hard enough to get it all the way to the goal. Most of the time the ball would be stuck in the tunnel and the kid would have to crawl through it to retrieve their ball before taking it over to the goal for a little shot.
Ava didn't have a problem with this drill at all. The coach set up her ball in front of the tunnel and she kicked it so hard and so straight that it went rocketing through the tunnel right into the back of the net. I think only three kids were able to do this and she was the only girl. I was really impressed. In true Ava fashion, she still crawled through the tunnel though, just like all the other kids did.
I know I come off as a proud parent when describing this, and of course I am, but I honestly wouldn't give her a bunch of false praises if she didn't deserve them. In general I don't agree with the entitlement culture that many modern-day parents are inadvertently creating, but Ava is doing really well with this. Ultimately all that matters is that she is engaged and having fun, but the fact that she has natural talent makes it even better. I would never force her into any activity, but I hope she continues with soccer. She definitely has a lot of potential and I love seeing her have so much fun.
After soccer I got back to work in the backyard on the dog run I started last week. In order to avoid making the same mistake I made before, I stopped by the hardware store and purchased a couple five gallon buckets. This way I was able to leave the yard waste bin in its usual location in our driveway and just fill the buckets with grass and sod. It resulted in several trips back and forth with filled buckets, and those buckets aren't exactly light, but it was nowhere near the trouble we had last weekend. I wasn't able to dig out the entire area because I eventually ran out of space in the yard waste bin, but I'm getting close. I expect to be done digging next weekend; then it will be time to move onto the next phase of the project.
I spoke to my Mom about it and got some good advice; I was originally planning on putting a tarp down and then spreading gravel over it, but she had a great point, which is that the tarp won't allow any liquid to pass through, meaning every time Bella pee's out there, it's just going to sit there on the tarp and create a nasty odor. Her recommendation was to use something called 'weed cloth', which serves the same purpose as the tarp (not letting weeds grow through the gravel), but it's made of a mesh-like substance that will allow liquid to pass through. Thanks Mom.
In addition to digging out the dog run, I'm also going to dig out a path from our back patio to the dog run and fill it in with paver stones. This way we will be able to take Bella back there without worrying about getting our feet/shoes grassy or muddy and then tracking all that stuff back into the house. We also want to expand the size of our back patio by lining it with big paver stones. The goal is to have a functional backyard that the kids can play in, and that we can use for gatherings. Right now that isn't possible because of Bella, but it won't be that way for long.
Once I'm done working on the backyard I'm going to shift my focus to the front yard, and particularly to the driveway. If you've been to our house you know that we have a long narrow driveway that curves towards our garage. Backing the van out of there while avoiding my car isn't easy, and what often ends up happening is someone backs into our front yard and starts kicking up a bunch of grass and mud. Consequently the ground directly adjacent to our driveway is extremely soft and difficult to maintain.
Although I'm not 100% decided on what to do, the idea I'm currently leaning towards is to dig out about three feet of grass all the way down our entire driveway. Then I want to hire someone to come in and pour concrete in there to fill it all in, effectively widening our driveway by three feet. It's important that I get someone who knows what they're doing because the new concrete needs to match the exposed rock style of our existing driveway. Once the concrete has settled I want to build a little stone wall about two feet high all the way along the driveway. I think this will look really nice and give it some separation from the front yard. I just want to run that idea by a few people to make sure its a good one before breaking ground. I'm totally willing to do most of the work myself, but I need someone with lots of concrete experience for that phase of the project. There's no way I'd be able to do that part of the job at a professional level.
After finishing my yard work and watching a little playoff basketball, the five of us headed south for a birthday party at the house of our friends Jamie and Melissa. Their daughter Ellie is turning two, and just like her party last year, we all had a really fun time. I met a guy who has been working at Microsoft for nine years and we ended up hanging out and talking for quite a while. We exchanged contact information and made plans to meetup for lunch sometime soon. It's nice to meet someone with that much experience and tenure at Microsoft, and the fact that we have mutual friends in common makes it even better. The rest of the evening was spent watching the Mariners game, eating leftover pizza, and just chilling.
Today has been gorgeous out all day so I got the girls outside early to enjoy the weather. I set up cones and goals just like they do at soccer class and let Ava do a bunch of drills. Once again she did great and had a lot of fun. Unfortunately Enzo has been out of sorts all day, including a fever and several spit-ups. Since it's so nice out we thought it would be fun to take the kids for a walk around the neighborhood. We hadn't had our Radio Flyer wagon out since last Summer so we decided to throw the girls in there and head out. Enzo was strapped to Jessica and quickly fell asleep, and the girls initially loved riding in the wagon. Unfortunately that didn't last for long.
About half-way through our walk the girls decided they wanted out of the wagon, which was fine. The problem was they both wanted to pull the empty wagon and had a hard time cooperating with each other. Eventually Elise got back in the wagon and let Ava pull her for a while, which was awfully cute, but Ava has a hard time walking in a straight line and Elise was nearly dumped over the curb into the street a few different times. After a while we put Ava back in the wagon and she threw a fit. She didn't want to be in there and ended up screaming and crying all the way back to the house; so even though our intentions were pure, we ended up with a meltdown on our hands. I'm sure all of our neighbors loved hearing Ava screaming on a Sunday morning as we headed home.
We're spending the rest of the day relaxing around the house. I'm probably going to take the girls back outside to play some more in a bit, then we've got our usual Sunday night bath routine to look forward to. Grandpa Rick will be arriving from Iowa on Wednesday, so that should be a lot of fun, then Uncle Joel and Aunt Melanie will be here right after he leaves. Shortly after that Nana will be out for a visit as well. Lots to look forward to in the near future. Here's a couple recent pics.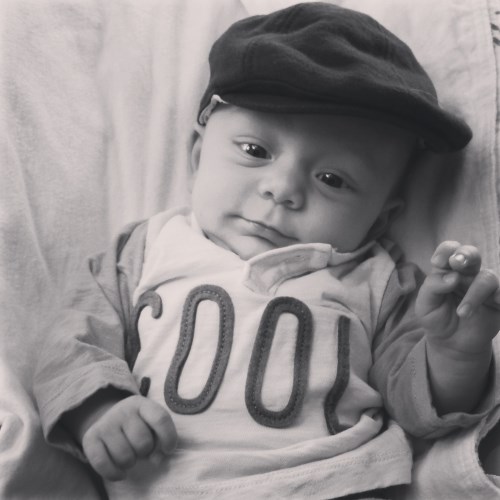 He's a cool little dude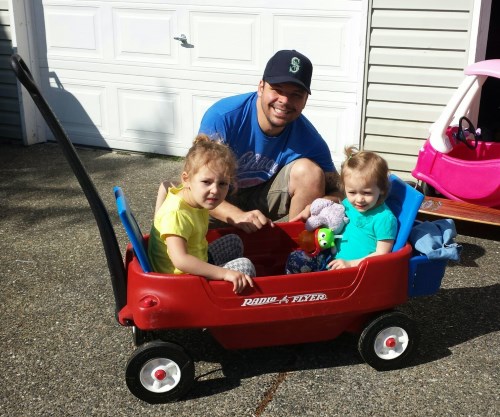 The beginning of our Sunday morning walk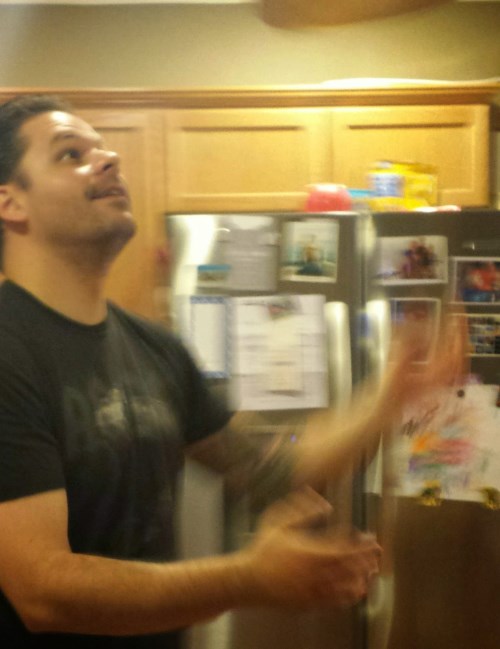 Tossing pizza dough for the girls