Last night around 11:00 we returned home after an excellent trip visiting Jessica's family and friends in Cedar Rapids, Iowa. The main purpose of the trip was to attend Jessica's grandparents' 60th anniversary party, but we took advantage of being back in Jessica's hometown and kept very busy each day visiting various family members and old friends. Before I get into the details of the trip, I want to give a very heartfelt thank you to Rick and Chris. Not only did they host us at their house, but they went so far out of their way to make sure our visit was perfect, and it was. They remodeled their basement and turned it into it's own little condominium, they stocked us up with everything the kids could need, they fed us incredibly well the whole time, they got us car seats and a stroller. What they did was amazing and we appreciate it so much! I also want to thank Joel and Melanie for letting us use Melanie's SUV while we were there. That was a huge help to us as well.
So the trip started very early Thursday morning. I was going to say bright and early but this was well before sunrise, so I guess it was dark and early. Jessica and I were up at 3:30, then the kids shortly thereafter. By 4:00am we were on the road, headed south to SeaTac airport. We had already packed the van the night before, plus the kids had gone to bed in the clothes that they would be traveling in, so getting out the door was relatively painless, other than the fact that we were up at 4:00 in the morning.
Our first flight that day was from Seattle to O'Hare airport in Chicago. The good news with that flight is that you're getting 90% of your traveling done in one flight. The better news is that all three kids behaved themselves like angels. Unfortunately the same couldn't be said for our return flights home, but more on that later. When we got to Chicago we were so happy; the kids were doing great, and we were only a short layover and a 40 minute flight from Cedar Rapids. Then we got our first bump in the traveling road. We boarded this tiny jet, and before leaving the gate the captain comes on the intercom and says that weather conditions in Cedar Rapids were deteriorating quickly. The fog was so thick that visibility was only about a quarter of a mile, which is their minimum requirement for landing. He said that we were carrying extra fuel because there is a chance that we won't be able to land in Iowa, and that we will have to either land in Wisconsin, or just come back to Chicago.
For the only time that day, I dozed off on the plane for about 20 minutes while holding Enzo. The sound of the landing gear coming out was what woke me up. The plane was descending and everything seemed like a false alarm, then suddenly they had to pull up. I remember Ava loudly proclaiming "We're going back up!" At this point Jessica and I look at each other and with concern, even though we know there's nothing we can do. When you looked out the window it was pure white, that's all you could see. The pilot got back on the horn and said they missed the landing but were going to circle around and give it another try before turning back. At this point I'm sure that we're going to miss it again and head back to Chicago, which is a 4 hour drive from Cedar Rapids. Then we'd have to either rent a car, or have Rick come get us. I kept my window open as we descended but you couldn't see anything at all. Then all of the sudden the white fog was gone and I was looking at white, snow-covered ground. By the time I actually saw the runway we were only about 100 feet above it, then an instant later we had landed safely. What a relief!
We knew Rick was going to be there waiting for us at the airport, so when Jessica said to the girls "Are you ready to see Grandpa?" they would say "Yes! And Grandma!". We knew Chris was at work that day so Jessica says "No honey, I think we're just going to see Grandpa right now." A second later Jess says "I see Grandpa up ahead, go get him girls." Ava and Elise go running off, and we hear them say "Grandpa, Grandma!!!". Jess and I look at each other and we're like "Grandma?" Then we look closer and see that Grandma Amy is there with Rick, which we weren't expecting at all. Turns out she and Tom had just arrived from Colorado an hour earlier, and of course they had all the same issues with the fog that we had.
As soon as we got to Rick's house he gave us the tour of "The Pellegrini Suite" as he calls it, and we were blown away. We just couldn't believe everything that had been done. It's a fully-functional living space with a nice area for watching television, a dinner table, a kitchenette, a huge bedroom that we all ended up sharing, and a full brand new bathroom. It was just awesome. I guess it's fair to say that we have our own place in Iowa. I mean obviously we always would have had a place to stay, but this is beyond that. It's like our own little home.
Friday night we were visited by Amy & Tom, and Joel & Melanie. We all just chilled out after a long day of traveling, had a nice ham dinner, and got caught up. Jessica said it was the first time that both of her parents, her brother, and herself had all been together in that house since 2002, so that was a really big deal. We exchanged stories about the weather flying in, talked about final preparations for the party on Sunday, and enjoyed watching the kids open their Christmas presents from Rick and Chris. It was a great way to start the trip.
Friday we were hoping to take the kids sledding, but the weather wasn't cooperating. There was snow on the ground, but it was raining pretty heavily, which was turning the snow into slush. It hadn't gotten cold yet, at least not by their standards, but it was so wet out that sledding would have been miserable. So since that was out of the question, Jessica thought it would be fun for her Dad to give us a tour of Cedar Rapids. The kids could see where Mommy grew up, and Jessica could see how things have changed over the past decade or so.
We all hopped in Melanie's car, which had all the car seats, and Rick proceeded to give us a 2 hour tour of Cedar Rapids. It had to be one of the most thorough tours I've ever been on. We saw every house they lived in growing up, saw where everyone worked, went up and down every street in downtown Cedar Rapids talking about what used to be there and what was there now, and saw the areas that were destroyed by the flood of 2008. Not surprisingly the kids only lasted a little while before it was nap time, but Jessica and I really enjoyed it. From my perspective, Cedar Rapids reminds me a lot of Aberdeen, Washington, which is where my Dad grew up, so there was a sense of nostalgia there for me as well.
In addition to seeing tons of family on this trip, one of the things that we were really excited about was getting to visit with Summer and Jodi, two of Jessica's best friends that she used to work with years ago. I've met them both (as well as their husbands) several times and have always had a blast hanging out, so I was excited too. They both live up in the Minneapolis area, and they both still have family in the Cedar Rapids area, so they both drove down to visit us. Summer was staying with her Mom, but Jodi and her two daughters would be staying with us at Rick's house.
A couple hours after our tour of Cedar Rapids, Jodi and her daughters Leona and June arrived at the house. They are very close in age to Ava and Elise, so it wasn't surprising that the kids hit it off immediately. We were also paid a visit that evening by Larry and Sherry, the guests of honor for the weekend's festivities. Amy and Tom brought them over so they could see the kids, which they had been looking forward to. I knew Tom's daughter Emily and her family were arriving that day, so I asked them if they made it in, and he said no. They flew from their home in Houston to Chicago, then they were supposed to take the same flight to Cedar Rapids that we had taken the day before, but it had been cancelled for two days due to weather! They had no other option besides renting a car, so that's what they did. Brutal.
I knew that Jessica would want some time that night to catch up with Jodi and her girls, so I decided to go out for dinner and drinks with several members of her family on her Mom's side. We all met up at Amy's brother Devin and his wife Mary Jo's house, which I was excited to see because I had heard all about it. Turns out Larry and Sherry used to own this place back when the kids were young, but then sold it in the early 80's. Devin had an opportunity to buy it about 10 years ago and ended up doing so, which is really cool. It has the biggest front yard and longest driveway I've ever seen, but it makes sense because they had horses at the time and the front yard is where they rode them. There's also a swimming pool, hot tub, and a barn where the horses used to live. The house itself was very nice, but almost all of our time was spent in their "Man Cave", which was built onto the barn as an additional finished, heated living space.
When I walked in my jaw dropped. It was as if I had just walked into my dream room. It's about 100 feet long and 50 feet wide with finished concrete floors. There's a pool table, a drum set, two electric scooters, a dart board, a tv viewing area with a bunch of seating, an office, a full kitchen, a full bar, a bathroom (with toilet and urinal of course), and a Lexus convertible parked indoors for the winter. Instantly I start walking around thinking to myself "I'd keep the pool table, I'd keep the drum set, guess I'd keep the Lexus for that matter, then I'd have my guitars and amps over here, and my computer setup for recording over there." It was just amazing. It's not something you could do here unless you could afford to buy the lot next to you and demo it, but it was awesome to see. Not surprisingly there were people hanging out over there throughout the weekend.
By the time we arrived at Devin's house, Derek, Emily, and Cole, who were staying there, had already arrived after their drive from Chicago. Everyone was starving so the whole big group of us went out to dinner at The Irish Democrat (or 'the ID' as they call it). It's funny because that was one of the places Jessica wanted to go to while she was in town, but she never got a chance to. I told her they had this really good appetizer called Cheese Wontons and she's like "Yeah, that's exactly why I wanted to go there". Didn't mean to rub it in.
Dinner was really good, as was the variety of conversation, then afterwards Joel, Melanie, Derek, Emily, and myself decided to go out for drinks. Joel was kind enough to drive for everyone, so we all kicked back at a bar called Zeppelins and ended up drinking until closing time. I can't even remember the last time I was at a bar until 2:00am, but it was fun seeing everyone for the first time in a while. We all had a really good night, but I don't think anyone was feeling great the following morning. I certainly wasn't.
I managed to come in through the garage door at Rick's house and make my way through the house down to our bedroom without waking either of Rick's hunting dogs, which he couldn't believe. When they woke up that morning they thought I had never come home because the dogs never made a peep. By this time there were 5 adults, 5 children, and two dogs in the house, so sleeping on Saturday morning wasn't an option for me. Me and my headache got up with the rest of them and cowered over a plate of bacon and eggs with bottomless coffee (and a few Aleve to boot).
Before I knew it Summer and her parents arrived, then Jodi's parents arrived to pick up their granddaughters for an overnight stay. So now the house is packed! We're all in pajamas, I'm still walking funny, and the kids are going crazy. Lets just say it was pandemonium for a bit there, but kudos to Chris and Rick for being so cool. It's not easy to have your house invaded but they were a class act the whole time.
Saturday afternoon a bunch of us went over to Devin and Mary Jo's house and hung out in the man cave. Derek and Emily are Texans fans, so they were hoping to watch their playoff game on tv. Unfortunately Devin had just cancelled cable out there, but not to worry because we had Derek, the electrical engineer. This guy stuck a paperclip into the coaxial output on the tv, then wired it with copper wire to a piece of metal, and suddenly we had a homemade HD antenna that just so happened to receive the channel we needed to watch the Texans game. Pretty impressive indeed. It was bittersweet though because they got blown out by the Chiefs 35-0.
The kids had a blast though, rolling balls on the pool table, playing the drums (which all the adults absolutely loved), climbing around in Devin's Lexus (and honking the horn of course), and riding electric scooters with Uncle Devin. By this point the weather had taken a serious turn and it was down into the single digits. It kept going down from there throughout our trip. I'll tell you what, you have to stop and think twice when it's that cold out before running from the man cave to the house, which is about 150 feet. I got to experience a new kind of cold on this trip and that was the very beginning of it.
Saturday night was a night we had been planning with Jodi and Summer for months. We took an Uber and met up at Biaggi's, which is the restaurant that they all worked together at about 15 years ago. Summer brought her brother Sam along for dinner, which was great because he was a super cool guy. We ended up hanging out with him all night and I totally feel like I have my first friend in Iowa now. After dinner Sam took us to a variety of bars around downtown Cedar Rapids. It was when we would be walking from one place to another that I truly experienced extreme cold. I've been in cold weather before, like snowboarding in the Rocky mountains, and even Chicago in December, but this was a different level. With the wind chill it was -20 degrees! I remember taking a breath in through my nose and feeling the little hairs inside my nose freeze. It felt like pine needles from a tree were stuck in my nose. After 10 minutes out there your teeth start going numb.
You could tell who the locals were because they were the ones wearing minimal winter gear. They were dressed similarly to how people in Seattle dress in the winter, which surprised me. I'm out there with long underwear under my jeans, wool socks, wool sweater, down jacket, winter hat, and gloves, yet I'm still freezing. I knew I stuck out like a sore thumb but I was too numb to care.
At the end of the night we decided to go to one final place called the Starlight, which was one of their old favorites. We lost track of time, so when I checked my phone it was already 1:50am. I knew we'd need an Uber home so I got on the app and it said there were no cars available, then it gave me an option to pay a double rate to get a car. Since my options were to either pay the double rate, or freeze to death, I chose option A. The car wouldn't be there until 2:15, but of course at 2:00 we had to leave. Luckily the building had a set of double doors, so we stood in that area to wait for the car. Then someone comes out and tells us we can't wait there. We pleaded and told them that the car would be here in 10 minutes, but they said no, and they pushed us out in the cold. Luckily we still had Jodi with us, and she is all too familiar with this kind of weather from living in Minnesota. She told us it was time to start moving so we don't freeze. So there we are out front of a bar, Jessica and Jodi and dancing and I'm jogging in place. The funny thing is we weren't even drunk, although I'm sure it would have appeared that way to anyone driving by. We were just trying to keep warm. I swear you start feeling your body die in that kind of weather. It felt like a countdown to my expiration. Luckily the car arrived on time and got us home no problem.
Sunday was the big day of the trip, and of course the Seahawks were playing a playoff game just 4 hours away in Minneapolis. Summer was trying to convince me to drive up and go to the game with her husband Jeff. Turns out that tickets were super cheap (like $45) because it was so cold. I wanted to go so badly but I knew I'd never hear the end of it if I missed the event we had come for. Had we done the party on Saturday instead of Sunday I definitely would have gone to see the Hawks play, but it just wasn't in the cards this time.
The event, which was a combination of an anniversary party and a renewal of vows, was a huge success. There was a nice big turn out, the photographer was awesome, as was the Jazz trio who played live music the entire time, and everyone had a really nice time. However we had a little bit of drama in the morning before the party. Turns out Amy gave Jessica her laptop while we were at Devin's on Saturday afternoon. That laptop had the slideshow for the party on it, and Amy wanted us to add a few photos of our family to it. I didn't even know we had it, so when we took the kids back to Rick's house that night, Jessica was so focused on getting the kids out of the car and into the warm house that she forgot about the laptop. It ended up staying in the car overnight and froze solid. By the time she found it the next morning it was toast.
Jessica was freaking out about the slideshow, so I decided to step in and save the day. Luckily I had brought my work laptop on the trip just in case something came up. Even more luckily, on her last trip to visit us Amy gave me about 450 of her old family photos to store in my cloud storage account. These were the photos they wanted to show in the slideshow, so I was able to pull all of them down, add a bunch of our own family photos, and put together a new slideshow just a few hours before the event. Everything worked perfectly well, which felt great, but I think Amy's laptop is officially dead.
The event, which was held at the Czech museum overlooking the Cedar Rapids river, was a huge success. We started off with lots of family photographs, then moved into a large reception room. There were tons of Larry and Sherry's old friends there, as well as a wide variety of family. The ceremony part of the event was great. There was laughter, tears, and some great speeches. Devin made a point in his speech to mention all the new family he was finally able to meet this weekend, and asked all of us to stand up for recognition. Jessica, who was doing the actual ceremony and vow exchanged, had to cut out half of her speech because Grandpa Larry got excited and presented the ring much too early. Sherry, who had no idea she was getting a new diamond ring, was overcome with emotion and burst into tears, as did most of the room. It was a really special moment.
Our kids were a big hit throughout the party and had tons of fun playing with all their new cousins. Once again I couldn't have been more proud of how they conducted themselves. Ava, who is constantly showing an increased propensity for the stage and entertainment, went up on stage by herself, grabbed the microphone, and said "Hi, I'm Ava!". Everyone laughed, then she dropped the mic, got on the drum kit, and started playing while the band was on break. I swear we've got a little entertainer on our hands.
Before this trip I told Jessica that I would do anything she wanted the entire time we were there, but that I had one requirement, and one thing I'd like to do. My requirement was that I get to watch the Seahawks game, and the thing I was hoping to do was go to a guitar store. Since the party was going on during the Seahawks game, Rick recorded it for me on the DVR. The plan was to come home from the party, pick up some pizzas, and watch the game. So we get home, I change out of my suit and put on my Seahawks sweatshirt, then wait to go get pizza's with Rick. At the last minute before we left, Jessica said she had spoke with her Mom and they were hoping to get the laptop back to see if they could fix it. So we said sure, we'll just drop it off at Devin's house on the way to get pizza. Rick and I walk into the man cave, and Jessica's cousin Braydon see's my sweatshirt and says "Oh hey, the Seahawks won". I freaked out; I'm like "No! No! I mean yes! But no!". I had kept my phone off all day so I wouldn't find out what happened. It was 100% my fault, not his. As they all said, I was wearing a Seahawks shirt, so what could I expect. And they were right. To my defense though, I had no idea we were going over there until the last minute, and it never crossed my mind that I should change clothing before leaving Rick's house. I didn't think I would even leave Rick's truck. Whatever, I'll take the win any way I can get it. We still watched the game and ate some delicious Detroit style pizza. I will say that it's different watching a game when you know the outcome. You can't get too worked up from a bad play because you know that ultimately you're still going to win.
Monday Jessica and I took the kids up to the kids museum at a mall near Iowa City, which is about a half hour away. Unfortunately when we arrived we found out that they were closed on Mondays. To taunt us, there was a schoolbus full of kids just arriving for their own private day at the museum. So we wandered through the mall, did some shopping, let the kids play, and rode the Merry-go-round. Of course Elise picked a kitty cat to ride on and Ava got on a Cheetah. She was so obsessed with that Cheetah that she continued to talk about it for the remainder of the trip. There was an ice skating rink inside the mall, which I had never seen before, and an olympic style figure skater was out there practicing. Needless to say the girls LOVED watching her practice her routine.
After that we drove into Iowa city and Jessica took us on a tour of her old stomping grounds, the University of Iowa campus. We saw the old Iowa capitol building, the football stadium, her first apartment, an old bar she worked at, and her sorority house. On our way back home we stopped in a little town called North Liberty, so that I could go to a store called 965 Guitars. It's called that because it's on Highway 965. I ended chatting with the owner for a while and found it funny that he was a Nash guitar dealer. Nash is a local guitar company based here in Olympia, Washington, and I've been wanting one of their vintage style stratocasters forever. I played guitar for a bit and bought a tee shirt before heading out and back to Rick's.
That night a bunch of Rick's family came over for a delicious prime rib dinner. There ended up being 23 people there, so it was a full house. One of the guys was a Vikings fan and he had drove up to the game the day before. Of course I chatted with him a bit, and remained quite modest about our close win. Rick's prime rib was outstanding and everyone had a really nice time. It was our final supper in Iowa and a really nice way to close out the trip.
Our flight home on Tuesday wasn't until 4:45pm, so we had all day to relax at Grandpa's house. Jessica had been coming down with something and woke up feeling sick, so we just laid low all day. Leaving was obviously difficult, but as we promised everyone, it certainly won't be another 7 years before we're back. Jessica really enjoyed being home and it was great for me to meet so many new relatives, as well as get to know the place where she grew up.
This is the point where the hard part of our trip began. One of the most annoying things is that we booked our flights and hand-picked all of our seats for each leg of the trip 9 months in advance through Expedia. Then they proceeded to screw us by changing our itinerary multiple times. For the flight from Cedar Rapids to Denver they had each one of us in a different row, which obviously wouldn't work, so we had to talk to other passengers, explain the situation, and get them to switch seats with us.
I don't know what happened with Elise but for the final half hour of that flight to Denver, she just went completely insane. She was screaming uncontrollably, flailing about, and refusing to wear her seatbelt. There was nothing either of us could do to calm her down, and everyone was miserable. Then we get to the Denver airport, change diapers and go potty, then get to our connecting flight. On the way there Elise was acting wild and she ran right in front of a woman, who then tripped over her and they both fell to the ground. Jessica and I were mortified! Immediately this poor woman is apologizing to us and worrying about Elise, while we're trying to apologize to her and make sure she's okay. It was awful but luckily everyone was fine.
Then we get to our gate and Elise can't be controlled. As we're boarding, we realize that she had just pooped, right after we had changed her! Now we're all split up on the plane and we have a dirty diaper to change. Once again, I had to ask the people around me if they'd be willing to switch seats so our family could be together. Luckily I was surrounded by friendly grandmother types and they were happy to oblige. Most of the flight was fine but then we had the same problem. Elise went completely psycho for the final 30 minutes. She was screaming that the plane was going crash, that there was a monster on board, she was screaming for Daddy to save her, and of course there is nothing I could do because I was holding Enzo, whose ears were popping, and he was screaming uncontrollably. It was awful, and honestly it's why we don't travel much as a family. Ava did great, although she almost peed herself waiting to land, but the other kids just aren't ready for this yet, and everyone paid for it big time on that final flight.
Luckily no one around us said anything rude or gave us dirty looks. It was quite the opposite actually. People were saying "Don't worry, we've all been through this before. You're doing everything you can." It was a nice reassurance that there's still some humanity out there, but we still felt terrible. Elise, we're certainly not mad at you because it wasn't your fault, it was ours, but when you're on an airplane and a child starts screaming and crying, please just smile to yourself, think of this story, and realize that you were that same child once upon a time.
We learned two lessons from this traveling experience: first, we should have left earlier in the day rather than late in the day, and second, we will never book anything through Expedia ever again. I'm going straight to the source and booking with the airlines from now on. By the time we landed everyone was at their wits end, and not surprisingly the kids were asleep within 5 minutes of entering our van.
I took today off work and I wish I could say I slept in, but no, the girls and I were up at 6:30. I guess we're still on Iowa time. No biggie though, I knew I was going to need a lot of time to write all about our trip. I don't yet have the professional photos from the event on Sunday, but here are some of our own pics from the trip. I'll put up the rest in a future post once I receive them.
Thank you again to everyone who was so gracious and kind to us on this amazing trip. I promise you're going to start seeing more of us, regardless of travel difficulties.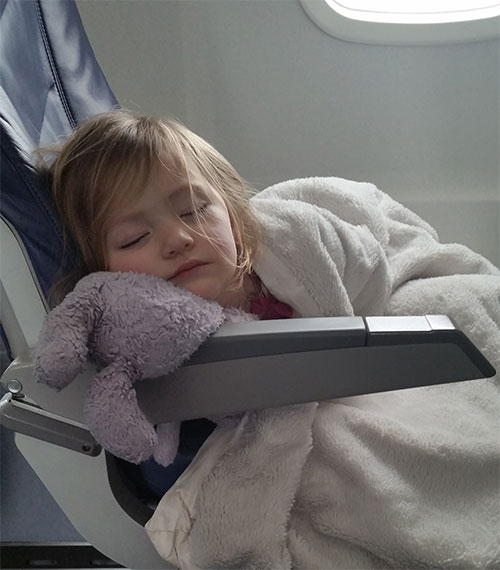 She was so peaceful on the way there. Not so much on the way home.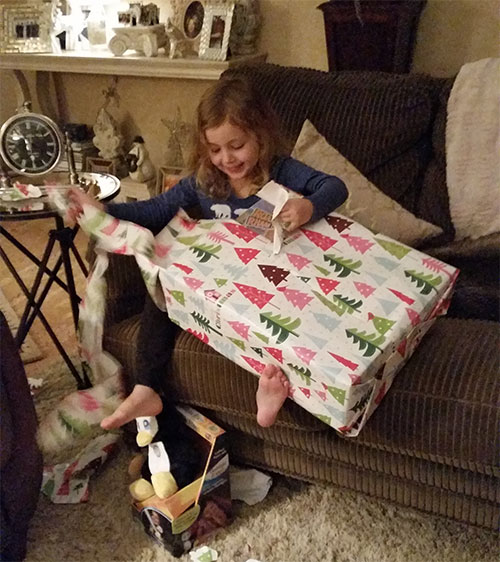 Opening presents at Grandma and Grandpa's house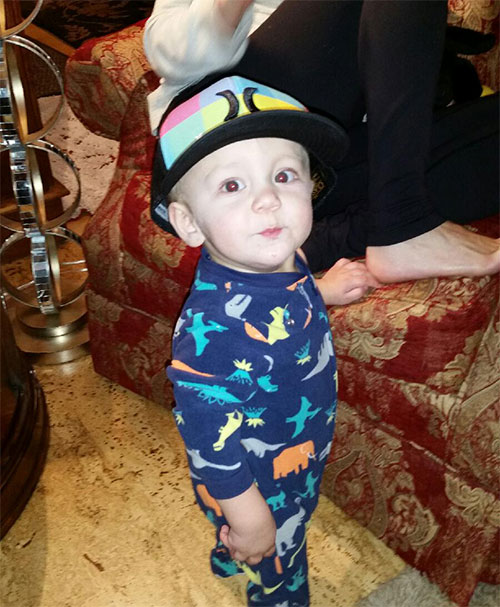 Enzo sporting Uncle Joel's hat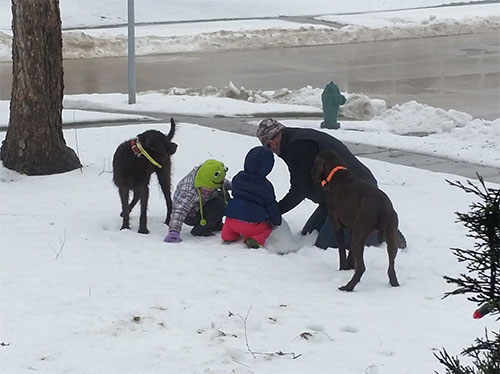 Building a snow dragon with Grandpa in the front yard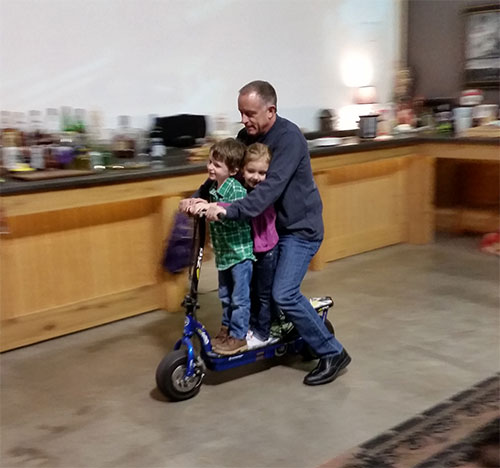 Ava and Cole riding the scooter with Uncle Devin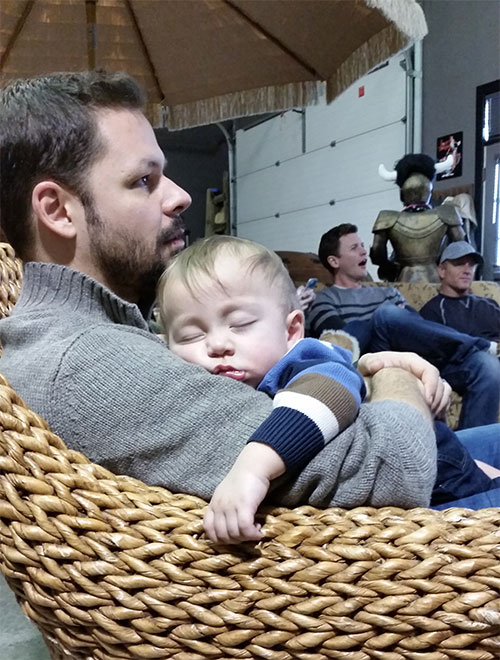 Watching the Texans game in the man cave. Apparently no one was too impressed.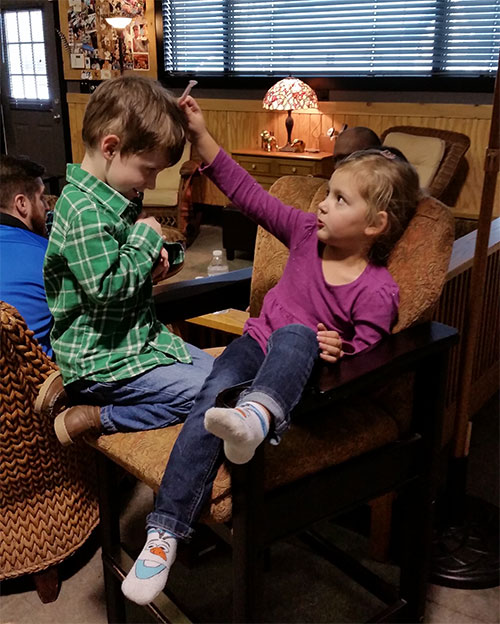 Ava and Cole had a blast playing together the whole time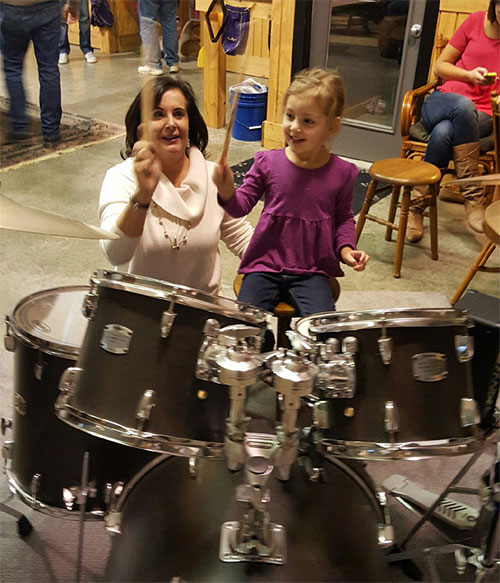 Playing drums with Grandma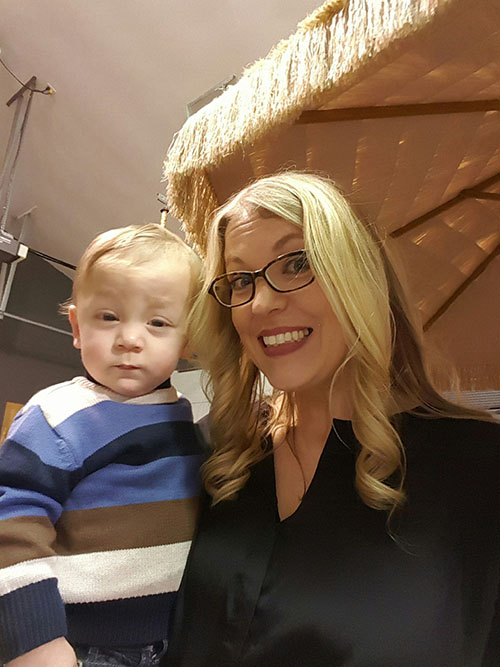 Looks like someone was still waking up from their nap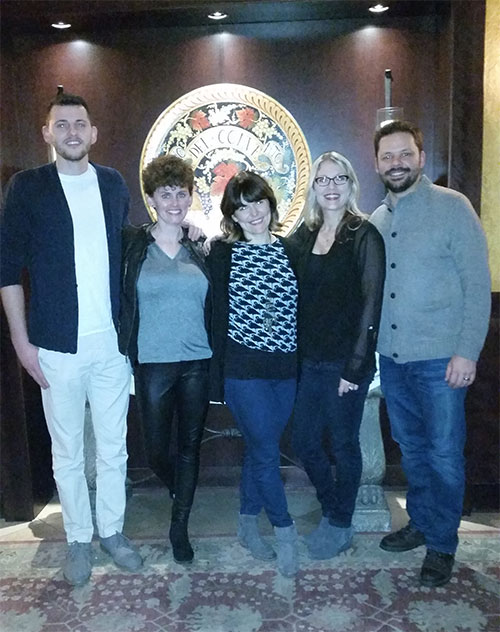 Sam, Summer, Jodi, Jessica, and myself after dinner at Biaggi's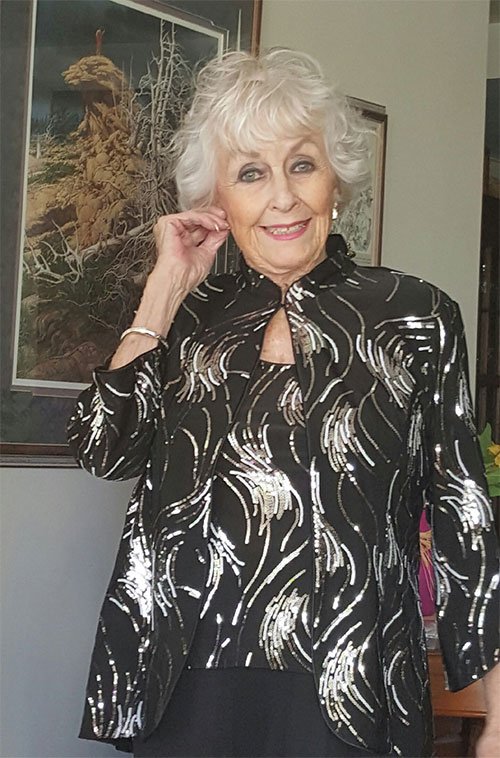 Grandma Sherry looking beautiful on her big day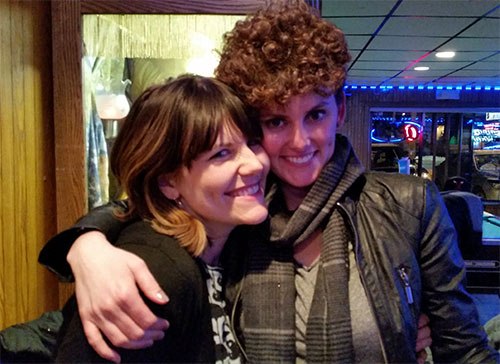 Our good friends Jodi and Summer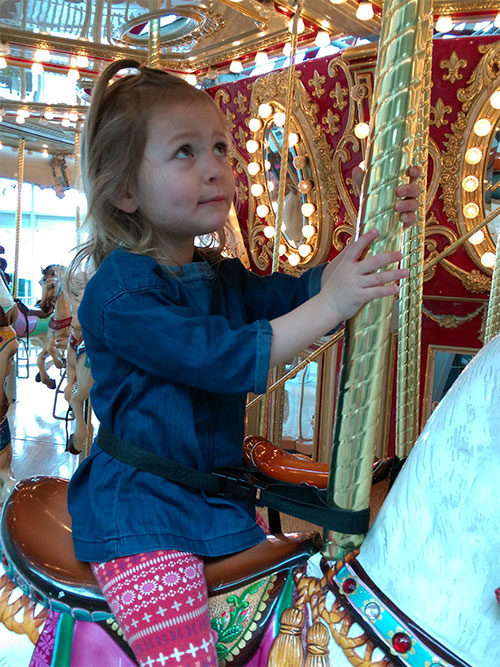 Elise riding her kitty cat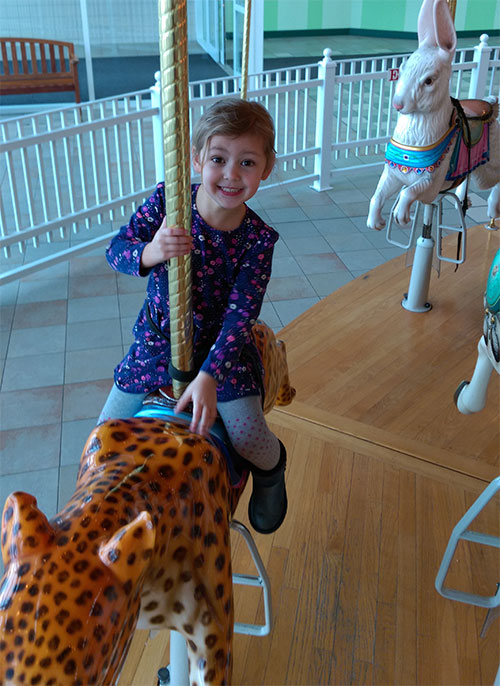 Ava riding her Cheetah