Last week I spent Monday through Wednesday in the great Canadian city of Toronto. I was there for a work trip, and it was my first time ever visiting Toronto, so I was fairly excited to check it out. Based on our last two trips to Vancouver, I felt that there was a good chance that I would like Toronto, but honestly even I was surprised at just how much I enjoyed it. In my opinion it was like a smaller, safer, friendlier, and cleaner version of New York. It certainly had that East Coast feel, which was immediately noticeable to me based on how nice everyone dressed, meaning I couldn't help but feel slightly out of place in my usual Seattle attire consisting of Levi's, North Face shirt, and Van's sneakers. It didn't matter though; just like in any big city no one really cares what you look like, and I was just happy to be able to walk around and explore a bit.
The work portion of the trip went really well. It was a nice opportunity to meet a bunch of people that I regularly correspond with via email, and we made some nice progress in planning for projects to get started on in January. I also gave the same CSS presentation that I gave in Seattle a couple months ago to the team of developers out there. We bribed them to come by providing free lunch, meaning that not surprisingly, I was presenting to a full room. Generally speaking, free food goes a long way with developers, so they were all too happy to attend.
Monday night, which was our first night in town, we got checked into the Hyatt Regency Hotel on King Street West, which is right in the heart of the financial district. It was easily the nicest hotel I've stayed in on a work trip. We were all pretty hungry so we set out on foot after dropping off our bags and ended up finding a place called Wurst, which was an interesting combination of a modern, dark, hip restaurant, with old school German sausages and beers to choose from. You go up to a counter and order from their selection of 20 different types of sausage, then grab a seat at one of the long picnic tables in the main dining area. I went with a spicy Italian pork sausage on a toasted roll with sweet red peppers, fries, and a green peppercorn parmesan dipping sauce. Everyone agreed the sauce I chose was best, but more importantly we all enjoyed hanging out, telling stories, drinking beer, and having a good time. Work trips like these are a nice way to get to know your co-workers on a more personal level.
The next night after work I went out for a beer with a friend from the Toronto office. I was supposed to meet up with my co-workers later on for dinner but lost track of time and didn't have the ability to send them a text message because I intentionally kept my phone on airplane mode the whole time we were there just to be sure I didn't incur any international data charges. Consequently I ended up going out on my own that night and had fun walking around Queen Street and Chinatown. I ended up having a nice sushi dinner, which is something that Jessica and I can't enjoy at home these days due to her pregnancy. After dinner I found a local sports bar and watched the ends of the Raptors and Maple Leafs games.
Wednesday was a really long day because we put in 6 hours at the office, then went to the airport early to catch our flight home. We heard nothing but horror stories about Toronto traffic the whole time we were there, so just to be safe we left 3.5 hours before our flight. As it turned out there was no traffic and we arrived at the airport in about 30 minutes, but that's fine with me. We were then able to take our time getting through customs and security, as well as enjoy a pretty decent dinner at the Molson's Grill near our gate. We were fortunate enough to have a direct flight home, but it's a long flight (5.5 hours) and it was probably the bumpiest flight I've ever been on. In addition to all the turbulence, they had to abort the landing in Seattle on the first try due to heavy winds. It was actually a bit scary because we were coming into land like normal, then all of the sudden the pilot hit the gas and pulled up, which thrust everyone back into their seats. A couple people were freaking out, but the pilot quickly got on the microphone and explained what happened. The second landing attempt was fine, and I was more than happy to be home.
I had a town car waiting for me, but rather than have them take me home I had them take me to El Gaucho. Jessica was working and I wanted to see her, plus I felt like a boss telling the driver to take me to El Gaucho as soon as I got off the flight. Strangely enough this was the first time I've ever sat at the Gaucho bar when Jessica was bartending, so that was pretty cool, plus it's always nice to see all my old friends and co-workers. Although I enjoyed the trip, I was very eager to get home to my girls. Now that this trip is behind me I don't have to worry about traveling anymore before Enzo is born. There's no way I'm leaving Jessica at this point.
Amy went home the following morning, which I'm sure she was ready for. She always keeps very busy with the girls when she's here, so I'm sure she was ready for a rest. The rest of our weekend was very relaxing. Both girls have been a bit under the weather all week, so we didn't do much. The highlight of my weekend was playing music with my nephew Kallan. He's been practicing on the drums for several years now, so on Saturday afternoon I brought my guitar and amp over to his house and we had a great time jamming. Surprisingly we actually sounded pretty good. During the 2.5 hours that we played we came up with a few tunes, but more importantly it was just a ton of fun hanging out with him. He's such a good kid, and we've always been close so there's no one I'd rather play with.
Today was a bit interesting at work due to there being a bomb threat at one of the Amazon buildings. As it turns out it was the building directly across from the one I sit in, and because I sit by a window, I actually have a direct view of that building all day. I never did find out exactly what happened but there were plenty of police outside. When I was leaving work I saw some K-9 units as well. I think it was all a false alarm but it's certainly not something to take lightly; I'm just glad no one was hurt.
Our house is fully decked out for the holidays and Ava is in quite the Christmas spirit. She really gets it now, and can't stop talking about Santa Claus. Jessica took them to see Santa while I was gone, and even though they seemed excited ahead of time, they were less than thrilled to actually sit with him. The only way to get the photo was for Jessica to sit in with them, and even then they were pretty freaked out. I'm just glad the photo turned out as well as it did.
We're looking forward to a visit from my Mom and Uncle Terry for Christmas this year, as well as having family over for a nice holiday dinner the Sunday after Christmas. Plenty of Christmas photos coming soon, but for now I'll leave you with our annual visit to see Santa. Happy Holidays!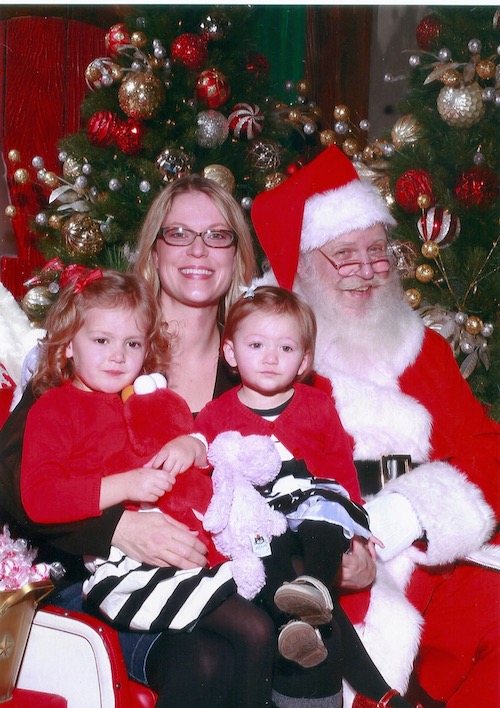 Jessica, Ava, and Elise with Santa, 2014