I just wanted to write a quick post wishing my amazing wife Jessica a very happy birthday! Not only is today Jessica's birthday, but Enzo also turns three months old today, so that makes it even more special. Unfortunately I had to work today, but I'm looking forward to spending a nice evening at home with her and the kids. Although we weren't able to spend the day together, I'm glad Jessica and the kids were able to meet with our friend Jodi (whose birthday was yesterday) and her son Miles for a nice lunch this afternoon.
Baby Enzo is doing great; getting past the three month mark with a newborn is a big deal because this is typically when they really start to show a lot of life and personality. It's not uncommon to refer to a newborn's first three months as the 'fourth trimester' because all they really do during that time is eat and sleep, but now we're starting to get away from all that. Enzo is sleeping for longer stretches at night now, and spending more and more time awake during the day. He's a very mellow baby and hasn't had any issues other than the fact that he practically refuses to drink from a bottle, which makes it all but impossible for me to feed him. Hopefully we'll get over that soon, but otherwise everything with him is perfect.
Ava and Elise are also doing excellent. They had a blast with Grandpa on his recent visit, and I'm sure they will love seeing Uncle Joel and Aunt Melanie in the next few days. Then after that they will get to visit with Nana, so there's still a lot to look forward to in the next couple weeks. It sounds like Rick and Chris might be coming back out for the 4th of July, and then we have Amy and Tom coming right after that to help us with painting and new flooring. Can't wait to get that done.
Last night I met my Godfather Pete and my good friend Michael Don Rico (who was my best man at my wedding) for dinner at Il Terrazzo Carmine for dinner. It's my favorite Italian restaurant in Seattle and has been a night I've been looking forward to for weeks. As usual we had an excellent time filled with delicious food, great stories, and lots of laughs. My old friend Victoria, whom I worked with at El Gaucho for many years, was our server; she made sure to take extra special care of us, which includes putting up with Pete when he gets into rare form.
We enjoyed calamari and an antipasti platter for starters, then I had a cream of cauliflower soup while Michael and Pete split a tomato burrata salad. Although it wasn't on the menu, I requested veal saltimboca for dinner (which is my favorite dish) and they made it for me. While enjoying my saltimboca I had to tell the story of the time my Mom and I had dinner in Rome near the Trevi Fountain. As usual, I had a pasta entree followed by a veal entree, which happened to be saltimboca that night. In this particular case the veal was the best I'd ever had, so when the waiter came back to ask to see if we'd like dessert I had no choice but to order the veal again. Yes, I literally ate three entrees at dinner that night, plus appetizers and dessert. Oh to be 21 again.
For dessert Pete and I shared a key lime tart (probably my favorite dessert) while Michael had their famous cannoli with espresso. Victoria was even kind enough to serve us a round of her homemade limoncello to wash everything down. It was a fantastic meal that was only outshined by the quality of the company we kept. I definitely need to make a point of setting these types of dinners up more frequently, as they always mean so much to each of us.
When I got home at 11:00 everyone but Ava was sound asleep. When she saw me she said "Daddy you're back!" as if I'd been gone for weeks. I hung out with her for a little bit and made her promise me that she would say "Happy Birthday Mommy!" in the morning. I'm looking forward to finding out if she came through.
Today has been especially crazy at work due to a big developer conference we're promoting tomorrow in San Francisco. Consequently it looks like I'll be working on and off throughout the evening, but it's okay; I'm just glad to have been able to leave the office at a normal time so I can spend Jessica's birthday evening with her and the kids. Here are a few recent photos to enjoy.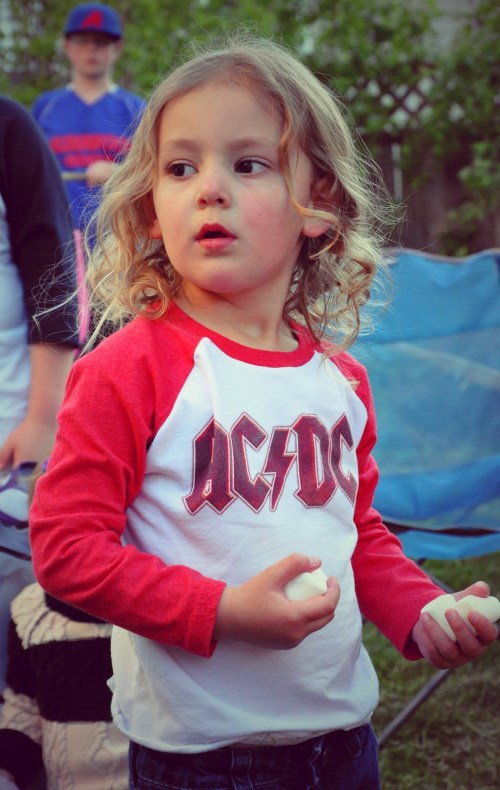 Our little rockstar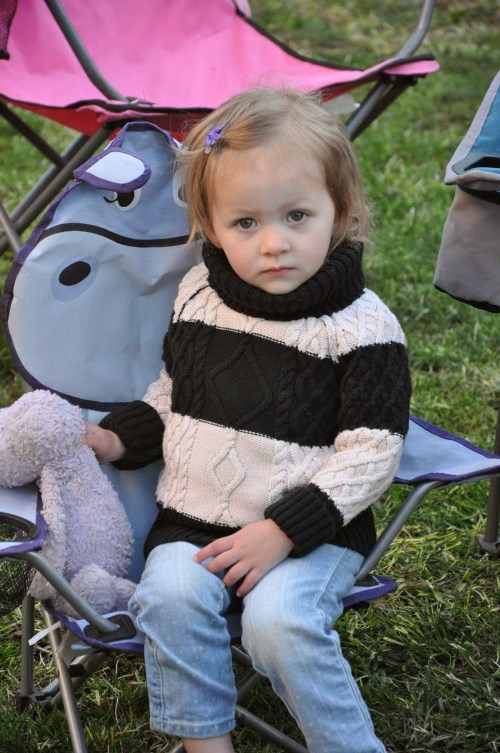 Elise in her turtleneck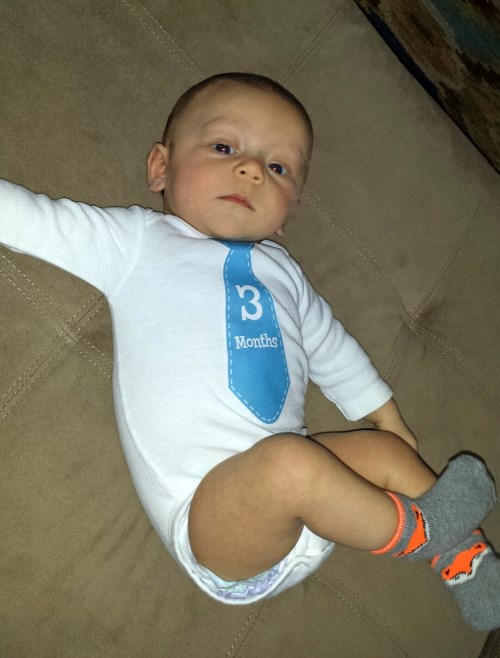 Enzo at 3 months