Although her actual birthday was yesterday, it was today that we celebrated Elise turning 4. Like last year, we hosted her party at home, but instead of going with a bouncy house, we hosted a "Mermaid party", per Elise's request. My Mom arrived from Las Vegas yesterday to spend a long weekend with us, and we haven't seen her since the family reunion last year, so it's something we've been looking forward to for a while.
Before Elise decided on having a Mermaid party, the original plan was to have a "Dragons love tacos" party, in honor of our favorite book series. Obviously that meant we would be making tacos to eat, but then Elise changed her mind regarding the party's theme. Rather than coming up with a Mermaid-themed menu, I opted to stick it out with the tacos. But don't worry because Jessica did an excellent job putting up all kinds of Mermaid decorations. There were paper-mache jellyfish and octopus, mermaid-painted rocks for guests to take, a swimming pool, shell table, and Mermaid pictures drawn by the girls. It all came together quite nicely.
Rather than order a cake from the store, Jessica found someone to make us a custom Mermaid cake, and it ended up being not only beautiful, but delicious too. Cutting and serving it turned out to be a bit more challenging than I was expecting (because it was 3 layers and quite tall), but luckily I had Kristy and Dana there to back me up. I actually got momentarily "fired" from cake cutting, but it was only my first slice, so I think I deserve a little leeway there.
It was nice and warm outside, so the kids all enjoyed splashing around in our inflatable pool. On the food end, we had three meat options for tacos (ground turkey, shredded chicken, and beef carne asada), homemade guacamole, rice, beans, chips, salsa, and all the toppings, but I think it's safe to say that Jessica's "Cookie Monster dip" was the star of the show.
As far as guests, in addition to my Mom we had Jim, Brenda, and Kristy, the O'Hair's, the Palmers, our next-door neighbors the Schreiber's, Greg and his two kids, and Dana's whole family, which was such a nice surprise. I knew we'd see Dana but wasn't sure beyond that, so to see Anna, Kallan, and Brad too was great. Leon was taking pictures so hopefully we'll get to see those soon.
The party was great, and most importantly, the birthday girl had a great time. She's grown up a lot in the last year and I can't believe she's already 4. Getting to see her, Ava, and Enzo, having so much fun with all their friends and family is what it's all about.
Beyond that things have been going great for us. Most importantly, Jessica has recovered so well from her neck surgery. She wore the neck brace for 3 weeks after surgery, and is now doing physical therapy. Everything is looking perfect, so that's been a huge relief.
The kids are enjoying their summer and have been keeping busy. The girls had a great time on their road trip with Grandma and Grandpa Martin, and Jessica and I got some nice quality time with Enzo while they were away.
Ava is doing hockey now on Sundays directly before I play, so I've been taking her, then Jessica and the kids come pick her up while I stay for my game. Tomorrow, however, all of us (including Nana) are going to hockey so Nana can see her skate in person. So far her hockey classes have been only about skating, but soon I'm going to get her a little stick so we can start going to stick & puck sessions together (which are like public skates for hockey players) to practice.
My Mom will be staying with us until Wednesday, so I'm taking Monday and Tuesday off work. The plan is to stay busy doing fun stuff each day, and the forecast looks beautiful, so we should be in good shape. I think we're going to the zoo Monday or Tuesday, and I'll be doing homemade pizza one night, just like we did for Enzo's birthday party back in January.
We've got some good stuff to look forward to as well. Next Saturday we're going to Jim & Brenda's to go swimming with them, Kristy, and Madi. Then the following weekend Jessica and I will be spending my birthday at the Wine Country Blues Festival at Chateau St. Michelle in Woodinville.
It's actually pretty funny how this turned out. There's several classic blues artists performing, including John Mayall and Charlie Musselwhite, but the headliner is Buddy Guy, whom we were supposed to see last year with Jeff Beck at the Zoo Summer concert series. For some reason he never showed up to perform for that show, and so has remained on my concert bucket list. He's in his 70's, so who knows how much longer he'll be touring. Strangely enough, we share the same birthday, so he'll be headlining this festival on his birthday, and I'll be there enjoying it, on my birthday. Should be a great show. Now here's where it gets really funny – I was talking to my sister Dana about this today during Elise's party, and it turns out that her, Brad, and Kallan are also going to that show, so we'll get to hang out with them there. I'm assuming this will be a great birthday.
Further out, in August, we've got a weekend at the O'Hair's cabin on Hood's Head Island to look forward to, as well as a Kings Of Leon concert at the Gorge that Jessica and I will be attending. So yeah, all is well.
I'm sure there will be better photos to share once I get Leon's pics, but here's a few recent ones for now, as well as a video of everyone singing Elise "Happy Birthday". To our birthday girl, we love you to the moon and hope you had a great 4th birthday. Enjoy the pics.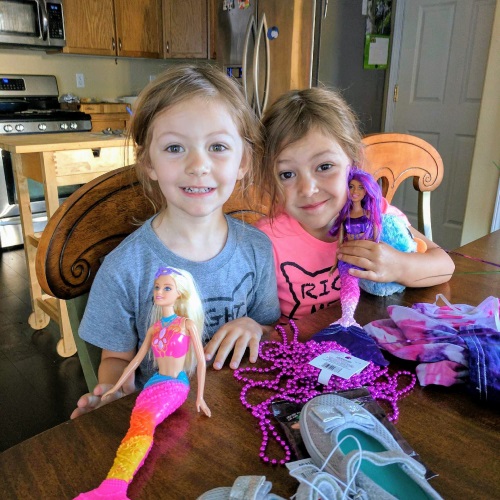 Elise's birthday morning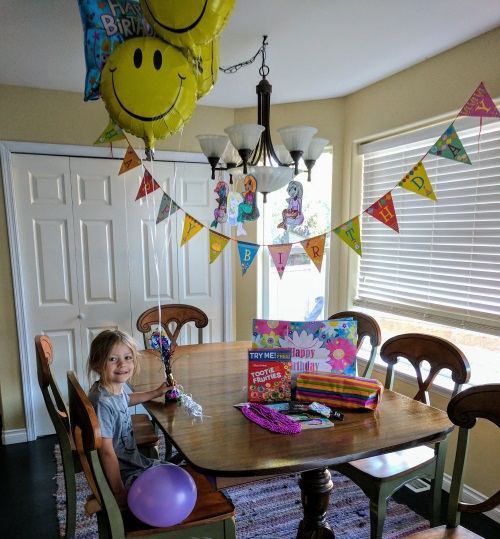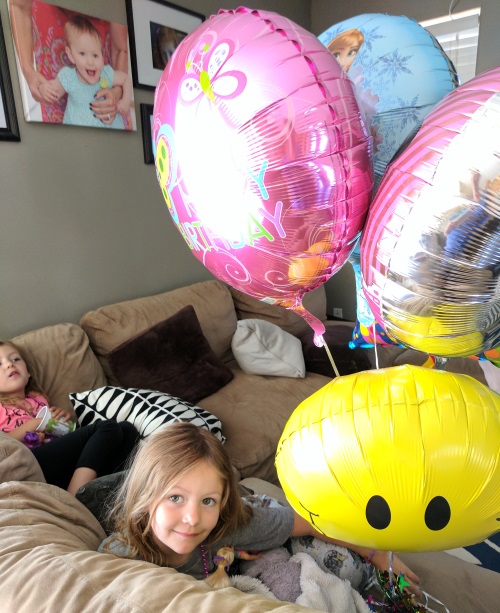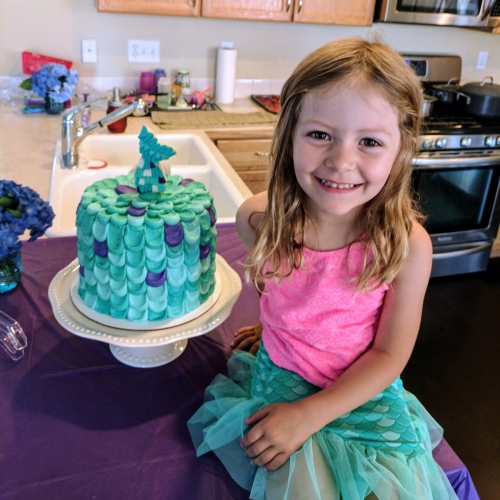 Posing with her awesome Mermaid cake