Well, there has been a lot going on in our world over the past week, so this is going to be a long one. First and foremost, today is Ava's 4th birthday! The plan was for Jessica and I to wake the girls up this morning, and see them for the first time in 5 days, but Ava beat us to it. She came running into our room with so much excitement, then Elise joined us just a couple minutes later. After lots of hugs and kisses we made our way downstairs to open presents and make breakfast.
In the early afternoon Jessica and I took Ava to her first movie while Grandma and Grandpa took Elise and Enzo to the Everett Kids Museum. We saw the new Pixar movie 'The Good Dinosaur', which opened today, and of course Ava loved it. She was so into the movie that at times she would be jumping up and down with excitement, then later crouching into my arms with fear when a mean dinosaur growled and showed it's teeth. To be fair it was in 3D so I'm sure this was a pretty intense experience for her.
Later this evening we all went out to dinner at our favorite Mexican restaurant. The highlight of the meal was Ava wearing the big Sombrero while the restaurant staff sang her 'Happy Birthday.' She was so cute with that hat on and you could tell she loved the attention. As always with Ava's birthdays I end up thinking back to where we were (figuratively as well as physically) when she first entered our lives. It's crazy to see how far we've come as a family in such a short time, but it all started with little miss Ava P. She's growing up so fast but I couldn't be more proud of her. Happy birthday my sweet girl.
Now to backtrack a few days, I've got so much to talk about regarding our trip to Austin. We got up early on Friday and everyone rode down to the airport with us. As expected, leaving the kids was the hardest part, but once we got through it we were ready to kick back and have some fun. The flight down to Austin was faster than expected, and as soon as we started walking through the airport I knew I was going to love it there. Everywhere you looked there were guitar-inspired pieces of art, the smell of BBQ was heavy in the air, and there was a band playing right above the baggage claim!
We took a cab ride into the city and ended up having the most animated lady behind the wheel. She was this great southern character who really went out of her way to tell us all about Austin, as well as make us feel very welcomed. I loved how frequently she said "y'all", and by the end of that cab ride I distinctly noticed a twang in Jessica's voice as we thanked her for the ride. Of course I then had to give her a hard time about in only taking a single cab ride to the city for her to start developing an accent.
We stayed at the Hyatt Place on 3rd and Brazos, which is near the heart of downtown. From our hotel window I could see that there was a Flemings steakhouse across the street, and I immediately remembered the $25 Flemings gift card I've had in my wallet for the past 3 years. It was given to me when I was bartending at the Tractor Room in San Diego, but I'd never had the chance to use it and for some reason I still had it with me. Needless to say we started our night off there with a drink and a couple appetizers, and I was finally able to rid this thing from my wallet.
Next we walked up to 6th street, which is the main drag in downtown Austin. It's where all the bars and restaurants are, and we've heard a lot about it, so we were excited to finally see it in person. We walked up 6th for a while, but then decided to turn right on Congress Ave. When we looked down the street straight ahead of us we saw the Capitol Building for the state of Texas. At that moment we both realized that neither of us had ever been to a state capitol building (in any state), so we decided to walk down and check it out.
The grounds of the capital are beautiful, and not surprisingly, there are lots of historical artifacts strewn all over the place. Lots of cannons in particular. This would end up being our first of 3 visits to the capital during our time in Austin, but it was the only time we went there at night, which definitely added some charm to the experience.
Some of the things we noticed right away about Austin is that architecturally, the downtown area looks extremely similar to downtown San Diego, which was a surprise, except that it was much cleaner. In fact it's the cleanest city either of us has ever been to anywhere in the world, and that's not an exaggeration. The best way I can describe is to say it looks like downtown San Diego mixed with a bit of Chicago, but with Vancouver's cleanliness and friendliness. It really is a unique place.
Another thing that surprised us was how empty it felt the whole time we were there. At first we thought maybe the University of Texas wasn't in session, but that actually wasn't the case. It's just not a very crowded city, even though it is the fastest growing city in America. I think the main reason for that is that most of the people moving to Austin end up in an outlying area, rather than downtown Austin. Either way it never really felt crowded at all during our trip, which was totally fine with us.
Anyway, back to Friday night. After visiting the capital we decided to grab some dinner, then retire early. We were tired from traveling and the idea of staying out late just wasn't that appealing. We ended up sleeping nearly 12 hours that first night, which was a glorious way to get things started.
Saturday morning it was beautiful outside (although quite windy as we would later find out) so we decided to get out and start walking. It's a good thing I wore my Fitbit throughout the trip because I set a record for my daily step count more than once. Between Saturday and Monday we walked about 30 miles.
We walked down to Zilker park, which was on the other side of the Colorado river. One thing I had to do while in Austin was visit the Stevie Ray Vaughan statue, so it was great to start the day by doing that. After paying our respects to Stevie we walked back to the city to shop at a cool little store called Austin Rocks. I ended up buying a sweet grey t-shirt with an Armadillo playing guitar that says 'Keep Austin Weird'.
When I was checking out at Austin Rocks I asked the girl working there if she had any recommendations for areas that we should go shopping in. She said her favorite part of town for shopping was an area called South Congress, and that we could walk there in about 25 minutes. We were already familiar with North Congress from the night before at the capitol, so we decided to check it out. This ended up being one of my favorite parts of the trip. The whole neighborhood is filled with a combination of fancy designer shops, thrift shops, vintage shops, motorcycle shops, hat shops, boot shops, food trucks, and restaurants.
We ended up spending the entire afternoon walking around South Congress. Jessica ended up buying the exact same vintage grey Mickey Mouse sweatshirt that my Mom got for me on my first trip to Disneyland when I was 5, and which Ava currently wears. It's literally the same sweatshirt; same brand, same material, same everything.
One of our favorite stores on South Congress was Allen's Boots. We'd seed a special about it on the Travel Channel and were excited to check it out in person. This store has more pairs of cowboy boots for sale than any other store in the world. There's literally thousands upon thousands of boots for sale, and we had so much fun trying them on! For a minute I actually thought about buying a pair but I knew I'd never wear them in Seattle, so I couldn't justify it. I also had no idea how expensive cowboy boots can get! I saw several pair just in my size that were over $1,000. Although we didn't end up buying anything there it was still one of the best places to visit.
We visited the craziest costume store I've ever seen, with the most incredible assortment of costumes, masks, and props to choose from we. We also checked out some of the most random gift stores I've ever seen. Jessica fell in love with a kiosk filled with hilarious cards that you can send to people. Think naughty Hallmark, but with a consistent theme on each one: a picture and a word. The combination of each picture and word could be something harmless like the word 'Drama' and a picture of a queen, but as you can imagine the really funny ones probably shouldn't be repeated. You can use your imagination.
After having a great prosciutto and sunny-side up egg pizza at this really cool little Italian cafe, we ended up stopping by the Goorin Brothers hat shop on our way back towards the city. They actually have a store at the Market in Seattle but I'd never heard of them before this trip. I had mentioned to Jessica that I might be looking to buy a hat on the trip, so that's why we stopped in, and of course a few minutes later we had both found hats that we loved. We decided to treat ourselves and get these two very nice hats, and then proceeded to wear them constantly throughout the remainder of the trip.
After the hats experience we went back to the hotel for some swimming, followed by a bottle of Dom Perignon that Rick and Chris gave us years ago. Then later that night we headed out on the town hoping for that quintessential Austin experience. We walked around looking for a place to eat and ended up finding Truluck's, which is a very nice small restaurant chain that we were familiar with from San Diego. We'd eaten at the Truluck's in La Jolla twice (once with Rick and once with Amy and Tom) and we knew we really liked it there, so on a whim we ended up having dinner there. Everything was great, but most importantly, Jessica got to enjoy her all-time favorite dessert, which is called the Chocolate Bag (see photo below).
After dinner we walked down to 6th street to look for some live music. We ended up in a blues bar for a while, then later we went down to Pete's Dueling Piano Bar for the rest of the night. The guys on piano there were incredible and the crowd was really into it. I couldn't believe the range of music they were playing, and Jessica was loving all the old Billy Joel crap they kept busting out. Turns out Johnny Manziel, the quarterback for the Cleveland Browns, was on 6th street in Austin that night, and got busted with alcohol. Probably not the place to be if you don't want to be seen.
Sunday morning we hopped in a cab and went to the mall. I ended up getting a sweet pair of boots and some nice new jeans, while Jess got two pairs of jeans and a beautiful brown leather jacket. We ended up using Uber for the first time in order to leave the mall, but the ride was intentionally short. We basically just had him take us to the nearest entrance to Zilker Park, which was just on the other side of the freeway. We ended up walking the entire length of Zilker Park, which included a frisbee golf course, lots of trails, and a bunch of kids fishing on the banks on the Colorado river. That one made me feel like I was walking through a Norman Rockwell painting. The sun was setting, families were out feeding the ducks, the turtles were out sunbathing (literally), and the whole thing was nothing short of picturesque.
From a food perspective, Sunday night was the highlight of the trip. First let me say this; I've been looking forward to some authentic Texas BBQ on this trip because, as someone who grew up on the west coast in families that didn't exactly specialize in BBQ, I've never had the real deal. Sure I've had the occasional pulled pork sandwich, but not much else. I knew BBQ is a very regional thing, and I knew that I wanted to do it right, plus I know you're going to get what you pay for, so I didn't want to go out into the sticks to eat a some place that serves 2,000 people a day (and believe me they do). I wanted us to experience the best, and that is exactly what we got at Lamberts.
All I can say is that now I get it. I truly get it when it comes to BBQ. Every bite of every course we had that night was excellent, but most of all, the brisket I had for my main course was a thing of beauty. Basically Lamberts took the whole concept of Texas BBQ and combined it with modern fine dining, and the result was exceptional. It's the kind of restaurant that would do well in any big city, but it's just so quintessentially Austin. Jessica and I often talk about the great meals we've had over the years and this one is definitely on the list for me. As I've said before, if I'm going to San Diego I've got to have fish tacos at South Beach Bar and Grill. Well, from now on if I'm going to Austin, I've got to have BBQ at Lamberts.
After dinner we walked across the city to a little area our exuberant cab driver from the airport told us about called Rainy street. It's just this one little street that used to be residential, but all the houses had been converted into bars and restaurants. They all sort of basques in the glow of the new Hotel Van Zandt, which loomed nearby. We hung out at a place called the Blackheart and enjoyed a local funk band that had the whole place bumpin. Rather than go home after leaving the Blackheart we decided to check out a nearby hookah bar. We usually only go to hookah bars when visiting friends in Vegas, but it ended up being a nice way to finish a very busy day.
By the time Monday came around we were all shopped out so we decided to go check out the University of Texas. To get there you have to walk north up Congress Ave, through the capitol grounds. Immediately I saw the Texas football stadium, so we headed over there to check it out. We were hoping to take a tour but there wasn't one available, so we just walked around and checked out as much as we could. After that we walked all through campus, which was still in session, and did our best to blend in.
On our way back to the hotel we stopped by Buffalo Billiards, where I got to shoot some pool, then Jessica laid a beatdown on me on the shuffleboard table. That night we had one of the most unique dinners I can remember, at a place called Swift's Attic. It's a tapas style place where you order lots of small plates to share, and each plate is really unique and interesting. I tried to avoid seafood while we were down there, simply because I live in the northwest and have access to the best seafood, but I must admit that the 'Calamari Fries' (which were basically just fried calamari strips) at Swift's Attic were the best calamari strips I've ever had. No question. Then the dessert we had, called 'Popcorn & a Movie' was the most unique dessert I've ever had. It was butter popcorn gelato, house made candy bar, caramel corn, and root beer gel. Freaking amazing.
By the time Tuesday came around we were more than ready to go home. The trip had been amazing, probably even better than we could have expected, but the fact was we both missed our babies and couldn't wait to get home to them. Our flight out wasn't until 6:30 that evening, so we decided to get some crepes for breakfast at the little French cafe near the hotel, then walk over to the Bullock Museum (between the capitol and UT) to see the 4th and final Hunger Games movie at the IMAX. I realized while waiting in line that I had seen each installment of this series in a different state: part one at my Mom's house in Vegas, part two in Colorado near Amy and Tom's house, part three in Washington, and now part four in Texas. I don't travel much, but apparently when I do, I see a Hunger Games movie.
After the movie we caught an Uber to the airport. It was funny because to them the airport was crazy that day (after all it was only 2 days before Thanksgiving), but to us it was just a normal trip to the airport. Again, throughout the trip one thing that never ceased to amaze us was how clean, quiet, and uncrowded it was everywhere we went. After getting through security we had our final Texas meal at the Salt Lick, or at least the airport version of the Salt Lick, which is another super famous Texas BBQ spot. As expected the food was good, and it was a nice way to say goodbye to the lonestar state. We knew we'd have fun on this trip, but I think it's safe to say that it really exceeded our expectations.
Getting back to Seattle was a bit of a rude awakening though. We picked one of the busiest travel days of the year to come home, so SeaTac airport was total chaos. It took forever for Tom to be able to get through the traffic to pick us up, but eventually we found him. The travel part of a vacation is never very fun, but it's more than worth it in order to get home to the kiddos.
While we were gone Grandma and Grandpa kept the kids busy with all kinds of adventures. After dropping us off at the airport on Friday they went downtown to Pike Place Market. The girls were wearing their new Christmas dresses from Grandma and apparently they got all kinds of attention. Each subsequent day included a trip to some type of kids museum or play area. They kept us posted on how much fun they were having, and of course we appreciate them letting us do this so much. Hopefully they had lots of fun with the kids while we enjoyed an all-time great weekend.
We warned Grandma and Grandpa that Enzo would likely start walking while we were gone and of course he did! First it was 3 steps at a time (which we saw on video), then today at the museum they said he did 10! Of course he would be the youngest to start walking too. Thanks buddy. Couldn't have given us just a little more time on that. Just wait til your sisters get a hold of you.
Tomorrow, which is Thanksgiving, is going to be the smallest one we've had in years. It's just Amy, Tom, and us. With all the travel and busy days everyone has been having it's going to be nice to have a relaxing full day at home. Thanksgiving has always been one of my favorite holidays and doing something low key this year is a nice change of pace. It will also be our last full day with Grandma and Grandpa, as they will be heading out on Friday afternoon.
I've still got several more days of this epic vacation. I'll be going back to work on Monday, meaning I'll have had 10 days off. I know that doesn't sound like very much, but I never take long amounts of vacation so it is for me. Sunday we're having a very small family birthday party for Miss Ava. I think it's just going to be Dana and family, plus Butch and Carol. Should be a nice way to end a very nice holiday break.
As we were sitting there enjoying a very artistic meal at Swift's Attic I said to Jessica that had we decided never to have kids that this would have been our lives. Lots of travel and eating out at the finest restaurants. Probably a fancier car and a shorter commute, but she could see where I was going. Having a life like that would probably get boring pretty quickly, and although you'd be rich in experiences (with maybe the most distinguished palette) we wouldn't really have anything, because we wouldn't have Ava, Elise and Enzo.
Here's some of our favorite photos from the past week.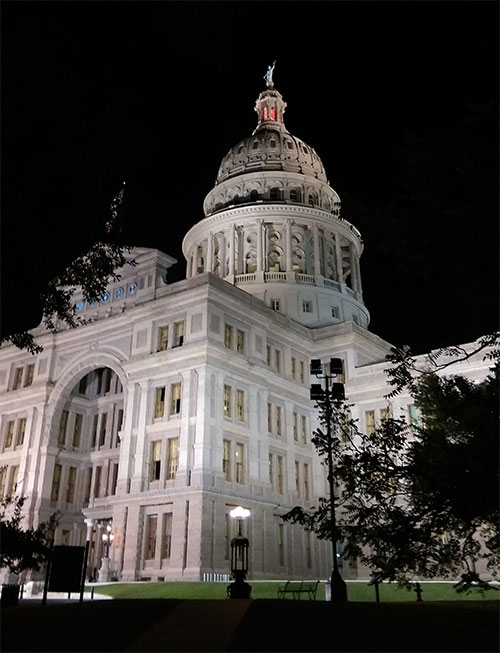 The Texas state capitol, on our first night in town.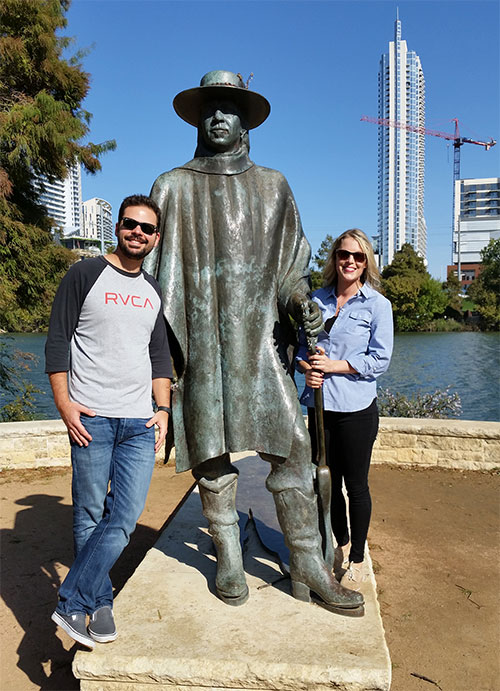 Visiting Stevie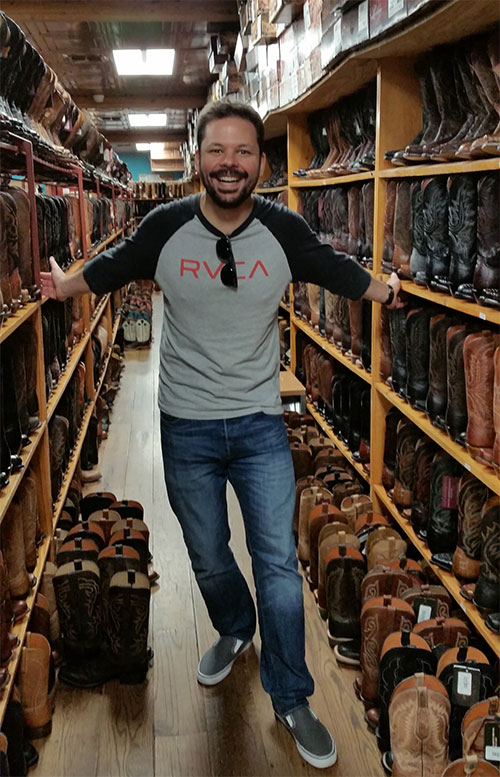 Boot shopping at Allen's Boots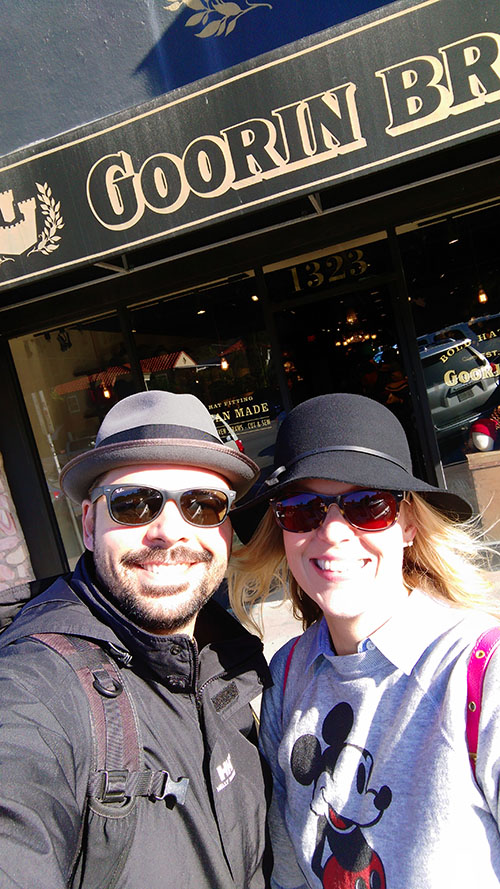 Hats!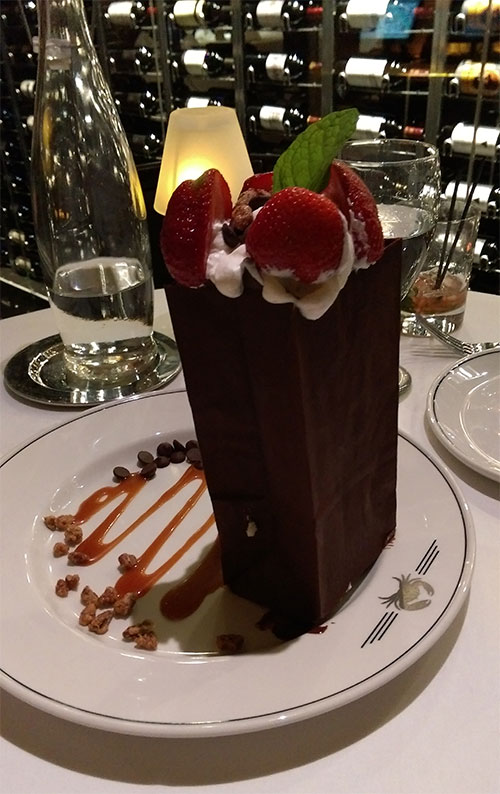 Jessica's favorite dessert – the Chocolate Bag at Truluck's

Walking through Zilker Park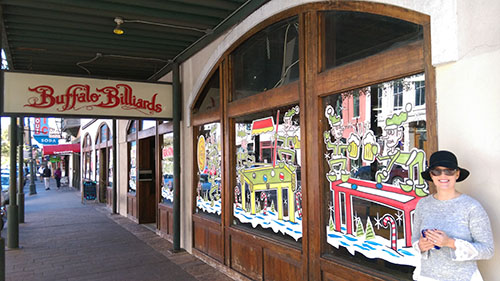 6th Street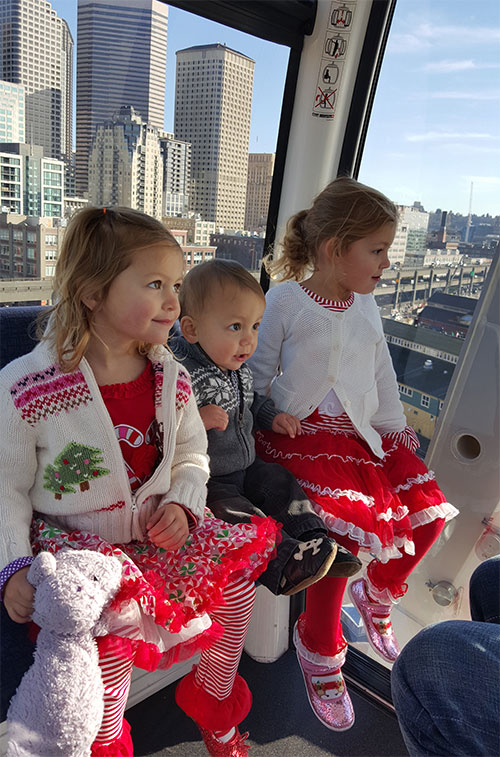 Riding the ferris wheel with Grandma and Grandpa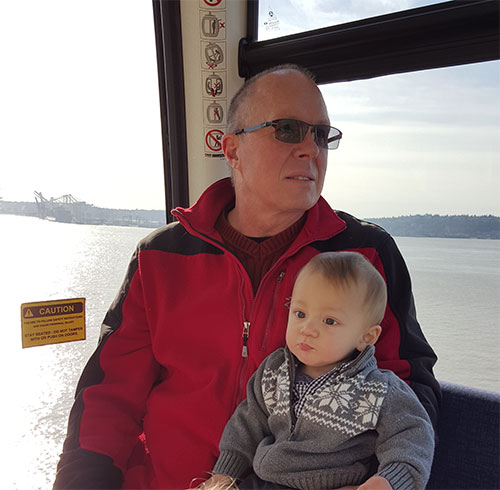 The dudes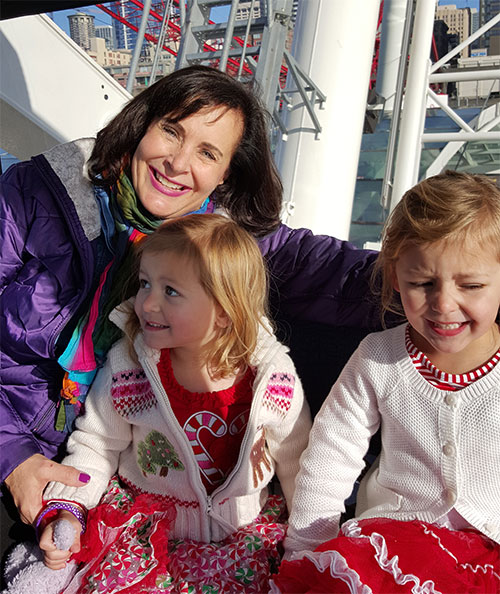 The dudettes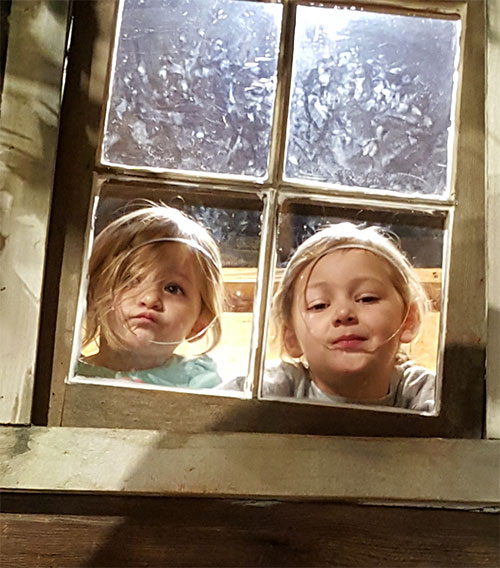 #AvesAndWeese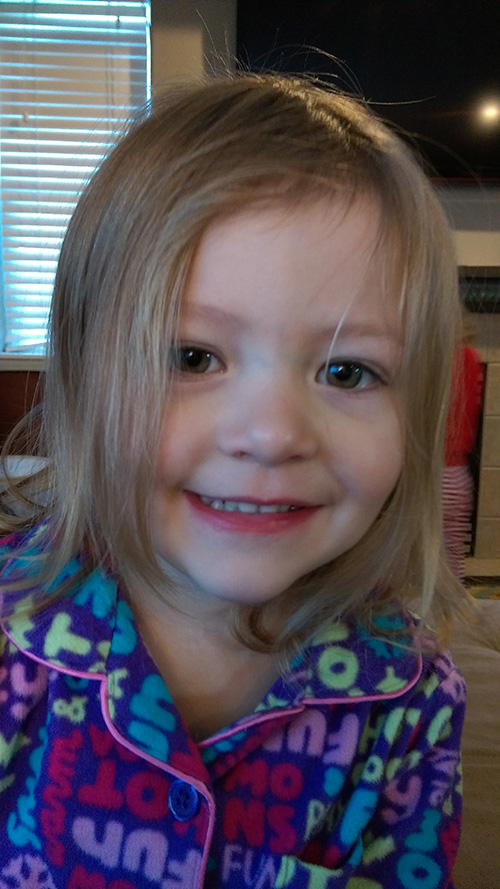 Beautiful Elise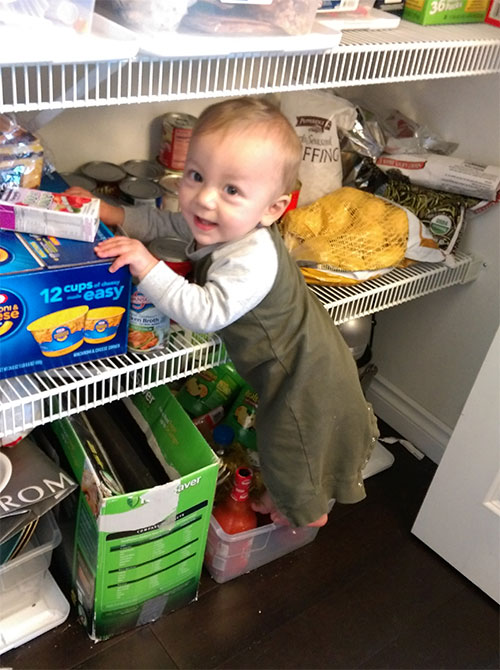 He loves climbing in the pantry now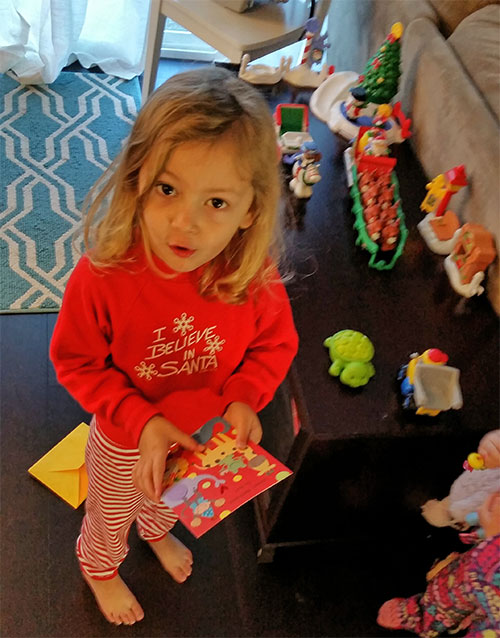 Good morning birthday girl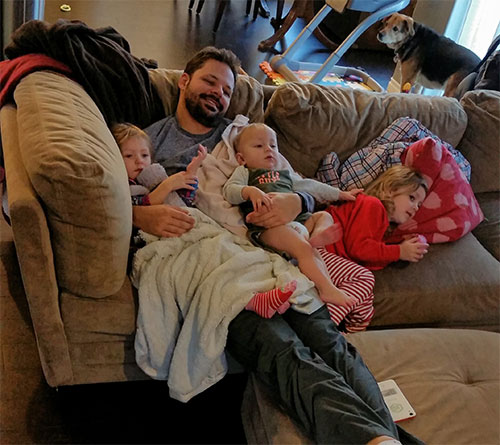 Getting some chill time with the kiddos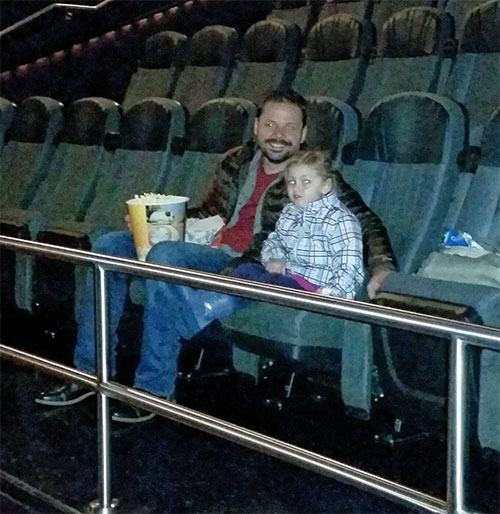 Ready for our first movie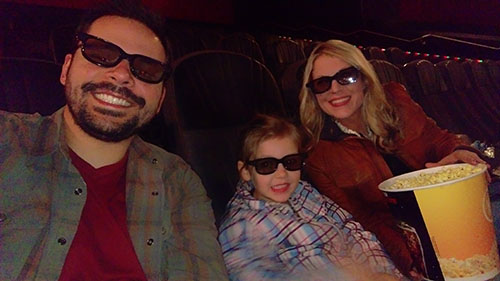 3D glasses on!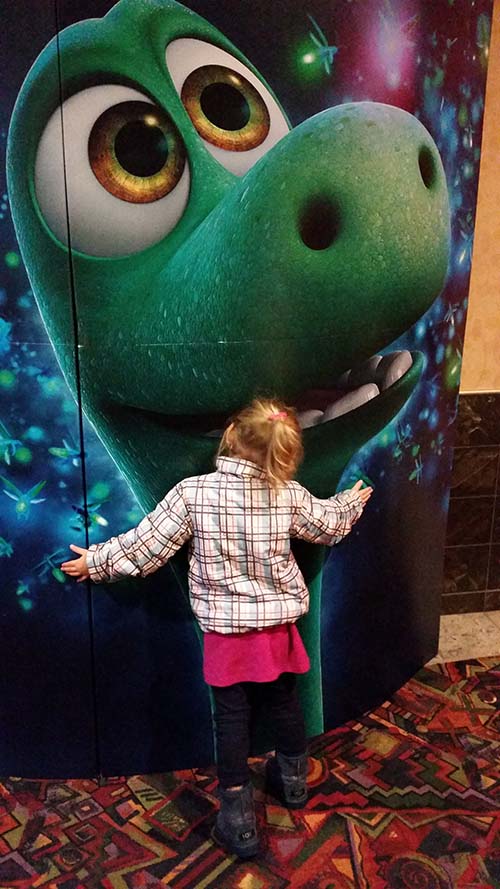 Saying goodbye to 'The Good Dinosaur'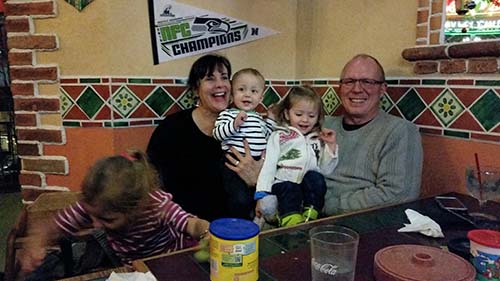 At the restaurant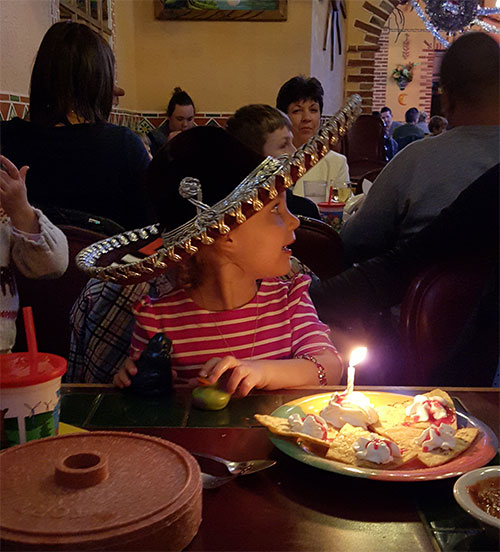 Singing to Ava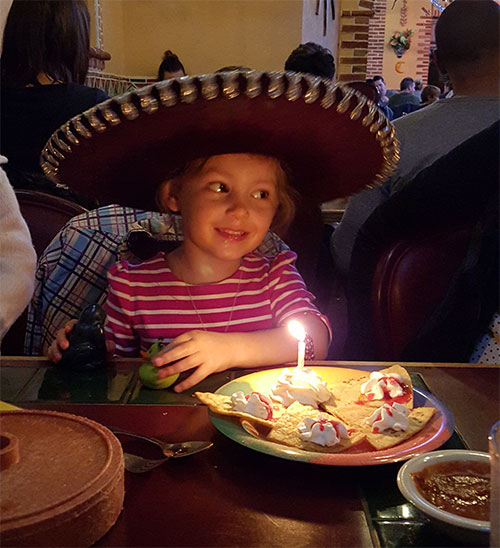 Make a wish