Yesterday our sweet little boy turned two years old! Considering that his favorite thing to do is eat, it only seemed fitting that we would host a food-based party at home. Several weeks ago Jessica and I decided on doing a pizza party, and by all accounts, it was a huge success. We were joined by Grandma and Grandpa Martin, Auntie Dana, my Godfather Pete, Uncle Butch & Aunt Carol, and our friends the Palmers, the Schreibers, the O'Hair's, and the Hancocks. It was a full house and everyone had a great time.
As we tend to do when hosting a party at home, Jessica took care of the decorations while I focused on the food. There were pizza-themed decorations everywhere, and even a little pizza oven made out of cardboard by Jessica and Enzo that all the kids loved playing with. I had been practicing making pizzas from scratch over the previous couple weeks and ended up making 14 pizzas throughout the evening. I was happy with how they turned out but the ultimate praise came from our guests. A couple people told me they were the best pizzas they've ever had, which was quite flattering to hear, but what I got the biggest kick out of was when a few other people said "Wow these pizzas are really good. Where did you buy the crust?" As you might imagine, I would do no such thing, and took great pride in telling them that everything, including the crust, was homemade.
There were 3 different pizzas on the menu: Enzo's Special (pepperoni & black olive), Pellegrini Primo (Italian sausage & mushroom), and Margherita (tomatoes, basil, garlic, & rosemary sea salt). Jessica made a cute little menu and put it up on the fridge. As it turned out, we didn't need to make 14 pizzas, so as the party was winding down, I asked several people what their favorite type of pizza was and ended up sending them home with an entire pizza of their own. Even after everyone was gone I still had 3 pizzas to make, so I did, and just threw everything in the fridge. Looks like we'll be eating those leftovers for a few days to come.
Although the food was good, there was no question that the combination of people we had together was the highlight of the event. It was just a great ambiance with tons of good conversation and laughter. In the background we listened to the 'Enzo birth' playlist from 2 years ago, while the kids played in the front room and most of the adults gathered around the kitchen table to talk, drink wine, and be merry. I was working in the kitchen the whole time but was almost always joined by someone who came over to hang out with me. I got to spend a lot of quality time with my sister Dana, who proclaimed herself my pizza apprentice. It was just a great evening that we'll never forget. Big thanks to everyone who came to celebrate Enzo with us!
In addition to Enzo's special day we've all been doing really well. Grandma and Grandpa got here Wednesday to stay with us for a week. They've been doing fun stuff with the kids everyday like going to museums, looking at planes, going out for tacos, etc. Friday night Jessica and I got out for a little date night (our first in 4 months) and ended up going to an Everett Silvertips hockey game, followed by dinner at Azul. Although we lost, the game was still a lot of fun, and dinner was great, but honestly it wouldn't have mattered what we did; Jessica and I always have fun when going out so it was nice to get some private time together.
Due to my new involvement in ice hockey, we've made several family trips to the ice arena lately to do some skating. Turns out Ava really enjoys ice skating, so we've taken her 5 times over the past two weeks. Not surprisingly, she's been getting better each time we go, so on March 1st she and Mom will begin their seven-week 'Learn To Skate' class together. When Ava sees the little girls taking figure skating lessons she gets really excited, so we may look at something like that down the road. The other night we were watching figure skating on TV and Ava said to me "Daddy I want to skate on TV." Oh boy. We'll just take it one step at a time and see how things turn out. We also saw a girl's hockey team as we were getting off the ice one day, so maybe there's a chance we can get her interested in that.
Speaking of hockey, last Sunday was my first session, and although it was my first time playing on ice (rather than concrete), I had an absolute blast and I think it's safe to say I'm hooked. I have my second session tonight and I can't wait to get out there. The only issue for me last week was that although I had purchased a lot of gear beforehand, it turned out that I was literally the only person on the ice not wearing hockey pants (which are padded), or shoulder pads. I couldn't believe it because this is a beginner's course, but everyone else was totally geared up. As you might imagine, it can be intimidating coming up on a full grown man on ice when they're fully padded, and you're not. I fell on my butt pretty hard once, then even harder on my hip a few minutes later, and was sore for several days, but it's okay. Enzo and I went to the hockey store the very next night and I purchased hockey pants, shoulder pads, and two jerseys, so tonight I'll be good to go.
We play on the community ice at the Xfinity Arena in Everett, so right upstairs is where the Silvertips play. There was a game going on last Sunday (as there will be again today), so people hanging out in the bar for the game can look down into our rink and watch us play. This means that I (and several others) was doing ice skating drills for the first time in my life, with an audience. Not surprising that I fell a couple times. The format for the class is to spend the first half hour doing drills, then the second half hour playing a scrimmage. One thing I couldn't believe was how tired and sweaty I got from our game. You play in shifts so you're only out there for a few minutes at a time, but believe me when I say it's very tiring.
After the game the camaraderie in the locker room is great. All the guys are super cool and we're just back there laughing and telling stories about things that happened during the game. There's one guy on the team who, not only had he never played a game of hockey before, he'd never even skated before, so props to him for getting out there. As I've mentioned before, getting into hockey is a bit of a commitment, so to go out and buy all the gear without having ever even stepped on the ice is pretty impressive. Hopefully it won't be too long before Jessica and the kids can come out to see me play.
We tried exposing Elise and Enzo to ice skating but it doesn't seem like they're ready for it yet, which is totally fine. Elise got so far as stepping out onto the ice, but she wasn't comfortable and was worried about falling, so she decided not to stay out there. We took her a second time but she just wasn't having it, and we're not going to push it. Enzo did his best but his legs were slipping around so much he reminded me of a baby Bambi. We'll definitely try exposing him to it again in the future, but it's going to take some time before he's ready. Some rinks have a session called 'Walk the Ice' where people can go out there in shoes and just walk around, so that may be a good way to expose Elise and Enzo in the future.
Poor Elise has a big scab on her nose and upper lip from a rug burn she got when falling off the couch the other day. We tried to lighten the mood by telling her she looks a bit like Rudolph the Red Nosed Reindeer, but you can tell she feels bad about it. Poor thing, I hate seeing her like this, but I'm sure it will heal soon. It reminds me of a huge scab I had on my face from an accident on the slide in pre-school. Other than that she's doing good though, and gets so excited to go to school every Tuesday and Thursday.
Ava is now going to school the same days as Elise, plus Fridays, which is good because it won't be long before she starts Kindergarten in September. Every time we drive by Penny Creek Elementary she says "Daddy that's going to be my new school!" I love her excitement but taking her there for the first time will probably put a big lump in my throat.
The next couple months will probably be pretty quiet for us, but we've got our trip to Raleigh, North Carolina to look forward to in April. Although we're going for our friend's wedding reception, it will be the same week as our anniversary, so that should be fun. Considering we spent our 6th anniversary in the hospital getting Jessica's appendix removed, it's probably safe to say that number 7 will be a bit more fun.
Thank you again to everyone who made Enzo's second birthday such a memorable one. The people, the presents, the conversations, everything was just excellent and we appreciate it all so much. We've only got a few photos to share for now, but luckily my good friend Leon was there taking tons of pictures, so it won't be long before we have those to share.
Happy 2nd birthday Enzo! I love you so much buddy!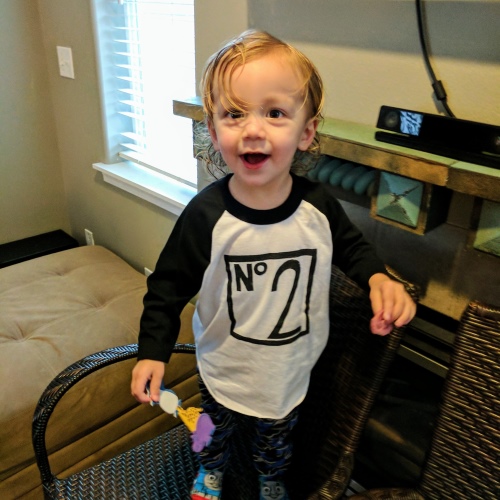 The birthday boy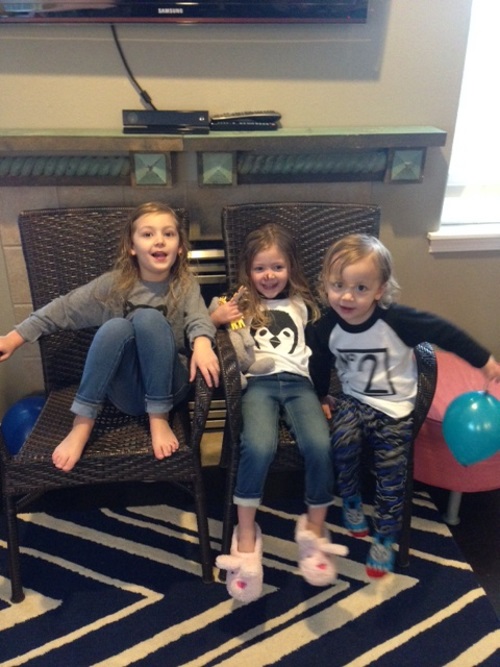 All cleaned up and ready for the party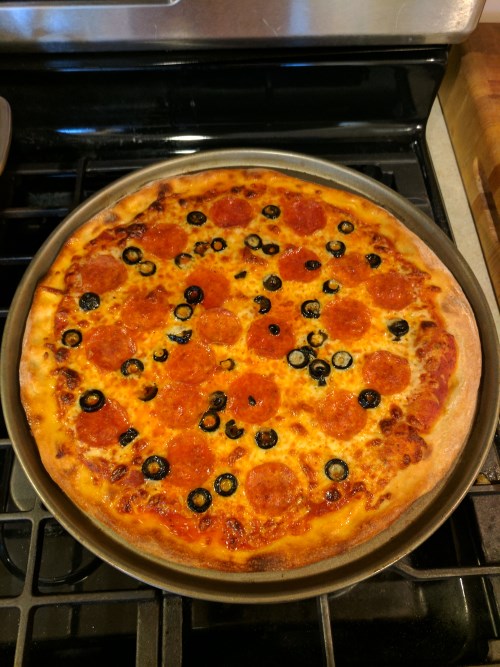 The first pizza! An Enzo's Special of course.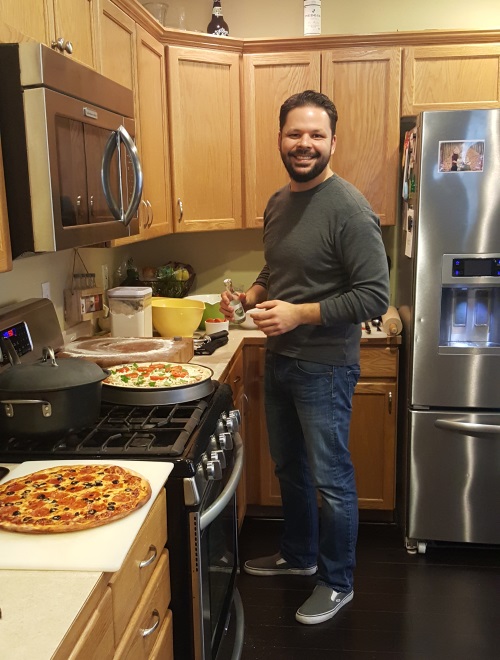 At my post in the kitchen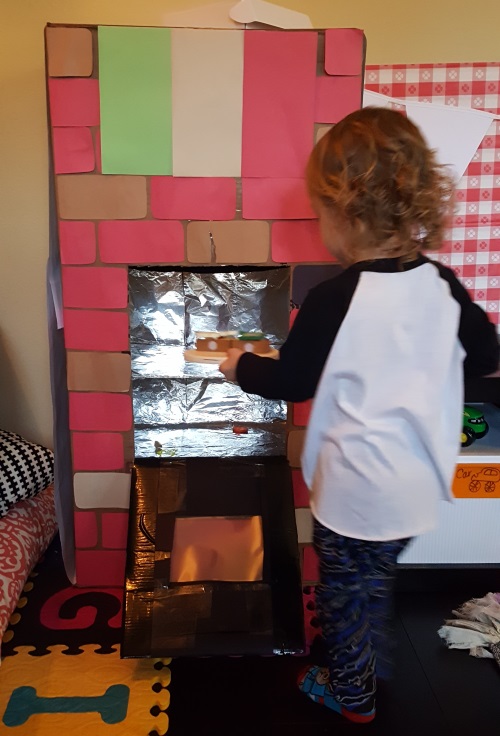 Like father like son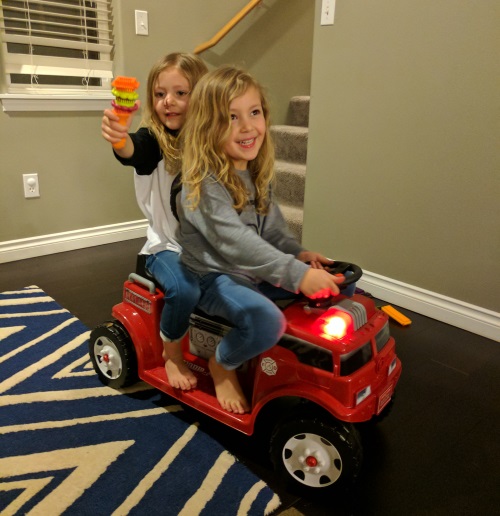 Taking a ride on little brother's fire truck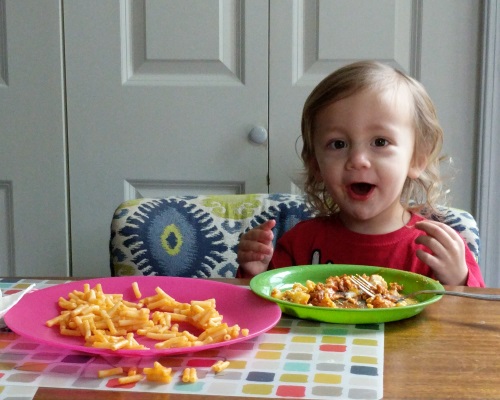 #EatWithEnzo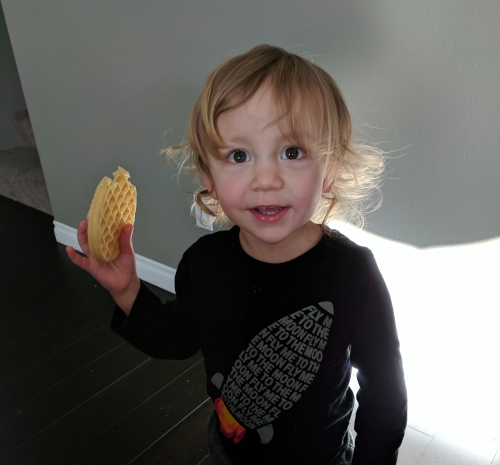 Happy birthday Enzo!