After a very nice 3-week visit, Grandma Amy headed home to Colorado yesterday, presumably to sleep for a week. As always, she was extremely helpful with the kids, which gave Jessica and I lots of time to get stuff done, as well as get out and enjoy ourselves. We were just saying that we probably took a little more advantage of her on this trip than normal, but I hope she knows we don't take it for granted and appreciate it very much.
We got a lot of painting done during Amy's stay, but there is still a lot to do. When you're painting the inside of our house, you have no choice but to get the girls out and about, otherwise there is a 100% chance that one or both of them will get into some paint and make a mess of something. Therefore I decided to take them to Alderwood mall this afternoon so that Mom could stay home with Enzo and get a bunch of painting done. I would have liked to have been able to stay home with her and help with the painting, but keeping the girls occupied was a necessary contribution. We ended up having a nice time walking around the mall, playing in the kids area, and eating fish 'n chips in the food court. I haven't had a day with just the girls in a while so it was a nice way to spend my Saturday afternoon.
Tomorrow we'll be spending the day with Kristy, Madi, Jim and Brenda in celebration of Kristy's birthday. Knowing that there's a party on the horizon always gets the girls excited, so all night last night and all day today Ava has been asking if she can go to Kristy's party. We try to explain to her that the party isn't until Sunday, but she remains undeterred. I doubt patience is a virtue for any three year old, but when you add Ava's level of persistence to the mix, let's just say it can be hard to change topics, particularly when the topic is a party. There's a chance we'll be going swimming, so we'll be ready for that, but either way it's going to be nice to spend an afternoon with them.
We're currently in the middle of this every-other-month schedule in terms of being busy. June was a quiet month (although we made it difficult because of our diet), then July was really busy for us. It's August now, and we don't have much going on, but then September is going to be crazy with camping/concert trips and more house renovations. October expects to be nice and quiet, but then in November we'll be going on our trip to Austin, celebrating Ava's birthday, and doing Thanksgiving (possibly on the same day) so that should be another exciting and busy month. Then you have December, which is crazy for everyone.
With Amy in town, Jessica and I were able to get out and celebrate my birthday last week, which is something we haven't been able to do for the last couple years. I decided to take advantage of the opportunity and ended up taking Wednesday and Thursday off work. We went to the Mariners game on Wednesday afternoon and had a really good time. The weather was perfect, the Blue Angels did a flyover after the National Anthem, and King Felix was pitching. Unfortunately Felix gave up 4 runs in the first inning and we were never able to recover, but it was still a good time. I had never been to the 'Hit it Here Cafe' before so we ended up hanging out there for a few innings. The combination of it being Seafair weekend and King Felix pitching meant it was a much bigger crowd than we're used to on a weekday afternoon, but there was a lot of energy so it was cool.
Later that night we had dinner at 99 Park in Bellevue; it's in Old Bellevue right off Main street, and it's directly across the street from a nice park that reminds me of Bellagio in Las Vegas. What an excellent meal! Honestly if you're looking for a nice place to eat in Bellevue you should definitely check it out. Our old friend Quentin is the chef and the menu he has put together is outstanding. I guess if I had to label it I'd call it Modern American cuisine; it's just a bunch of really solid dishes prepared with top notch ingredients and a touch of modern flare. Every single thing we had that night was delicious, so I look forward to returning as soon as possible. Quentin wasn't working that night, which was a bummer, but he ended up coming into the bar later on, so we were able to say hello and catch up. It was definitely the best birthday dinner I've had in a while.
The next day we mostly chilled out at the house all day, then met up with Butch, Carol, Shayla, Greg and their two kids, that evening for dinner at their favorite Mexican restaurant. It doesn't take much convincing for me to try out a new Mexican restaurant, and as expected we had a really nice meal. After dinner we walked over to the frozen yogurt shop for dessert, which was a big hit with all the kids.
Yesterday the girls received a very special present in the mail from Grandpa; his old iPad. We've been thinking about getting them a tablet for a bit but weren't sure if they were ready. Well, apparently they are because Ava refuses to put it down, and Elise is hot on her tail. She consistently refers to it as "my iPad" so we have to explain to her each time that it is also Elise's iPad, and that they need to share. Should be interesting. Anyway thank you to Grandpa Rick for sending it; it's already been a huge hit.
Looks like things are pretty much back to normal now until the end of Summer, which will end with a bang. I'm really looking forward to camping in Lake Chelan over Labor Day Weekend, especially because we'll be there in Tom and Amy's RV. I've never 'camped' like that before so it should be pretty cool. Lake Chelan was where we went every summer when I was growing up, so taking my kids there this year will be fun. Then the following weekend we'll be taking the RV to see the Foo Fighters at the Gorge. We'll stay the night there then head back to pick up the girls at Kristy's house the following morning. What a badass way to end the Summer! And speaking of badass endings, here's some new recent pics.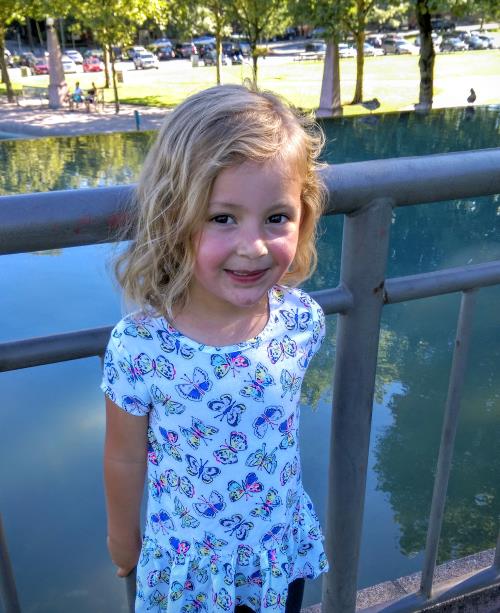 The girls at the park on Daddy's birthday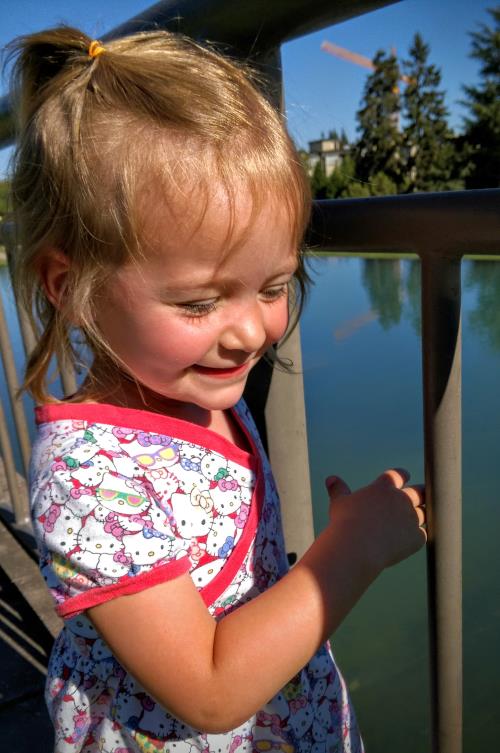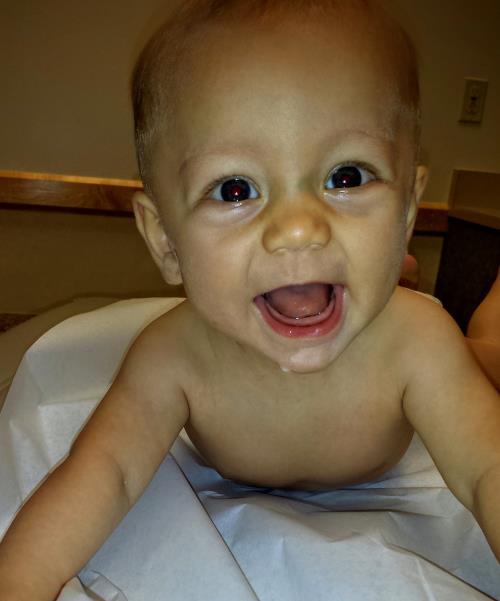 Happy little guy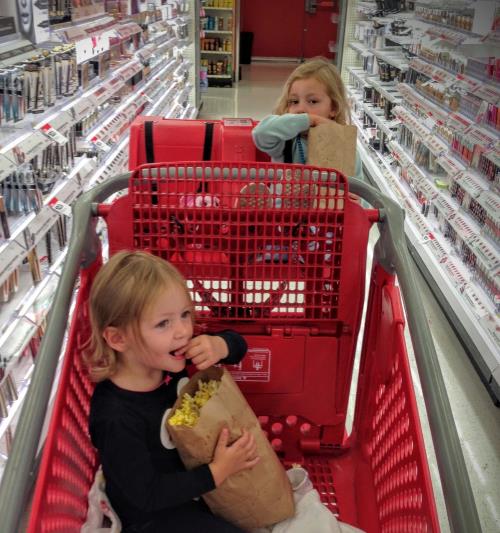 Shopping with Grandma

Teaching the girls 'Lefty Loosey, Righty Tighty'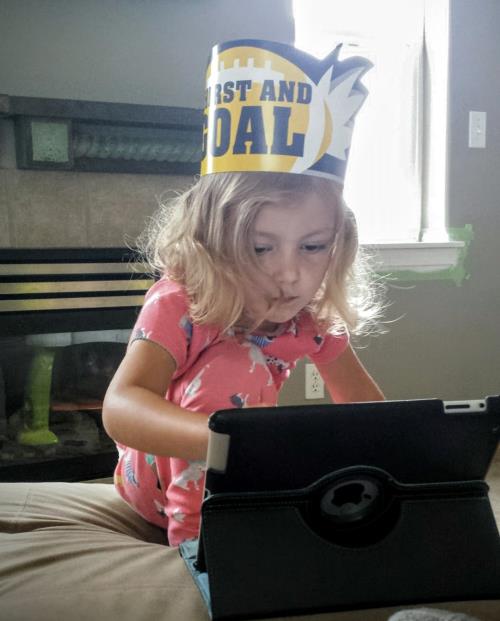 Ava and 'her' new iPad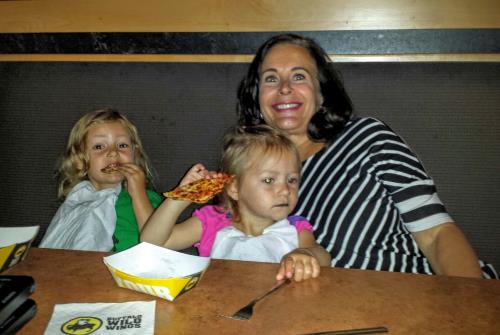 Grandma's girls