I think it's probably safe to say that today was the best Father's Day I've had yet. In addition to keeping busy all day with lots of fun activities, it was my first Father's Day with all three of my kids, so that made it extra special. However before I get into the fun day that we had today, I first need to share the misery that I experienced earlier this week.
Thursday night Jessica had to work at El Gaucho, so that means I was home alone with the kids. As you may know from reading these posts, this was only the second time I've been home alone for an entire evening with the kids. The first time didn't go very well, specifically because Enzo refuses to eat when I try to feed him, but I was confident (more like hopeful) that this time would be different.
Jessica and the kids met me at work on Thursday afternoon, we exchanged cars, and the kids and I headed home in the van. We got home at about 5:00pm and the first hour went great. No problems with the girls, and Enzo didn't make a peep. For a second I remember thinking we were home free and in for an easy night. Then the crying began. Enzo started crying at 6:00 and I kid you not when I say that he did not stop until 9:30. No exaggeration. For 3.5 hours I tried everything I could possibly think of: bottles of milk, solid foods, walking around in the house, walking around outside, bouncing on my knee, changing his diaper, sitting in his bouncy chair, giving him a toy to hold onto, laying in his crib, etc. I did everything I could think of several times over, but nothing worked. He just kept crying, and I fell into a downward spiral of hopelessness.
Eventually I ended up laying him down in his pack 'n play, which is in our living room, and pulled up a chair to sit with him. No matter what the crying continued and there was nothing I could do. Seeing those big alligator tears streaming down his face made me feel horrible, and I knew he was hungry, but he simply refused to eat. All he wanted to do was cry, and I just had to sit there and take it.
At a certain point, around 8:30, Elise was sitting in my lap next to Enzo's pack 'n play, and she fell asleep in my arms. I don't know how she could sleep through all that commotion, but she passed out regardless. I moved her over to the couch and resumed my post sitting next to Enzo. Finally at 9:30 he fell asleep and I felt rejoiced. I couldn't believe it was finally over, so after a minute or two I headed over to my office to relax. If it wasn't for the diet we're on this month I definitely would have poured myself a drink, but no, I was more than happy enough to sit in my office and just enjoy the silence.
A little earlier in the evening I had gone upstairs to check on Ava and she was doing fine. I got her into pajamas and set her up with something to watch on TV. I hadn't been in my office for more than 10 minutes when I see Ava coming up to me with no pants or diaper on. As you may know, we've been working on potty training with her, but honestly it's not going very well. She is the epitome of a strong-willed child, so getting her potty trained has been more difficult than we ever could have expected. She has recently developed the bad habit of taking her diaper off, particularly when she has to poop. I get the logic; she doesn't want to walk around in a poopy diaper, but the problem is that she will take her diaper off and literally poop anywhere. We keep explaining to her that the potty is the only place she is allowed to poop, but she just doesn't get it (or refuses to get it, which is probably more likely). Not too long ago she pooped in our cul-de-sac right in front of the neighbors. I was at work when it happened but of course Jessica was mortified.
When I saw Ava approaching me with no diaper on I knew there was a problem, but I had no idea how bad it really was. I jumped out of my chair to see what was going on and as I approached her I instantly saw that her hands, feet, and legs were all covered in poop. She had obviously removed her diaper, pooped somewhere in the house, then smeared it all over herself. I couldn't believe it. After the night I had already had with Enzo this just didn't seem possible. Remember, I was only 10 minutes relieved from the nightmare I'd endured with him, so her timing was impeccable.
I immediately brought her to the bathroom and started scrubbing her down. While getting her clean I repeatedly asked her (rather harshly) why she had done this. I kept telling her that this is not okay and that Mommy would be very upset about this. It probably took 10 minutes to get her clean, but it wasn't over yet; I still needed to clean the area where she pooped. I asked her to take me to the spot of the crime, so she took my hand and lead me to her bedroom. Once we arrived there she pointed to a spot on her pink shag carpet, but at first glance there was nothing there. I got down on my knees to look a little closer and only found the tiniest little poop pellet. This didn't make sense. I knew there had to be more than this, so I looked even closer and what I found was a little tuft of Bella's hair. Remember that Bella isn't allowed in the girl's bedroom, so finding her hair in there could only mean one thing – Bella ate the poop.
At this point I was equal parts angry and disgusted, but in the back of my mind I could see the humor. I knew there was humor in all of this, but I was incapable of consciously acknowledging it. I was too heated by the culmination of the night's events. The good news is that there was no mess to clean up, so I headed downstairs to sulk on the couch. Not a minute later Bella came down and proceeded to pant her nasty hot breath right in my face. Needless to say, it smelled like shit.
By the time Jessica got home after midnight she found Elise and I asleep on the couch, Ava passed out on the living room floor, and Enzo wide awake in his pack 'n play, not making a sound, but looking at her as if to say "Finally!" I wish I could say that I wouldn't have to worry about this again anytime soon but the unfortunate reality is that Jessica will be working two more shifts next week. Stay tuned for the next adventurous tale of yours truly, the dopey dad, and the three niños running the show. I can't wait.
Before I get to the great day we today I'll quickly say that our 'Health Month' is continuing to go really well and we're consistently seeing results. At this point we've both lost nearly 10 pounds, and more importantly, we're feeling great. Earlier this week I used part of my fitness allowance at Microsoft to purchase a Fitbit, and I can't believe how much I'm enjoying it. I wear it all day and night, and it tracks everything I do. At any point in the day I can see how many steps I've taken, why my pulse is, how far I've walked, how many flights of stairs I've climbed, and how many calories I've burned. Everything gets logged to a website that I can check from the computer, or with the Fitbit mobile app on my phone. In an effort to increase my stats, I'm finding myself running up two flights of stairs at work every time I need to use the restroom or fill my water bottle. It's gamification at it's finest.
The other cool thing is that I'm logging everything I eat on the Fitbit website, which means I can see how many calories, carbs, grams of protein, fiber, etc are in each of my meals. I've never watched what I eat so closely before but I'm finding it very interesting. You can't help but feel good about yourself when you see that you've burned 2,500 calories in a day and only consumed 1,500. The other cool thing is that it tracks my sleep patterns and graphs it all out on the website. On any given day I can look and see exactly how long I slept, when I was awoken throughout the night, and what my 'sleep efficiency rating' is. For someone like me who likes to nerd out on data, this is awesome. I don't even have to set an alarm on my phone anymore because my Fitbit has a built-in silent alarm. If you're considering getting one (or something similar) I would definitely recommend it.
Okay, finally onto today, which is Father's Day. We started off the day meeting up with Uncle Jim, Aunt Brenda, Kristy, and her friend Edgar at a car show in Burien. When I was in high school Jim and Brenda used to take me to tons of car shows, so the idea of going to a show with them made perfect sense. We walked around and checked out all the beautiful rides. Jessica and I have been somewhat interested in the idea of a classic truck lately, so we paid particular attention to those, plus I fell in love with a beautiful convertible GTO Judge. Strangely enough there was a stuffed tiger sitting on the back of the car, and since Elise loves tigers so much, she was instantly attracted to it. We were both in love with that particular car, but for wildly (get it? – wildly) different reasons.
After walking around for a while we settled in near the stage to watch a variety of performers. The girls love live music and once again they practically stole the show dancing in front of the stage. I think Ava even took a bow at one point. To say that Ava likes the spotlight would be
a total understatement.
We left the car show at 1:30 and headed to Lincoln Park in West Seattle to attend the 2nd birthday for our friends Jodi and Leon's son Miles. There was a great turnout and we got a chance to catch up with lots of our old friends from the restaurant business. There was a ton of delicious food available, but Jessica and I held strong. The unhealthiest thing we had all day was a bit of pulled pork, but we never delved into the sweets. I know it was tough for Jessica so I was proud of her. We ended up hanging out there for about three hours and had an absolute blast. The weather was perfect, there were tons of great people to talk to, and there was a big playground for the kids to enjoy. All in all it was a great way to spend a Sunday.
As expected the kids slept all the way home, which gave us time to have a nice long talk with Rick about his day, and their upcoming trip for the 4th of July. We gave the kids a bath once we got home and at this point they're all exhausted and temperamental. I'm hoping we can get the girls to settle down and watch a movie. I recorded the final round of the US Open (which is being played down in Tacoma at Chambers Bay golf course) and will be watching that for the rest of the evening. To all the Dads in our lives, Happy Father's Day; we hope each of you had a great day. Time to go make a nice salmon dinner and enjoy the remained of this awesome day with my babes. If every Father's Day is as good as this one I think I'll be doing all right.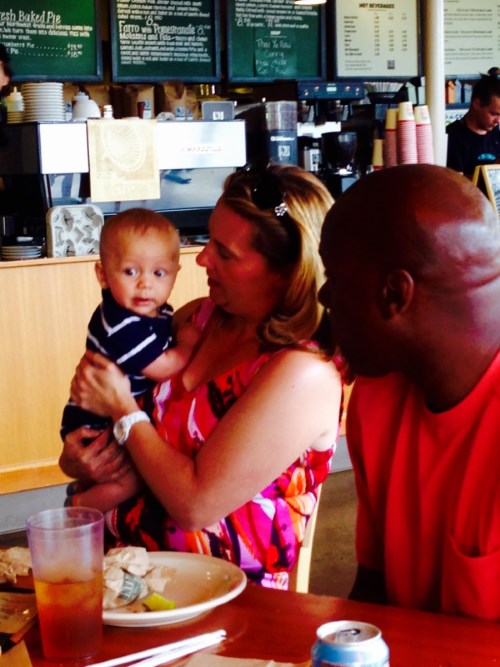 Kristy and Edgar hanging with Enzo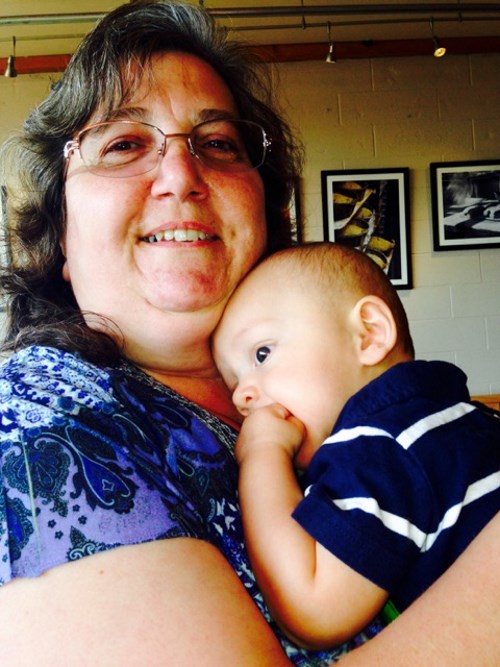 Aunt Brenda and Baby Enzo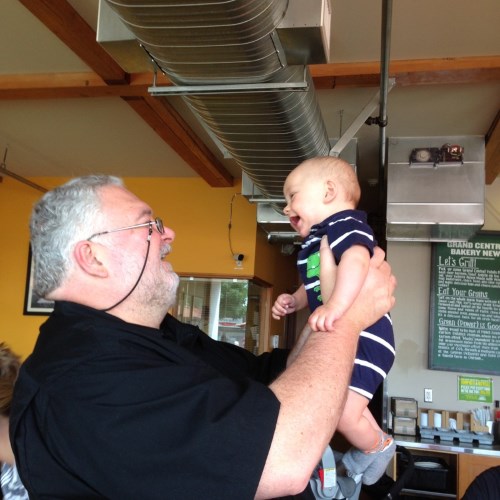 Uncle Jim and Enzo having fun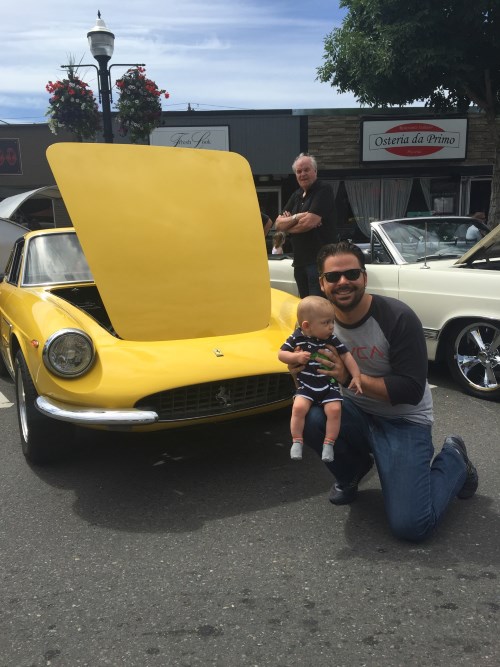 Enzo sees his first Ferrari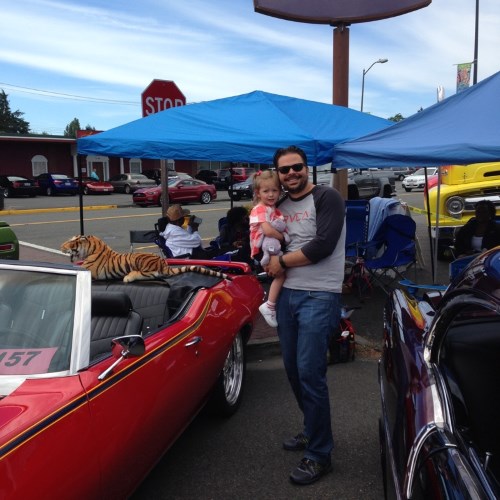 Elise and I with the GTO Judge (and the tiger)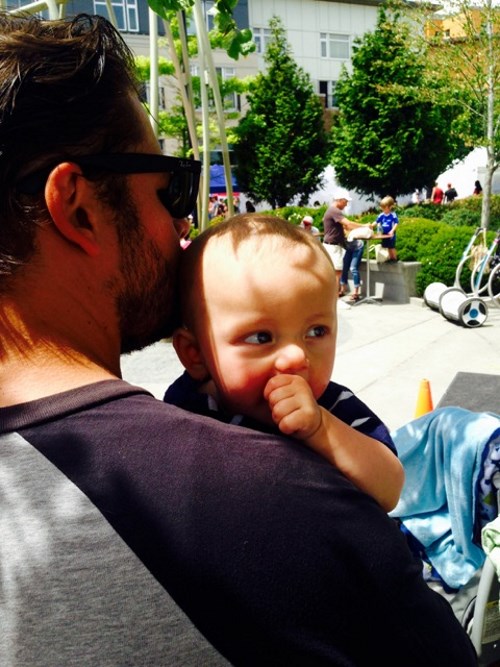 Hanging out with my little guy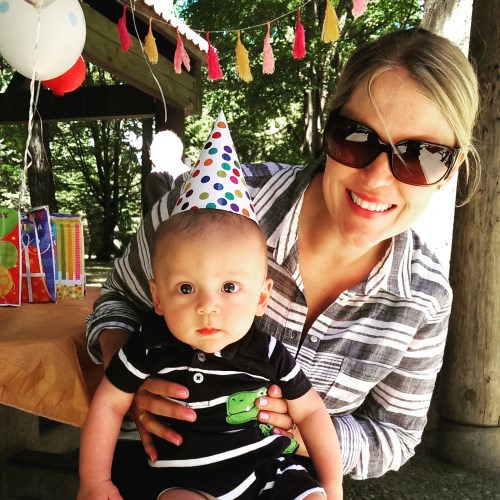 An instant classic. I love this picture so much.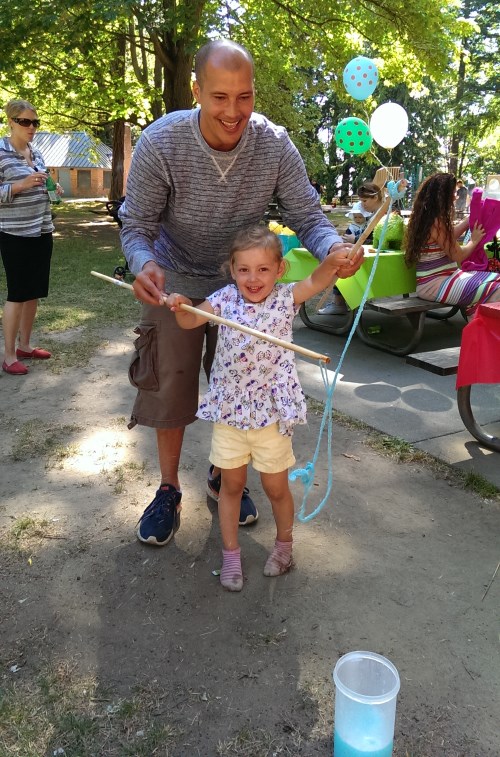 Ava and Leon playing with the bubble rope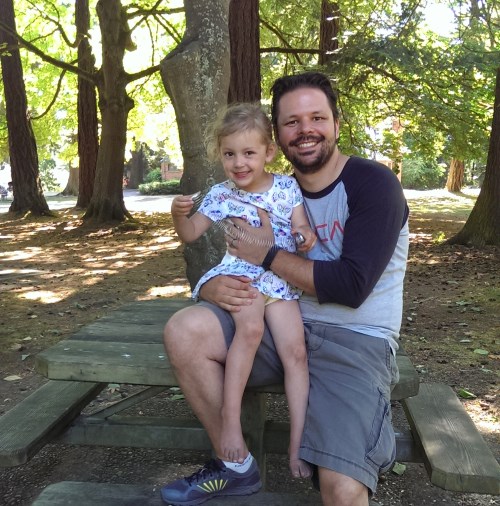 Daddy and his big girl