Today we celebrated Enzo turning 5 months old by going to our first baseball game as a family. Rather than fight the crowds in Seattle, we decided to attend an Everett Aquasox game, which is the Single A short-season minor league franchise of the Seattle Mariners. I've never been to a minor league baseball game before, but honestly it was a lot of fun. The atmosphere is very family friendly, the people working at the ballpark are also very friendly, and the crowds are very small. There was a friendly police officer who kept coming over to play with the kids, and Ava thought it was hilarious to keep taking his hat. He was a good sport about it though.
We sat in the General Admission section, which was perfect because it allowed the girls to run around rather than be stuck in a seat the whole time. Today's game was the 'Mascot game', meaning there were at least a dozen mascots running around the ballpark taking pictures and doing fun stuff between innings. At one point Ava was saying 'hi' from a distance to the mascots in the next section over. She says "Hi frog, hi hotdog, hi clam, hi Santa." I'm like, Santa? Then I realize she's talking to the old guy with the long white beard who works at the ballpark. Of course he heard her, but luckily he got a big kick out of it. Only Ava…
Our friends Jamie and Melissa, along with their 2 year old daughter Ellie, joined us for the game, which made it even more fun. The capstone to the game was letting all the kids go out on the field and run around the bases. Ava got around remarkably fast, while Elise decided to sit and rest a couple times between bases. It was a funny way to end a nice afternoon.
Last week was pretty crazy for me, both at work and at home, but this week marks the start of back-to-back 4 day work weeks, separated by a 4 day weekend. Not only was last week extremely busy for me at work, but Jessica also worked two nights, meaning I was back on full-time dad duty for both of those nights. Luckily I don't have any crazy stories about either of my nights, and I can say with confidence that each night we spend together without Mom gets a little easier. Friday night I was even able to give Enzo 3.5 ounces of milk from a bottle, as well as a good amount of solid baby food. This was by far the most success I've had feeding him, so that was encouraging.
Tomorrow is Ava's last day in day care. She's going to take the summer off, then start attending preschool in September. At this point she's basically on a normal school schedule that any kid would have, but she'll go to preschool for two years before entering kindergarten. I'm not sure what the plan is for Elise regarding day care and preschool, but it will be at least another year before she starts anything like that. We've been talking about getting them into some type of activity together, maybe a dance class or something similar, so we'll see how that turns out.
Tuesday is the last day of the month, meaning we will have made it through our health month successfully. I must admit that I cheated a bit today by eating some popcorn at the baseball game, but I'm not too worried about it. Considering that's the worst thing I've had all month I think it's okay. There's no question that it's working, and we're continuing to see results; I weighed myself yesterday and at this point I'm down 12 pounds from when we started. It's certainly not all about weight loss, but that can be a nice way of quantifying your success. Ultimately it's about making long-term changes to improve our health, and not surprisingly it's starting to rub off on the girls. Suddenly they're more open to eating raw veggies because they constantly see us eating them. The other thing we're noticing is that our appetites have shrunk significantly; it simply doesn't take nearly as much food to fill us up. All that being said, I can't wait to go out for Mexican food and frozen yogurt on Wednesday night. I think we've earned it.
Wednesday night will be fun not only because of the delicious meal we'll be having, but we will also be attending a free concert at the Mill Creek Town Center. It's part of a series of concerts going on every Wednesday night, each one with a different theme. The theme for this week is British Invasion Rock 'n Roll, so we can expect to hear lots of tunes by the Beatles and Rolling Stones. Some of the other nights we hope to attend this summer include Classic Rock, Blues & Soul night, and Rock from the 70's & 80's night.
With June coming to an end, that means we can expect things to start getting very busy for us. Rick and Chris will be visiting for the holiday weekend, and I'll be going to the Van Halen concert down at the White River amphitheater on Sunday night with Rico. We're going to have Madi over for another sleepover the following week, then do an early birthday party for Elise with Kristy, Madi, Jim and Brenda that Saturday. There is a chance that my Mom will be coming up for that as well, so hopefully that works out. The weekend after that we'll be doing another party for Elise with Amy, Tom, Dana (and family) plus a few friends.
Amy hasn't been out since Enzo was born so she's going to stick around for a while on this visit. Having her here will be a big help for Jessica, whom I know is ready for a break. We're going to take advantage by going to a Mariners game the day before my birthday, then dinner that evening. I've got plenty of personal days to use at work, so I'm taking Wednesday the 29th off so we can go to the game and dinner, then Thursday the 30th (my birthday) off as well. Should be a lot of fun.
There isn't too much else to update on. Enzo is growing fast and rolling over regularly; he seems noticeably stronger and heavier. We're still working on potty training with Ava and only having moderate success. Some days she does great, while other days are a hair-pulling catastrophe. I know we'll get there soon enough but I honestly never thought it would be this challenging. Guess that's about it for now; there will definitely be a lot more to write about in July. Here's a few photos from the past few days.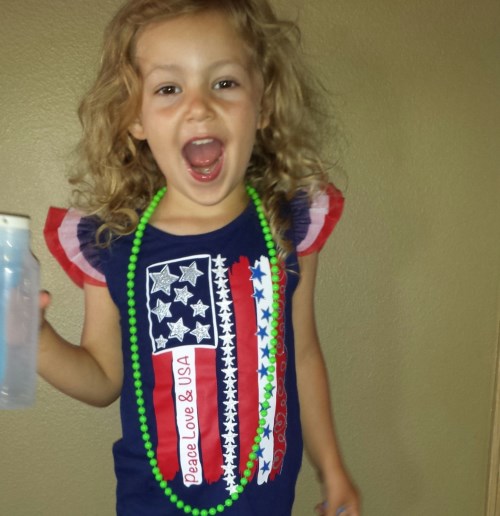 Ava looking patriotic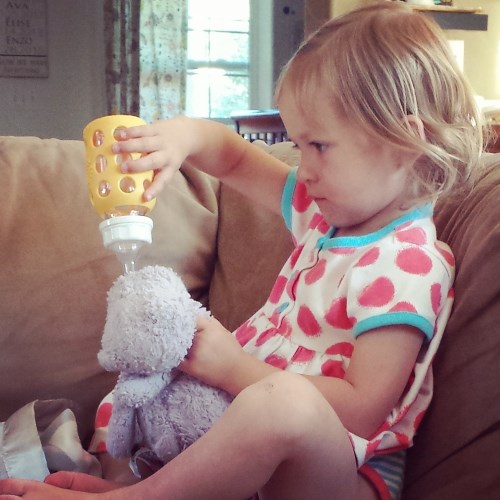 Elise feeding Pippo a bottle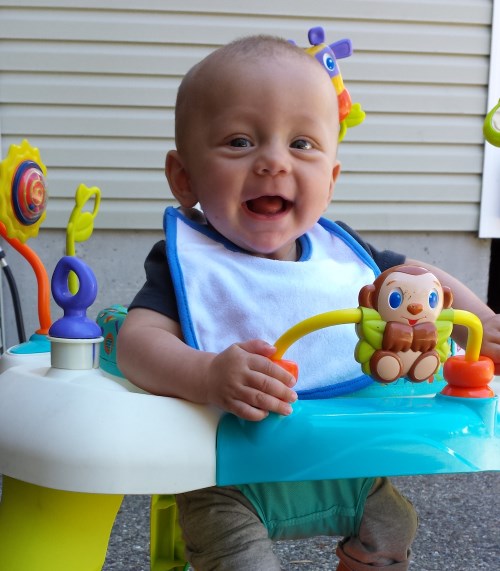 Enzo hanging out in the backyard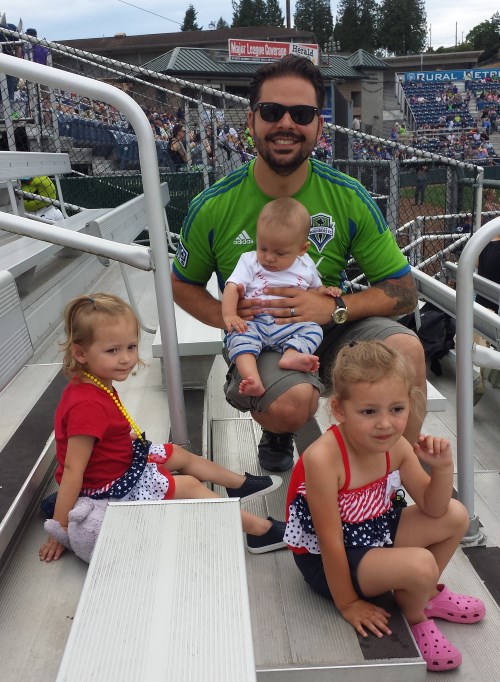 Hanging out in the bleachers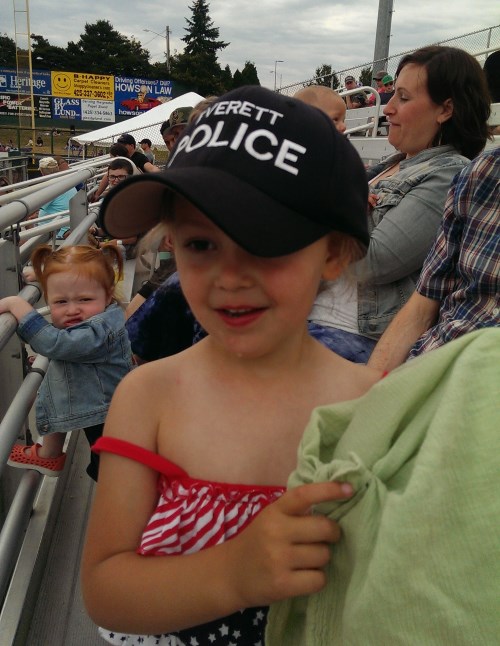 Ava wearing the police officer's hat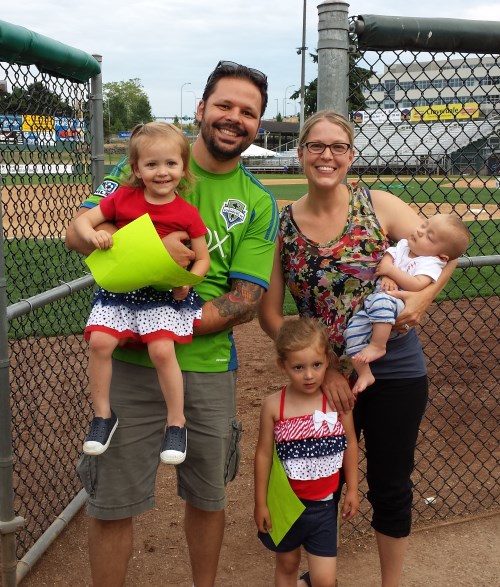 Family photo on our way out of the ballpark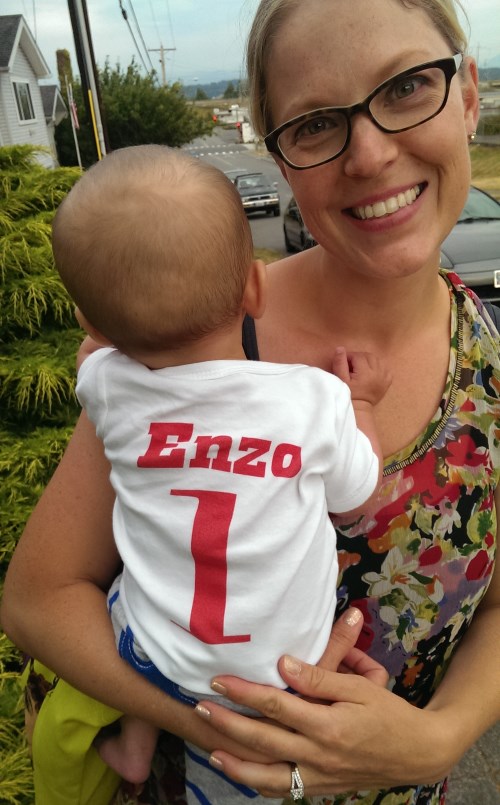 Mom and her little ball player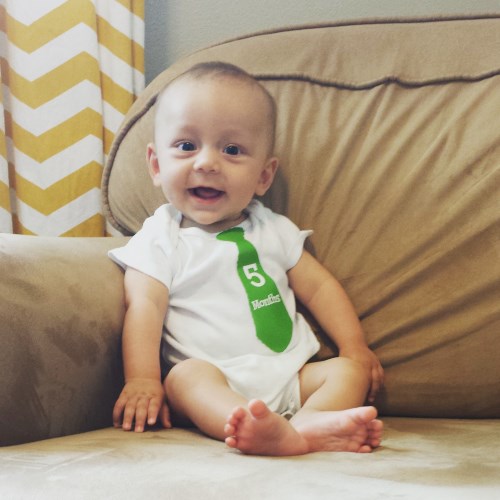 5 months old