Today was a really fun day. A couple weeks ago while visiting at Kristy's house we were invited to go roller skating at a local rink today. Apparently this has become Madi's new favorite activity, and although we weren't exactly sure how the girls would take to it, we decided to give it a go. Neither Jessica or I have been on skates in at least 25 years, but we both thought it would be fun to get out there. As it turned out, everyone had a lot of fun and got a good workout in the process.
I used to play street hockey on rollerblades as a kid, plus I have fond memories of rollerblading on running trails with my sister Dana, but as I just mentioned, its been quite a while. Well, as it turns out, it's not much different from riding a bike. Although my stride and balance were a bit compromised at first, it all quickly came back to me, and the same can be said for Jessica. Before we knew it we were both cruising pretty quickly around the rink. We even held hands and did a 'couples skate' for a while. The whole thing had a definite 70's vibe to it, but we had a blast.
More importantly, we were excited to introduce the kids to roller skating in hopes that they would enjoy themselves. We weren't expecting Elise to get out there, but we were wrong. We started off the morning with a big breakfast in order to provide plenty of skating fuel. We've been telling Ava for a few days that we'd be going roller skating this weekend, so this morning she was super excited. She kept saying "I love roller skating" during breakfast, even though she had never actually done it at that point. We started Ava off on skates right away when we got there, but she wasn't really into it. She struggled with her balance and quickly got frustrated.
Since Jim, Brenda, and Kristy were seated with Elise and Enzo, we took Ava over to them to play air hockey and video games while Jessica, Madi, and I went skating. A bit later Ava gave it a second try, but the outcome was basically the same as her first try. Even though we had a rolling frame for her to hold onto, she was intimidated and wasn't having fun, so we took her back to play some more with the rest of the family. Later, while Jessica and I were taking a break, we decided on a whim to let Elise give it a try, so we put Ava's skates on her and took her out there. She did surprisingly well and seemed to be having a really good time. Not surprisingly, seeing Elise out there having fun on her skates made Ava that much more motivated to go back out for round three.
As it turned out, the third time was a charm because Ava really started getting the hang of it. She held onto her rolling frame and did several laps around the rink. At one point we even went into the center with everyone and did the hokey pokey dance, which Ava really got a kick out of. I was surprised that even though I didn't know hardly any of the songs they were playing, Ava actually knew the words to a couple of them. She was totally singing along and skating. I've never felt so old and outdated!
Ava was having so much fun out there that getting her to come in for a break was quite difficult. One of the funnier moments came when they announced that everyone had to exit the rink so they could do a 'speed skate' session. By that point I felt quite comfortable on my skates, so I decided to participate. I started flying around the rink, but after two laps one of the employees flagged me over to the side. When I got close to him he said "Sir, this is for girls only." Needless to say I was pretty embarrassed, but in my defense, I wasn't the only guy out there who didn't get the memo. The next speed skate session was for guys, so I got my fix.
Based on how much fun everyone had I think its safe to say that we'll be doing this again soon, so we owe a big thank you to Kristy, Madi, Brenda and Jim for bringing us along. I'm definitely looking forward to the next time.
After skating we went to Costco for our monthly trip. The girls were exhausted, so by the time we were halfway done with our shopping both girls had passed out in the cart. It was actually pretty cute, causing multiple strangers to stop and comment. Our whole monthly Costco shopping experience thing is actually really funny to me. To an outsider watching us shop we probably look like a family who lives out in the middle of nowhere and has no choice but to stock up on everything. We've gotten to a point where we need two carts just to get everything we need, and we've got everything from clothes to groceries, dog food, paper towels, you name it. We buy everything there, mainly because its nearly impossible for Jessica to go shopping with all three kids on her own. It's just too much for one person to handle, and now that I'm working more hours the last thing we want to do is go shopping as soon as I get home from a 12 hour day.
Jessica and I have a little game we play while waiting in line to checkout at Costco where we each guess how much the total will be. Sometimes we're incredibly close, and I still revel in the time that I came within one dollar. I was cracking up this time though because not only did Jessica and I make our own guesses, but so did the two Costco employees who were ringing us up and boxing up our stuff. I kept thinking to myself, you know you've got a lot of stuff when the Costco employees are guessing how much you've spent. It's just better this way though because we won't have to go grocery shopping for a month, which leaves Jessica one less thing to worry about when I'm away.
As the title of this post suggests, today Enzo turned two months old. A couple days ago he went to the doctor for a checkup, and we were pleased to hear that he has already gained four pounds. That may not sound like much but at his age its actually quite a bit. When you consider that he was 8 pounds at birth, you realize that this is a 50% weight gain for him. The doctor was very pleased with him, however Enzo wasn't so pleased to receive three shots during his visit. It's all good though; he's doing great and growing fast. He's also starting to show some personality in the form of the sweetest little smile from time to time. I've been looking forward to that since the first time I saw him.
The girls are also both doing great. Ava is keeping busy with day care, art class, music class, and soccer. I'm sure it won't be long before Elise's schedule is just as busy, but for now she seems quite content to stay home and cuddle with Mommy or Daddy as much as possible. She's usually more than happy to sit with me and watch concerts on TV. This morning while watching a bunch of amazing guitar players she looked at me and said "I like guitar." Obviously I was thrilled; then she proceeded to say the same thing over and over. Maybe we've got a little musician on our hands. Either way I just love how willing she is to curl up on the couch with me. Ava generally doesn't like to sit still for long so its nice to be able to spend that kind of time with Elise.
This was a big week at work for me. On Tuesday we launched a new service called Azure App Service. I was the main developer responsible for creating all the web pages describing each portion of the service (Web Apps, Mobile Apps, API Apps, and Logic Apps), and everything went off without a hitch. The launch was super successful and our team received lots of praise from some very senior managers for the work we did. It felt great to make an impact like this so quickly, but as expected, there wasn't much time to sit around and revel in our victory. We're already onto the next big project, which is full of several unique challenges of its own.
I'm continuing to enjoy taking the Microsoft Connector bus to work everyday. I'm getting tons of reading time in, meaning that this week I was able to finish 'Strange Beautiful Music' by Joe Satriani, then switch gears and read a book called 'The Council Of Dads' by Bruce Feiler. The title caught my attention, for obvious reasons, but the subject matter was a bit heavier than I was initially expecting. It's the true story of a father of young twin girls who finds out he has bone cancer in his left leg. Facing the grim possibility that he may not be around to raise his daughters, he decides to assemble what he calls 'The Council of Dads' to help raise them. Each 'Dad' was selected to represent a particular quality of their real Dad. Based on my own personal experiences I was able to relate to the story, so it was certainly worth my time. It's not the type of book I normally read, so most likely next week I'll get back to something more familiar like another rockstar biography, but its nice to switch things up from time to time.
Since today was such a busy day for us, tomorrow looks like it will be the exact opposite. Our good friend Laurel is coming over to visit, so that should be nice. The girls love playing with her, and we're looking forward to hearing about her recent travels. I'm hoping to wash the cars, mow the lawn, and of course get some quality guitar time in. Here's some recent photos of the kids, including Enzo's second monthly photo.

Enzo at 2 Months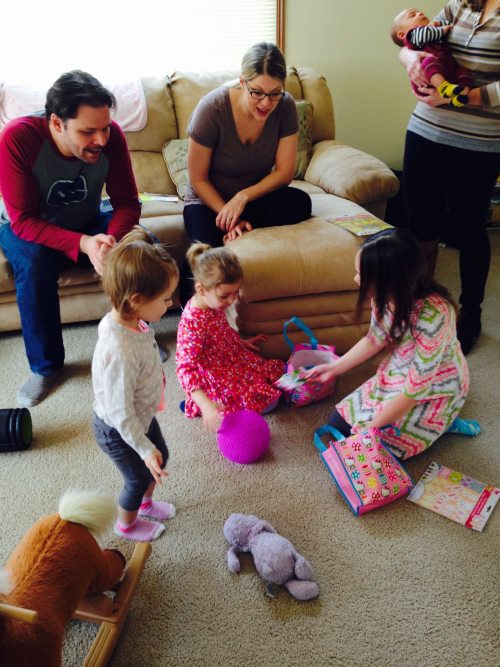 Opening some early Easter gifts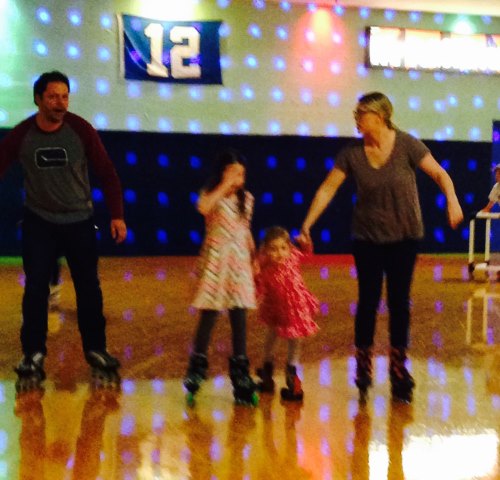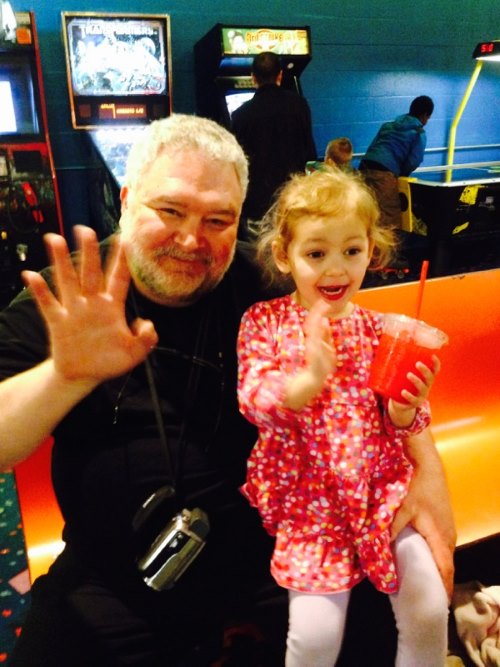 Ava and Uncle Jim