Although the actual holiday is still a couple weeks away, and our trip to Iowa is exactly one week out, for all intents and purposes, Christmas for our family officially began on Sunday. We were visited by Uncle Jim, Aunt Brenda, Kristy, and Madi, for an afternoon of opening presents, eating lunch, and hanging out. The only unfortunate part of the day was the performance by the Seahawks at Green Bay, but considering the fact that my Sounders won their first MLS Cup the night before, I felt like I didn't have too much to complain about.
As usual, they were much too generous in the gifts they brought us. The kids all love their toys, Jessica has worn her new shawl/scarf each day since receiving it and is looking forward to her Spa day after our trip to Iowa, and I'm very much looking forward to reading all my new books. I also received a really nice set of loose leaf teas that Jessica and I have been enjoying daily. Elise got a toy cleaning set that she absolutely loves; she can regularly be found 'cleaning' various areas of the house with her little squeegee, spray bottle, and brush. Enzo is constantly playing with his new trucks and tractors. Then there is Ava, who just enjoys playing with new toys, regardless of who they were actually given to.
After opening presents we all enjoyed cups of the new teas I got, then sat down for a big family lunch. I had previously made my 'Meat Lover's Chili' (beef, pork, chicken, and turkey), so we had that along with Caesar Salad and warm sourdough bread, while the kids enjoyed grilled cheese sandwiches and fruit. It was pretty much the perfect family day and a very nice way to kick off Christmas!
To add to the Christmas theme of the weekend, a couple days earlier we got our first significant snow in 2 years. I woke up that morning to about 3 inches on the ground, so I decided to avoid the roads and work from home that day. In between calling into meetings and working on coding tasks, I would go outside with everyone for snowball fights, snow angels, and snowman building. It was a lot of fun for everyone, especially the kids of course, and provided a nice transition into the weekend.
Jessica has been working as much as possible this month, mainly because this is their busiest month of the year. Last Saturday night she worked the private Pokemon Christmas party. They always go big on their annual Christmas party at El Gaucho, but due to this year's huge success with the Pokemon Go game, the party was more extravagant than ever. Working such a huge party has it's benefits, but not getting home until 3:30 in the morning is less than ideal. I had been hoping things would slow down significantly for me at work this month, as it did last year, but it hasn't exactly played out that way. We're just as busy as ever, so I think Jess and I are both very much ready for our vacation next week.
Since Jessica didn't have to work on Monday night, we decided to take the kids downtown for some holiday shopping in the city. First they all picked me up at work and got to see my new office. The kids were all super excited to meet 'Taco', my office fish. It's not actually my fish but I'm fish-sitting for a co-worker for a few weeks. Of all the fun things we did that night, meeting Taco ended up being the highlight of the day for Ava and Elise.
After leaving work we headed downtown and bounced around a few different stores, all the while taking in the various holiday-related sights: Christmas trees, lights, and fake snow. Jessica and I each bought sweaters and hats, and we all enjoyed dinner at a Mexican restaurant. I had been hoping to find a good Winter hat and ended up striking gold at Eddie Bauer. I saw this epic red and black plaid hat with plush fur lining in their window display, then went about scouring the store to try one on. After several unsuccessful minutes of searching I asked a salesperson about it and she said the one in the window was the last one, but that I was welcome to try it on. It was too perfect to pass up, so I'm looking forward to taking it on our trip. I doubt I'll be going outside in Iowa without it.
After that we took the kids down to the Public Market for a few photos. The girls were dying to sit on the bronze pig, so we were happy to oblige. It ended up being another epic holiday-inspired day, and doing it on a Monday evening was perfect because there were no crowds to deal with.
This weekend we've got some fun stuff to look forward to. Jessica's best friend Laurel is coming out on Friday for a visit from North Carolina and will be staying with us for a few nights. Saturday night our friends the Martin's (Julie, Bardi, and their 3 kids) will be joining us at our house for a dinner party. I'm looking forward to making lobster pasta, but haven't decided on the rest of the menu quite yet.
Laurel leaves on Monday, then we're going to do our own small family Christmas on Tuesday night, which will include Skyping with Grandma and Grandpa Martin as the kids open their presents. We'll be up dark 'n early the next morning at 4:00 so we can get on our flight to Iowa. We're staying for a full week and are looking forward to seeing everyone. I'm sure I'll have plenty to write about when we return. I think we get home on the 29th, so we have plenty of time before Jessica goes to work on New Year's Eve. I won't be returning to work until the first Monday of the new year.
We wish everyone a very Merry Christmas and look forward to seeing you soon if we haven't already. Here's a few recent family pics.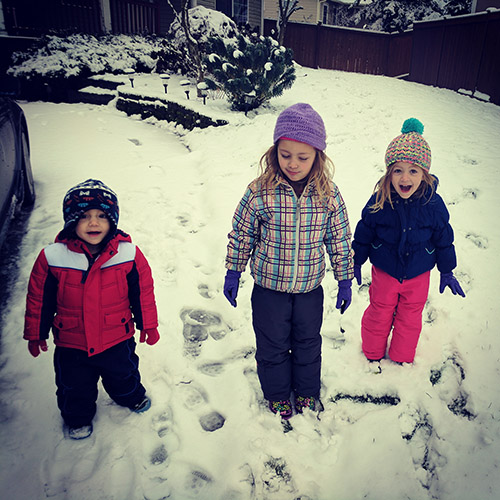 Enjoying the snow. 2 out of 3 looking at the camera isn't bad…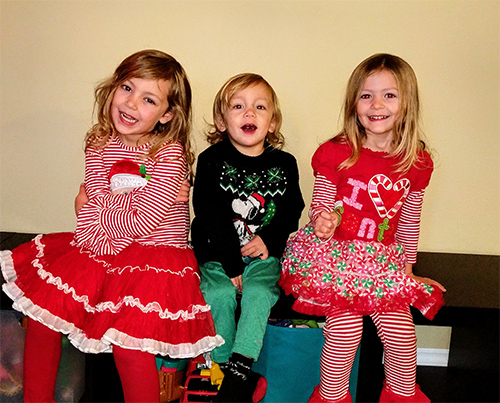 Getting ready for our family day on Sunday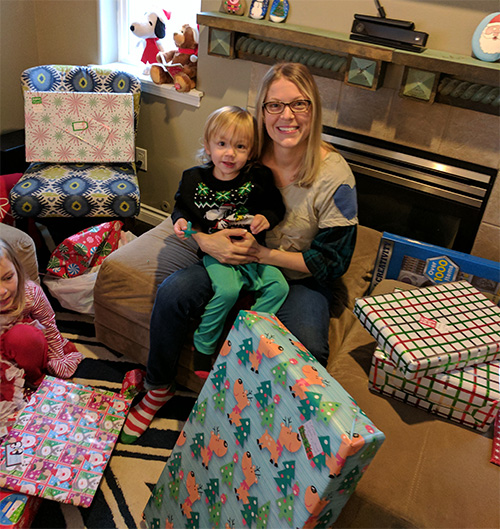 Surrounded with presents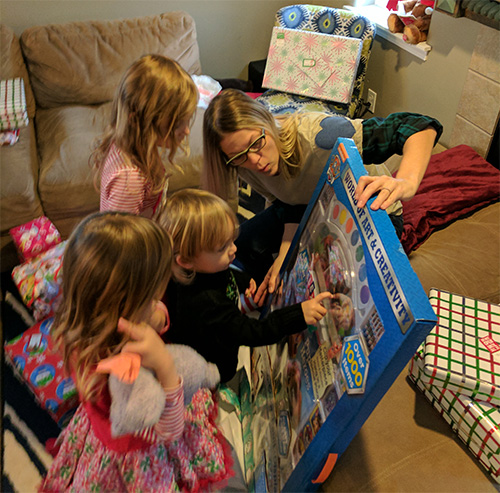 They love their Paw Patrol art set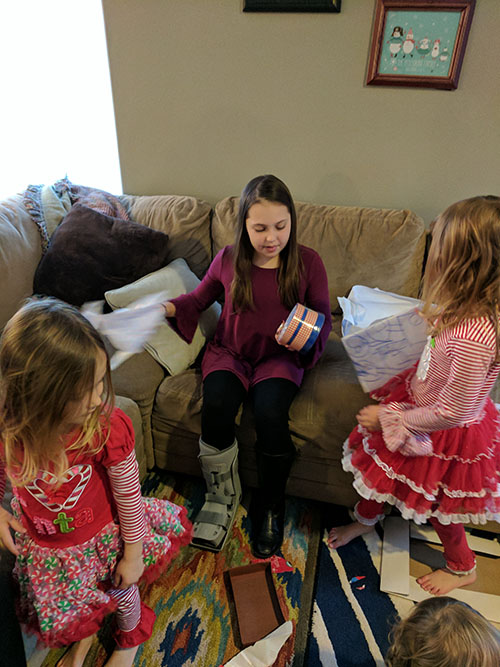 Poor Madi has a hairline fracture in her heel. Didn't stop her from having fun though. That boot looks familiar…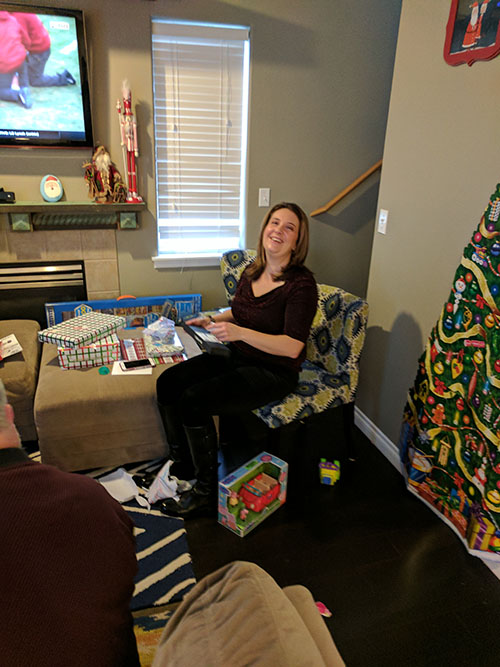 We have a bit of a tradition giving cutlery for Christmas. Hope Kristy enjoys.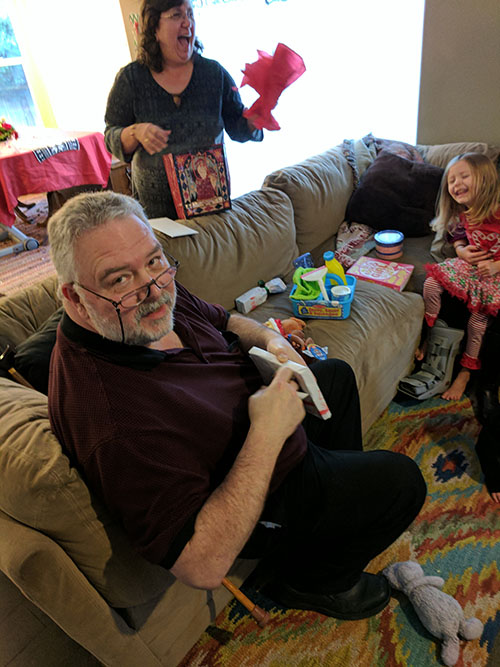 Jim and Brenda enjoying some gifts of their own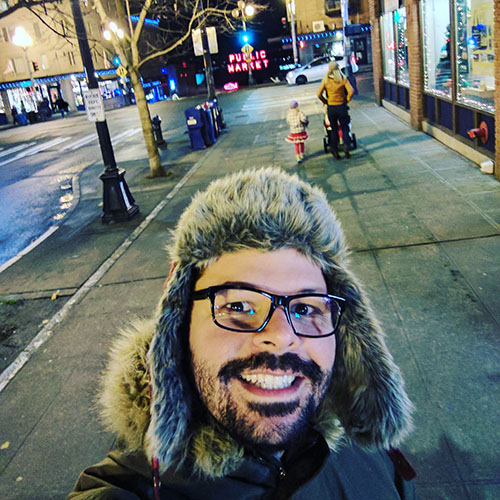 Loving my new winter hat. Too bad you can't see the plaid pattern. It really drives it home. #Griswold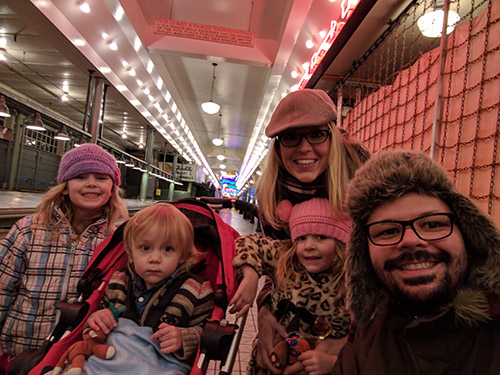 Family selfie in the market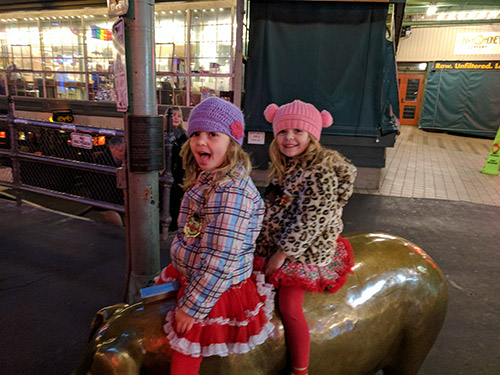 The girls visiting their favorite pig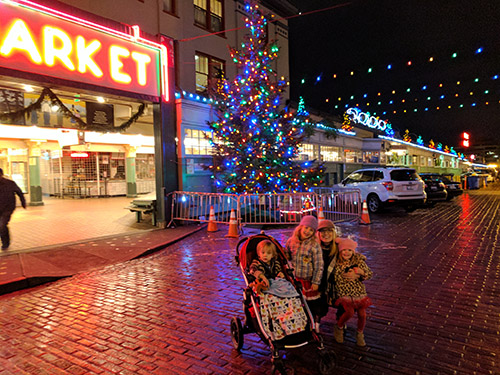 Christmas in the city – Seattle style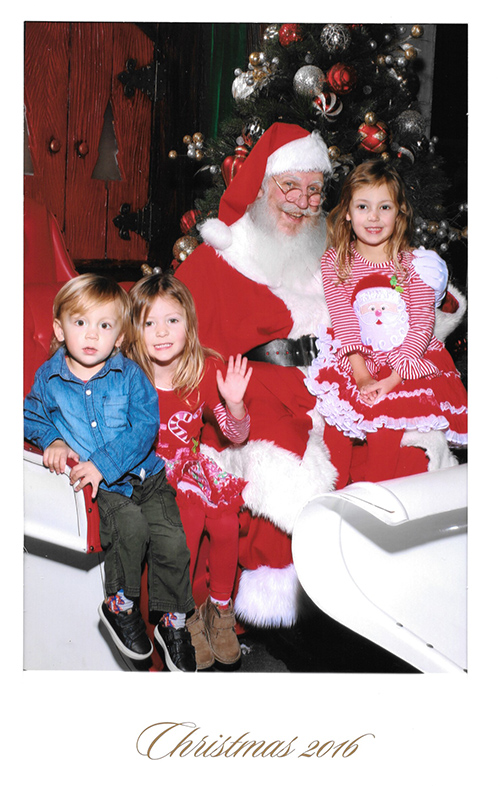 This year's visit with old Saint Nick