Last time we spoke, I was blabbering on about my elbow injury and preparing to get under the knife. Well, a lot has happened since then, including another epic weekend with the O'Hair's at their cabin on Hood Head Island, but I think I'll pick up where I left off previously.
Surgery was successful, and actually ended up going better than expected. They didn't end up having to put pins (or any other type of hardware) in my elbow, which means my recovery will be a lot faster than expected. I was expecting to be in a mechanical brace for 2 months following surgery, but that wasn't necessary at all. I was able to start physical therapy a week after getting out of my splint. I'm actually going to the same place Jessica goes to for her neck rehab, so we're kinda becoming regulars there.
The doctor told me that after getting in there and seeing my elbow, there's no question that there had been prior trauma, which I was aware of, but also no way of knowing how bad it was before this injury. All they had to do was remove the little bone chip and reattach the piece of muscle that had been connected to that chip over to the triceps, where it belongs. Sorry if that sounds gross. I'm just glad it's over.
The day I got the splint taken off, Ava and I went to the hockey store to get her a stick. I told her if she passed her hockey 1 class that I would buy her a stick, and she passed, so I kept my word. While we were there, I also bought myself a left-handed stick, some pucks, balls, and a little goal. So literally within two hours of getting my splint off, I was practicing with Ava in the garage. We were just doing stick handling, passing, and light shooting, but it was super fun. We were babysitting Ronan that day and he, Elise, and Enzo all started jumping in to play garage hockey with us. I've been out there a bunch now and have found the transition to left-handed to be surprisingly smooth.
Ava is moving on to play hockey in an organization called Washington Wild. They're part of the Western Washington Female Hockey Association, and are regularly recognized as one of the best female hockey programs in all of North America (which obviously includes Canada). She's definitely not ready to be on a team yet, but she will be joining their hockey 2 class in October. It's going to be Sundays from 11:30-12:30, which will break up my football watching nicely, but well worth it. Once she gets bigger, if she sticks with it, she'll be able to play on teams, and at higher levels (again, if she sticks with it), they travel for games. Regardless of all that, Ava is super excited to get to play on "the girls team" and we can't wait to go watch her.
I almost forgot to mention that two days after surgery was my birthday. We ended up meeting up with Dana, Brad, and Kallan at the Chateau St. Michelle winery for the Wine Country Blues Festival. It was a super nice (hot) day so we all just hung out under umbrellas and listened to some blues legends. Charlie Musselwhite and John Mayall were both great, but seeing Buddy Guy was a concert bucketlist item for me. I think I mentioned this in my last post, but it was also his birthday (81st) that day. It was a really memorable day and so nice to get to spend it with Dana, Brad, and Kallan. The only reason we were able to do it was because Josh and Solana watched the kids for us.
So, onto this weekend. For the second year in a row we have joined Josh, Solana, and their boys Ronan and Finn, at Josh's family cabin for a weekend of oyster hunting, crab potting, rock throwing, fishing, shell collecting, and overall PNW beachy woodsy cabin life. We were there last year for Labor Day weekend but decided to go a little earlier this year, and it worked out because the weather this year was better and the water was warmer.
I actually can't believe how much happened considering how short our stay was. We all took the Edmonds-Kingston ferry Friday morning, but then took our time on the other side before heading to the cabin. We took the kids to a park and had lunch in Port Gamble before trekking across the Hood Canal bridge, parking at the end of a dirt road, and boating everything across the channel. It's a bit of a production getting everything there, but worth it.
Sometime that afternoon one of the neighbors cruised up in their boat and told us about a big party going on the following night at the dragon. This is the same dragon Jessica and I visited for a 4th of July party back in 2009, and the same dragon we visited last year over Labor Day. He said there would be a band playing and that everyone was welcome. So we thanked him and said we might see him there.
Later that evening after dinner, we were all hanging out in the cabin talking about our day, and all of the sudden Josh pauses and says "there's a bat in here." So we all start looking around, and then it swoops through the cabin, everyone gasps, and it flys upstairs into our bedroom. I was actually falling asleep in my chair at the time but this woke me right up.
Since Josh was the only "owner" of the cabin present, he felt like it was his responsibility to deal with it, but as he started going upstairs, I could tell he was pretty nervous. Instantly my memory shot back to the time we were having lunch in Raleigh and he got freaked out when a butterfly landed on our table. Turns out he had some sort of traumatic butterfly experience as a kid and has always been freaked out by them. So instinctively I shout out "Oh don't worry, it's just a giant butterfly."
Now I have to admit, we'd all had a couple nips off the old tequila bottle by this point, but that comment set the wives off laughing, and poor Josh reeling. So I hop up out of my chair, grab Ronan's flannel shirt as some sort of weapon, and start marching upstairs. My plan was to open this door in the room that literally goes nowhere, to let the bat fly out. You open the door and it's a straight 20ft drop into the woods, but it's deadbolted and there's a ladder in front of it, so opening it is a bit of a production.
So I step past Josh, armed with Ronan's flannel shirt, and march on in there. In the background I can here Ava yelling from downstairs "Go Daddy! I'm not scared of that bat! Let me in there!". It's pitch black in the room, in a way that only a cabin in the woods with no electricity can be. I literally make it about two steps and that little bastard flies by so close to my face that all I can do is scream and drop to my hands and knees. Now it's pandemonium downstairs. Jessica is crying from laughter, no doubt reliving the possum incident in San Diego. I'm crawling around upstairs swinging the flannel above me as some type of deterrent. Josh is screaming. If you've ever seen the movie "The Great Outdoors", it's totally like that.
So I'm crawling my way to the door, but I'm scared to stand up and move the ladder, then I hear Josh scream even louder because the damn thing flew out of the bedroom, straight at him, and back downstairs. Then I instantly hear the moms and kids all start screaming. It flew out for a second but then managed to come back in before we got the door shut. So I run downstairs to try and help, then the stupid bat flies back into the upstairs bedroom again!
Back to the same plan. I still had Ronan's flannel in hand, so I marched right back up there, walked in all brave, reached out to turn on the lamp (because Josh had the generator running at this point), and the son of a bitch buzzed my tower again! As I reached for the lamp it literally flew right between my hand and my face! Josh saw the whole thing happen and we both screamed, then once again I'm on my hands and knees, crawling towards the door to nowhere.
I think Josh was trying to act like some kind of rodeo clown in order to distract it while I got the door open. I eventually got it open and the damn thing flew out the door. I'm sure it was more scared than we were, but we were all pumped with adrenaline and laughing our asses off. Even the kids thought it was hilarious. Ava was giving me all these props for saving the day, and I was still carrying around that ridiculous flannel. It was such an epic first night.
Saturday morning we took our time with breakfast, then walked out to the beach to explore low tide. Enzo was wearing his second pair of these water shoes I had bought him earlier in the summer. I remember thinking when I got them that they would be perfect for the cabin. Unfortunately they got lost at the beach about a month ago, which was a bummer, but when Jessica saw them on sale a couple weeks ago, she re-bought them. Needless to say, he got his feet stuck in some super wet sand during low tide and by the time he pulled himself out, his shoes were gone, so we lost them again! The only other shoes we had for him were his boots, but they barely fit him, so it was a bit of a struggle for the remainder of the weekend. Sometimes Elise was willing to share her pink water shoes with him, sometimes not.
We took a walk that morning, got to the end of the bay and crossed over to a different beach, and saw the coolest thing: a nuclear submarine, surrounded by battleships of various sizes, heading into port. Turns out there is a huge nuclear submarine base right around there, and we got to see one in real life as it came home. There was some civilian boat coming their way that they didn't take kindly to, so a smaller boat sped up to them with their turrets pointed straight at them, and kindly escorted them away from the submarine. It was pretty intense.
Unfortunately Solana ended up having to work Saturday night, meaning she had to leave us and get on an afternoon ferry to go home and get ready. We ended up seeing the neighbor who told us about the party again, and he said the band was doing an early set at 5:00, then they'd be playing all night. Obviously we couldn't bring kids to the late night party, but we figured we'd check out the early set. So we all hopped in the boat and cruised over there shortly after 5:00. As we were arriving, we were greeted by an older gentleman who I immediately recognized. He was "the mayor" of the island, who shuttled us to and from the island during our first visit back in 2009.
I chatted with him and asked if he remembered the fireworks incident on the beach that night. Of course he did, and said he has pictures of the beach explosion framed in his house. I said "Well, I'm the guy who took those photos" and he couldn't believe it. It was so funny catching up with this guy after all these years about that crazy night. He loved our kids and couldn't believe how things had turned out for Jessica and me.
The whole setting was perfect. The weather was beautiful, there were people fishing, the band was playing Phish and Grateful Dead covers (and they had a huge setup including stage, full P.A. system, lighting, etc – all running from a generator), boats of people were arriving, the kids were playing fetch with a couple dogs in the water, there was this old hippy lady with a big bubble wand making bubbles for the kids. It was like this perfect summer setting that we just stumbled upon. Totally memorable, totally epic, but just a bummer that Solana couldn't be there.
We brought sandwiches and snacks with us, so we ended up hanging out for an hour or so, eating our food, and enjoying our surroundings. The band took a dinner break as it was getting to dusk, so we figured it was time for us to call it a day and head back to the cabin. The kids did amazing all day, and it was an extremely long day, so we all crashed hard that night.
Sunday morning Solana took a ferry back over and met up with us. Shortly after she arrived Jessica and I took the kids on a walk, and just like the day before, saw something totally unexpected. We were going the exact same way as we had the previous day, and this time we see a private helicopter parked at the end of the bay, right next to a small covered eating area. There were 5 or 6 people there eating and talking. We walked past them to a beach area, and soon they were ready to get going, so we all stood there and watched them take off. I don't know much about helicopters, but I promise you this was a very nice one. There's no way of knowing for sure, but from our perspective it looked like they flew their helicopter to a private beach for Sunday brunch. Like, who does that!? It was crazy, but cool to see. Enzo was loving every second of watching it take off and disappear into the sky. I was holding him the whole time and it was a bit surreal.
When we got back we enjoyed the fresh oysters that I had picked on the beach the day before. Josh likes to quickly barbeque them so they're just a little warm, and have a firmer texture. His son Ronan, who's only 3, absolutely loves them and will eat them all day if you let him. I wish I could say the same for our kids but they weren't having anything to do with oysters.
We took our time getting out of there, but we assumed that by leaving at 4:45 (which we did) that we would make the 5:30 ferry. It's only about 10 minutes away so we thought we'd have plenty of time. We drove for 5 minutes, then we hit the ferry line. And there we sat. It quickly became apparent that we would not be making the 5:30 ferry, but it seemed like we would certainly make the 6:10. So we finally get to the front of the line at 5:50, purchase our tickets, ask which ferry we're on, and get the (devastating at the time) news that we're on the 7:00 ferry, meaning we've got over an hour to kill.
I was tired, hungry, dirty, grumpy, and daydreaming of my shower. Overall my mood was a little sour, but the O'hair's were in the lane next to us and had ordered a family sized fish 'n chips that they couldn't finish, so I soon found my mood lifting as my belly filled with fried goodness. I couldn't stay sour for long considering what a fun weekend we'd had. I love the idea of continuing to do this every summer, if they'll continue having us, but greatly appreciate the hospitality regardless.
Josh was filming with his GoPro all weekend and said he was looking forward to doing a bunch of editing and putting together a video, so I can't wait to see (and share) that, but for now, I've added a bunch of my favorite photos. In the near future, Jessica and I will be going to a concert at the Gorge this weekend. Nathaniel Ratlief & the Night Sweats are opening, and Kings of Leon are headlining, so it should be fun, plus the kids get to have Auntie Dana over for a sleepover, so huge thanks to her. A few more weeks after that and Elise starts a new year of preschool, then a week after that Ava starts Kindergarten.
Randomly, while eating lunch today at a park with the kids, Jessica got stung by a wasp twice inside her mouth! She was going to take a bite of her sandwich, and somehow a wasp went straight into her mouth. She said she felt it fluttering around in there so she immediately reached her fingers in there to pull it out but it stung her twice. Now her face is all swollen up and hurting. I told her to look on the bright side – at least she didn't eat it. To call this summer memorable would be a gross understatement. Enjoy the pics.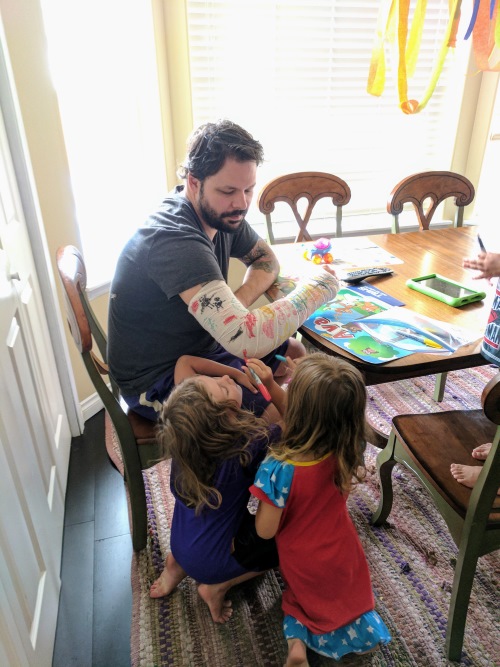 Getting some new ink on my splint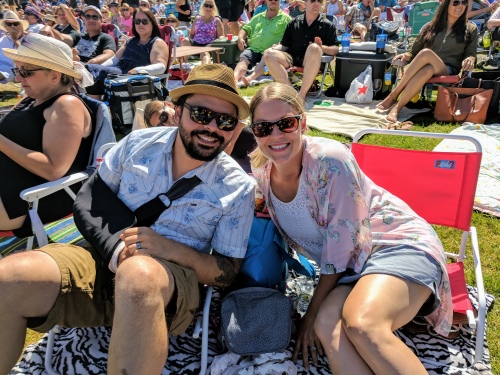 Jessica and I spending my birthday at the Wine Country Blues Festival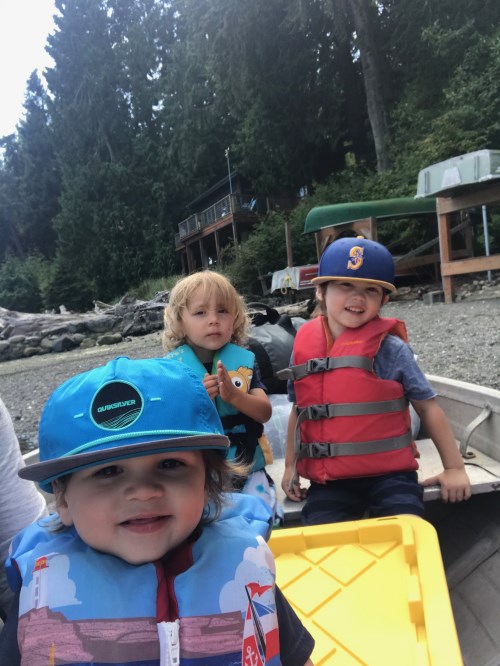 The boys!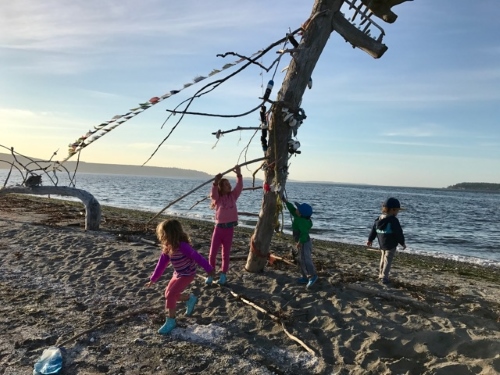 Visiting our friend the dragon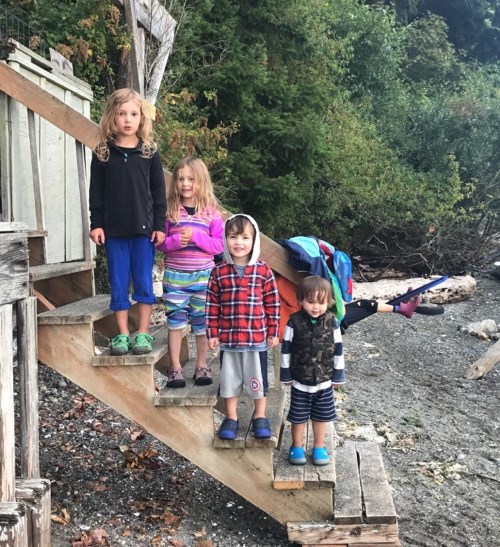 Ava, Elise, Ronan, and Finn. That's Ronan's flannel I was using for protection from that bat!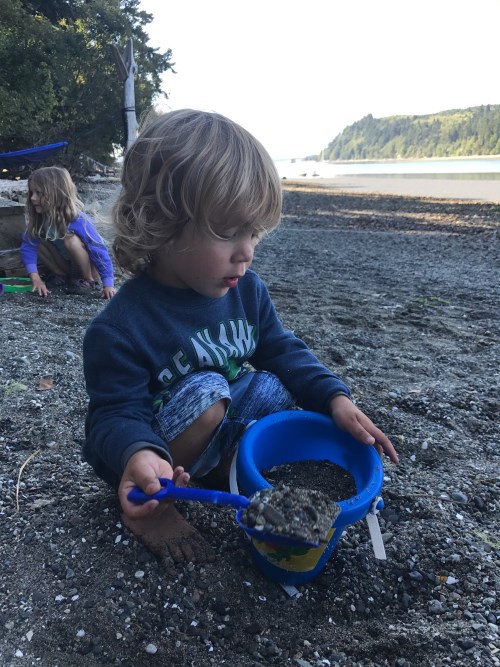 Our little digger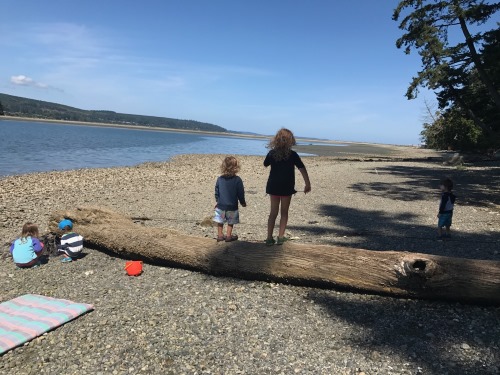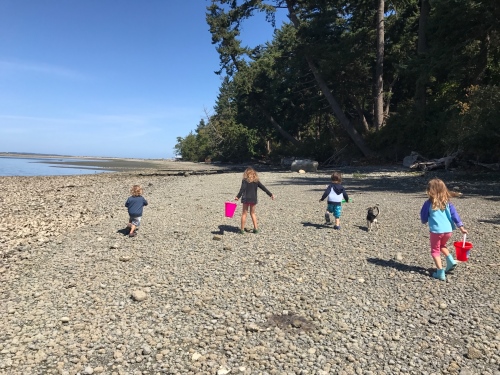 Beach fun. I forgot to mention that their dog Sully was there with us.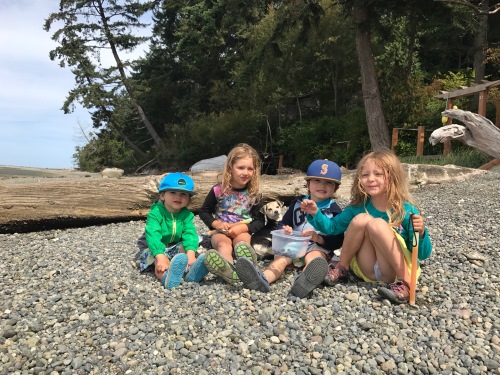 Enjoying some blueberries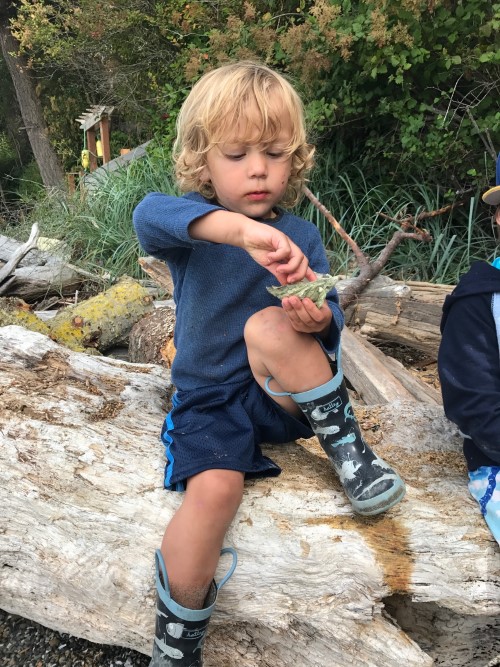 Enzo likes playing with oysters more than eating them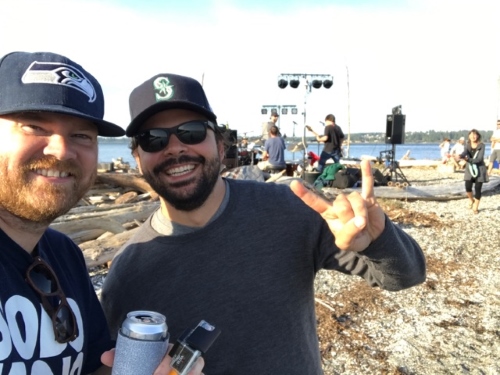 Josh and I at the party. You can see the band behind us.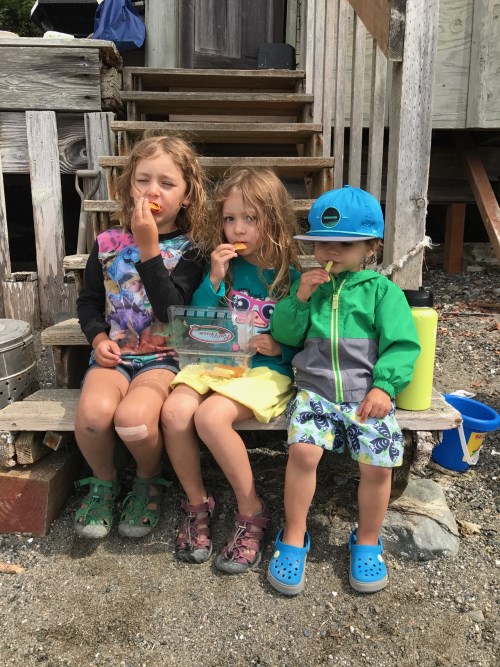 More snacks by the beach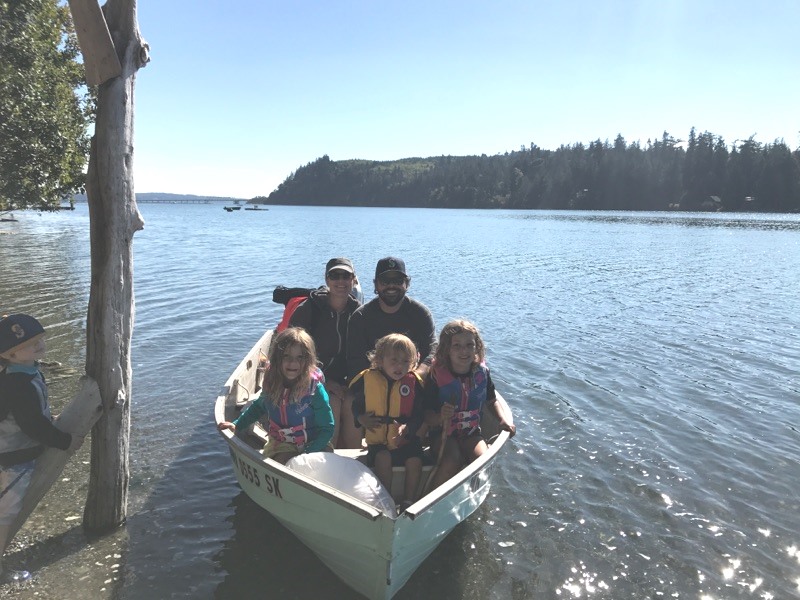 Getting ready to head home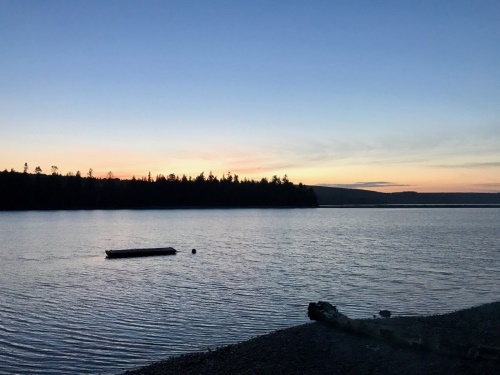 Our nightly view to the northwest