To say that we've been busy would be an understatement. Every weekend for the past several weeks has been filled with some kind of special activity, and the weekdays are flying by with both Michael and I working. My schedule seems to be hit or miss with full weeks off at a time but I don't mind it at all. We found a night nanny that I think will prove to be a perfect fit as needed. She has only come over to the house twice now but it seems to be working out great for Michael and the girls when I am at work. It just makes me feel good to know that everyone is happy and taken care of when I'm away and Michael has time to get work done.
I have finally finished my alphabet project for Elise. You can see a picture of the final piece below hanging above Elise's crib. The final motivation to finish was an at home photo shoot of her with one of our good friends. I really wanted to make sure that it was complete just in case we had it pictured in the background. I never expected it to take this long to complete but I am so thankful to everyone that helped with a letter. I love the final product and I know that Elise will too. I can already say that she loves to lay in bed and stare at it.
We were able to celebrate the Halloween season more this year than ever before. We started out with a visit to Remlinger Farm with some family members at the beginning of the month. Then, my Friend, Laurel and I took the girls out to Two Brothers Pumpkin Patch to run around the pumpkin field and purchase our pumpkins. It was a week day outing and we had the entire place to ourselves. They even had an honor pay system so there wasn't even any employees. It was kind of cool to just poke around the place, I'm not sure if I have ever actually been out in a pumpkin field before. The weekend before Halloween we got the girls dressed up in costumes and headed to the Woodland Park Zoo for Pumpkin Bash. Ava was a giraffe and Elise a kitten. They were both adorable. Ava's 2T giraffe costume was hilariously small on her. So much so that we couldn't button most of the snaps and it was about 2 inches too short on her. She did not care one bit and paraded around the zoo making people laugh. We let her take the lead and just followed her around, we didn't manage to see very many animals but we had a great time.
On the afternoon of Halloween we visited Michael at work for the first time. Amazon allows all family to come in and visit and everyone has candy or treats to hand out. It was cool to finally see where Michael spends all of his time away from us. We didn't see too many other trick or treaters because we came a little earlier than most families but we didn't let that stop us from enjoying ourselves. Ava was content to walk around the offices and she loved running around out on the roof top of the building. She was not a big fan of trick or treating itself. I made her a new costume since the giraffe was so small, she went dressed up as a fortune teller complete with her own set of tarot cards. The idea was that since she likes to carry things around, especially paper, that she could hand out fortunes to everyone. She, however, was not up for the fun. She was much too intimidated by all the new people and didn't enjoy visiting each office. Instead we made laps around the floor and stopped by different offices for quick intros and hellos before rushing off to avoid a meltdown. All in all it was a fun afternoon and I'm sure that as they get older both Ava and Elise will look forward to trick or treating at Daddy's work.
Halloween night at home was our only disappointment for the season. I bought 3 large bags of candy in anticipation of all the little visitors we would likely have that night. We did not have one single trick or treater. NOT ONE SINGLE KID. I was crushed. For two years in a row now I have looked forward to having dozens of cute little visitors come take candy from us and for two years in a row now I have been let down. Ugh. We have so many young neighbors that I was sure this year would be different. I guess no one goes door to door anymore. I'm still baffled. I will definitely have to plan on a different event for the night of next year.
Friday night, Elise and I met up with a big group of family members to help celebrate Auntie Carol's birthday. She opted for a bowling party this year so we all met up at Tech City Bowl in Kirkland. Michael had a ton of homework to get done so he and Ava stayed home. As always, it was nice to see everyone. It was a bit different for me than usual since I didn't have Ava to run after. Elise spent most of the time asleep in her car seat so I was actually able to have some nice conversation with everyone. My bowling game was a complete embarrassment, I didn't even break 100. It's to be expected honestly, I have always been an awful bowler. I remember getting so frustrated at my Dad as a kid when he would try to help me throw the ball straight.
Last night we had a couple friends and their 4 month old son over for dinner. I had not met their little guy yet and they had never seen Elise so it was nice to get to reconnect with them. It's so much easier to have people over to the house as apposed to going out. Aside from having to do the dishes its a perfect, family friendly night. We were lucky enough to have some pics taken of Elise as well. We will make sure to post some once we get them back. She has been changing so much. She has started laughing a lot more often and loves when I tickle her face with the ends of my hair. It's adorable and melts a little bit of your heart each time you hear it. I have been trying to capture a voice recording of it and I swear she can tell when I click the record button and stops making any sound. I love the sound of baby giggles and the first few months of giggles have a softer, sweeter sound than the more developed sound that follows.
We are getting ready for Ava's 2nd birthday. Since her birthday falls at the end of November it is likely that many years we will celebrate both her birthday and Thanksgiving on the same day. This year Thanksgiving is pretty late so we have the opportunity to celebrate the weekend before. It's nice to have a little something to look forward to before we get into full blown holiday mode.
Today, today we are relaxing at home as a family. It's our favorite Sunday pastime.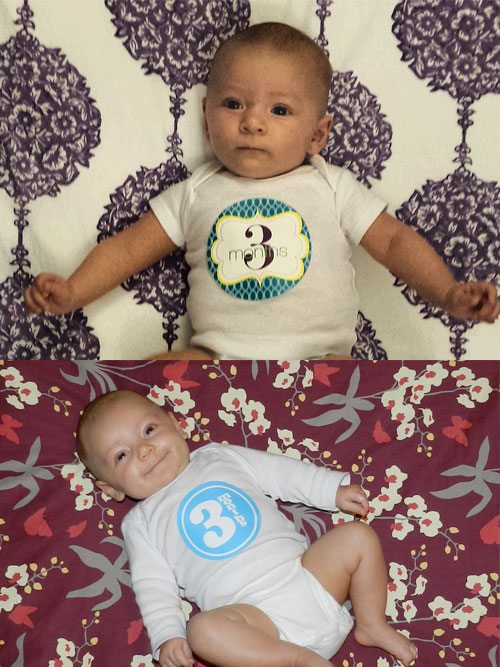 3 month comparison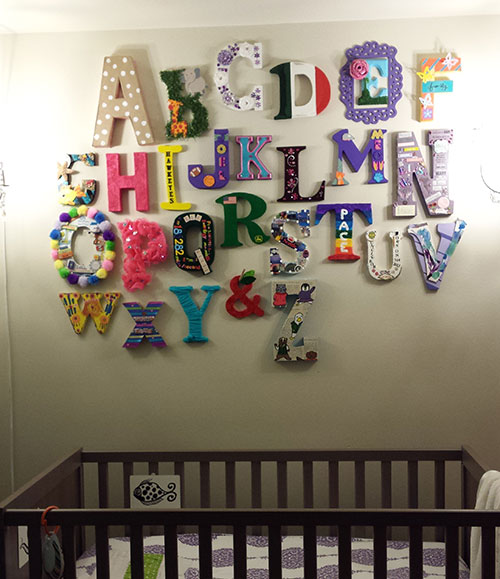 Elise's Alphabet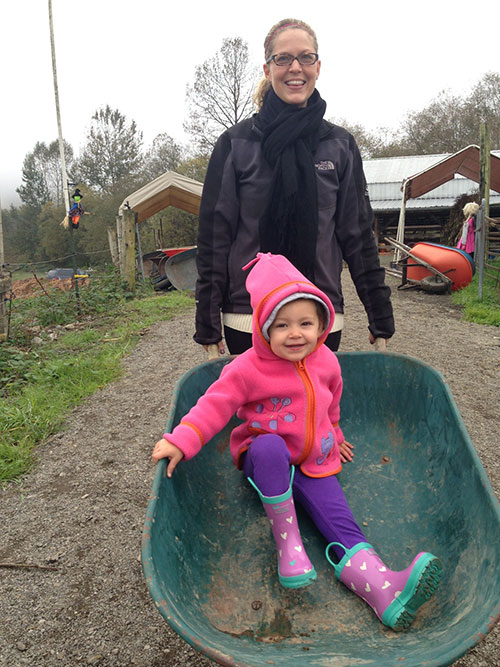 At the pumpkin patch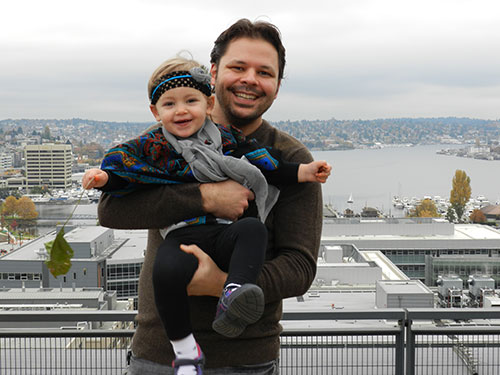 Halloween on the rooftop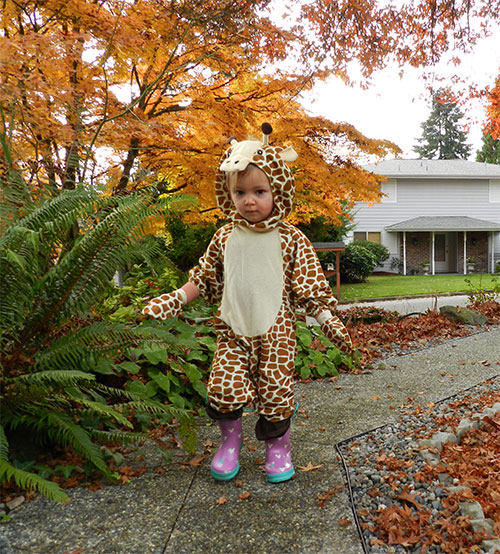 Our little giraffe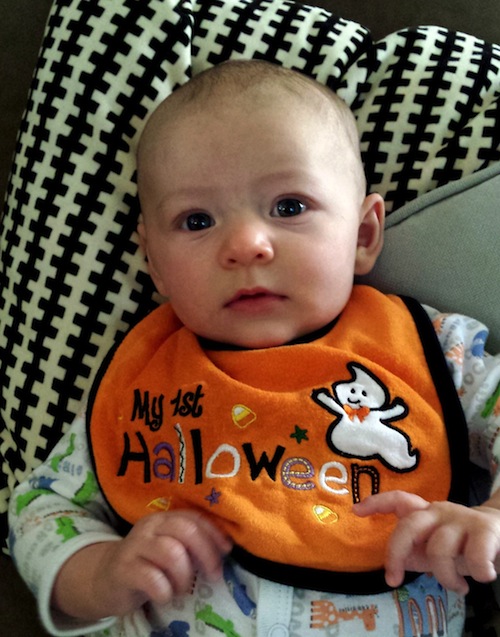 Elise's 1st Halloween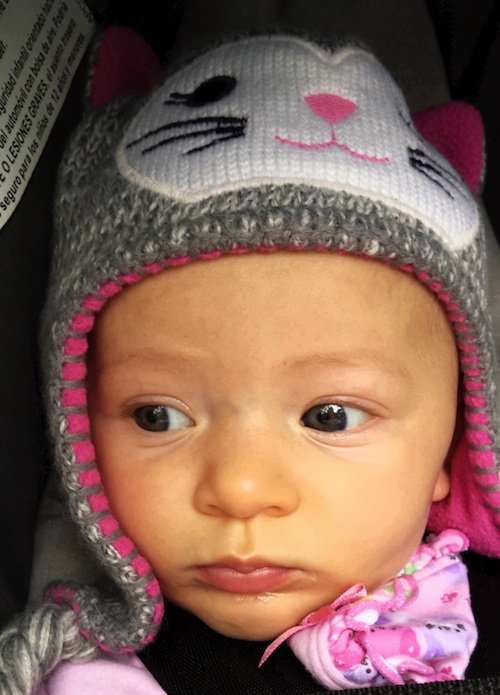 Our little kitty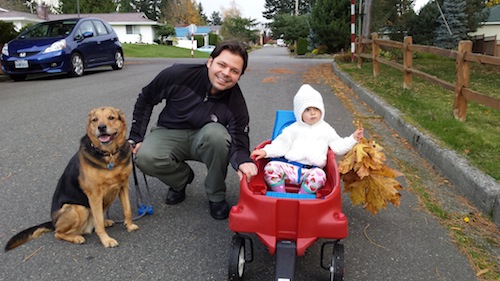 Collecting leaves on a walk