Well, it was bound to happen. We've been incredibly lucky over the past 4 years in the sense that none of our kids have ever really been sick or injured. I don't want to make this out to be some type of serious injury, because it's definitely not, but it did require a trip to the emergency room, along with 3 stitches, and of course it happened on the only Saturday of the year that I'm away from my family.
Saturday a couple of my co-workers and I attended a web development conference in Seattle. There was a little chaos before the event started because everyone was told that the event was taking place in South Lake Union, but then when we arrived it turned out that it was actually taking place in the heart of downtown, near Benaroya Hall. So we had to scramble to get downtown and find parking. 5 minutes after the conference started I get a phone call from Jessica. It seemed odd that she would be calling me at that time since she knew I was at a conference, but I answered.
Long story short, Jessica and the kids were at the gym with our friend Solana and her two boys. They do this regularly because the gym provides childcare to members while they're working out. The kids always love going there. I don't know exactly what happened but the gist of it is that Ava was dancing, she was on a hard surface, and she fell and hit her chin on that hard surface. The cut was pretty deep and they weren't able to stop the bleeding with a band aid, so they found Jessica to see what she wanted to do.
Apparently Ava was totally fine throughout this whole experience, which doesn't surprise me one bit. She constantly impresses me with her toughness and this ended up being just another example of that. She was wearing Enzo's new Russell Wilson jersey because it's much too big for him to wear right now, and amazingly she didn't get a single drop of blood on it.
Anyway Jessica explained to me what was going on and of course I offered to leave the conference and come home, but she convinced me to stay put for now. She just wanted me to know what was going on, but had control of everything on her own. She took the kids to Swedish Hospital Mill Creek and was shown into a room immediately. I guess when a single mom comes in with 3 young kids she tends to get a little preferential treatment. I'll always remember that hospital because that's where Jessica had the ultrasound when we found out we were having our little Enzo. I remember the technician saying "I'm pretty sure it's a boy", then after a long silent pause I replied "How sure are you?".
According to Jessica, Ava did amazingly well the whole time. The only time she got a little freaked out was when the (male) doctor got right up in her face to look at the cut in her chin. She has always been leery of strange men, which is totally fine with me, and didn't care much for him invading her personal space. She ended up getting 3 dissolvable stitches and a special band aid. I spoke to them on speaker phone once they got in the car to come home and she said "Daddy my owie doesn't hurt anymore!"
After all that excitement Jessica thought it would be best to just go home and relax for the rest of the day. I got home from the conference around 5:00 with a special box of 'Frozen' band aids. They were such a hit that Elise eventually decided to wear one of her own (see photo below). By the next day Ava was completely back to normal, so it was all no big deal. Jess and I agreed that it was best that it happened to Ava, since she's the oldest and most likely the toughest at this point in time. Again I'm just so proud of her for being so tough and so good throughout the entire experience. It's ironic that all this would take place the one time I'm away doing my own thing, but of course Jessica rocked it and took care of everything perfectly well.
We're getting excited about our upcoming trip to Alaska and Canada. It's still 3 months away, but we've been talking about it regularly. I spoke to my Mom yesterday and she said we've got side-by-side balcony cabins with a private door connecting them, meaning the kids can run back and forth between the two. That's going to be really nice because it means all 5 of us won't be crammed into a single room. We're looking forward to seeing whales and icebergs, as well as doing some fun shore excursions like dog sledding. We've been watching that show Gold Rush lately, so maybe we'll even pan for some gold.
Speaking of upcoming trips, we recently made plans to go back to Iowa for Christmas this year. Rick and Chris were quite generous in offering to fly us out, and after talking about it over dinner, we decided to go for it. I know traveling with the kids during Christmas won't be easy, but it's worth it. We had a great time in Iowa last month and already when I think back about that trip I don't think about our travel difficulties, I think about the great time we had with family and friends. Plus we'll be staying for a week so our travel days will be spaced out a bit.
In between these two events we've got my family reunion in Moscow, Idaho in July, so there's already a lot to look forward to. We've also got some work planned for the house this year, including a new front porch and new carpet upstairs. Just like that our year is basically planned out, and we haven't even made it through February yet.
Jessica and I recently worked Valentine's Day weekend together in the Pampas Room at El Gaucho. We worked all 3 nights (Fri-Sun) and by the end of it I was exhausted. I haven't done a string of consecutive bartending shifts like that in a long time and it wasn't easy. I have to be honest, I was pretty happy to come back to my desk job on Tuesday. Anyway it was basically the same burlesque show we worked on New Year's Eve, except rather than doing a Prohibition Era theme like before, this time we did a Venetian theme. The employees were all dressed as Gondoliers with black and white striped shirts, red scarfs, and ridiculous hats. I'm not big on themed service, but we had fun. Jessica would have had to work anyway, so I'm glad I got to be there with her. Plus our babysitter worked out extremely well so we're hoping to have her over again soon.
Tomorrow night is Jessica's last night at El Gaucho Seattle. It feels a little crazy because between the two of us we've got many years at that restaurant, but she's transferring to El Gaucho Bellevue, meaning she's staying in the company and will continue to be a part of 'the family'. A bunch of our old friends from Seattle are now working in Bellevue, so I expect her transition to be seamless. She'll be training there on Friday night, then working her normal Wednesday Thursday schedule starting next week.
That's basically it for now. Off to work! Here's a few recent pics of the kids, as well as their silly Gondolier parents.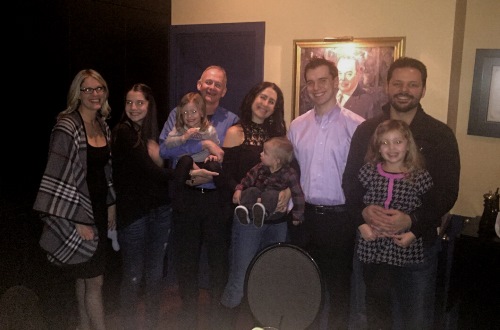 Kallan's 21st Birthday dinner in the 410 Room at El Gaucho

Bartending on Valentine's Day weekend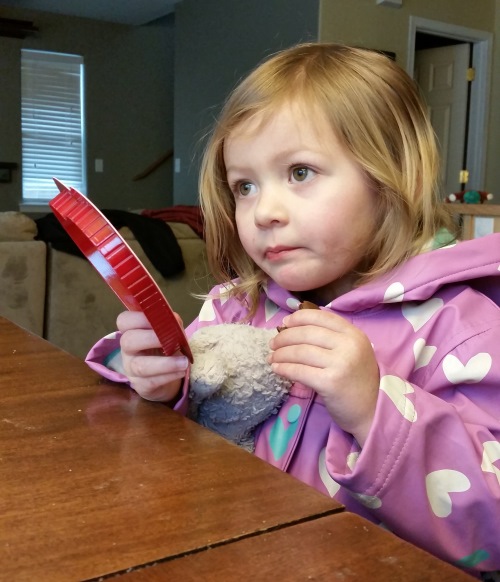 Elise enjoying her Valentine's Day treats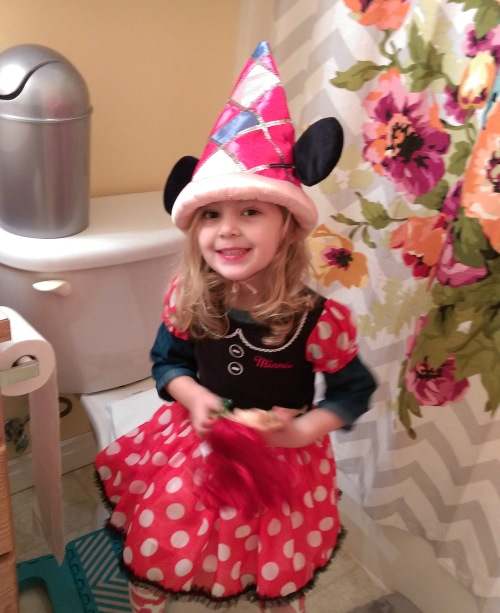 Ava showing her love for Minnie Mouse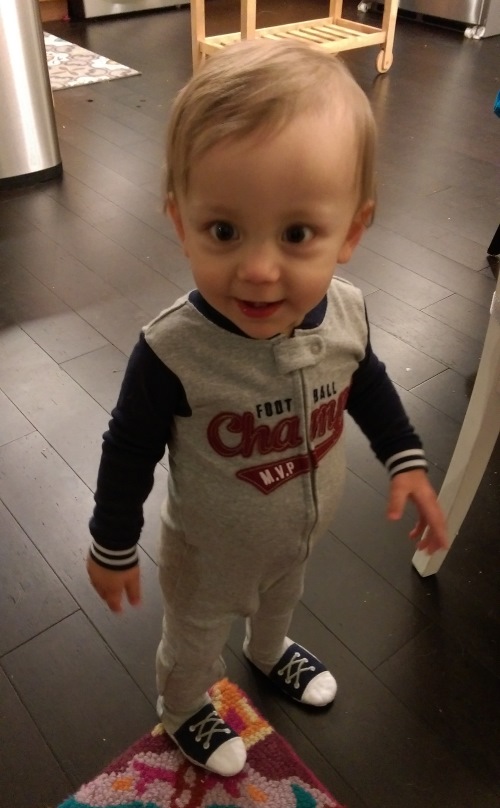 Enzo trying out his new PJ's from Nana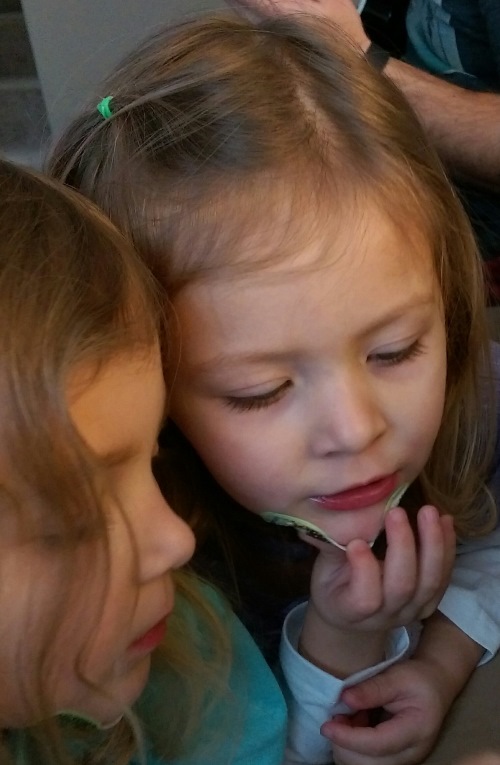 Sister love