Today our sweet baby girl turns a year and a half old! It was only a few days after her first birthday that we moved from San Diego back to Seattle, which means we've now been back for six months. Time has flown by and we've settled in nicely to our new home. More importantly, we're only about 7 weeks away from Elise's due date! Jessica has been busy painting and getting her room ready, and I keep telling Ava that she's about to be a big sister. Very exciting times for us.
We're still getting used to living without Bruno. The house feels so much quieter these days and we talk about him frequently. We both still feel really bad about letting him go and have been checking the website regularly to see if he has found a new home. So far he's still at the shelter but hopefully it won't be long before someone adopts him. I'd by lying if I said I didn't miss him.
I got my motorcycle back this week. Had it shipped from my Mom's house in Vegas and it got here in perfect condition. I just went and got Washington plates for it this morning. Summer is obviously the best time to ride in Washington so I'm glad to have it back. There won't be much time available for joyriding this summer but I'm looking forward to riding it to work. Every time I get on that thing I end up with an ear to ear grin.
We got to visit with my Mom and Denny on Thursday evening. They were in town for the annual Card Player Cruises trip to Alaska. My Mom hadn't seen our new house yet so we all had dinner at El Gaucho, then Mom, Ava and I came back to the house so they could hang out for a while. She'll be back on Friday to spend the weekend with us, but unfortunately I have to fly to Phoenix that Sunday night for work. I'll still get a couple days with her, but more importantly she has an entire weekend with Ava.
Tonight Jessica and I are meeting our good friends Jodi and Leon for dinner at Rover's. We celebrated Jessica's 30th birthday at Rover's and had one of the best meals of our lives. Its the best French restaurant in Seattle but unfortunately it will be closing in about a month so the chef can move on to open a new place. The Maitre D' is an old friend that I worked at El Gaucho with for years so I'm sure he'll take good care of us tonight. I've always wanted to go to a French restaurant with my friend Leon because he has worked at some of the finest French restaurants in the country and knows so much about the cuisine. Dinners like these don't come around often so we're very excited.
Auntie Dana is going to watch Ava tonight when we go out. Ava loves going over there and Dana is so good with her so its a perfect fit. Our little girl is growing up fast and I think its going to be amplified once Elise arrives. It won't be much longer before we're referring to her age in years rather than months. Here's a few recent pics. Happy 18 months baby girl – we love you so much!!!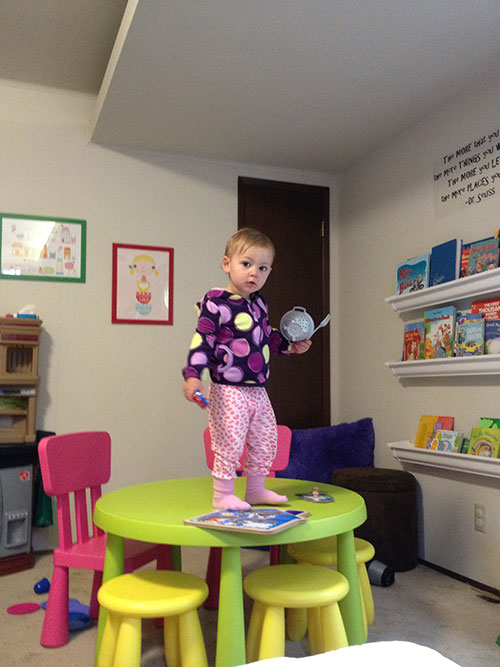 Always climbing up on something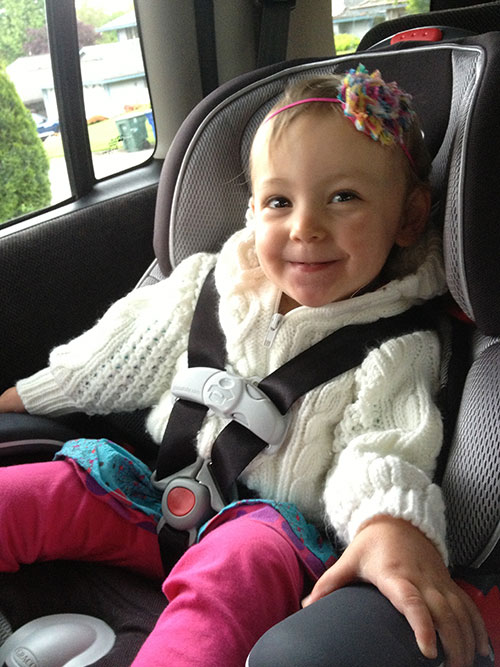 Getting ready to go see Nana