This week marks a new chapter for our family, as Ava, our oldest, begins her kindergarten year at Penny Creek Elementary. It's funny to me that exactly 20 years ago, Jessica and I were beginning our senior year in high school, and now all these years later things have basically come full circle, with Ava, followed by Elise and Enzo, beginning that long journey we all know as school. Anyone who knows Ava can imagine how excited she was to get started, but Mom and I couldn't help but have a heavy heart. Obviously it's all part of the process, but seeing your baby go off on her own, even just that little bit, is still tough.
I worked from home on Monday so I could be there to walk with everyone to the bus stop in the morning, as well as be there waiting for her in the afternoon when she returned. The funny thing was that during (or just after) her first lunchtime, Jessica received a phone call from the school principal. The first thing she said was "Don't worry, Ava did nothing wrong" and then proceeded to explain that Ava was having trouble finding her lunch, then eventually did find it because another little girl had mistakenly grabbed it and started eating her apple sauce. Apparently Ava was a bit upset and emotional, and since it was her first day, the principle called Jessica to tell her what happened, assuming Ava would be talking all about it when she got home anyway.
It was no big deal, but memorable, for no other reason than the fact that we received a phone call from the principle on literally the very first day any of our kids went to school. Ava's teacher, Mrs. Johnson, is a family friend who used to be our neighbor before moving away about a year ago. Knowing that she is there looking out for Ava is definitely a weight off our shoulders, and even she felt bad about Ava's first lunch experience, so Jessica received an email from her as well. The best part is, when we asked Ava about it that evening, she barely even mentioned it. It was like "Oh yeah, some girl ate my apple sauce" and then she would proceed to tell us about riding the bus or going to recess.
Having a child in school full-time now definitely has an effect on our family schedule, and I love the fact that Ava is going to quickly understand 'the weekend'. With Elise going to pre-school for 3 hours on Tuesdays and Thursdays, it makes for a lot of shuffling for Jessica, and one can assume it will only increase over time. Good thing being Mom is her full-time job now because there's a lot to keep up with. I also love the fact that Jessica and Enzo will be getting a lot of quality time together while the girls are in school. Plus that's only going to increase once Elise enters Kindergarten next Fall.
We're so proud of Ava, and as expected, she is already loving school. After her first day she proclaimed "It was the greatest day ever!" Though she hasn't yet been in school for even one week, it seems to us like she is already starting to grow and mature. Just in the way she talks about people and things. Maybe we're fabricating it a bit, but the truth is she is going to grow so much this year, and it's going to be exciting to watch. Same for Elise and Enzo of course, it's just different when you throw full-time school into the equation, especially for the first time.
At this point summer is all but officially over. School is back in session, traffic is getting worse, and there's a little chill in the early morning air. Considering the fact that Jessica and I both had surgery this summer, it was memorable, but not in a bad way. We still had a lot of fun throughout this summer, and will look back fondly on it.
We decided to end the season on a high note, so on Labor Day we took the kids to the Evergreen State Fair in Monroe, which is only about 20-25 minutes from our house. It was the last day of the fair, so we showed up right when they opened at 10:00, not knowing that the rides didn't open until 11:00. We ended up hanging out pretty much all day, and didn't get home until 4:00. Each of the kids got to pick out a pair of sunglasses (which was hilarious, see photos below), as well as an unlimited rides wristband. Mom and I shared a handful of tickets so we could go on certain rides with them. There was an entire area of the fair dedicated to small children, so we spent most of our time over there.
We got to see all kinds of different animals, including sheep, a bunch of baby pigs feeding from their mama, cows, llamas, cats, baby chicks, horses, etc. There was plenty of food, some live music, and lots of people, so it was a fun day. On our way out we decided to go on some of the 'big kid' rides with the girls. Jessica took Elise on one of those contraptions that swing side to side like a pendulum, then eventually end up going full-circle. Apparently Elise had to keep her eyes closed as it went up in the air, to keep from getting to scared. Then Ava and I went on one called Area 51, which I always remembers as the Gravitron when I was a kid. It's the one where you're inside a circular room with your back against a vertical seat. The room starts spinning and soon you're pinned to your seat, then eventually the seat rises up a couple feet and you're basically floating in air. I always loved that ride as a kid, and although Ava was a little scared at first, she said later it was her favorite too.
The weekend before going to the fair, Jessica and I left the kids at home with Auntie Dana, and drove out to The Gorge for a concert. We saw Nathaniel Ratlief & The Night Sweats, followed by Kings of Leon. It was a beautiful evening over there, with the perfect sunset coming down just beyond the stage and the Columbia river. We ended up staying at a Motel 6 in Ellensburg so that we could avoid the 3.5 hour drive home after the show. The next morning we had a nice brunch in Ellensburg before heading home. None of it could have happened without the help of Auntie Dana though, which we appreciate very much. It was a nice little end-of-summer getaway for the two of us.
Speaking of good stuff, I recently received the good news from my manager that I had been promoted again at work. It had only been 12 months since my last promotion, so I wasn't expecting it at all. It's hard to believe how well things have been going for me since joining Microsoft 2.5 years ago, but I still find a way to keep a little chip on my shoulder as a means of drive and determination to continue making progress. No matter which level I'm at, I'm always thinking about what I need to do in order to reach the next level. At this point the next level for me is to become a senior software engineer, which is a bigger step than the one I just took. It's hard to believe that I'm now only one step away from a senior role, so I take it seriously and am committed to constant growth and improvement, all the while knowing that it's going to take time. It certainly won't be another 12 months before I'll be making that jump; it might be twice as long, but that's fine. As they say in this industry, by the time you're awarded a new level, you have already been doing the work of that level for some time, so the promotion is really just an acknowledgement of what you've already been doing. So now for me, whenever I'm working on anything, the question I have to keep asking myself is, "How would a senior engineer handle this?"
Okay, enough about work. We've got a nice weekend to look forward to. On Saturday we'll be joined at home by Kristy, Madi, Brenda, and Jim, for a homemade pizza party. They weren't able to make it to Enzo's party back in January, and I've only done pizza once or twice since then, so it's time! I'm excited to make it once again, and expect this batch to be the best yet. I've found making pizza to be more difficult than any other type of cooking I do. Not only do you have to get the dough right, but how you handle the dough (specifically how you roll it) makes a big difference in how the pizza turns out. There are also different ways of doing the sauce, plus plenty of other variables like oven temperature, toppings, etc. It's as much science as it is art, so I feel like I learn something each time I make them.
More importantly than how the pizzas turn out, we're just looking forward to seeing them and hanging out. Then on Sunday Elise begins her running/race series. Recently we asked her if there was an activity she would like to try out, and she said "I want to be on a running team!" So after a little research we were able to sign her up for a series of kids races, the first of which is this Sunday. I can't wait to watch her and cheer her on. I'm sure Ava will be cheering the loudest.
Speaking of activities, we're less than a month away from Ava joining the Hockey 2 class with the Washington Wild. I recently took the girls to the hockey shop to get Ava the remaining gear she needed. Elise also got a pair of hockey skates and is starting to show an interest in skating. She's getting more and more comfortable on the ice each time we go, and she's only barely 4 years old, so I'd say she is doing great. Enzo keeps asking if he can go skating as well, so I need to get him out there as soon as possible.
I don't suspect it will be long before I'm back out playing hockey. Physical therapy has been going really well, and this is most likely going to be my final week. I'm actually going to miss it, but I'm excited to get back out with my buddies on the ice. I've been out skating a couple times recently and had no issues. I know it's going to be a little rough the first time I take a fall, but that's just part of it, so I can't worry about it. My arm feels good and nearly all of my strength has been regained. I'm going back for a checkup with my surgeon on Monday, so hopefully I'll get good news.
Jessica is continuing to go to physical therapy for her neck, but only once a week at this point. We both go to the same place and work with the same trainers, so it's been fun. She recently had a checkup with her surgeon and he was thrilled with how everything looks. She's healing so well and doing great with physical therapy; it's pretty much been best case scenario throughout this whole ordeal.
Another example of us 'moving on' comes from little Enzo, who has recently graduated from sleeping in a crib, to his own race car bed. After all, what other type of bed would you expect for a boy named Enzo? I'm actually currently reading the biography of Enzo Ferrari (a birthday gift from Kristy), and we just hung the Ferrari flag in Enzo's room, above his bed. I'm sure people will always assume we named him after Enzo Ferrari, but the truth is I started becoming a big Ferrari fan after having a son named Enzo. His name came from an E-Trade commercial, but I do always pull for Ferrari when watching Formula 1 races.
We also decided that as much as we loved Enzo's long hair, it was time for a cut. It was constantly getting in his face, so we chopped a good bit off. It looks great on him though and he's still got some curls. The girls also got really cute hair cuts just before starting the school year, so they're all looking good.
As a little celebration present to myself for the promo at work, I recently bought a new electric guitar. It's not brand new, in fact it was built in 1996, but it's a beautiful hand-made guitar from Japan by a company called ESP Guitars. I've always been a big fan of their guitars, but have never owned an actual ESP until now. The closest I came was with my old LTD Jeff Hanneman model, which I gave to my nephew Kallan for his 21st birthday. LTD is ESP's 'affordable' brand of guitars made in South Korea. They're still really nice guitars, and I loved the one I had, but it doesn't quite compare to an actual ESP. I'd been thinking for a while that I wanted a carved top, 24 fret hardtail super strat for a while, which is a little bit like a white buffalo, but that's what I got. It's a gorgeous guitar with a transparent green finish, so I'm calling it Grini (as in Pellegrini). Like all my guitars, each one is destined to go to a family member someday, and this one has Miss Ava's name all over it. I kinda wish the guitar was purple because she loves purple so much, but it is what it is. Unlike Elise and Enzo, who each already have 2 of my electric guitars destined to be theirs someday, Ava only has the pink bass and my acoustic guitar. In other words, nothing quite as fancy as the others, but that all changes with this one. It really is a special instrument, and although I had never played this specific type of guitar before purchasing it online from a music store in Colorado, I fell instantly in love with it as soon as it arrived.
I guess that's about it for now. As usual, we always have a lot to look forward to. In addition to this weekend, we've got Grandpa Rick coming out for a Halloween visit, then we've got Christmas at my Mom's house in Vegas later this year. There aren't too many dull moments in our world, but all is quite well. Enjoy the recent pics.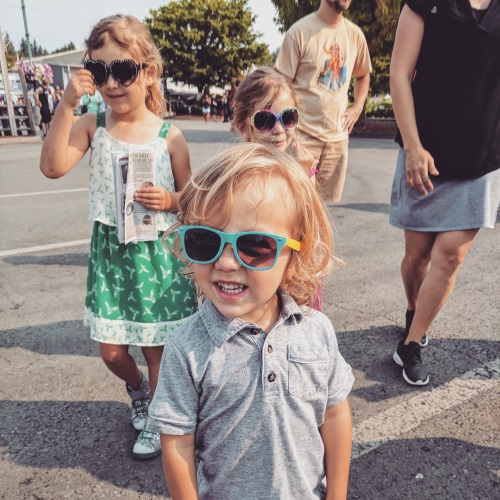 Trying out their new sunglasses at the fair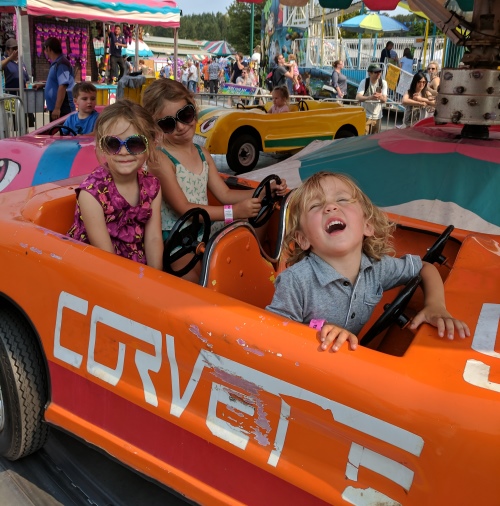 I think it's fair to say he doesn't like their driving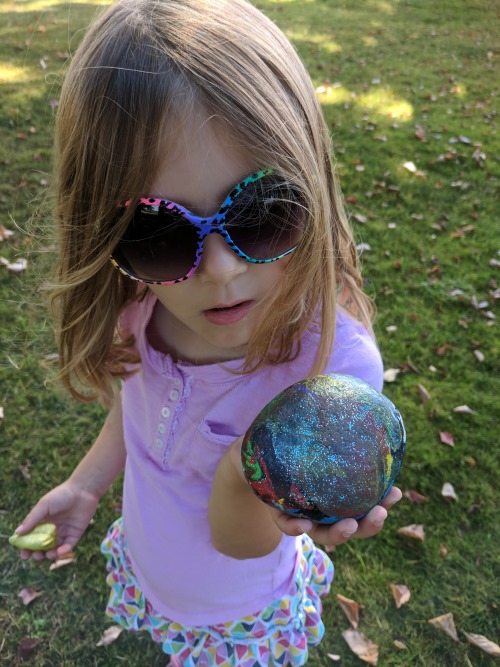 When Elise looked at all the sunglasses, she immediately said "I want the rainbow cheetah glasses!"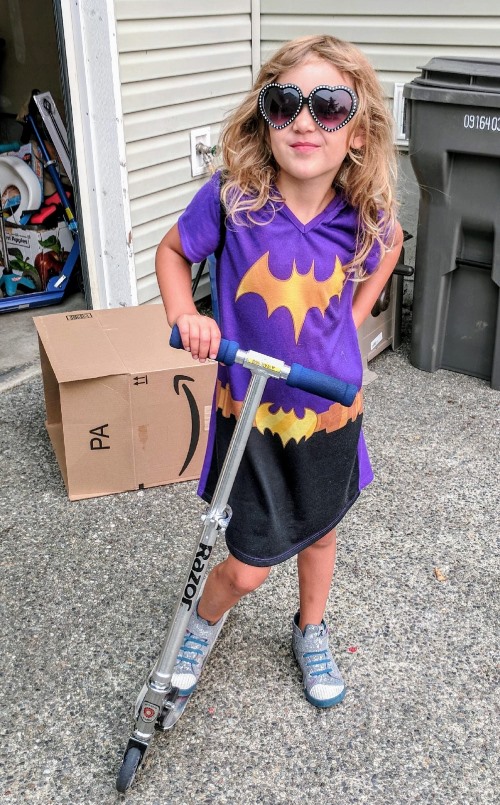 Batgirl, I mean Ava, showing off her new shades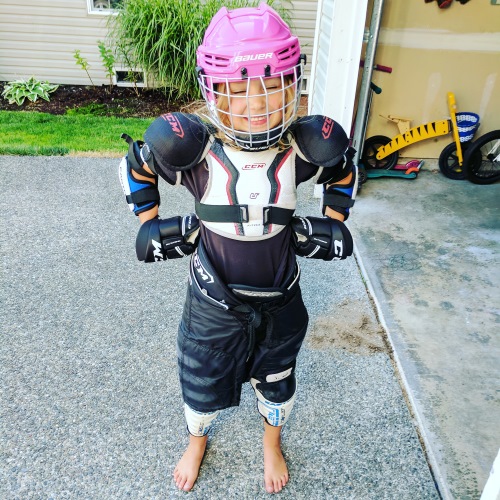 All ready for the upcoming hockey season!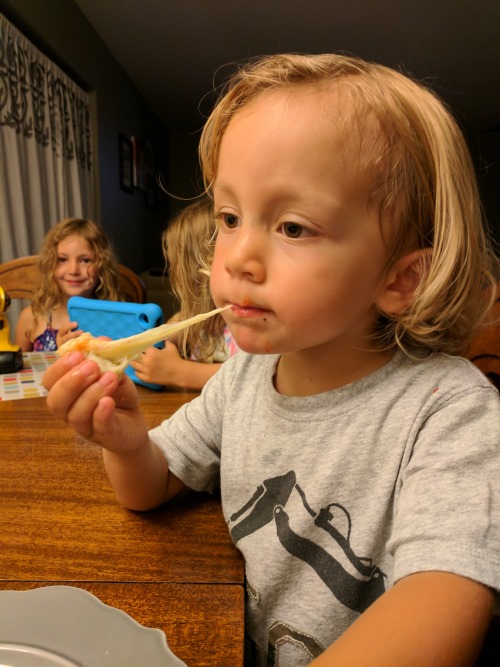 Gotta love that hair… And the pizza cheese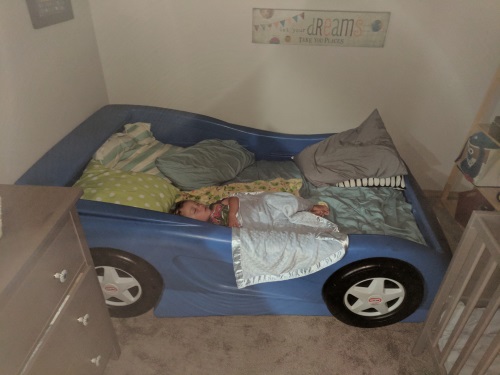 Sleeping in his new race car bed for the first time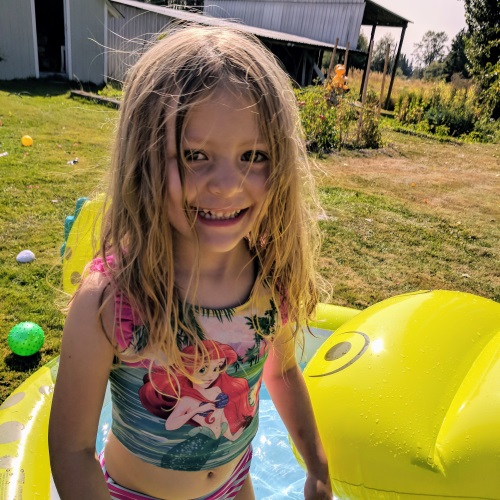 Elise having fun over Labor Day weekend, with our friends the Palmers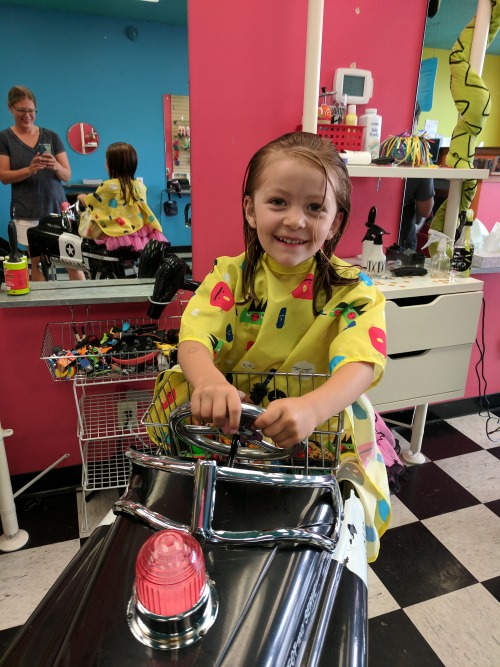 Elise getting her hair cut in the police car chair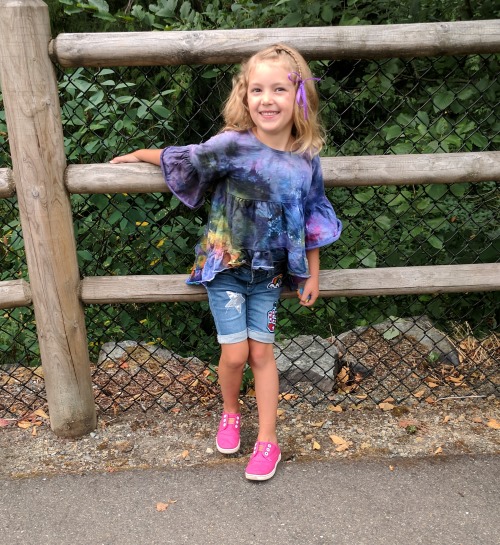 Our little girl is getting so big!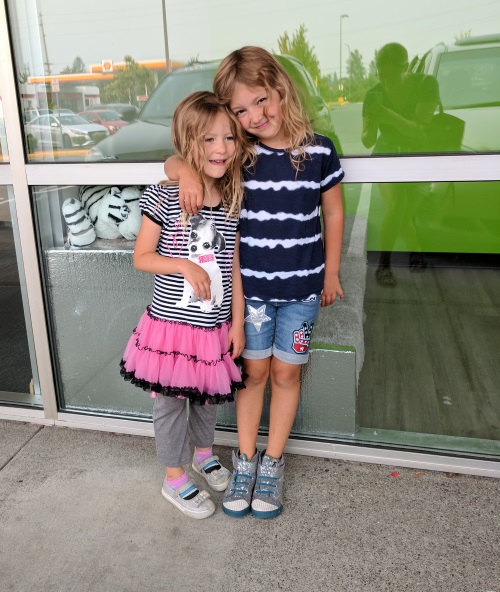 BFF's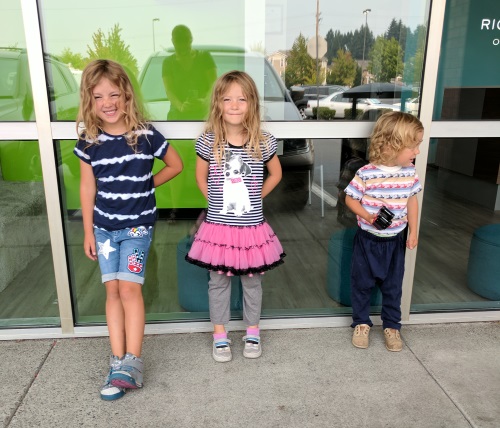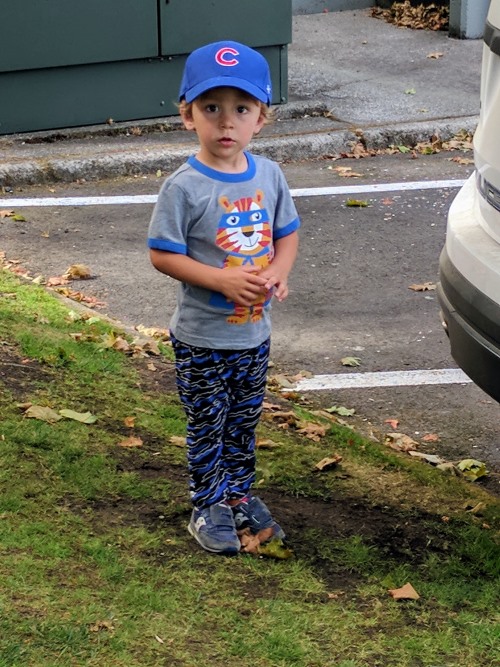 Go Cubs Go! (Not really, but it's cute when he says it)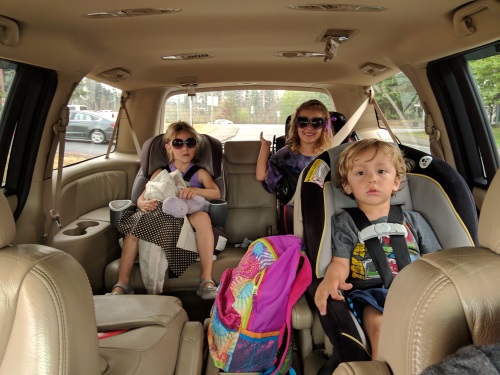 Taking Elise to her first day of pre-school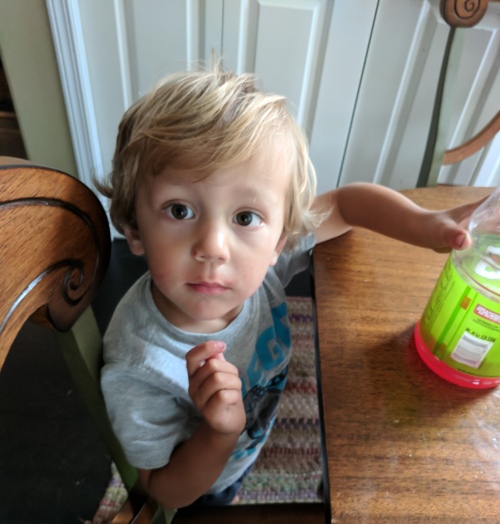 Looking good with his new haircut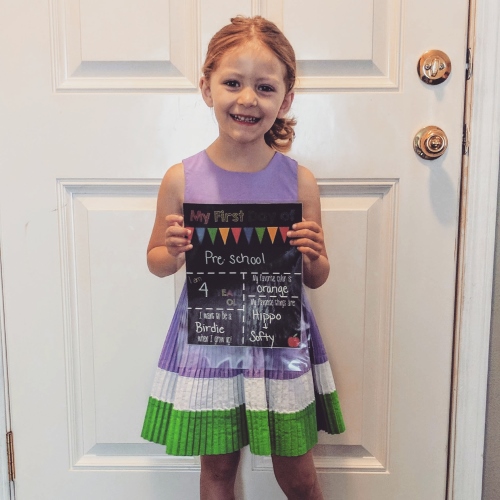 Beautiful sweet Elise on her way to the first day of preschool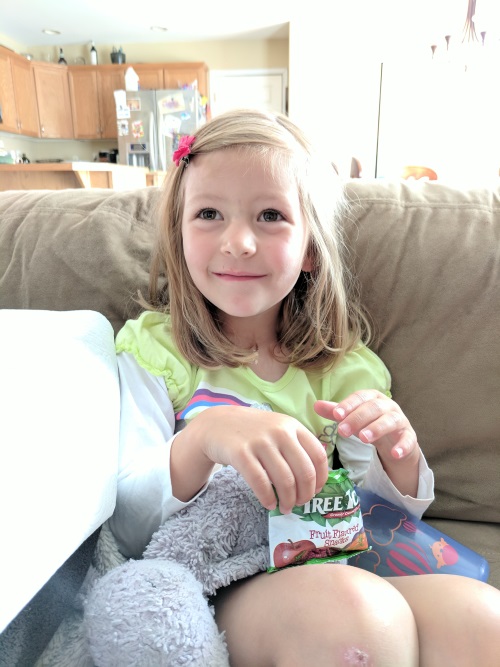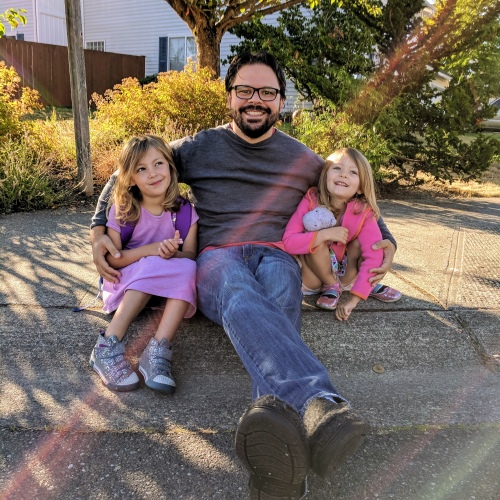 Hanging with my girls before the bus arrives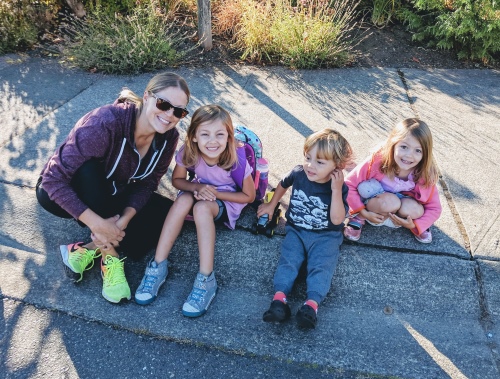 Mommy and the kiddos, waiting for the bus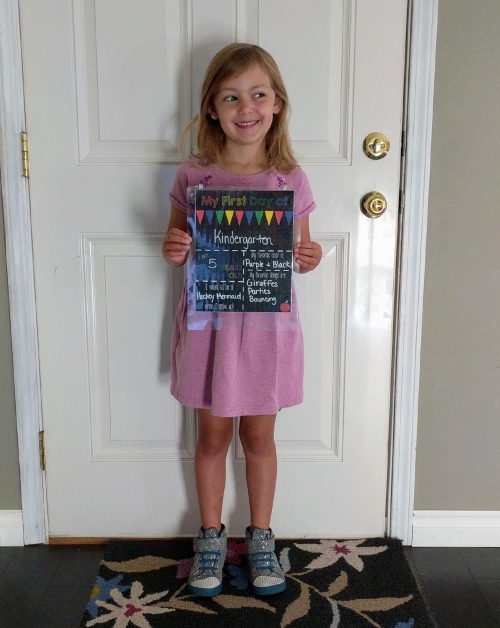 Ready to start Kindergarten! Love you Ava.

Here comes the bus!