Yesterday I took the day off work so Jessica, Elise and I could go to Whidbey Island for Jessica's friend Melissa's wedding. Ava stayed home with Grandma for the weekend but we decided to bring Elise because there are going to be four other newborns at the wedding, three of which are girls whose names start with the letter 'E'. We have Evelyn, Ellie, and Elise, all of whom are less than 6 months old. Pretty funny.
Friday was pretty much the perfect day. For those who aren't familiar with Whidbey Island, you drive north from Seattle for about a half hour to a town called Mukilteo, then you catch a ferry ride about 20 minutes out into the Puget Sound. Whidbey Island is probably most well known for the mussels that come from Penn Cove, which is north in a small town called Coupeville. It's got a nice laid back vibe with beautiful views all around of the water and neighboring islands.
After getting off the ferry we drove a few miles to the center of town on the island. Jessica and I were starving, but so was Elise, and that takes precedence. We walked down to the beach and sat on a picnic table while Elise ate. Once it was our turn to eat we went to a little French bistro we found on Yelp called 'Prima.' The ratings were good so we decided to check it out, and I'm so glad we did because the meal was excellent. We started off with cocktails, snails cooked in garlic butter, and the brochette du jour, which ended up being a beef skewer with grilled onions and a tomato compote. For our main course Jessica had wild prawns with truffle honey and I had a reuben sandwich with fries. We also shared a bowl of Penn Cove mussels cooked in lemon, white wine and shallots. Every single thing we had to eat was delicious! We sat outside so we could enjoy the nice weather and Elise was as perfect as can be. She was awake the whole time but never made a peep. This ended up being the highlight of the day. I would definitely recommend Prima to anyone on Whidbey Island looking for a nice meal with some French flair thrown in.
After lunch we checked into our cottage, which was about 3 miles north from where we had eaten. It's on a section of the Island called Bells Beach, and it's absolutely beautiful. It's a small cottage owned by a local resident that has been remodeled and turned into a bed & breakfast. I took a couple short video clips giving a tour of the place that can be found at the bottom of this post. If you watch the video you'll see that there's a nice mix of old–world charm and modern amenities. You'll also notice the incredible view we have! There's a nice big deck out front, a huge lawn, and our own private tram that takes us down to the beach.
We were pretty tired after getting checked in so the three of us took a nap, then watched a little TV before getting ready for dinner. We went into town to pickup a few groceries and a pizza, then came back to the cottage to eat. After dinner we went up the road about a mile to the house where Melissa, her soon–to–be husband Jaime, and several of their family members were staying. They were having a pretty big party with deserts and drinks so we thought it would be fun to stop by and say hello. As usual, having a baby in your arms at any kind of social situation means you will quickly be engaged in conversations, mostly with mothers asking how old she is and whether or not she's normally awake at this time of night. We weren't there for too long but it was nice seeing everyone. I think the wedding later today is going to be a lot of fun. They seem like a great group of people.
After that we went back to the cottage and finally enjoyed a bottle of champagne that was given to us by Johnny, my old boss from the Tractor Room in San Diego, as a gift when Ava was born. It's a nice bottle that we've been holding onto for a while now so it was good to finally get to enjoy it. We fell asleep watching a movie and had planned to sleep in today, but the bright beautiful view woke everyone up at 8:00 and we decided to stay up. We've got several hours before we head out to the wedding so I think we may take a walk on our private beach. We'll be staying here again tonight then heading home tomorrow after breakfast. I'm hoping to be home by 1:00 to watch the Seahawks game but we'll see how it goes.
We got a couple updates from Grandma yesterday and it sounds like they're having a great time. Ava has been sick for the first time this week so it was hard to leave her, but she seemed almost 100% by the time we left. Earlier in the week she had a fever and stomach ache, which was a first for her, but she toughed it out like a champ. She really is a tough little kid. She takes all kinds of spills at home but always dusts herself off and keeps going. She's definitely a lot tougher than I was as a kid. I'm sure my Mom could attest to that.
Looking forward to a nice afternoon/evening with everyone later today. Although we're only an hour from home it definitely feels like we're on vacation. I love little weekend getaways like this, especially considering how many fun places there are to visit in the vicinity of our home.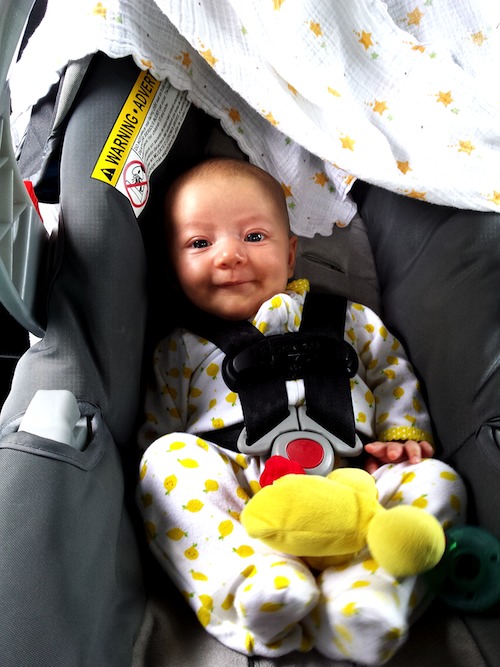 Happy in her car seat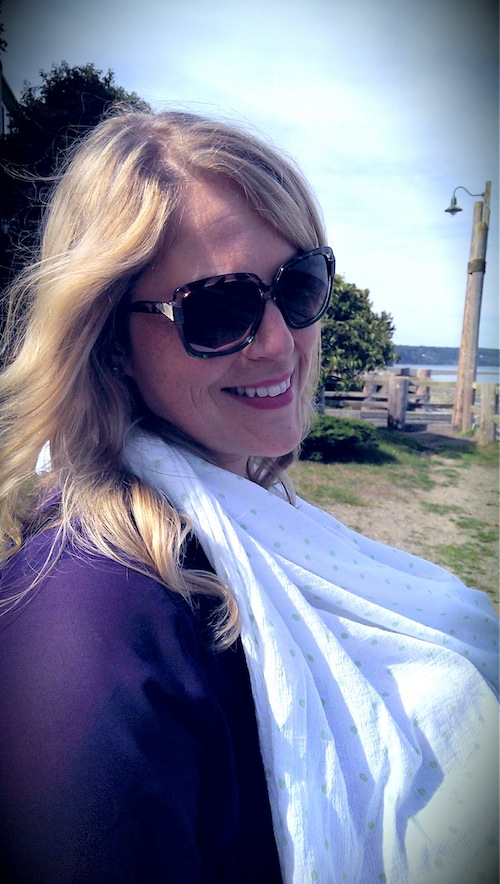 Feeding Elise on the beach
Click here to watch part 1 of the tour of the Bells Beach cottage
Part 2 of our cottage tour