Today was a really special day for all of us. My Dad's sister Norma has always been a big part of my life; she has shown me more love than I can possibly express, she was at the hospital when I was born, and today she finally got to meet Ava and Elise. It was the first time Jessica and I have seen Norma in several years, and it was our first time meeting her husband Wayne. This visit was long overdue, but now that we live only 20 minutes apart we're going to start coming over regularly.
Norma was her classic, energetic self. You can't walk down the halls of Brighton Court with Aunt Norma without stopping to talk to everyone you see. She literally knows everybody; she's on the greeting committee, she's on the food committee, she calls bingo, she's just so genuinely friendly with everyone that it's hard to comprehend. If I only had one word to describe Aunt Norma it would probably have to be 'genuine'. Although her constant sense of positivity may be hard for some to understand, it cannot be doubted or questioned. To me she has always exemplified the sense of family and love.
There was an outdoor carnival going on at Brighton Court so we spent much of our time watching a juggler, getting our palms read, throwing darts at balloons, and smashing whip cream pies into the faces of Brighton Court's finest. Ava couldn't get enough of the juggler and followed her around relentlessly. After the carnival we all went inside and had lunch in the dining room. As expected the girls drew more than their fair share of attention from all the residents. One woman even apologized to Jessica for staring but said that they don't see young children in there very often and couldn't believe how cute the girls were.
On our way home Jessica and I agreed that we need to start doing this regularly. It means so much to Aunt Norma and I love the idea of the girls getting to know her. I'm also really glad we got to meet her husband Wayne. He was a very nice guy with 8 children of his own. He's got over 40 grandchildren and over 40 great-grandchildren, plus he's a musician who enjoys playing the guitar, mandolin, and ukulele. Norma says between his instrument skills and his yodeling skills he's quite a hit at their talent shows.
In other family news, Tom flew home to Colorado today. The RV he and Amy bought is parked out in our cul-de-sac and it's incredible. I've never been in anything like this before and I can't wait to take it on a road trip. Amy is leaving tomorrow morning, which is earlier than expected, because they need to get the RV registered in Colorado before their grace period expires. She's going to drive the RV towards Colorado while Tom drives from Colorado towards Amy. They'll meet somewhere around the half-way point and go the rest of the way home together. Soon they'll be driving it to their cabin in Ontario, Canada and back; not a bad way to break that baby in.
As usual Amy and Tom were so helpful to us during their stay. Between the help we've gotten from them, and from Rick a couple weeks ago, our house has really turned into our home. The common theme everywhere has been increasing storage and making more efficient use of spaces. I've learned so much since moving here about doing work around the house. I've still got a lot to learn but so far its been a lot of fun.
We recently found out that Joel and Melanie will be coming out for a visit in September, and we're also booked for a trip to Vegas on Halloween to spend my Mom's birthday with her, so there's definitely a lot to look forward to. Here are a few photos from our visit with Norma and Wayne today, as well as Elise's 12-month photo.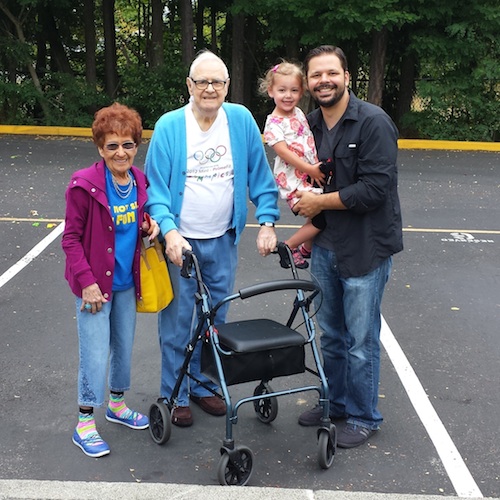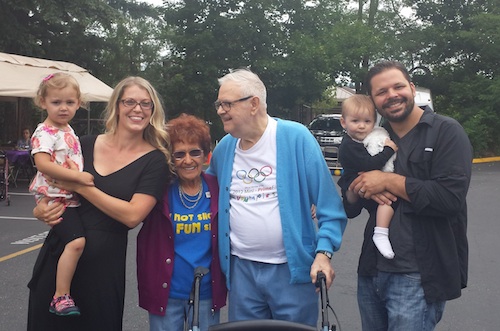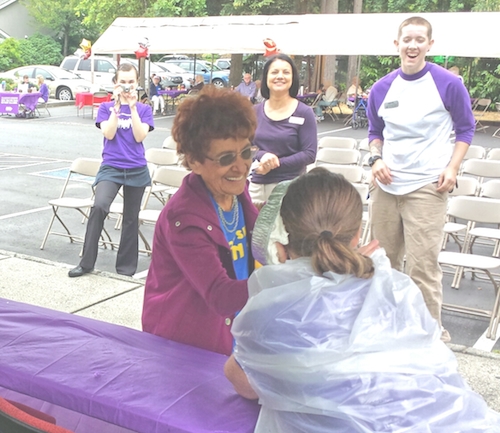 Norma having fun with the pies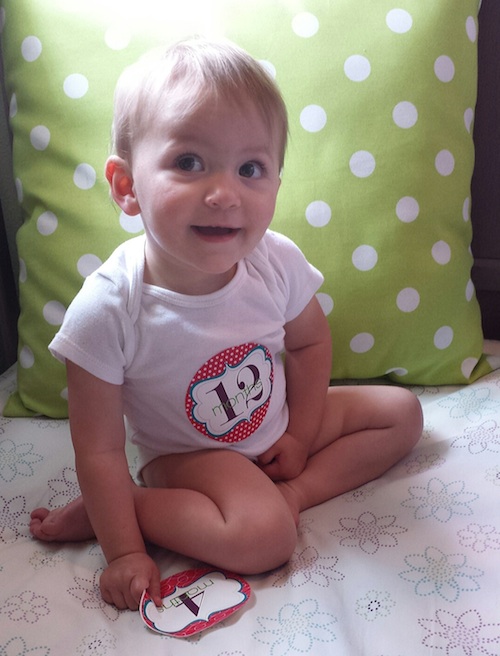 Our sweet Elise at 12 months