Wednesday night the four of us returned home after a great visit with Nana, Uncle Bob, Aunt Sandy, and Uncle Terry in Las Vegas. Not only was it great to get so much quality time with family, but we also had a lot of fun seeing some old friends; plus it didn't hurt that the weather was so nice. We flew out of the Bellingham airport, which is about 75 miles north of where we live. Although the drive to the Bellingham airport is technically further than it would be to SeaTac, there is no doubt that this was the better way to go. Rather than fight the traffic going through Seattle, as well as fight the crowds at SeaTac airport, we instead were able to have a nice leisurely drive with no traffic, and no airport crowds to deal with whatsoever in Bellingham.
The flight to Vegas was unexpectedly rough however. I say unexpectedly because we honestly expected Ava to have a harder time than Elise, but it turned out to be the opposite. Ava was an absolute dream, but Elise was in rare form, which included lots of screaming and violently throwing herself around. At one point I just took her to the bathroom to let her cry it out. It was all because she was so tired, and luckily after about 15 minutes she fell asleep in my arms, meaning we were then able to get back in our seat. Shortly thereafter I also fell asleep, and apparently everyone who passed by couldn't help but comment on how cute the sleeping Dad and daughter combination were. When we awoke I was given a business card by a friendly Hippie offering to text me the photo he took of us sleeping.
Once we landed we moved onto our next struggle, which was gathering all of our stuff and finding my Uncles, whom were there to pick us up. Traveling with two small children means traveling with a ton of stuff. Two car seats, a stroller, two carryon bags, two checked bags, etc. Obviously I'm not going to let Jessica carry anything, which means I quickly found myself lugging all our stuff around as we looked for Bob and Terry. It definitely took me back to the Europe trip my Mom and I took in the Summer of 2001, when I was constantly running through train stations with more bag weight than I could handle. By the time we got to Bob and Terry I was exhausted, as well as overheating due to the fact that I wore a sweater that morning because it was so cold in Washington, yet so warm in Vegas.
From that point on we were home free, although the same couldn't be said for my poor Mom. She and Terry were up practically all night every night that week getting the house ready, and she was exhausted. Not the greatest way to spend her birthday, but if you know my Mom, you know that she won't settle for anything less than an immaculate house. Jessica and I were so impressed with all the work they all did on the house. As it turns out, Terry is quite the painter, and by the end of the trip I had the beginnings of a website, plus a domain name, in order to help him start a small business doing commercial and residential painting in Las Vegas. I'm really proud of everything Terry is doing in Vegas and want to help out in any way I can.
On the night of Halloween, which is my Mom's birthday, we took the girls to the new Downtown Summerlin mall for some trick-or-treating. The mall was quite impressive, as were the variety of costumes and entertainment we found there. While we were away Bob, Sandy and Terry were hard at work at Mom's house setting up a little surprise party. Once we returned we were greeted by decorations, a beautiful (and delicious) cake, and a huge feast of spaghetti, spicy chicken wings, and jalapeño garlic bread put on by Uncle Bob. Between dinner and cake we did the presents and Mom seemed to love everything she got. Jessica and I picked out a sapphire necklace and a pair of matching sapphire earrings online for her, and were quite happy once we saw them in person. Terry had a beautiful set of paintings done for her by a friend that really turned out amazing. Bob went out of his way to put on an outstanding evening that we all enjoyed very much. All in all it was a great (and very full) first day of our trip.
Saturday Jessica and I went grocery shopping, then I spent the afternoon making Cioppino with the 6 pounds of Dungeness crab, 3 pounds of fish, and 5 pounds of assorted shellfish we picked up. That night a few of my old friends came over and had dinner with the rest of us. It was a great night, accentuated by the fact that we didn't even have to leave the house. We pretty much played the rest of the trip by ear and just tried to make sure to get the girls out for at least one fun activity each day. As previously mentioned, the weather was perfect, so we often found ourselves at various nearby parks and play areas.
Monday we took the girls to the strip so Mom could have some quiet time to get her work done. After picking out stuffed animals at the Disney store, we spent the rest of the day taking in the sights and enjoying ourselves. Seeing Ava's expressions of awe and amazement at the various attractions was priceless. Some of the highlights included a carousel at Wynn made entirely of flowers, the gondola's in the canal at the Venetian, and a live opera at the Palazzo. That night Jessica, Terry and I went to the movies to see 'Night Crawler' at the new Summerlin mall. If you've never sat in a luxury recliner at a movie theater you don't know what you're missing. I seriously may never go to a normal movie theater again. Absolutely outstanding!
Our last major outing of the trip was a visit to an old western town just past Red Rocks. I've never seen anything like it. It was a combination of the type of town you'd see at Universal Studios or Knotts Berry Farm, including live shows (and even a hanging 3 times per day), plus a petting zoo. I've never been so up close and personal with so many different animals. Of course the girls loved it, and were completely oblivious to the oddities of their surroundings. It didn't surprise me one bit that they also used the place for haunted tours; it definitely had a bit of a creepy vibe.
I'd say the hardest part about coming home was getting out of my Mom's house. Once Ava realized we were leaving she got really upset. I think she formed a special bond with Nana, Uncle Terry, and Uncle Bob during our trip and she simply did not want to leave them. On one hand that makes you feel really good that she has gotten so close to them, but on the other its tough because you hate to see her so upset. She's been talking about them quite a bit since leaving, so last night we had a phone call with Nana and Uncle Terry just so she could say hi. During that call Elise started saying 'Hi Nana' over and over, and it couldn't have been clearer. She's doing so well with putting words together! The line of the trip for Elise was 'Hi Doggy', which was in reference to the 7 little four-legged friends that were always by her side. It wasn't uncommon for them to get excited and accidentally knock her on her bum, but she always got right back up and kept on having fun.
After the production we had getting to Vegas we were prepared for the worst coming home, but as it turned out everything went quite smoothly. We were given access to the special TSA line at the airport, which made getting through security really easy. Although neither of the girls fell asleep on the flight home, there were no outbursts and we arrived back in Bellingham feeling very relieved. The drive home was also super easy and traffic-free, and as expected, both girls were asleep before we even reached the freeway. On the way home we couldn't stop talking about how easy and convenient it was flying out of Bellingham rather than SeaTac. That being said, it's going to be a while before we fly as a family again. Adding a third child to the mix complicates things exponentially because you can no longer confine yourselves to a single row on the plane. At that point you're getting split up into two different rows (or sides of an aisle), meaning one parent gets one child and the other parent gets the other two kids. No thank you. I hate to say it but I don't see any family flying in our future for the next couple years. We're more than happy to host guests at any time, but getting everyone (and all their necessities) rounded up for a flight is a bit more than we can bare for the near future.
Looks like we're in for a busy weekend, including a birthday party at a friend's house this Saturday for their son, then a visit with Jim, Brenda, Kristy and Madi at their place on Sunday. Monday I'll finally be back in the office, just in time for our busiest time of year. Things are going really well for me at work and it won't be long before I'm conducting another one-hour talk on JavaScript to a room full of software engineers. The difference this time is that rather than talk about someone else's library, I'm going to be teaching them how to use a localization library that I have written. Hopefully it won't be long before all of the fulfillment center applications are using my library to handle language switching. Pretty exciting stuff!
Here are a handful of photos from our trip. It really was a lot of fun.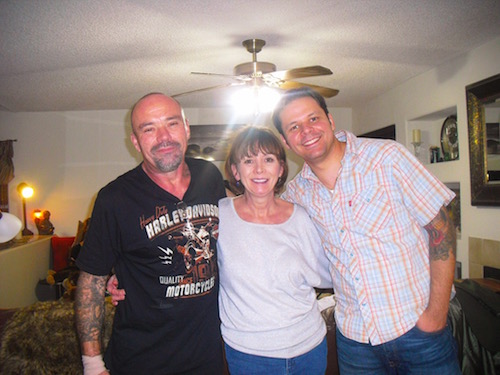 Mom, Terry, and I on her birthday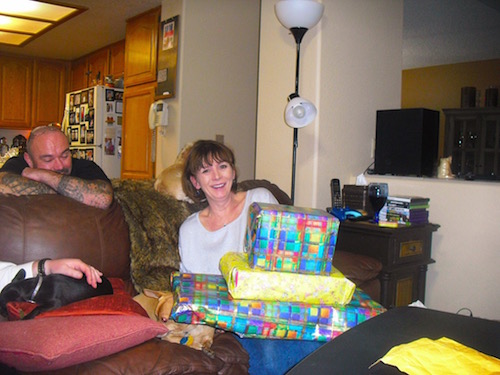 Mom opening presents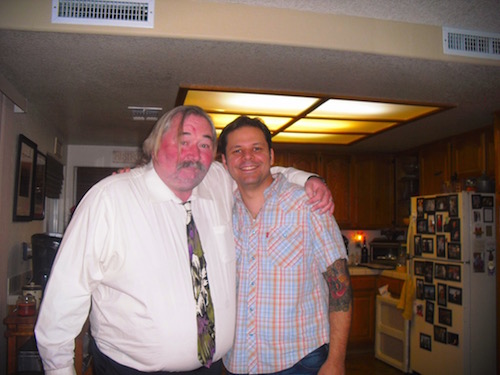 Uncle Bob and me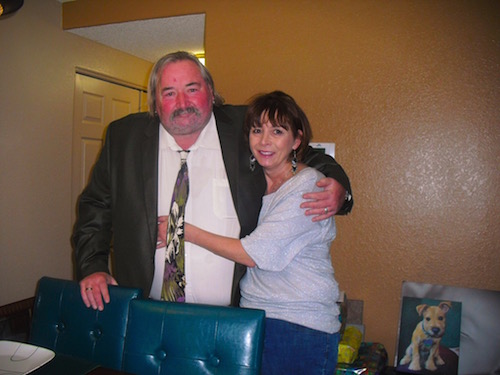 Mom and Uncle Bob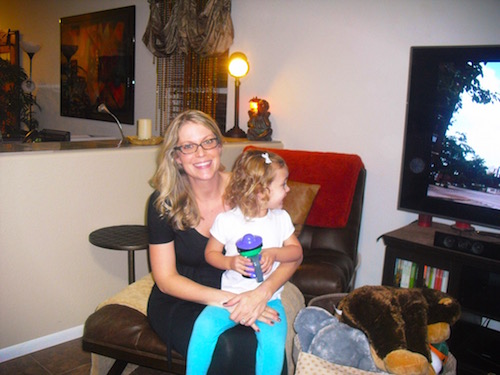 Jessica and Ava watching Nana open presents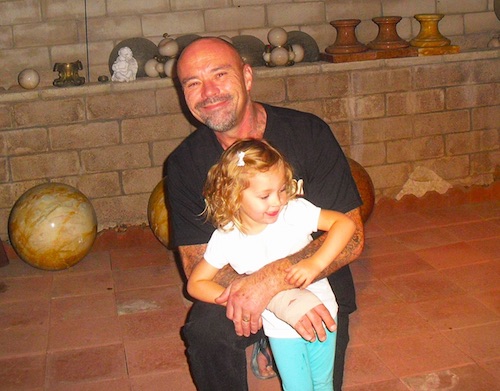 Ava and her new buddy Uncle Terry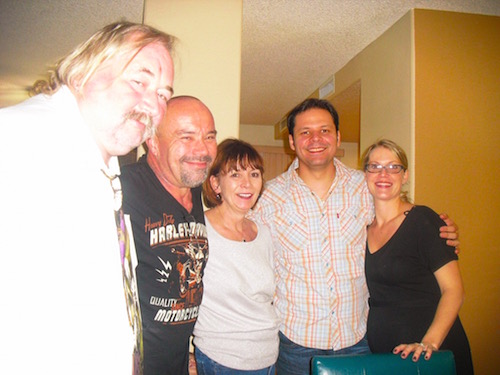 Bob, Terry, Mom, Myself, and Jessica, taken by Sandy

Elise and Nana having fun on Halloween night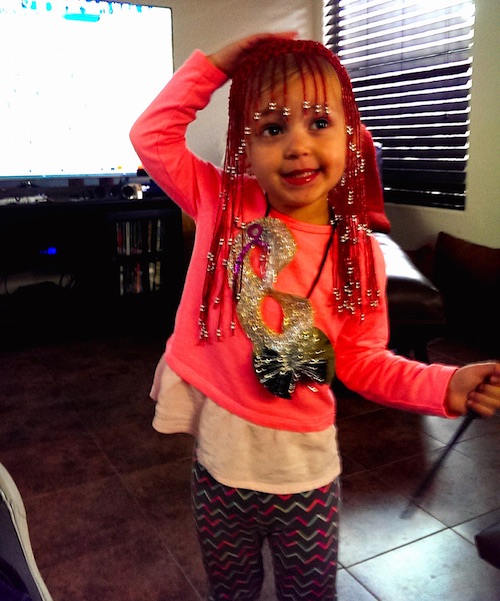 Ava and her funny headdress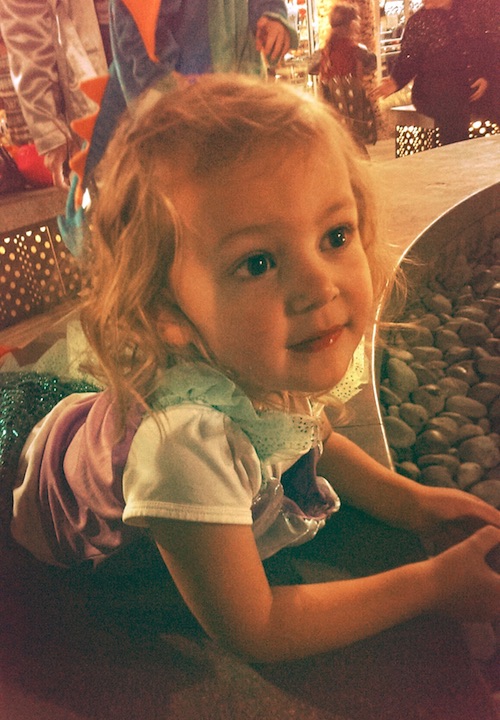 Ava taking it all in on Halloween night