Earlier this week my Mom went home after spending a nice long weekend with us. She arrived last Friday after completing Card Player Cruises' annual trip to Alaska, and stayed with us until Tuesday. This was an especially exciting trip for her, and for us, because it was her first time meeting baby Enzo in person. I vividly remember her meeting Ava for the first time at our little house in Pacific Beach , as well as her first time holding Elise at our house in Bellevue. There was no way I was going to miss this first encounter with Enzo, so I decided to work from home that day, which was a first for me since joining Microsoft in early March.
As usual, Nana arrived with lots of presents in tow for the kids. Some of the highlights included light-up Easter Bunny glasses, new clothes, and best of all, two brand new pink 'Daisy Rock' acoustic guitars for the girls. She found these guitars on a Las Vegas auction website and purchased them from a music store that was going out of business for pennies on the dollar. In all honesty I couldn't believe how nice they were. I was expecting something that was more of a toy, but these are actually really nice guitars. They are scaled down in size in order to be easier for a child to play, and in this case they've got the whole Daisy Rock little girl theme going on. For now we've only taken one out of the box and are keeping the other one wrapped up. Neither of the girls are old enough to take on an instrument quite yet, but I love the idea of keeping this guitar on display and easily accessible for them. It is there for them to play with, so hopefully inspiration will strike sooner than later.
One of my favorite things to do for my Mom while she is in town is cook for her. I know she doesn't take the time to cook nice meals for herself (unless she's having family over for dinner) so it's important to me that she always eats well while visiting us. After finishing up working from home on Friday, Ava and I went to Costco to load up on groceries and supplies, then later that evening I served three grilled filet mignon, grilled vegetables, and a tomato burrata salad. It was a nice way to start off her visit.
The following morning we got ready for soccer, and of course Nana came along to watch Ava play. Unfortunately, however, the class was cancelled because Ava's coach was sick. We didn't know this because we didn't check the website before class (we never do) so we were pretty surprised when we arrived at an empty field. There were several other kids and parents there who also didn't get the memo, so several of us made our way over to the adjacent playground to let the kids have some fun before heading back home.
Upon arriving back at our house I got back to work in the kitchen. I wanted to make my Mom a nice belated Mother's Day brunch, so she, Jessica, and I enjoyed another version of Eggs Benedict. This time I did a crab prosciutto Benedict with homemade hollandaise and hash browns. Pretty similar to what I had made for Jessica the previous weekend, but this dish had crab instead of smoked salmon. After brunch we all got ready for a nice day out and about. We knew we'd be staying home on Sunday, so it made sense to get the kids out for a bit of an adventure on Saturday, plus it was nice to finally be spending a weekend doing something other than yardwork.
We all went down to the Ballard Locks to watch the ships come in and see the water levels change. Nana told the girls stories of doing the same thing on huge ships going through the Panama Canal. We walked all around the gardens, smelled the flowers, and enjoyed ourselves with no real agenda at hand. After that we drove just a bit up the road to Golden Gardens and let the girls play on the playground for a while. Before leaving we took them down to the beach to let them play in the sand and look at the water. By the time we got home everyone was exhausted, which was exactly what we were going for, so the rest of the evening was spent relaxing at home. Since I still had leftover crab and prosciutto from brunch, I used it to make a nice pasta for dinner.
Sunday we stayed home because we had plans with Dana, Brad and Anna. The three of them came over at 2:00 for a nice visit, as well as an early dinner. We watched some basketball and played soccer in the backyard. It's so nice having a usable backyard now, and Bella seems to have adjusted nicely to her kennel, so it's all good. After playing outside with the kids, I got to work making dinner for everybody. While at Costco with Ava, I picked up a nice wild Alaskan King Salmon, so we had that for dinner on Sunday. I tried a new preparation where I seasoned it with salt, pepper, chili powder, and brown sugar, then seared it skin-side down in my cast iron skillet. I deglazed the pan with lemon juice, then added a fair amount of garlic butter before placing the entire skillet in the oven and letting it bake for another 10-12 minutes. I was really happy with how it turned out, but the ultimate compliment came from Anna, who said she normally doesn't like salmon but thought this was delicious.
Monday was Nana's last day in town, so Jessica and I decided to take advantage by going out that evening for sushi. Going out to dinner just amongst ourselves is a pretty rare treat these days, and of course Nana was more than happy to stay home with her grandbabies. We had a really nice meal, and even made a point to stop by a popular neighborhood bar for a quick after-dinner drink. I was sad to see my Mom go home on Tuesday, mainly because her trip went by so quickly, but I'm so glad she was here. I love watching her play with the kids and wish we got a chance to do it more often. It sounds like she will be coming back up in July for Elise's birthday party, so that's definitely something to look forward to.
It's been pretty busy around here for the past several weeks. We've had back-to-back-to-back visitors, so now it's time for some downtime. We don't really have any plans until July, but we need to enjoy it because July is going to be a crazy month. Rick and Chris are coming out for the 4th of July, then right after they leave Amy and Tom will be arriving to help us do new flooring in our house. As soon as we finish all the housework we're going to do a (late) 2nd birthday party for Elise and hopefully have lots of people over. I'm not really looking forward to the flooring project because I know how much work it's going to be, but I also know I'm going to learn a lot and I can't wait to see the finished product.
In other family news, the kids are all doing so well. Enzo is sleeping for longer and longer stretches throughout the night. In fact, just last night he slept from 10:00 pm to 6:45 am, which is easily the best night he has ever had. He's growing so fast and continues to show more and more personality each day. Elise's vocabulary continues to amaze us; her ability to put together sentences is most impressive, and we probably have Ava to thank for that. There is no doubt that Ava wasn't communicating this well at that age, but that's probably because Ava didn't have an older sibling to learn from the way Elise does. Although Ava still has a hard time sharing her toys with Elise, it's obvious how much she loves her little sister. What's equally as obvious is how much Elise looks up to Ava. She copies most of Ava's actions (which is a double-edged sword) and does her absolute best to keep up with her when playing outside with the neighborhood kids.
As for Ava, it looks like June will be her last month going to daycare on Mondays. Considering all the family we'll have in town, it doesn't really make sense keeping her there in July, then come September she (should) be ready for preschool. I say 'should' because we absolutely have to get this potty training thing figured out with her. If we don't she won't be able to start preschool on time. Honestly I never expected it to be this much of an ordeal, but we're just not there yet. During Nana's visit she went about 20 hours between Saturday night and Sunday afternoon without the need of a diaper, and we really thought we had turned the corner, but after Nana left we've had another regression. It's the classic 'two steps forward, one step back' scenario. The weird part about it is that Ava knows exactly when she has to go potty, and when she has gone potty. Her new standard is to come and ask you to change her diaper as soon as she goes (either number 1 or number 2), so we're really trying to get her to tell us before she goes so that we can go sit on the potty. Jessica and I both talk to her constantly about it, and she always says she understands, but as the saying goes – "You can lead a horse to water, but you can't make it drink…" or in this case pee. I know we'll get there soon enough, but I also know how stubborn she can be, so hopefully she will decide for herself that she doesn't want to wear diapers any longer.
Beyond that everything is great. Ava has become good friends with a little girl named Avery who lives two doors down from us. They go outside and ride bikes in our cul-de-sac almost everyday. Ava is still on her balance bike (a bike without pedals) but she's doing so well with it that we're thinking of getting her a real bike this summer. I love watching her cruise up and down the street on that thing, so hopefully the transition to a pedal bike will be a natural one for her. I also love the idea of getting Elise on the balance bike later this summer, but I'm reluctant that this point because Elise struggles with balance more than Ava ever did. I mean that in the kindest way possible, and her lack of gracefulness has certainly become one of her most endearing qualities, but lets just say it's not uncommon for Elise to fall down… a lot. She's constantly fall off chairs, running into doors/walls, tripping over things, etc. The other day she tried crawling into Enzo's vibrating chair, which was on top of the ottoman, and the next thing I know she has tumbled backwards head over heels right into the sliding glass door. She turned out to be fine but it provided a scare for her, as well as for us. I have to hand it to her though, she's a tough cookie just like her sister, and no matter how many times she falls she always gets back up and keeps on going.
This is my first holiday weekend since joining Microsoft, so we're all looking forward to having some nice relaxing downtime together. Today (Saturday) will be our work day, so I'm hoping to get a lot done around the house, then hopefully the rest of the weekend will be pretty laid back. I think we're going to check out a car show in downtown Everett on Monday morning (our first since leaving California), then that evening we'll be joining our neighbors for a barbeque. Here are some recent photos taken during our visit with Nana.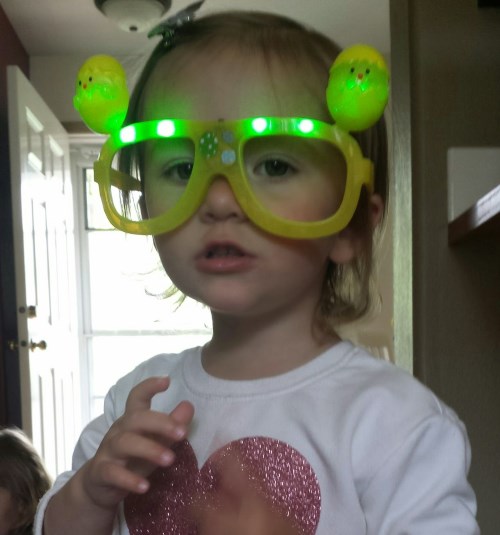 Elise in her Easter Bunny glasses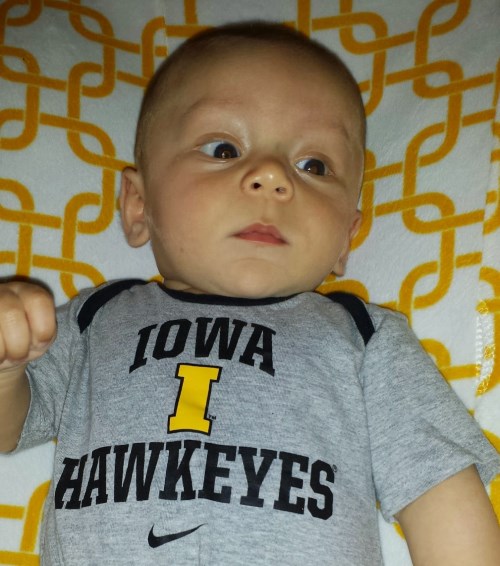 The little Hawkeye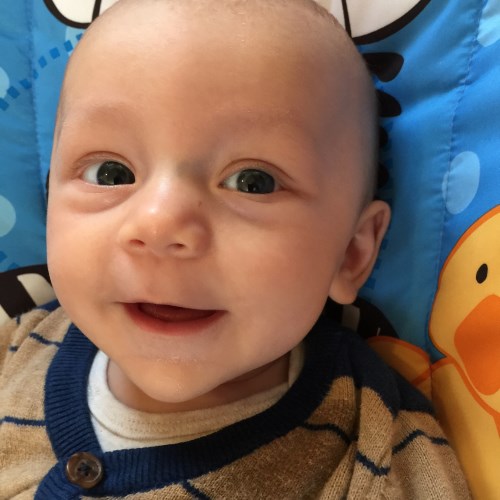 Enzo showing off that smile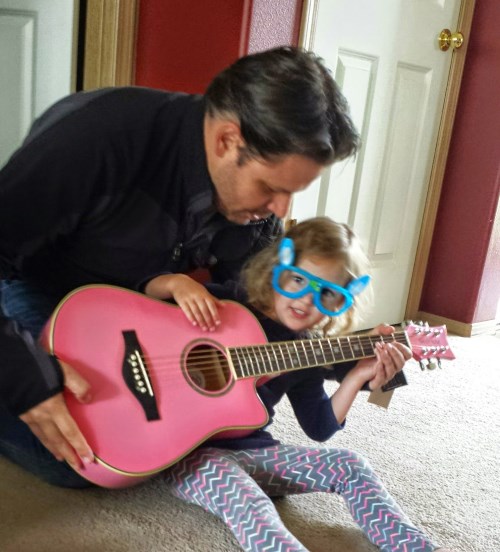 Ava checking out her new guitar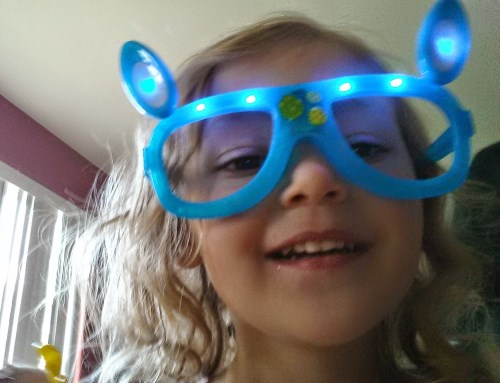 Ava taking a selfie with her new glasses on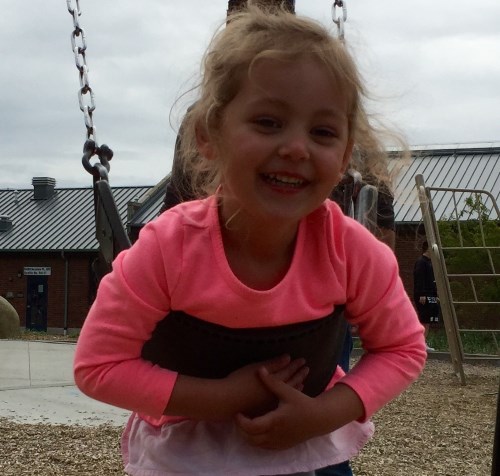 Having fun at Golden Gardens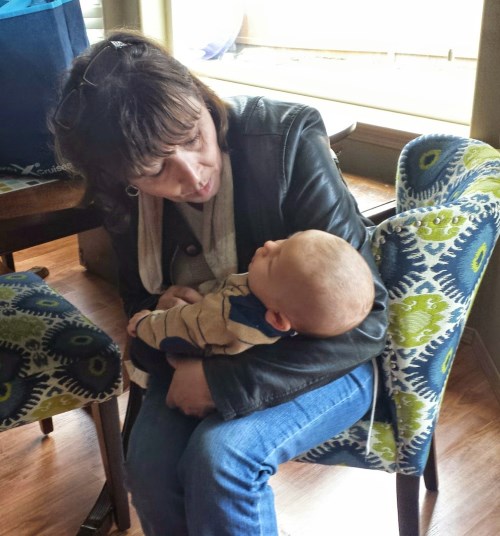 Nana holding baby Enzo for the first time