Yesterday we drove down to Des Moines, picked up Madi, and brought her up to our neck of the woods for a fun sleepover with us and the kids. With the beautiful weather on our side, we piled into the minivan and promptly got stuck in typical Seattle traffic as we passed by the city. Our destination was the beach at Silver Lake, which is a small lake very close to our house, but it seemed like everything was working against us in getting there. Enzo was quite unhappy about all the stop and go traffic, and therefore proceeded to cry for what seemed like forever. He has this uncanny ability to know exactly when my right foot moves from the gas pedal to the brake pedal, and instantly lets out a strident shrill whenever he senses it.
Eventually we made our way through all the traffic, got off at our normal exit, and headed to the lake. As we approached from the other side of the lake I could see that it was much busier than normal. This wasn't totally unexpected considering how nice the weather was, but I also noticed something else that seemed pretty unusual; there appeared to be some type of boat races going on. We made our way over to the entrance and could immediately see that something was going on. There were a few derelict teenagers posing as parking officials near the entrance, one of whom mentioned in passing that the lot was full. Undeterred, we took our chances and promptly found one of the few remaining parking spots.
As we unloaded the van I felt like we were more prepared for a week in the Alaskan wilderness than a day at the Silver Lake beach, but we eventually got everything in order and made our way down towards the water. As we approached the entrance I read the sign saying that there was a special event going on today, and that although admission was free, there would be no water or dock access, and limited access to the remaining facilities. Unbelievable. Of all the places we could have gone to we specifically chose Silver Lake because we've had fun there multiple times in the past and knew that it had everything we would need, but it just wasn't meant to be.
We had come too far to turn around at this point, especially since everyone was exhausted from carrying everything down from the van to the lake, so we setup our beach umbrella, rolled out some blankets, propped up a chair, and proceeded to watch all the boats zoom their way around this relatively tiny lake. Jessica and I joked that had we stumbled upon this with a nine year old boy as our guest, he probably would have been thrilled, but it's not exactly what we had planned for our afternoon with Madi.
We made the most of our situation, but it was difficult considering that it's the hottest day of the year and we can't get in the water. After about 45 minutes I called an audible and suggested we pack up, head home, and play in the sprinkler and kiddie pools in our backyard. Everyone seemed to agree, however we didn't leave without casualties; our trusted set of sandbox toys was forgotten on the beach. Hopefully some kid found them and made use of them.
We got home and I quickly mowed the lawn so it would be ideal for running around on. We got the kiddie pools filled and the sprinkler turned on, then spent the next hour splashing and running around. Everyone but Elise seemed to have fun, but Weese just wasn't into it. I remember Ava being the same way last summer, so I suppose it's just her age. Either way, Ava, Madi and I had a blast playing in the water.
It didn't take long to work up an appetite, so we eventually all sat down on the back patio for a snack in the sun. After that everyone was pooped, so we came inside to relax for a bit. Pretty soon Madi thought it would be fun to go to a park, so we all packed up in the van and headed to a brand new park near our house. We had fun playing there for a while, then stopped by a frozen yogurt place on the way home to get treats for the kids. Jessica and I have been eating super healthy since Monday (more on that in a bit) so watching them enjoy their treats was a bit difficult, but we didn't cave.
After our early dessert we came inside to watch 'Planes', which is one of Madi's favorite movies; this gave everyone a chance to relax for a bit. After the movie we had a late dinner, then settled back down to watch one more movie before bed. I'm sure Madi was up later than her normal bedtime, but it was a special occasion so hopefully Mom won't mind. This morning we all had a nice breakfast together, then headed outside to enjoy the beautiful weather some more. After coloring pretty pictures with sidewalk chalk on our back patio, we shifted our attention to playing in the front yard and driveway, then took a walk around the neighborhood to search for ducks and bullfrogs. By the time we got back from our walk it was time to come in, relax, have a snack and watch 'Despicable Me 2'. Kristy should be here to pick Madi up soon, so thank you for letting us spend this time with her. Hopefully we can do it again very soon!
In addition to the fun we've had this weekend, we have also had a very interesting (and somewhat challenging) week for ourselves. As mentioned briefly above, this past Monday signified the start of a health movement for Jessica and I (and ultimately for the kids as well). Although I referred to it in my last post as a diet, I'm hesitating to use the 'D' word going forward for two main reasons: I think it has somewhat of a negative connotation, and I think it infers more of a short-term mindframe, while our plans are for making long-term changes.
To recap our goals from last week, we're cutting out junk food, starch, and liquid calories. Our meals are focused on lean proteins, veggies, fruits, and nuts. We're drinking a gallon of water a day, plus coffee and/or tea. Today is day 7 and, not surprisingly, we're already noticing a difference. We're feeling better with a noticeable increase in energy, and we're even starting to notice some changes in the way some of our clothes are fitting. In addition to these changes in our meals, I've been doing yoga everyday, which I'm also starting to notice some changes from. I'm getting up earlier on weekdays (around 5:45) and doing 20-30 minutes of yoga to start my day.
We're certainly not living under any false pretenses that we're never going to eat another cookie or go a day without exercise in our lives. That's obviously not the case, nor is it our intention, but it doesn't mean that you shouldn't have months like this every so often to cleanse out your system. I think it's equally important for us to get into a habit of modifying our meals going forward. We now know that we can eat super healthy and still have meals that we love. I'm not expecting myself to give up pasta and bread, or Jessica to give up brownies, but stuff like that needs to be a rare treat rather than the norm. All that being said, I can't wait for our first 'cheat day', which will probably be on July 1.
The biggest adjustment so far has been meal preparation. It's important for us to have the right things available to eat at all times, otherwise it's too easy to cheat. I'm finding myself making two meals at night rather than one; one is for us to have for dinner that evening, and the other is for our lunches the following day. Obviously this is more time consuming than normal, but it's good to know that we both have something hearty and nutritious to have for lunch, especially when I'm gone at work. Even if Jessica wanted to, there is no way she has time to prepare a good lunch for herself while watching the kids, so I'm glad she doesn't have to worry about it.
Another adjustment for me is that I like to have a drink while I'm cooking. It's usually only one or two, but I like to sip on a beer or a whiskey while in the kitchen. It's just become something I associate with cooking, but now I'm replacing that with sparkling water and lemon. Again, it's not like I'm never going to have another drink while making dinner, but breaking that habit is a good thing. It needs to be the exception, rather than the rule. Whenever I think about stuff like this I always come back to my Dad's golden rule: "Moderation is the key to life. Too much of anything is no good, but a little bit of poison won't kill you."
As if all this isn't enough to deal with (particularly in the first week) we've decided to complicate our lives even more by going full steam ahead on Ava's potty training. As of Tuesday, Ava doesn't wear a diaper during the daytime anymore. We still put one on her at bedtime, but that's it. As expected, we were both a bit grumpy this week (for obvious reasons), so adding in the necessary patience required for this type of endeavor was challenging, to say the least. Overall Ava is doing well, but there are still daily accidents. Our general attitude is this: if she truly has an accident, you can't get upset with her, but when she does something on purpose, she gets reprimanded.
An example of doing something on purpose would be walking up to you, pulling down your pants, and peeing on the carpet, or even worse, pooping in her room and smearing it everywhere. I wish these were fictitious examples, but of course they are not. In those cases Ava gets to learn about the word 'consequences.' I've been explaining to her that there are consequences in life, meaning when you do something wrong, you will have to suffer the consequence of it. She may not completely understand it yet, but she will soon enough. For now we're just trying to keep our cool and rely on each other rather than some artificial crutch to get through the troubling times of raising a 'threenager.'
As we have said many times before, someday we will look back to these types of issues that we're currently dealing with and laugh about how good we used to have it. I can only imagine that dealing with a teenager is going to be much more challenging than dealing with a 'threenager', but at the same time it's probably all relative. There's always going to be a 'phase' that we're currently in, and a subsequent light at the end of their proverbial tunnel for us to strive for. The important thing is that we get through it together.
Before I go I'll also mention that Enzo had another checkup with the doctor this week and he's doing great. He has grown so much lately that he's suddenly in the 90th percentile for height, which is exactly where his sisters are as well. He got a few more vaccinations, which he obviously didn't love, but pulled through like the little champ that he is. He is already outgrowing some clothes and getting ready to expand his diet to include rice cereal. Hopefully this will make it easier for someone other than Mom to feed him.
I also just realized that it was a year ago today that we signed the papers on our house. I remember last June as being such an important time for us; we purchased our first house and I graduated from college. It's crazy that it has already been a year, but of course we're already onto exciting new challenges. Once again, thank you to Madi and Kristy for making this such a special weekend. Here's a couple photos of the girls during her stay, plus one of Kallan and I jamming during his visit last weekend.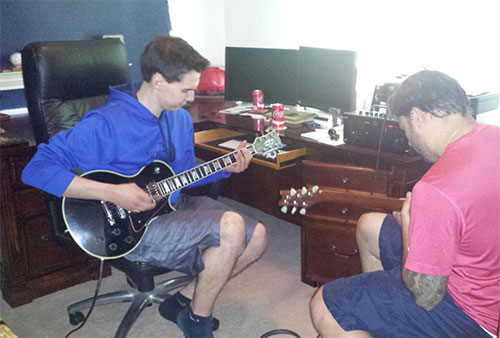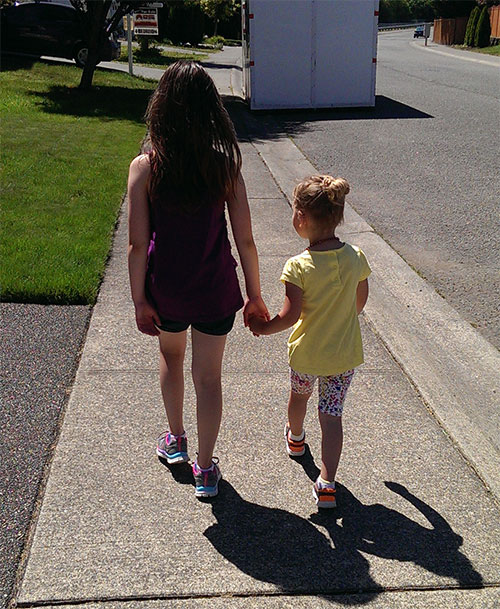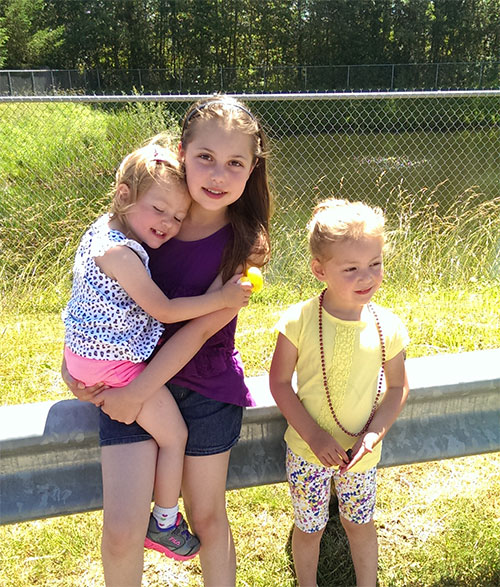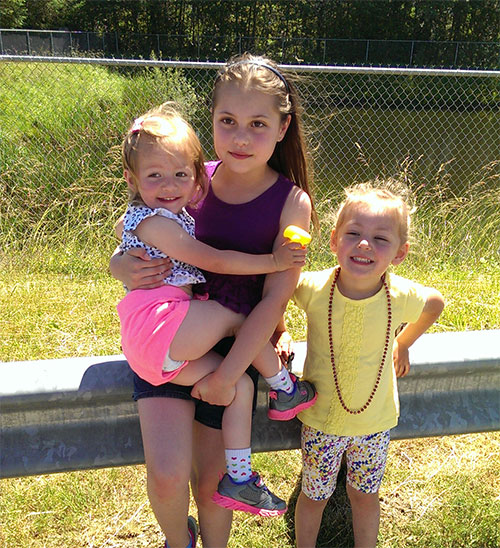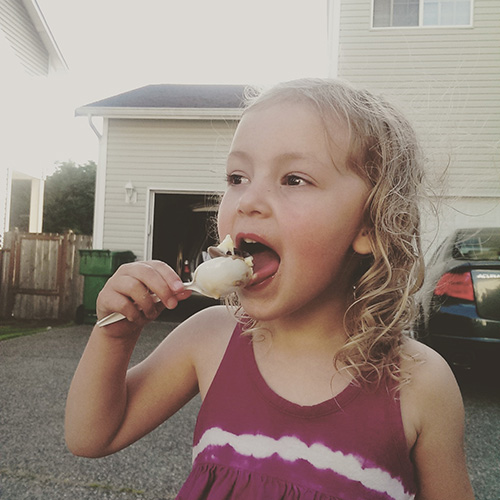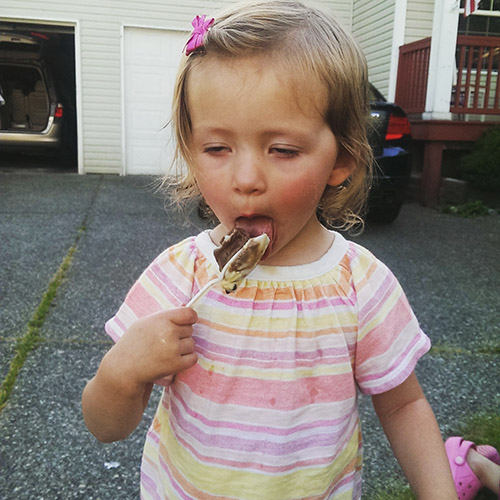 I think it's fair to say that the girls enjoyed their frozen yogurt