Today we celebrated Ava turning 6 in style, by hosting a 'Unicorns on Ice' themed birthday party at a local ice rink. We knew plenty of our guests had either never ice-skated before, or hadn't done so in a long time, so we were a little nervous that people wouldn't like it, or wouldn't get it. Luckily everyone had a really good time, and several of the kids trying it for the first time ended up loving it and not wanting to leave. Hopefully we've sparked a little interest in a few of them.
The girls in our family took the Unicorn theme pretty seriously. Grandma, Ava, and Elise were each wearing Unicorn pajamas, meanwhile Jessica was sporting a beautifully colored Unicorn wig, which drew plenty of attention on it's own. As you can probably imagine, our group was pretty easy to notice.
Most importantly, Ava had a great day that I'm sure she will always remember. Having Grandma and Grandpa Martin staying with us for her big day certainly makes things more special. She had a blast this morning opening boxes of dress up jewelry, clothes, and toys. The party went on pretty much all afternoon, then we came home to chill and let the kids play with all the new toys and gizmos.
Beyond today, Ava has been doing great with Kindergarten and is loving learning to read. She is beyond excited to have 4 loose teeth and can't wait for the tooth fairy to make its first appearance. She loves playing hockey on Sundays with the girls and is constantly improving in all phases of the game. I hope today was a really special day for her because everyone loved celebrating with her. Happy 6th birthday my sweet girl.
Elise is doing really well and has been enjoying attending dance/ballet classes for the past several weeks in a row. Her running series ended a while back and we transitioned straight from that to dance. She is loving it and it seems to suit her, so it looks like something worth continuing. She is still attending pre-school 2 days a week, but I think we're going to add a 3rd day after the new year. Won't be long before we're sending her off to Kindergarten as well.
Enzo is a raging ball of two-year-old energy. Sometimes he's the sweetest, funniest little boy you've ever seen, then he suddenly transforms into an outburst of emotions without warning. His experience with the Terrible Twos has been different from the girls, but we seem to be moving away from the worst of it. Sometimes he's super difficult to contain, then suddenly you're playing with the funniest, coolest little kid ever. He's doing well out on the ice, actually quite surprisingly well considering he's still in diapers, yet is able to skate several feet in a row without assistance. He's pretty hilarious without meaning to be, and might be the most talkative child in our family history. I remember Ava being a very talkative baby, but I don't think she can compete with Enzo. He loves trucks, bulldozers, front-loaders, trains, and tractors.
Things with Jessica and I are going well and we're just getting into all the holiday hustle bustle. A few weeks ago we had Grandpa Rick out for a Halloween visit, now we've got Grandma and Grandpa Martin out for Thanksgiving and Ava's birthday, then we've got Grandpa Rick and Grandma Chris coming back out in mid December for a long weekend visit, then that following we our whole family is going to Las Vegas to spend Christmas at Nana's house. My Mom has tons of stuff planned for us to do while we're there, so yeah, the holidays are on in full effect.
Earlier this month I had my second elbow surgery of the year (actually in the last 3 months), this time on my left side. Everything went really well and I'm doing physical therapy on my way to an easy recovery. Although the first surgery wasn't too major and was relatively easy to recover from, this most recent one was even less serious and will be even easier to recover from. It should only be a few more weeks before I'm done with PT and moving on.
As always, plenty to be thankful for, plenty of good stuff to look forward to. I don't see how things could be better. Here's several photos and videos from Ava's big day. Happy birthday Ava! We love you to the moon.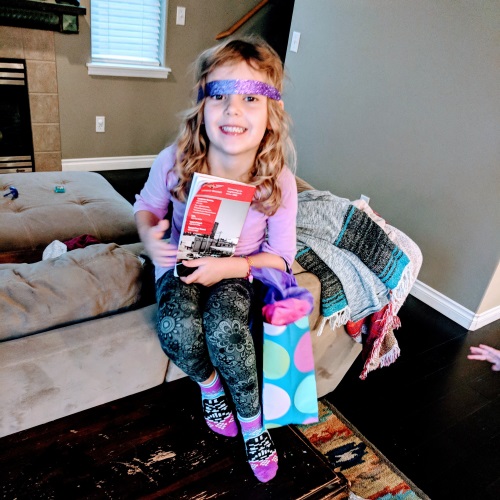 Getting started with presents a day early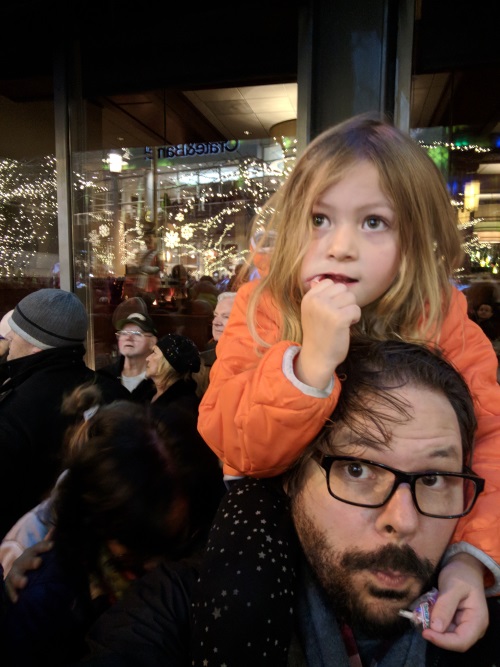 Trying to get a good view for Elise at opening night of Snowflake Lane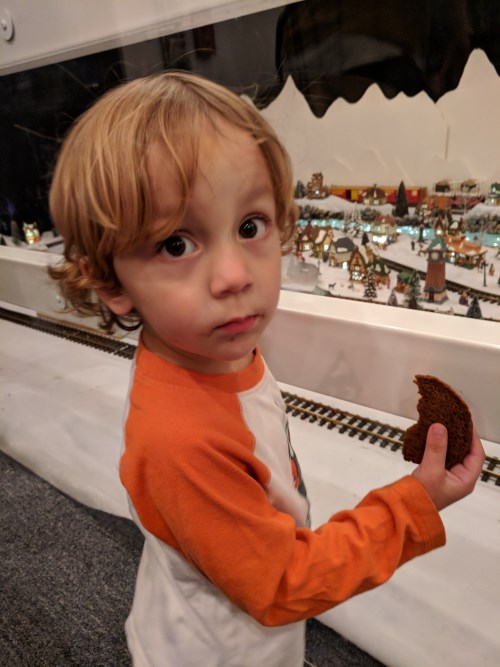 Winter trains and gingerbread cookies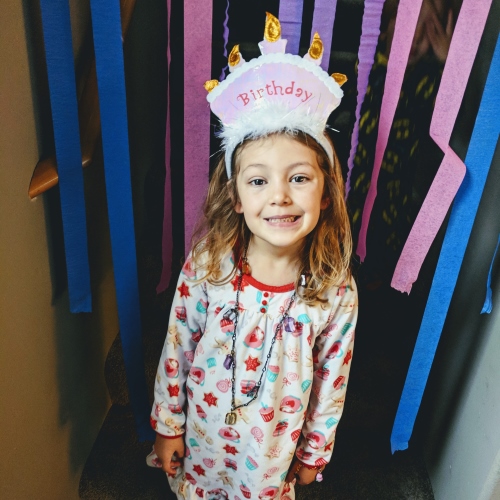 Ava on her birthday morning. She loved her crown.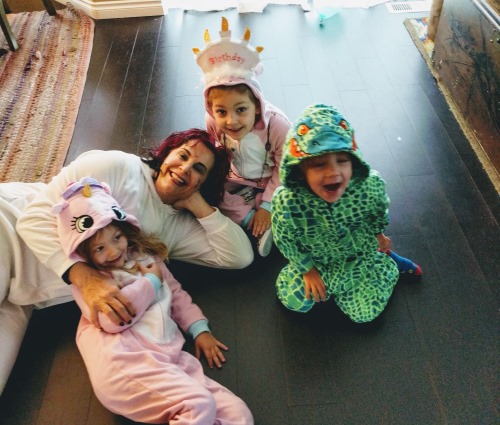 The Unicorns and the Dragon, preparing to party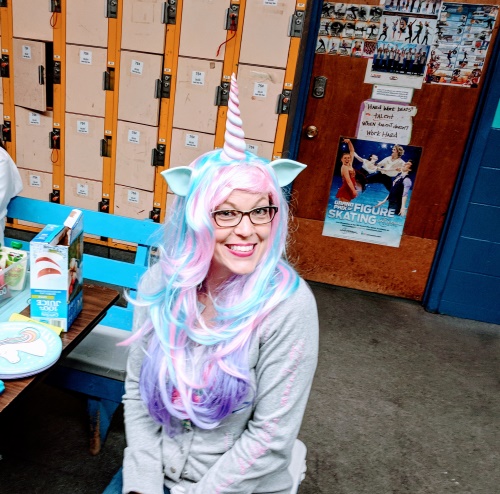 Mama Unicorn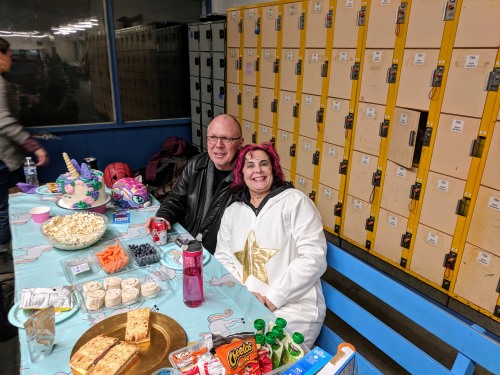 Grandma and Grandpa Unicorn, I mean Martin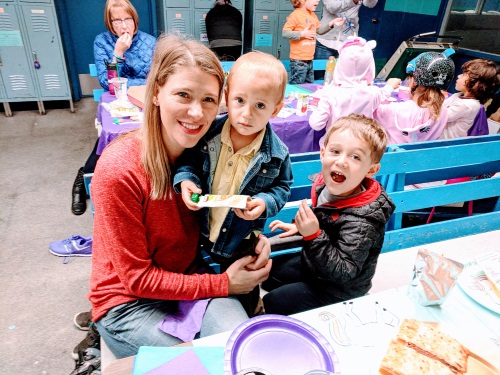 Our good friend Julie and her awesome little boys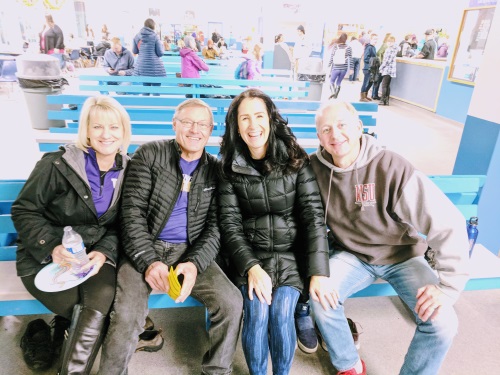 Love this pic of Carol, Butch, Dana, and Brad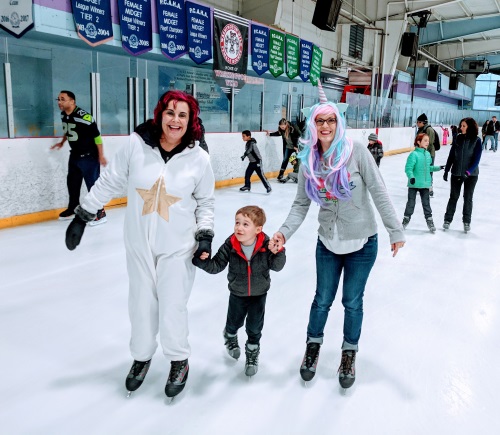 Keeping each other upright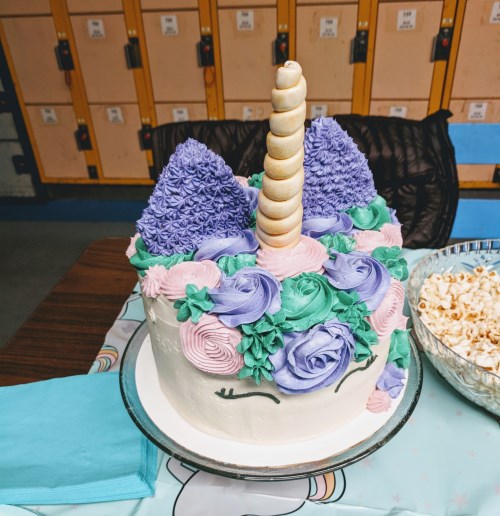 The Unicorn cake!

Ava opening presents from Grandma and Grandpa Rudd

Opening presents from Nana

Ava's birthday morning

Free skating during her party

The cake photo

Happy Birthday to you