Earlier this week Jessica was doing one of her regular checks on the website to see if Bruno had been adopted and she couldn't find him. She emailed her contact at the shelter and we found out that Bruno has been adopted by a new family! Apparently the shelter had already turned down at least one family because they wanted to make sure they found the perfect fit for him. As we know, Bruno requires lots of outdoor time and exercise; something that we were no longer able to provide him with. His new family has teenage kids and they are very active, outdoor people, which is perfect for Bruno. We were very excited to hear the news, even though we still miss him and think of him often. He was such a character, and will never be replaced, but I'm very happy that he is with a family that can give him what he deserves.
We're getting very close to Elise's arrival. Our friends Leon and Jodi just had their son Miles on Friday, as did our friends James and Amanda, whose daughter Winslow was born the same day right down the hall. This means we're the only ones left so hopefully it will be soon. Jessica hasn't been feeling very good today so she's resting in bed. It's great having her home all the time but I know she's getting anxious. I'm just glad she held out while I was traveling for work earlier in the week. I won't be leaving again for a while.
Ava is doing great and absolutely loves going outside to play. Rain or shine, she wants to be out there everyday and doesn't take no for an answer. In a way its a little bit sad that these are the last days we'll have with her as our only child, but that sentiment is largely overshadowed by the excitement of the impending arrival of her little sister. Ava got to spend some time this week with Uncle Butch and Aunt Carol while we attended Kallan's high school graduation. As usual she spent the whole time chasing their dog Max and playing in the yard.
I finished my final project of the quarter today which means several things: First it means I'm on a two week break from school. It would be so perfect if Elise could arrive during my break so my fingers are crossed. Next, it means that I am done with all of my prerequisite classes; no more math, no more economics, no more project management, etc. From here on out its all programming classes, which is exactly what I joined for. Getting classically trained in computer programming is going to help my career as a web developer quite a bit, so I'm excited to finally be at that stage in the curriculum. Finally, being done with this quarter means that I'm officially in my final year of school. Exactly one year from now I'll be graduating and it feels good to know that I'm getting so close to completion.
Here are a few recent pics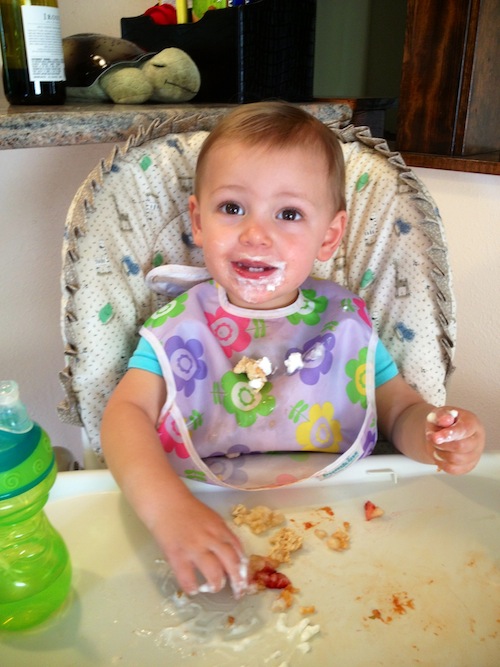 More whip cream please