Today was a significant day for me for a variety of reasons. As the title of this post suggests, today is the 20th anniversary of my Dad passing away, but on a more positive level today was also my first day at Microsoft. Strangely enough, March 2nd was also my first day working at El Gaucho back in 1999. When you consider the fact that the only reason I got the job at El Gaucho to begin with was that I was Elmer Pellegrini's son, it makes things even stranger. I've been looking forward to writing this post for a while, mainly to pay tribute to my Dad, but I'm going to save that for last. First, here's a breakdown of my first day on the new job.
I spent the first half of the dat at NEO (New Employee Orientation). As you can probably imagine, there is a lot to go over when joining a big company like Microsoft. Although the orientation is very similar in format to the orientation I attended at Amazon two years ago, there is no question that today's orientation was much more interactive and fun. They really went out of their way to make sure that everyone was engaged and enjoying their time, while simultaneously gathering all their much-needed information about their new role. I came away from NEO really impressed with Microsoft; the benefits they provide to their employees are world-class, and the commitment they have towards making positive change in the world wasn't lost on me. It was definitely a good experience, and a very nice way to start my career with Microsoft. I'm sure that is exactly how they intended it.
After NEO I met my manager for lunch. During that time we got to catch up, talk about the team I'm joining, my new responsibilities, and get to know each other on a more personal level. He mentioned having kids, so I asked him how many kids he has. Usually when people ask me this question and I tell them that I have three kids they say "wow!", and that was exactly what I said when he told me he has seven children! Seven kids is no joke, plus he mentioned that his wife is out of town right now due to a health issue with her Mother, meaning he is caring for all seven of them on his own. That's impressive.
After lunch we headed back to our building and I was able to start setting up my desk and computers. There's lots of software to install, accounts to create, etc. I spent about four hours working on all of this but I'm still not done. Looks like I'll be basically done with all of my setup work tomorrow morning, meaning I should be able to start working on assignments sometime tomorrow afternoon. I also got a chance to meet all of my teammates today; everyone was really cool, and one of them is ex-Amazon, so we chatted about that for a bit. There's another engineer starting next Monday who will be sitting right next to me, plus there are two other guys on the team that started within the past month, so we're all basically in the same boat. I'm glad to not be the only new guy on the team, and I'm excited to get to work with such a talented group.
The best analogy I can make to my day today is that it's just like the first day of school. You don't know where anything is, and there are lots of unfamiliar faces. In our case, the Microsoft campus is enormous; there are over 100 buildings on the main campus alone! Because of this you need to either drive or take a shuttle in order to get across campus in a timely fashion. One of the things that stands out to me immediately regarding the difference between Microsoft buildings and Amazon buildings is the quality of the decor and furnishings. Microsoft is a high-margin business, and because of that they can afford to spend extra money on fancy artwork, beautiful furniture and lounge seating, huge cafeterias, etc. Amazon is a low-margin business and they simply can't afford to do these types of things. Don't get me wrong; its not like the Amazon buildings are a dump. Far from it, but they don't go the extra mile the way Microsoft does. Luckily we are encouraged at Microsoft to bring our families to campus for things like lunch, family movie nights, etc. I can't wait to bring Jessica and the kids there to show them around. Based on her experience with interior design I'm sure Jessica will appreciate it even more than I do.
Obviously when you start any new job there is a 'honeymoon phase' that lasts for a while, so it's going to take me some time to give it a realistic comparison to Amazon. Right now everything is a bit over-the-top and impressive. I'm certainly not under the delusion that everything will be perfect at Microsoft, but I can say with confidence that I'm happy with the decision I've made, and I'm already proud to represent them. Plenty more updates on this coming soon. Coming home from my first night was also a nice treat because Jessica prepared a delicious Seared Ahi Tuna dinner with roasted Brussel Sprouts and Mashed Potatoes. We enjoyed dinner with some nice local wine (after all it is Washington Wine Month) and I got to tell her all about my big day.
Now I want to pay a little respect to my dear old Dad. In one respect it's hard to believe that he's been gone for 20 years, but when I really think about all that has happened in my life since then, it makes perfect sense. At this point I've lived considerably longer without him than I did with him, yet all of his little sayings and stories stick with me. One thing he always used to tell me was "Stay focused on what you're doing. Don't think about playing baseball when you're in math class, and don't think about math class when you're playing baseball. Presence of mind and awareness are very important." Another thing he always used to tell me, which was probably my favorite of all his sayings, was "Moderation is the key to life. Too much of anything is no good, but a little bit of poison won't kill you." As a kid I used to wonder why anyone would ever intentionally take poison. It wasn't until I got a bit older that I truly understood what he meant.
One of my favorite qualities about my Dad was the way he always put other people first, even people he didn't know. For example, we would drive to the grocery store and he would intentionally park in the back of the parking lot even though there were open spaces up front near the entrance. When I would ask him why he didn't take the spot up front he would say "Leave that spot for some old geezer that needs it. We can walk." Meanwhile by that point my Dad was in his 60's and could easily be considered one of those old geezers he was referring to, but he didn't see it that way.
Another time, my parents went out to dinner at the Metropolitan Grill to celebrate my Dad's birthday, and my Dad wore a beautiful new tie that my Mom got him as a birthday present. While they were out they ran into some friends, and one of them said "Elmer, what a beautiful tie! I'd get married in that tie." Well, my Dad took the tie off right there on the spot and insisted that he take it. I asked my Mom if him doing that upset her but she said no, you couldn't be upset with him because that's just the way he was. He was generous to a fault.
It seems like every time I meet or speak to someone who knew my Dad they always have something very nice to say, or a fun story to share, and hearing all those great stories always makes me feel really good. He truly was one of a kind, and although I don't have any regrets about our relationship, I certainly do wish we'd had more time together. I never got the chance to spend time with him as a grown man. I'm sure there are plenty of stories he would have shared with me once I'd grown up that simply weren't appropriate for an adolescent boy. Now that I'm all grown up and married with my own kids I would love nothing more than for him to be able to meet Jessica, Ava, Elise and Enzo. Unfortunately he was only able to meet Kallan, his first grandchild, before passing away a month later. I know he would be proud of everyone though. He always used to tell me that all he cared about was that my Mom, my sisters, and I were all happy and healthy. Nothing else mattered to him. Considering the love and compassion he showed to complete strangers, you can only imagine how he felt about his own family. He always used to tell me "Don't do what I do. Make something of yourself and do better than I did." I know he would be very happy with how the lives of all his children have turned out. We each have families that we love more than anything, and for my Dad, nothing was more important than family.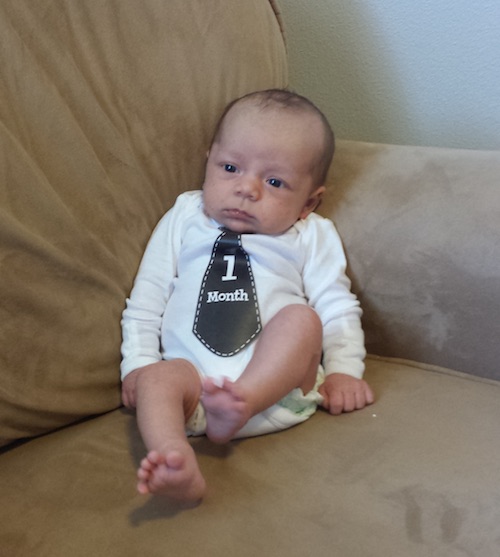 Enzo at 1 Month