Last weekend baby Enzo turned 10 months old. He was already walking a little bit by the time he turned 10 months, so I guess it's fair to say that he started walking at 9 months. I was talking with Dana about him during Ava's birthday party on Sunday and she said Enzo is the youngest person in our family to start walking! I knew he was the youngest of our three kids, but I didn't realize that he's the youngest of anyone in our family, myself included. Certainly his sisters deserve some of that credit, but I don't want to short change the little guy; he's a fighter.
Sunday we had a nice little family birthday party for Ava. Butch and Carol arrived first, then Dana, Brad, Kallan, and Anna showed up a bit later. It was game day for the Seahawks so everyone had their gear on. We ended up hanging out, eating, and pulling the Hawks in for a very exciting victory over the Steelers. Ava got some very nice gifts from her aunties, including a toy drum kit from Auntie Dana, and a 'Sleepover Kit' (which I believe is just a sleeping bag but there may be some other stuff in there as well) from Auntie Carol. It was a nice low key way to enjoy time with family and finish out my vacation.
Ava will get the chance to try out her new sleeping bag very soon, as the kids with be staying the night with Kristy and Madi on New Year's Eve. Kristy reached out to me recently to see if the kids could do a sleepover that night so that Jess and I could go out for the night. Unfortunately getting that night off work isn't possible because New Year's Eve is the busiest night of the year at El Gaucho, but we'll have the next-best thing, which is me working that night with her. They're always in need of extra hands on nights like that, so I reached out to them and volunteered to work. The best part is that Jessica and I will be bartending together downstairs in the Pampas Room. In all the years we've worked together we've never been behind the bar together for a shift. It's normally me bartending and her serving in the dining room, so this should be a lot of fun. Big thanks to Kristy and Madi for making this all happen. Plus we will actually be seeing them before then, along with Jim and Brenda, at our house on Christmas Day, so that should be fun as well.
This week was my first week back at work, and we received a nice surprise from management, which was the day off today. They had a big product launch on Monday and plenty of people had to work during Thanksgiving weekend to get things ready, so one of the higher up managers in our organization emailed everyone on Wednesday and told us to take Friday off. I got the best of both worlds because I didn't even work on the product launch they're referring to, in fact I was on vacation while they were finishing it off. It was pretty cool that they did that though; I can't imagine what one day's worth of salaries alone must cost for my entire organization.
Last night was my work holiday party but Jessica had to work so we didn't go. It was held at the Chihuly Gardens under the Space Needle, which I hear is a beautiful venue, so it's too bad we couldn't make it. I'm hoping to hear some debaucherous story on Monday but chances are there shall be none of the sort. This is the tech industry after all, not the restaurant industry.
Our house is now officially ready for Christmas. I did an especially pathetic job with the outdoor lights this year, but at least we have something. The inside of the house looks much better, thanks to Jessica and the girls. We went and cut our tree down at a Christmas Tree farm in Snohomish on Saturday. I knew I was going to get the short end of the stick on this one but still played along. When we pulled up the kid handed me a hand saw and said to only cut down a tree with a tag on it. Okay no problem. Ava had been saying the whole time that she wanted a "small Christmas tree", which was perfect because we didn't want something full-size that would sit on the ground. Baby Enzo would have been all over that and it would've gotten ugly in no time. We needed to put a tree up on a table that was out of his reach, so a small tree was a necessity.
We walk around the tree farm for a bit, and then from a distance, we saw it. Like the Griswolds out tree hunting in the wilderness, it was as if a light had shone down on it. And it had a tag. Or at least I thought it did. I had a little blue twist tie thing on top that not every tree had, so I thought it was fair game.
So I get down on the ground and start cutting. As mentioned, this is a small tree, but it's still enough to get your heart pumping when you're trying to cut it down with a hand saw. I'm working on this thing for a while, and I keep thinking I'm almost there, but I'm not. At a certain point I have to stand up and pant. Jessica is offering to get down there and help, but of course I tell her no, I've got this. Then I go down to start cutting again but I couldn't see the saw, so I missed it and ended up cutting my finger on the blade. Next thing I know I'm working different angles on this son of a bitch, and eventually, with enough hand saw repetitions and strategic force, I take it down.
So then I return the hand saw to the lady and she instantly comments on my bleeding finger, which was a little embarrassing. Then I go to have the tree shaken and baled. Some kid grabs it from me, then looks at it and says that it doesn't have a tag. I said "Isn't that the tag?" pointing to the blue twist tie at the top of the tree. He's like "Um, no."
Next thing I know this older guy is coming over to me and he seems pissed. The first thing he says to me is "You weren't supposed to cut that tree down! That was a baby!!" I was a little stunned, mostly because people rarely raise their voice at you in the Pacific Northwest. We're generally much too passive aggressive for that, so his tone took me by surprise. As usual, I was extremely apologetic and polite with him, albeit a bit frantic as well. I said "But it's got a tag!" pointing out the little blue twist tie. He's like, "That's not a tag! This is a tag!" pointing to another tree with a huge manilla tag on it. At this point he's being an asshole with me, so I start giving it right back to him. I said "Well then NONE of the trees in this area had tags on them, hence the confusion. We were looking for a small tree."
He then informed me that I would have to pay full price for what that tree would sell for when it was fully grown, and I'm like "Fine! Just get me the hell out of here!" At the end of the day I end up paying top dollar for a miniature tree. The girl ringing me up didn't know what was going on, so after I pay she says "feel free to stay for cider and hot cocoa" and I'm thinking, "yeah, we should probably just get out of here." I told Jessica the whole story in the car and the first thing she says is "Guess we'll be getting our tree at Lowe's next year."
Anyway, the house is all decorated now and the kids love it. Last night, while Jessica was at work, I overhear Ava say to Elise near the Christmas tree, "here, hide these before Daddy finds them." I walk over to see what's going on and she instantly stuffs something into one of her boxes of toys. I ask her what's she's got there, and eventually she admits that she was collecting candy canes from the tree and hiding them for later. I'm thinking "What are you a squirrel? Who do you think those candy canes are for anyway? They're obviously for you and Elise." I pretended to be mad for a minute but inside I was dying. The best thing was when I looked over at the tree and saw the foot stool all setup right next to it, which was obviously how she reached the candy canes. Pretty smart for sure, and good on execution, just need to work on the getaway.
After last week's post about Ava's birthday and our trip to Austin, I promised myself to keep it relatively short this week, so that's all for now. Wishing all our friends and family a great holiday season. Hopefully we'll be seeing you all soon. Here's a few recent pics.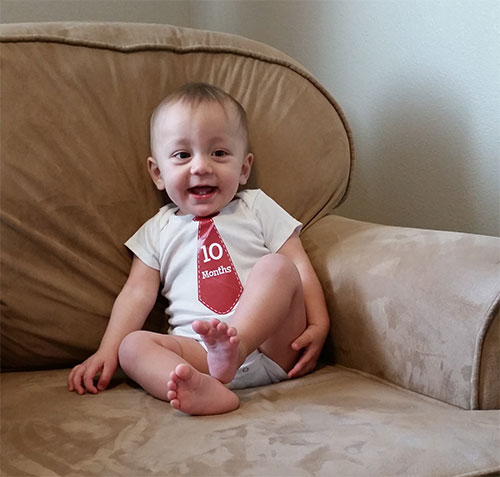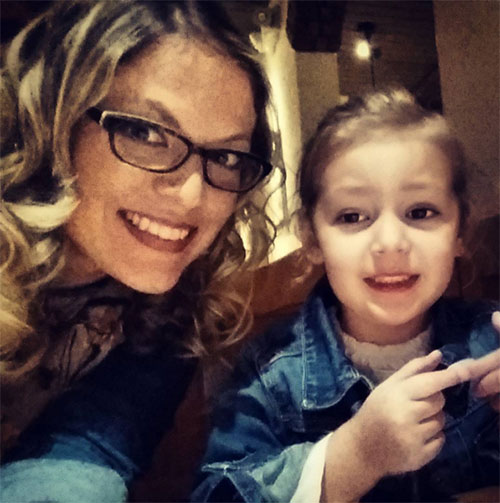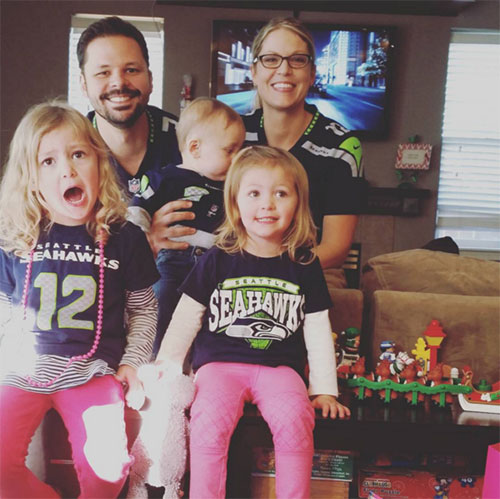 We're never all looking at the same time. That would be impossible.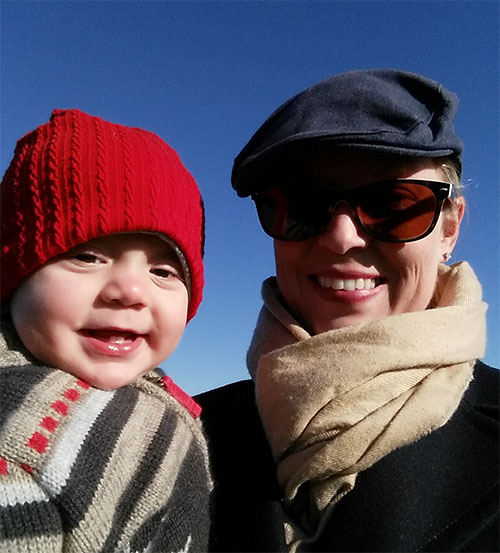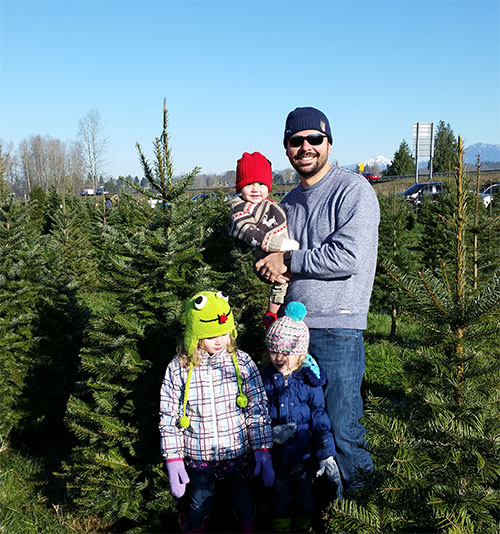 The tree!